Lakeside National Little League: News
Wednesday, January 16
Cake and Cap Day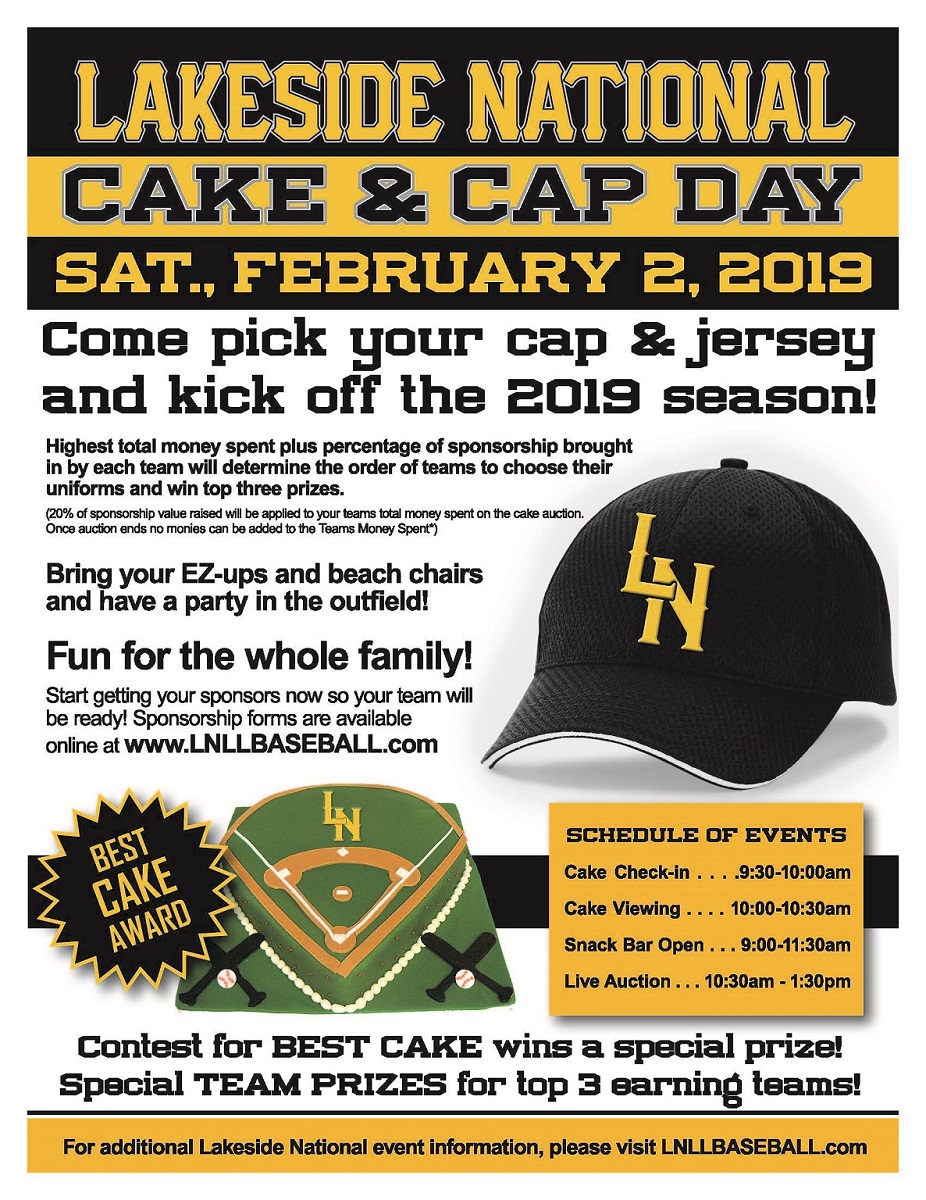 Monday, May 14
2018 - 2019 Board of Directors:
President - Andy Kelly
Vice President - Gabby Dowers
Secretary - April Di Bernardo
Treasurer - Amanda Chastang
Auxiliary President - Cassie Linder
Player Agent - Shannon O'Connor
Safety Officer - Stacy Smith
Umpire In Chief - Dylan Wright
Web Master / Practice & Game Schedule - Brandy Phillips
Equipment Manager - Dave DelaCruz
Field Maintenance - Joe Powers
Special Events Coordinator - Heidi DelaCruz
Auxiliary Assistant - Jana Clark
Sponsorship - Casey Hendry
Fall Ball Coordinator - Luis Martinez (pending acceptance - write in)
Head Scorekeeper - Maronee Rodenberger (pending acceptance - write in)
Spirit Wear - Emily Johnson
Tournament & Travel Ball Coordinator - Gloria Giles
Member at Large - Chris Linder
Member at Large - Jenica Schutza
Member at Large - Jennifer Bloom
Member at Large - Jen Kelly
Member at Large - John Lynn
Member at Large - Karli Johnson
Member at Large - Rocky Qualin
Member at Large - Sheena Ludlum
Member at Large - Yesica Krauss
As dictated by the Lakeside National Little League Constitution & Bylaws, the incoming Board of Directors will begin their term September 1st, 2018.
Thank you for all that ran and all those that voted
Lakeside Baseball Park Guidelines
Lakeside Baseball Park strictly prohibits all of the following at our facility:
Tobacco Products
Alcohol
Dogs
Bikes
Scooters
Skateboards
Gum
Sunflower Seeds/Other Shelled Nuts
Glass Containers
Thank you for your cooperation and understanding.
LNLL IS RAN FULLY ON VOLUNTEERS, MOST OF US HAVE FULL TIME JOBS AND FAMILIES JUST LIKE YOU. IF YOU WOULD LIKE TO VOLUNTEER HELP IS ALWAYS WELCOMED AND APPRECIATED.