Lakeside National Little League: Welcome
Lakeside National Little League 2
Donations Received: $ 50
$0
$ 1,000
2014 REGISTRATION IS COMING!!!
Thursday, October 10
2014 LITTLE LEAGUE SEASON REGISTRATION DATES SET!!!
November 13th at the fields 5:30pm - 8pm
December 7th 9am - Noon Location Lakeside Farms east parking lot
December 18th at the fields 5:30pm - 8pm
Registration fees for above dates are $125/ $95 for siblings
Any time after those dates $155/ $110 siblings
Price includes Jersey, hat and pictures
Friday, June 7
2013-14 LNLL Board Election Results
Below are the election results for the 2013-2014
LNLL
Board. Thank you to all who voted.
Executive Board
President - Travis Kane
Vice- President - Darrin Forster (unopposed)
Secretary -
Marivel
James (unopposed)
Treasurer - Tammy
Vielguth
(unopposed)
Co-Auxiliary President - Dena Estrada (unopposed)
Player Agent - Willy James (unopposed)
Safety
Offficer -
Gabby Dowers
Tom Short
Brandy Phillips
Tasha Garcia
Jamie Lindsay
Patrick O'Brien
Jennifer Kelly
Katie
Morien
Kyrstin Baker
Julie Moody
Congratulations!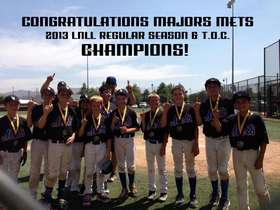 2013 LNLL Majors Champions - Mets
Sunday, June 2
CONGRATULATIONS MAJORS METS - 2013 LNLL TOC CHAMPIONS
Congratulaions to the LNLL Major Division Mets on winning the regular season title and the LNLL T.O.C. crown! In one of the most competitve tournaments in years, the Mets dueled a tough Reds team to take the T.O.C. title and advance to the District 41 Tournament of Champions. After a hard fought battle won by the Reds 2-1 on Friday night, the final must win game was played Saturday and won by the regular season champion Mets 6-5. The Mets will now play Jamul Little League on Saturday, June 8, 2013 at 1:30 pm at El Cajon Western Little League. Please come support your Mets and show District 41 the strong community we have at LNLL.
CONGRATULATIONS 2013 CHAMPION METS!!!
Austin H.
Ben S.
Caleb S.
Cameron K.
Curtis O.
Dustin B.
Josh T.
Landon V.
Nathan H.
Peter R.
Ray L.
Tristan T.
Best of luck in the Tournament!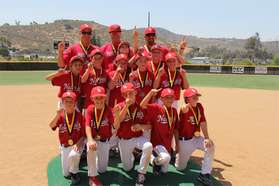 2013 Minors Champions - Nationals
Monday, June 3
Congrats Nats!!! 2013 LNLL Minor T.O.C. Champions!
Congratulations to the Minors Nationals on winning the 2013 LNLL Minors Division T.O.C.! The Nationals beat the Orioles 9-7 to advance to the District 41 Tournament of Champions!! Come out and support the Nationals as they take on West Hills Little League at Santee Pioneer on Saturday, June 8 at 10:00am. Go Nats!!!
Wednesday, October 31
Lakeside National Little League on Facebook
Lakeside National Little League is on Facebook. Get notifications of all wesite updates added to your facebook wall.
Click Here to visit us on Facebook
Currenty Seeking Umpires and Junior Umpires
Lakeside National is currently seeking volunteer adult Umpires and Junior Umpires. Junior Umpires (ages 12-18) would call games in the Caps division.
For more information, please contact Chief Umpire, Fletcher Calvert at 619-873-5583 or e-mail: mstryvan@aol.com
Lakeside National Boundary Map
Click here to view the
BOUNDARY MAP
for Lakeside National Little League
Thursday, January 27
Lakeside Baseball Park Guidelines
Lakeside Baseball Park strictly prohibits all of the following at our facility:
Tobacco Products
Alcohol
Dogs
Bikes
Scooters
Skateboards
Gum
Sunflower Seeds/Other Shelled Nuts
Glass Containers
Thank you for your cooperation and understanding.
Wednesday, October 31
Lakeside National Little League - Official