Lakeside National Little League: Welcome
Lakeside National Little League 2
Donations Received: $ 75
$0
$ 1,000
Please follow and LIKE the LNLL Official Facebook Page - http://www.facebook.com/
Friday, January 18
2019 Team Parent Meeting
Team Parent Meeting on Tuesday, January 22nd & Thursday, January 24th at 6:00pm at LNLL Snack Bar Area
If you are your team's Team Mom(s) or Team Dad(s) it is very important for one representative from each team in each division to attend one of the two meeting dates we have set for our annual Team Parent Meeting. You do not have to attend both of the meetings. At this meeting we will be handing out your Team Parent packet along with going over a lot of very important information to pass along to your entire team. We will be answering any questions you may have has well.
Note: This meeting is not for all of the parents on each team just the Team Mom(s) or Team Dad(s). Your Team Mom(s) or Team Dad(s) will bring back all the information that we go over at this meeting and share it with their entire team.
Wednesday, January 16
Cake and Cap Day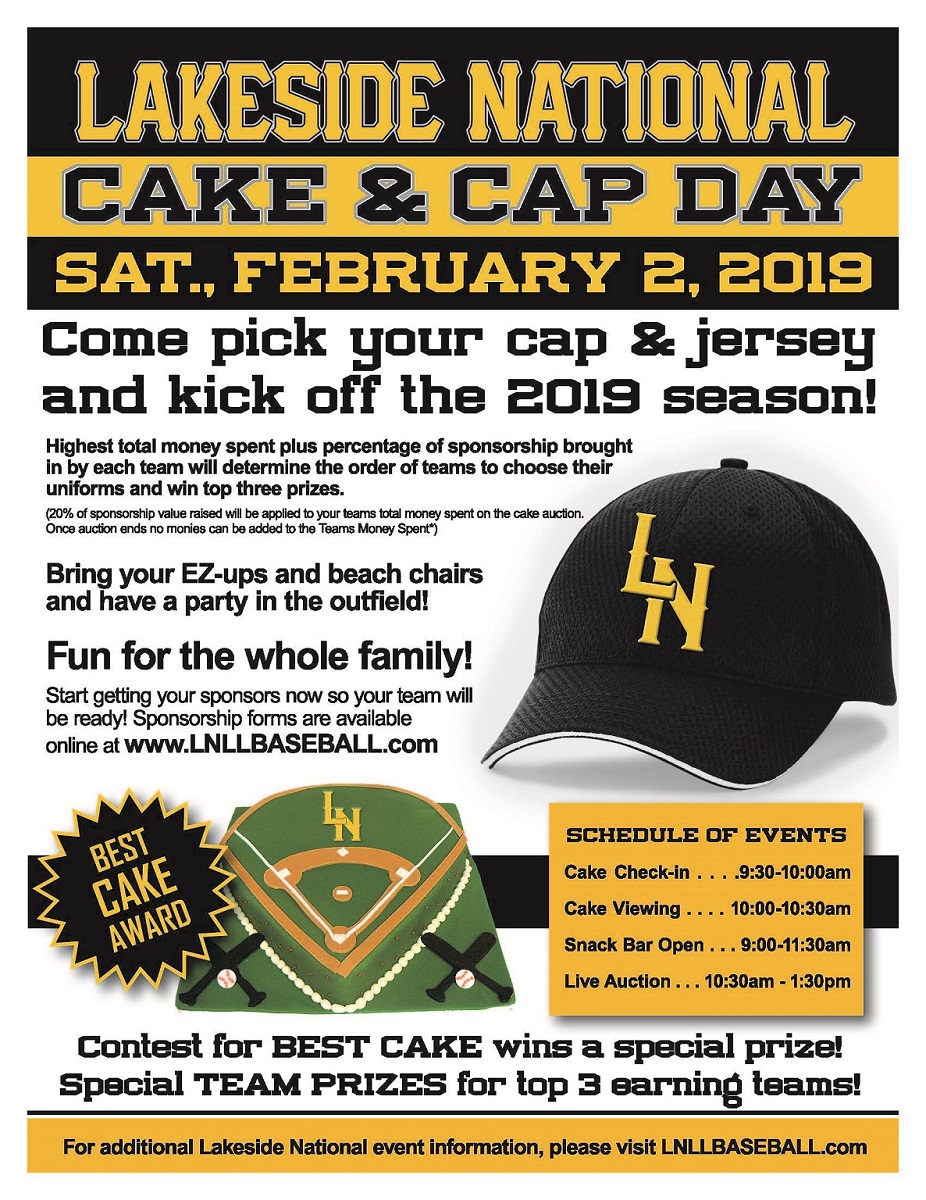 CA DISTRICT 41 WEBSITE
CONGRATULATIONS TO OUR LITTLE STARS TEAM FOR A GREAT PLAYED TOURNAMENT AND BRINGING HOME THE FLAG
2018 LITTLE STARS DISTRICT 41 CHAMPIONS
Currenty Seeking Umpires and Junior Umpires
Lakeside National is currently seeking volunteer Adult Umpires and Junior Umpires. Junior Umpires (ages 12-18) would call games in the Minors B division.
To submit your name, please contact Umpire in Chief - Dylan Wright at Dylan120803@yahoo.com or 619 578-3869
Lakeside Baseball Park Guidelines
Lakeside Baseball Park strictly prohibits all of the following at our facility:
Tobacco Products
Alcohol
Dogs
Bikes
Scooters
Skateboards
Gum
Sunflower Seeds/Other Shelled Nuts
Glass Containers
Thank you for your cooperation and understanding.