Little Mountain Baseball: Welcome
Welcome to the home of Little Mountain Baseball in Vancouver. Little Mountain Baseball offers Little League Baseball to children aged 4 to 12 years residing within our boundaries.
Little Mountain Baseball is Canada's oldest Little League, formed in 1951. 2015 will be our 65th season! Come join the more than 700 boys and girls playing baseball at Hillcrest and Riley parks in Vancouver's Little Mountain neighbourhood.
Play like a Champion – Join LMB!
We thank all the sponsors supporting us throughout the seasons. If you are interested in sponsorship, please email info@littlemountainbaseball.com .
Please note that LMB is run entirely by volunteers, we do our best to reply to inquiries quickly and also keep this website current with as much information as possible. If you wish to help out, email info@littlemountainbaseball.com .
See our Frequently Asked Questions for more information.
Monday, July 6
SummerBall Registration
SummerBall registration is now closed for Summer Minors and Summer MiniMinors. If you have any questions or would like to be waitlisted, please email registrar@littlemountainbaseball.com. SummerBall registration remains open for SummerMajors. Please click on this
link
to register.
Tuesday, July 7
Congrats to the LMB 9/10 All Stars!
Congratulations to the LMB 9/10 All-Stars for winning the District 1 Playoffs on Saturday, July 4!!
The boys jumped out to an early lead against rival Dunbar and never looked back cruising to a 9-1 victory. The team now has this week to prepare for the Provincial Championships which are being played at Jericho Little League's new field at Carnarvon Park starting July 11.
Here is the schedule for the games:
Saturday, July 11th - 1pm v. Jericho
Sunday, July 12th – noon v. Hastings (no game Monday)
Tuesday, July 14th - 6pm v. White Rock
Wednesday, July 15th - 3pm v. Highlands
Thursday, July 16th - 3pm v. Beacon Hill
Friday, July 17th – noon v. Trail (Possibly)
Saturday, July 18th semi-final game, either noon or 3:30, depending on tournament placing (Possibly)
Sunday, July 19th final – noon
Come out and support the team! GO LMB!
Wednesday, July 15
CHALLENGER & LMB "FIELD OF DREAMS" GROUND BREAKING CEREMONY
Thanks to the incredible support of the Vancouver Canadians and other funding organizations – the official "ground breaking" ceremony for our new synthetic, all-season all-weather field, will be this Thur, July 16th at 10:00AM. The Canadians would like to invite you all, and to bring along as many players as possible (in uniform if possible – or lots of LMB wear), so we can show the community support for this project.
This event will take place at Nat Bailey Stadium, not on the Minors Diamond itself.
Please come if you are able to do so.
Monday, June 15
Unclaimed Closing Day Prizes
50/50 $471 [half of $912] #17573 Won by the Sharma family and donated back to our fundraising cause.
Easton XL1 bat #17844
Baseball glove #19282
Demarini bat #19624
Please email the registrar@littlemountainbaseball.com to claim your prize.
Thursday, June 25
Little Mountain 2015 11/12 All Star team roster
Little Mountain is pleased to announce its 11/12 All Star team for 2015.
Manager: Aart van Gorkum
Coaches: Steve Nantel, Kevin Smith
Players
Jordan Garay
Joe Hanning
Sawyer Henstridge
Thomas Iverson
Stephen Kahnert
Keegan Lott
Luke Mudry-Lee
Jenmark Ramos
Tyler Sharples
Luca van Gorkum
Gareth Wintjes
Lucas Yang
This team will compete in the 11/12 District 1 tournament which is hosted by Dunbar this year. This tournament begins July 2. The winner of that tournament will represent District 1 at the Little League provincial tournament, hosted by South Vancouver July 18-26.
Tuesday, June 2
Pat O'Flanagan Coach of the Year Award
Little Mountain Baseball is pleased to announce the creation of a new award in honour of the late Pat O'Flanagan. ...
Wednesday, June 10
Little Mountain 2015 9/10 All Star team roster
LMB is pleased to announce its 2015 9/10 All Star team roster.
Manager: Brent Black
Coaches: Jeff Phillips, Wilson Kwong, Jerry Atamanchuk
Players:
Aidan Atamanchuk
Ben Black
Brayden Labossiere
Carson Richmond
Connor Morgan
Ethan Kwong
Jack Quinn
Jack van Gorkum
Levi Soper
Markus Yim
Owen Mollenhauer
Ty Phillips
This fine group of boys will be playing in the District 1 tournament which is hosted by this year by Little Mountain. This tournament will run June 22 to July 5, 2015, and includes All Star teams from Jericho, Dunbar, and Kerrisdale. The game schedule is listed on LMB's Google Calender so come out and support your local team. The winner of the district tournament will compete in the 9/10 Provincials, which are hosted by Jericho Little League July 11-18.
Wednesday, May 20
A Plea to Parents of Young Athletes: Simmer Down
Happily, we get very few significant incidences of over-enthusiastic parents at Little Mountain Little League, but nevertheless this is a good read for any parent with a child in youth sports.
Sunday, March 8
Looking for a tax receipt?
If you are looking for a tax receipt for your LMB registration fees, you can print one off from your Thrivia ...
LMB Challenger Division Williamsport news and donation acknowledgements
Little Mountain Baseball was selected as the first "international" team to participate in the 2014 Little League Challenger Division Game at the Little League Baseball World Series. The 2014 Challenger Game will be played on August 23, 2014 at Volunteer Stadium. Also participating in this year's game will be a team from Clinton Valley (Michigan) Little League.
To fund this opportunity of a lifetime, Little Mountain Baseball has been collecting donations since the 2014 baseball season began.
If you would like to contribute, your cheque can be sent to:
Little Mountain Baseball Challenger
4595 Clancy Loranger Way
Vancouver, BC, V5Y 2M4
If a tax receipt is required, donations greater than $500 can be made out to the BC Challenger Baseball Booster Association (Earmarked for LMB Challenger). Donations can also be made online via CanadaHelps.org.
We gratefully acknowledge financial contributions from the following individuals, businesses and organizations who have helped support this event:
Individuals

Ken & Christina Armstrong
Douglas Baldry
Lenki & Al Borthwick
Will Cullen
Benjamin Dartnell
Andrea F.
Fairweather Family
JC Fraser
Darlene Goldie
Dauna & Gus Gustavson
Evelyn Haines
Jeff Holloway
William & Evelyn Hourston
Dr. Nasir Jetha & Dr. Shamim Jetha
Ronald Klassen
Nestor & Lindsey Korchinsky
Christophe & Angela Labrune
Kathleen Leahy
Ed Levinson
Ken & Michelle Lim
Aleks & Bruce Locke
Jackson Family (Karen, Colin, Hayden & Kendra)
Jane & Richard Lutman
Alina McKay
Vicki Morell
Stephen Nantel
Bob & Debbie Neal
Krystyna Pacholczyk
Andrew Pau
Cristina Pepe
Brian Perry
Pulver Family
Pindy S.
Alda & Jason Silvestre
Kim Steger
Gordon & Helen Thom
Thompson family (Derek, Audra, Hunter & Aimee)
Franco & Donna Trasolini
Sylvia Turgeon
Uncle D
Bruce Verchere
Toby Verchere

Organizations:

McDonalds Restaurant - 29th & Main Vancouver
Canadians Professional Baseball Club
Fang Family - Cody's Fund held at Vancouver Foundation
Fraternal Order of Eagles
Matt Donelly & The Academic
Kwin Grauer & Salmon's Rentals
CKNW Orphan's Fund
Main Street Physio
Little League International
Little League Canada
Baseball BC
Canadian Federation of Amateur Baseball
Steve Quinn & Abbie's Sports Shop
Subway Restaurants
Patterson Brands
Dorsey & Whitney LLP
Bill MacLagen & Blake, Cassels & Graydon LLP
Bull Housser & Tupper LLP
Murphy Battista LLP
Umpires from Canadian Little League Championships

Gifts from team coaches:

T-ball: White Sox
T-ball: Phillies (Paul Kennedy)
MMA: Clarkdale (Scott Stanley)
Minors: AJ Tigers (Frank Soper/Mike Rusch)
Minors: Carter Honda (James Fairweather/Scott Kuzyk)
Majors B: Clarkdale (Mawi Bagon/Doug Mollenhauer)
Majors B: Salmon's Rentals (Jeff Phillips/Lisa Bouma)
Majors A: PMBA (Mike Morgan/Brad Dorwart)
Majors A: Abbies (Kevin Smith)
Majors A: Signmaster Signs (David Hanning/Danny Wrench)
Majors A: Lions (Scott Stanley)

50/50 winners who contributed part or all of their winnings:

Mike Morgan
Peter Wong
Pia Perkins
Raine Hanning
Brad Dryborough
Gilbert
Jenny Pearson
Jamie Lyman
TC Yang
Rob McPherson
Pier Chung
Shannon McCague
Janette Fricker
Chris Wilson
Pat Reynolds

At the District 1 11/12 District 1 championship game between Little Mountain and Dunbar, Dunbar coach Brian Saul donated $100 to the Challenger program and challenged the other coaches, family members, and fans watching the game to match his donation. These individuals did so:

Pat Chaba
Pat Reynolds
Frank Soper
Shapera family
McCague family
Lyman family
Mitchell family
Sandover family
Steve Quinn
In additional to the names above, a large number of people have contributed anonymous donations over the past few months. We sincerely thank all of you. Funds raised will ensure the participants have comfortable travel and accomodation at Williamsport, and help them to look their best on the field.
Thursday, July 17
BC Government adds support for Little Mountain Baseball's Player Development Structure
Premier Christy Clark presents $65k in support recently for Little Mountain Baseball's proposed new player development & batting cage structure.
July 16, 2014 Kehl Petersen / Little Mountain Baseball Association / www.littlemountainbaseball.com (Hillcrest Park Diamond - Vancouver, B.C.)
Little Mountain Baseball has received a big boost of support and a $65,000 investment from the BC Government for its proposed new Player Development Structure/Batting Cage. This backing will help transform Little Mountain Baseball's current single-lane, two-season batting cage structure into an inclusive, accessible and purpose-designed, two-lane, four-season player development structure.
"Little Mountain Baseball helps hundreds of young British Columbians learn and grow," said Premier Christy Clark. "I'm happy we could support this effort to make Little Mountain more accessible and inclusive."
This structure will be shared with a number of community and sporting groups and will increase the utilization of the existing structure by over 250%. This structure will also compliment the new Challengers Division's Hillcrest accessible playing field proposed by the Vancouver Park Board and the Vancouver Canadians.
With over 45% growth since 2007, these two exciting announcements will enable Little Mountain Baseball to be a center of excellence for youth baseball and community development."
Little Mountain Baseball's Challenger Division is one of two in Vancouver and one of the most established in North America. Challenger baseball allows children with cognitive or physical disabilities the opportunity to enjoy the full benefits of baseball at a level adapted and structured to their abilities and special needs. For most of the Challenger players this is their first and often their only opportunity to be on a team, wear a uniform and be part of a league in a sports community.
Little Mountain Baseball Association is Canada's oldest Little League, founded in 1951. Little Mountain Baseball is a 750+ family non-°©-profit society supported by hundreds of community volunteers who share a goal to implant the ideals of good sportsmanship, honesty, loyalty, courage and respect for authority into the children of our community. Tens of thousands of Vancouverites hold Little Mountain Baseball dear, as witnessed by the incredible turnout to our 60th anniversary celebration at the Nat Bailey Stadium in 2010. This coincided with LMB's winning the Canadian Little League Championship and going to the Little League World Series in Williamsport, Pennsylvania where our LMB team received worldwide media exposure, not just for their amazing play, but also for their incredible sportsmanship and positive attitude.
For more information, please contact:
Kehl Petersen Little Mountain Baseball Association, Vancouver, BC kehl.petersen@gmail.com
Tuesday, August 12
Thanks to the Vancouver Canadians!
LMB board member Mike Morgan presents JC Fraser, GM Vancouver Canadians, with an LMB recycled grandstand timber bench In recognition of the Vancouver Canadians support over the years and especially for their support of our Challenger Division.
Monday, August 25
Challenger game at Williamsport news and articles
As readers of this space know, Little Mountain's Challenger participants went to Williamsport this past week to take part in the festivities and play a game against a little league from Clinton Valley, Michigan. Keep reading for some links and pictures.
Finally, challengers are continuing their fundraising campaign. Please follow this link if you would like to see some more great pictures and fan commentary, and contribute to the effort. No amount is too small!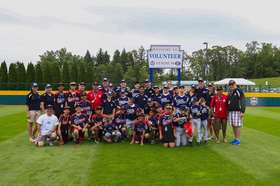 Challengers at the LL World Series
The Parent's Pledge
I will remember that my child plays sport for his or her enjoyment, not for mine.

I will encourage my child to play by the rules and to resolve conflicts without resorting to hostility or violence.

I will teach my child that doing one's best is as important as winning so that my child will never feel defeated by the outcome of a game.

I will never ridicule or yell at my child for making a mistake or losing a competition.

I will remember that children learn best by example. I will applaud good player performances by both my child's team and their opponents.

I will not force my child to participate in sports.

I will never question the official's judgement or honesty in public.

I will support all efforts to remove verbal and physical abuse from children's sporting activities.

I will respect and show appreciation for the trained volunteer coaches who give their time to provide sport activities for my child, understanding that I have a responsibility to be part of my child's development.