Little League Southwest Region: SW Region News: Michele Smith to Visit the Southwest Region for Coaches Clinic
Tuesday, December 17
Michele Smith to Visit the Southwest Region for Coaches Clinic
Two-time Olympic Softball Gold Medalist Michele Smith will be in Bossier City, Louisiana for a Softball Coaches Clinic on Saturday, January 25, 2014 that will provide instruction on hitting, pitching, fielding, and practice organization.
Registration will start at 9:00 AM and instruction will begin at 10:00 AM. The event will cost $30 and will include lunch. It will be held at Airline High School in Bossier City, LA.
The contact for the clinic is Jason Ennis, who can be reached at 318-296-1026 or jeicp5@yahoo.com.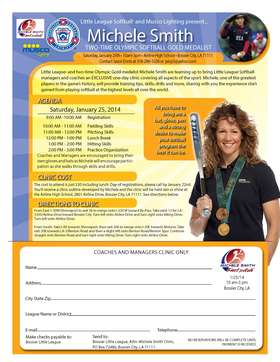 Handout:
Michele Smith Softball Clinic