Little League Southwest Region: Umpires
Thursday, April 21
2016 World Series Umpires - Southwest Region
Click on the image below to view and/or download the .PDF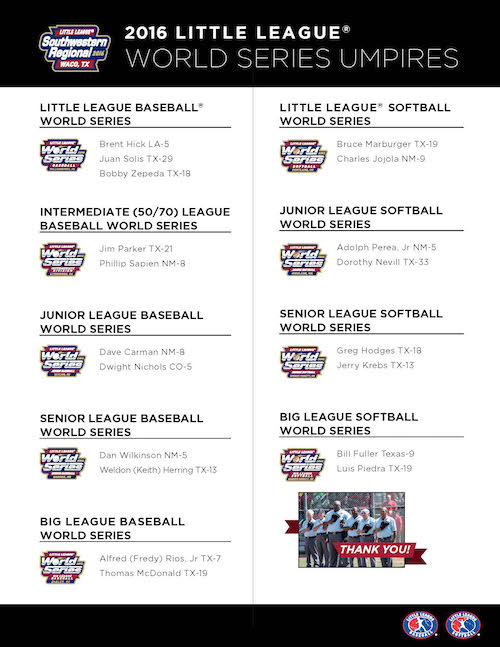 Wednesday, December 2
2016 Little League Southwestern Region Umpire Clinic
Registration is now available at http://ltllg.org/HrrndU for the 2016 Little League Southwestern Region Umpire Clinic. The Clinic will be from February 12-14, 2016 and is open to the first 36 registrants. Once registration is closed a waiting list will be begin for those who e-mail their name and contact information to southwestregion@littleLeague.org.
The clinic will cover new rules for both baseball and softball and focus on two-man mechanics on the field. Four-man mechanics will also be covered during the clinic. Cost for the clinic is $70 per person and includes all materials, a t-shirt, and lunch and dinner on Saturday.
Thursday, May 28
2015 REGIONAL UMPIRE ASSIGNMENTS
To access the list of 2015 Regional Umpire Assignments for the Southwestern Region, please click on the link below:

2015 SOUTHWEST REGIONAL UMPIRE ASSIGNMENTS
2015 Little League International Umpire Registry now Available
Want to become part of the Little League umpire family? Join a very special group of volunteers that have dedicated many years of service to the largest youth sports organization in the world and get the latest information before anyone else. Just click on the link below to obtain your annual membership and start receiving great perks, including an exclusive 2015 membership pin.
2015 LITTLE LEAGUE INTERNATIONAL UMPIRE REGISTRY
World Series and Regional Umpire Assignment Policy
To view the current policy of Little League International for World Series and Regional umpire assigments, please click on the following link:
WORLD SERIES/REGIONAL UMPIRE SELECTION PROCESS
Little League Umpire Resource Center
Don't miss out on very relevant instructional material that will get you better prepared for Little League assigments. Make sure you create your profile at the Umpire Resource Center:
2015 Southwest Umpire Clinic Open for Registration
The opportunity is here! Online registration is now available for the 2015 Southwest Region Umpire Clinic that will be held in Waco, TX for those volunteers that aspire to strengthen their Little League Umpire training under an updated and consistant curriculum of instruction on the field.
This event is limited to 24 participants only and will get full pretty quickly. So, make sure to secure your spot by cliking on the following link:
2015 SOUTHWEST REGION UMPIRE CLINIC (registration is now closed)