Little League Southwest Region: Regional Tournaments
Monday, May 9
2016 STATE WINNER'S PACKETS
You can click on any of the links below to download the respective State Winner's Information Packet:
SOFTBALL
Little League--Waco, TX (7.22.16 update)
BASEBALL
Little League--Waco, TX (7.22.16 update)
Intermediate (50/70)--Grand Junction, CO
Thursday, June 30
2016 LITTLE LEAGUE SB & BB SOUTHWEST REGIONAL BRACKETS
Download the brackets and closely follow the action of our Little League softball and baseball division Southwest Regional tournaments. Click on the image to obtain the .pdf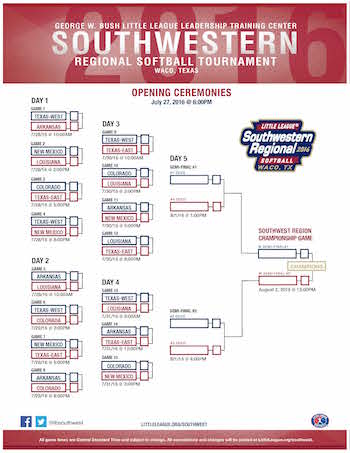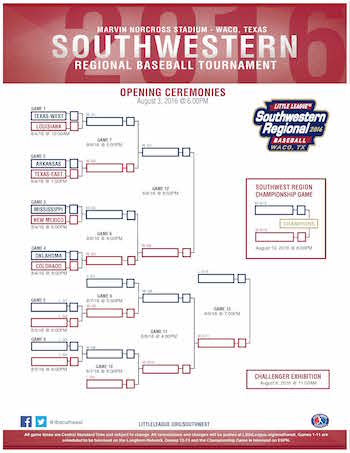 Tuesday, June 14
2016 LITTLE LEAGUE SOUTHWEST REGIONAL VOLUNTEER PACKET
Are you interested in volunteering for the 2016 Little League Baseball/Softball regional tournament in Waco?
Make sure you download the tournament application, fill out all the information needed and send us your documentation before June 30, 2016.
To download the volunteer info packet, please click on the following link:
Tuesday, January 26
2016 SOUTHWEST REGIONAL TOURNAMENTS
The location and dates fot the 2016 Soutwest Regional Tournaments have been determined. Please take note to help your planning process. This table is subject to revision and may be updated. Always check for the lastest version or contact us if you need any assistance. To access the file, just click on the image below: