Livingston High School Volleyball: News
Sunday, June 24
Summer Open Volleyball Schedule Announced!
Summer volleyball for all high school girls and boys players starts this Monday June 25th. Here is the weekly schedule:
Mondays and Thursdays -- Grass play on the LHS Oval beginning each night at 6pm
Tuesdays and Wednesdays -- Indoor play at the LHS Fitness & Wellness Center starting at 7pm
These options will be available until Wednesday, August 8th.
Wednesday, June 6
Gold Medal Square Camp Accepting Registration Now!
Gold Medal Square Camp Accepting Registration Now!
Once again this year, Gold Medal Squared Camp will be returning to Livingston High School to provide a 4-day training program for high school boys and girls volleyball players.
Led by Livingston Coach Al Partelow, the 30-hour program is conducted with experienced volleyball coaches who will teach individual skills and team drills to all participants.
The cost of the program is $250. To learn more, click the headline to this article for a direct link to the Gold Medal Squared Camp website.
Participants are encouraged to register quickly as space is already filling up. Payment is due by July 27th. For more information, contact Phil Edelstein at phil820@verizon.net.
Wednesday, June 6
Summer Volleyball Opportunities
Even though July and August tend to be quieter times for organized volleyball programs (though options are available), there are many options for recreational play here in Livingston and around New Jersey.
Here in Livingston, the Livingston Volleyball Association has organized both indoor and outdoor evening volleyball sessions for all high school players. The Livingston High School gym will be available two nights each week for indoor play and two nights there will be outdoor nets set up by the Gazebo at the Oval (weather permitting). High School boys and girls are welcome to play.
Another fun way to keep your skills sharp are beach volleyball tournaments. Throughout the summer, Great American Volleyball sponsors Junior volleyball tournaments at Jenkinson Beach in Point Pleasant. Dates are currently not posted, but check in with Great American Volleyball's website at greatamericanvolleyball.com.
For more information, contact the Livingston Volleyball Association at lvba10@gmail.com.
Friday, May 25
County Champs!
Essex County Champs!
The Livingston Boys Varsity Volleyball Team captured their fourth Essex County Boys Volleyball Tournament Championship by defeating Belleville High School 25-11 and 25-19.
Game 2 saw a spirited comeback from a late 22-19 deficit, led by the serving of Junior Libero Matty Goldberg.
Congratulations to Coaches Partelow and Cece and the entire Boys Varsity Team!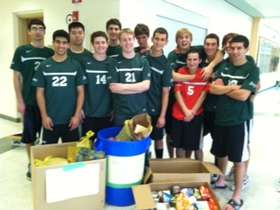 LHS Boys Varsity Team with food drive donations
Tuesday, April 24
Food Drive Week Benefits CHOW/Community Food Bank
Food Drive Week Benefits CHOW/Community Food Bank
The LHS Boys Volleyball Team made a food donation to CHOW Food Bank and a monetary donation to The Community Food Bank in Hillside. The food and donations took place at a game against JP Stevens. The Lancers won by a 2-1 score.
Pictured with the food drive donations are the LHS Boys Varsity Team:
Front row: Aidan Russo, Phil Spiler, Kyle Homberg, Evan Schoenbach, Matty Goldberg, Scott Levine
Back row: Jason Fleischer, Mason Zhu, Greg Libson, Tyler Corsello, Kyle Rulka, Zach Gokhman, TJ Scrivo.
Angelo D'Ecclessis not available for photo.
Monday, December 19
Congratulations to the Livingston Girls Varsity Volleyball for a phenomenal 2011 season. Under the leadership of Coaches Partelow and Cece, the team ended their season reaching the Final Five in the NJSIAA Tournament of Championship, as well as:
Group IV Sectional and State Champion

Essex County Champion

Super Essex-American Division Conference Champion

Lancer Invitational Tournament Champion

NV-Demarest Tournament Champion

Eastern Tournament Champion
A special appreciation is extended to managers John Cherichello, Brett Wagner, Matt Brown and volunteer Jeff Liu along with all the volleyball fans who supported the team.
Sunday, December 18
Star-Ledger's Girls Volleyball All State and County Selections:
All-State Team Selections
First Team: Nancy Yang
Third
Team: Elizabeth Zimmermann
First Team: Nancy Yang and Elizabeth Zimmermann
Second Team: Alyssa Vorbeck
Third Team: Rachel Kung, Alyssa Cherney
Essex County Player of the Year:
Nancy Yang
All Essex County Team Selections
First Team: Alyssa Vorbeck, Nancy Yang and Elizabeth Zimmermann
Second Team: Rachel Kung, Stephanie Bishop, Alyssa Cherney, Allison Edelstein,
Third Team: Jamie Schneck
Essex County Coach of the Year:
Al Partelow
Livingston was also listed #5 in the Star-Ledger top 20 with a final record of 27-2.
Congratulations to all the Livingston Girl Volleyball players and their Coaches.
Wednesday, December 7
Congratulations to the LHS Girls' Volleyball team members who were named to the Super Essex Conference Team.

First Team: Rachel Kung, Nancy Yang, Alyssa Vorbeck, Elizabeth Zimmermann and Allison Edelstein.
Second Team: Stephanie Bishop, Jamie Schneck and Alyssa Cherny.
Honorable Mention: Cate Lin Leu.

Additional news: Elizabeth Zimmermann was named an Athlete of the Month for Fall Sports by the Big L Club of Livingston High School at last night's sports awards. Congratulations Elizabeth!

The Livingston High School Girls' Varsity will be honored by the Essex County Freeholders at their December 21 meeting for their accomplishments. Congratulations!
Monday, December 5
Congratulations to Coach Al Partelow for being named as a recipient of a NJSIAA Service Award for 2011, and to Genova for Athletic Directors.
Thursday, November 10
Congratulations to the LHS Girls Varsity Volleyball team and Coaches Partelow and Cece who won against ranked North Hunterdon in the playoffs.
Saturday, October 22
Congratulations to the Livingston Varsity Girls Team along with Coach Partelow and Coach Cece on their win in the finals of the Essex County Championship tournament Finals. The team played against East Side High School and won 2-0. This is their third championship since the tournament was initiated. Well done Livingston!
Saturday, September 24
Lancers Win!
Congratulations to the 2011 Livingston Girls Lancer Varsity Team, Coach Al Partelow, and Coach Bob Cece for winning the Lancer Invitational! The tournament was started in 1996 and this is the first time the Lady Lancers have captured first place. Thank you girls - you made LHS VB history!
Saturday, September 17
Congratulations to the LHS Girls Varsity Volleyball Team on winning the Northern Valley-Demarest Volleyball Tournament today. Due to a strong team effort, the players went 7-1 in pool plays against River Dell, Holy Angels, Cresskill, Pascack Hills. Seeded 2nd in the Gold Bracket, the team went on to win against Pascack Valley, River Dell and for the finals the home team, Demarest. Keep up the good work!
Friday, September 9
Our Frosh, JV and Varsity teams will play games on September 22nd to raise Breast Cancer Awareness, raise funds for the Komen Search for the Cure and also to have a great fun night of volleyball. The volleyball competition will be between the LHS teams and Union Catholic and the games will 'count'. There will also be a serving contest for interested players. Everyone's participation is vital in making this night a success. So invite your friends and families!
To assist with the fundraising we are asking each player to assist by securing donations or selling advertising. Attached is a form where a business or a person can put an ad in a pamphlet for the game or have their name imprinted on the T-shirts. Great advertising for businesses! Players can ask relatives, their dry cleaner, local hang-out or write a note to a loved one to support these efforts to raise money for Breast Cancer Awareness. Please return the sponsor/pamphlet submissions form no later than Sunday, September 18. The ad information can be sent to this email and the check handed in to a coach or mailed to the LVBA address. The LVBA is a registered 501(c)3 foundation.
Volunteers are still needed so please sign up for one of the committees on our list by responding to this email.
Thank you for your support!
Marti Kung, Kate Zimmermann and LHS Coaching Staff and Players
Handout:
Pink Events
Monday, August 22
The Girls and Boys Volleyball team participated in a one week Elite Volleyball Training Camp hosted by the Volleyball Association and High School Coaching staff. Last week 38 players took part in a volleyball camp conducted by the Gold Medal Squared Elite Training Center. The camp ran for four days as an all day camp. Players were coached by some of the top college coaches in the country. Players of all ability levels, both boys and girls went through intense training of all facets of the game. Head coach Al Partelow felt that this training camp will help to get the 2011/12 Girls and Boys seasons off to a good start.
Tryouts for the Girls season begins on Monday Aug. 22 and will continue throughout the week. For questions contact the High School Athletic Department.
Tuesday, August 16
This fall is the start of the new Livingston 8th Grade Travel Volleyball Team. Registration deadline is fast approaching. For more details, please read the news release in the Handouts.
Handout:
8th Grade Girls Volleyball
Friday, August 12
Mark your calendar for the 2011 Allegro Fall Ball season!

We will once again be offering 2 practice options: Twice per week on Tues/Thurs (each practice 1.5 hrs), or once per week on Sundays (each practice 3 hrs).

Tournaments will be on Saturday Mornings: 10/8, 10/22, and 11/5 (approx 9AM-1PM).

Tryouts/Placement camp: Sunday 8/28 from 2-4PM (for Sunday Teams); or Tues 8/30 from 5:30-7:30 (for Tues/Thurs teams). There is a tryout/application fee of $20.

The season will be a little longer than last year's: Practice will begin the week of Sept 11th and run through the final tournament on November 5th. Tuition for the Fall Season is $275.

Registration will be online shortly at www.allegrovolleyball.com

Allegro Fall Ball is a program designed for girls age 10-18. PowerZone will be hosting a separate fall program for boys... see www.powerzonevb.com for info or email fsiegle@powerzonevb.com for info on boys programs.

Program Overview: Fall Ball 2011 is an 8-week program that runs in September-October. Fall Ball provides players with structured individual and team skill training… as well as tournament play against other clubs. Teams are open for girls age 10-12, 13-14, and 15-18. Two teams share a court (approx 9 players per team), and each team has its own head coach. Teams practice 3 hours per week: players can choose a team that practices Tu/Th or once per week on Sunday. Three tournaments are held at PowerZone throughout the season on Saturday Mornings.
Saturday, June 11
Congratulations to the following Seniors who play in the NJ All-Star Game from LHS: Ed Jung, Jayson Patel, Steven Birnbaum and David Lee on Saturday, June 11 at 12:30pm.
Saturday, June 11
Livingston High School coaches to host the Gold Medal Squared Elite Volleyball Camp week of August 15-18 at the Fitness Wellness Center. The Gold Medal Square philosophy is presented by top volleyball coaches of the country. The LHS coaching staff training methods and skills taught to their players are the same as the US Olympic Men's and Women's teams known as the Gold Medal Philosophy. This camp will reinforce and expand on the instruction given by the LHS staff. There are limited spots due to site limitations. To register go to www.goldmedalsquared.com . Further information can be found under the Handout section.
Monday, June 6
The Fall Girl's season is approaching rapidly. There are some very important items that you must take care of before try-outs begin... Read LHS Girl's Volleyball and All Summer Programs in Handouts section.
Saturday, June 4
Congratulations to the Livingston Boys Varsity Program for a successful season. Besides your sportsmanship, team spirit and athletic talent, you topped it off with the Championship Titles of the Super Essex Conference and Essex County along with being one of the final top eight teams in the state. Great accomplishments! We are very proud of you!
Monday, May 23
Congratulations to the successful seasons that have ended for the 2011 Boys Freshmen and
Junior Varsity Teams
.
Under the guidance of Coach Giuliani the Freshmen Team only had 2 loses in regular season! The team consisted of Austin Fleischer,Michael Cheng, Kevin Cheung, Ryan, Eng, Andrew Farrell, Jay Schaefer,
David Shulman
, Alex Tran and Ben Traskunov along with managers Sarah Tracey, Casey, Matt Healy and Jimmy Yu.

There was no stopping the powerful JV team under new Coach Dan Kim who ended the season with a record of 20-0!! The team was supported by Captains Kyle Homberg and Abhi Shah along with Aidan Russo, Zach Gokhman, Matt Goldberg, Devon Graham, Howard (Hao) Hsu, Kris Kania, Evan Kleiman, Haau Yan Li, Alex, Nie, Evan Schienbach, Philip Spiler, Alex Wainberg, Kent Wu and Mason Zhu.
The Varsity season continues in State play with a game
on May 26
. More details to follow.

Congratulations to all the LHS Lancer volleyball teams!
Tuesday, May 17
The Nominating Committee of the Livingston Volleyball Association (LVBA) is pleased to collect nominations for the ballot of our Board of Directors for 2011-2012. We believe the Board will be successful if there is a balance of board members who have connections to both the girls' and boys' programs. We're looking for candidates who will be dedicated, thorough and display leadership in following the mission of the LVBA, including:
· Encourage, grow and maintain an enthusiastic interest in Livingston Volleyball Programs
· Raise funds to carry out the work of the LVBA in supplementing equipment and training that is not budgeted by the Board of Education
· Collaborate with faculty in charge of the Livingston Volleyball Programs
· Ensure the continued growth and increase in level of play for student athletes
Other Parameters:
·
All Board members will begin their one-year term on September 1, 2011.
·
You can nominate yourself for a Board position.
·
Serving on the Board does not guarantee a member's child any preferential treatment with playing time or a position on a team.
The slate of nominations will be presented at the picnic on June 12. Nominatiffons may be made from the floor after the report of the Nominating Committee. Elections will take place at the picnic as well, since this will be the final general membership gathering for the year. Candidates who receive a majority vote of the membership present shall be considered elected.
Attached is a brief description of the Officer duties and current Board members. Please reply with your nomination(s) by Friday, June 3 to one or all from the Nominating Committee listed below. Also if anyone is interested in a committee chair in any of the areas listed, please let us know that, too.
We look forward to another great year ahead!
Nominating Committee:
Ann Bishop

ann_bishop@verizon.net

cell

973-953-8773

(daughter Stephanie Bishop, grade 10, Varsity)

Lena Rosenblum

ldjmt@aol.com

cell

973-632-7227

(daughter Taylor Rosenblum, grade 10, Varsity)

Tom Scrivo

tscrivo@mdmc-law.com

cell #

201-694-8015

(son T.J., grade 11,

Varsity team

)
Sunday, May 15
The girls supervised conditioning sessions in the weight room are
on Mondays
and
Fridays at 3:45pm until 5pm
ending
June 11
.
June 13,
14, 15 - After school clinic for incoming 9th grade boys and girls.
June 18
- Sports Physicals at LHS 8am Boys-9am girls
June 28
Proposed start date for summer open gym for boys and girls
7pm Tuesdays
& Wednesdays
August 8 to 12 - Lancers Recreation Coed Sports Camp supervised by LHS coaches. Register at
www.livingstonnj.org
Sunday, May 15
Final seasonal games will be played this week for
Junior Varsity
and Varsity. On
Friday, May 20
there is a time change, the JV will play at
4pm
and the Varsity afterwards (
5pm
) where Seniors will be honored. We encourage all fans and families to attend and cheer them!
Saturday, May 14
CONGRATULATIONS TO THE BOY'S VARSITY TEAM ALONG WITH COACH AL PARTELOW AND COACH BOB CECE ON WINNING THE ESSEX COUNTY VOLLEYBALL CHAMPIONSHIP! Great accomplishment! We are proud of you!
Friday, May 6
Starting this
Monday, May 9
the girls' volleyball players will be starting an out of season program in the Livingston Wellness Center. Players ( and potential players) will meet at 3:45pm for warm-ups then participate in a volleyball conditioning program in the
Weight Training Room
under supervision.
The program will be held Mondays and Fridays until June
. The workout sheet is attached here.

No prior experience needed!
Handout:
Girls Workout Sheet
Sunday, April 3
Our JV team came in second place yesterday at Bloomfield. They ended pool play in first place and defeated Bloomfield and Fair Lawn in the quarter and semi finals. They faced Bridgewater in the finals and lost in a close one game final. Contests to the JV and coach Kim.
Friday, February 25
On Sunday, March 6
there will be a GEVA Volleyball Tournament at LHS. Volunteers are needed to help with the set-up, concession stands, court help and cleanup. Please let Phil Edelstein know at
phil335@comcast.net
your availability by
March 4
. Thank you for your support for this event.
Congratulations to LHS alumni Brandt Grobeis'07 who as a Senior is also Captain of the Stevens Insititute of Technology mens volleyball team and
Billy Williams
'10 who plays for
Bard College
.
Sunday, February 20
The Livingston BOE appointed
Dan Kim
to be the JV Boys Volleyball coach. Dan is a former player for LHS playing on the first LHS
Essex County Championship
Boys Team. He was All Conference and All County for LHS. He formerly was Head Girls Coach at Morris Catholic and is in his second year as a coach for Atlantic Valley Volleyball Club.
Saturday, January 29
YOUTH IN-TOWN VOLLEYBALL PROGRAM
Livingston Senior, Youth & Leisure Services is accepting registration for a new In-Town Youth Volleyball Program for boys and girls in grades 6 – 8th. The program will be a structured, instructional and recreational program. After initial training and practice sessions, boys and girls will be grouped into teams based on age and skill level to compete in recreational games and enhance their development and most of all have fun. The program will begin on Wednesday, April 6, from 7 – 9 PM and continue through Wednesday, June 15. There will be no games or practice on Wednesday, April 20 during the school spring vacation. This program will be conducted by Bill Cece, an experienced volleyball player and middle school volleyball coach. Additional volunteer coaches will be needed. Any parent or high school student desiring to assist with this program is asked to call the SYLS Office at 973-535-7925.
Parents must complete the registration forms and pay the fee at the SYLS Office or online at www.livingstonnj.org – click on link to Community Pass before the March 18th deadline to participate in the program. Registration forms are available at the SYLS Office and online at www.livingstonnj.org under SYLS.
Fees are charged for this activity. No registrations will be accepted at the gym, and no one will be allowed to participate until he or she has registered. For further information call the SYLS Office at 973-535-7925.
Wednesday, January 19
***NJSIAA Group IV North Sectional State Champion***
Super Essex Conference American Division
All Conference Awardees:
First Team: Connie Cheng, Michelle Lee, Nancy Yang
Second Team: Alyssa Vorbeck, Lizzy Zimmermann
Honorable Mention: Alison Edelstein
---
The Star Ledger Honorees:
All State-All Groups (2nd Team)…Group IV (1st Team) -All County (1st Team)..........Nancy Yang
All State-Group IV (3rd team…All County (1st Team)……………...……….......……..Michelle Lee
All County (2nd Team)………………………………….......................….......………..Connie Cheng
All County (2nd Team)……………………………...…………….......………Elizabeth Zimmermann
All County (3rd Team) …………………………………………….......…...…………Alyssa Vorbeck
Essex County Team of the Year……………………………….....................…..…………Livingston
Team ranked 9th in the THE STAR-LEDGER TOP 20
CONGRATULATIONS!
Wednesday, December 15
Heritage Volleyball
Just a reminder that physicals are
due Monday, December 20, 2010
, for any
student interested in trying out for the girls or boys HMS Volleyball teams
for the 2011
Winter Season
. If you have an updated physical in the Health
office already, you need only to submit an updated emergency card,
permission slip, sportsmanship pledge, and health questionnaire "Part A" of
the physical packet. Tryouts will begin the week of
January 10, 2011
.
After the December break, exact days and times will be announced.
At this time we are pleased to announce our head volleyball coaches:

Joelle Marchegiano Girls Volleyball
Bill Cece Boys Volleyball

Both teams will also have assistant coaches to be announced at a later date.
If you have any questions, please feel free to contact Cathy Homberg,
Athletic Coordinator at Heritage Middle School 973-535-8000 x8862 or
<mailto:chomberg@livingston.org> chomberg@livingston.org.

HMS/YMCA Athletics would like to wish you a Happy and Safe Holiday Season!
Wednesday, December 8
Coaches Partelow, Cece, Marchegiano, Giuliani and Jeff Liu participated in the Gold Medal Coaching Clinic from December 3-5 held in Rahway.
Here is a picture of Livingston representatives and GM2 clinicians L-R: Carl McGown, Ron Larson, Ellen Law, Al Partelow, Bob Cece, Jeff Liu, Shawn Oomstead.
Carl McGowan
AvCA
Hall of Famer
Ron Larsen - University of California Coach
Shawn Omstead - BYU assistant coach
Not in photo James Guiliani and Joelle Marcheganio

Thanks to LVBA for your support.

Monday, November 22
Congratulations to Connie Cheng, Amy Gao and Michelle Lee who made the Senior all-star team. They will play at LHS at 2:30pm on December 4.
Monday, October 25
A fundraiser will be held at the
California Pizza Kitchen
at the
Mall at Short Hills
on Sunday, November 21
. CPK will donate 20% of your pre-tax check to the Livingston
Boys and Girls
Volleyball Teams. Please bring the flyer in the
Handouts
on November 21
and give it to your server.

Thank you for your support.
Thursday, October 21
This Thursday, October 21 at the LHS vs. Ridge volleyball game the teams will honor our Seniors:
Adiam Amare, Lauren Atkins, Connie Cheng, Amy Gao, Micehlle Lee and Jade Yee.
Thursday's game schedule is
4pm
Junior Varsity
vs. Ridge and then a presentation at approximately
5:15pm
with the Varsity game immediately following.
Please come and support our Seniors the best and support our teams!!
Thursday, October 14
Congratulations to Nancy Yang - named as Top Performer of the Week by the Star-Ledger.
Monday, September 20
The Lancer Invitational will have 4 pools of 5 teams with a Gold and Silver championships with the top two teams in each pool advancing to the Gold and the third place teams to the Silver playoffs. The games start at 9am. The teams are:

Pool A: Union Catholic, Eastern, Ridge, Pascack Valley, Bishop Ahr
Pool B: Livingston, Williamstown,
Old Bridge, Hackettstown, Westfield
Pool C: Hunterdon Central, Fairlawn, Mendham, Barringer, Mt.
St. Dominic
Pool D: West Morris Central, Paramus, Memorial, Montcliar Kimberely Academy,
North Brunswick
Sunday, September 12
Congratulations to
Michelle Lee
and Nancy Yang - named as Players to Watch by the Star-Ledger.
♦♦♦♦♦♦♦♦♦♦♦♦♦♦♦♦♦♦♦♦♦♦♦♦♦♦♦♦♦♦♦♦♦♦♦♦♦♦♦♦♦♦♦♦♦♦♦♦♦♦♦♦♦♦♦♦♦♦♦♦♦♦♦♦♦♦♦♦♦♦♦♦♦♦♦♦♦♦♦♦♦♦♦♦♦♦♦♦♦♦♦♦♦♦♦♦♦♦♦♦♦♦♦♦♦♦♦♦♦♦♦♦♦♦♦♦♦♦♦♦♦♦♦♦♦♦♦♦♦♦♦♦♦♦♦♦♦♦♦♦♦♦♦♦♦♦♦♦♦♦♦♦♦♦♦
Congratulations to our girls' alumni from the 2009 team who are playing college volleyball for their respective colleges:
Amy Friedman - Carnegie-Mellon University;
Natalie Marek - Ramapo College and
Casey Tepper -
Union College
.

We wish them a great season.
♦♦♦♦♦♦♦♦♦♦♦♦♦♦♦♦♦♦♦♦♦♦♦♦♦♦♦♦♦♦♦♦♦♦♦♦♦♦♦♦♦♦♦♦♦♦♦♦♦♦♦♦♦♦♦♦♦♦♦♦♦♦♦♦♦♦♦♦♦♦♦♦♦♦♦♦♦♦♦♦♦♦♦♦♦♦♦♦♦♦♦♦♦♦♦♦♦♦♦♦♦♦♦♦♦♦♦♦♦♦♦♦♦♦♦♦♦♦♦♦♦♦♦♦♦♦♦♦♦♦♦♦♦♦♦♦♦♦♦♦♦♦♦♦♦♦♦♦♦♦♦♦♦♦♦
The girls volleyball teams are selling Livingston Volleyball apparel. Please see a player to order some great items or email us at:
lvba10@gmail.com
for information. All funds raised are used for the volleyball program.
♦♦♦♦♦♦♦♦♦♦♦♦♦♦♦♦♦♦♦♦♦♦♦♦♦♦♦♦♦♦♦♦♦♦♦♦♦♦♦♦♦♦♦♦♦♦♦♦♦♦♦♦♦♦♦♦♦♦♦♦♦♦♦♦♦♦♦♦♦♦♦♦♦♦♦♦♦♦♦♦♦♦♦♦♦♦♦♦♦♦♦♦♦♦♦♦♦♦♦♦♦♦♦♦♦♦♦♦♦♦♦♦♦♦♦♦♦♦♦♦♦♦♦♦♦♦♦♦♦♦♦♦♦♦♦♦♦♦♦♦♦♦♦♦♦♦♦♦♦♦♦♦♦♦♦
Join the Livingston Volleyball Association (LVBA). The LVBA was created in 2010 to support and further develop the sport of volleyball for our
youth. Membership forms
have been handed out to the members of the girls teams. We are hoping for 100% participation. Further detailed information will be posted soon on this website.
Tuesday, August 31
The scheduled Girls V/JV Volleyball scrimmage @ Mt. Olive for this Saturday has been CANCELLED. The team (V/JV) will be practicing instead on
Saturday morning
from 8 AM – 10:30 AM.
Friday, February 25
On Sunday, March 6
there will be a GEVA Volleyball Tournament at LHS. Volunteers are needed to help with the set-up, concession stands, court help and cleanup. Please let Phil Edelstein know at
phil335@comcast.net
your availability by
March 4
. Thank you for your support for this event.
Congratulations to LHS alumni Brandt Grobeis'07 who as a Senior is also Captain of the Stevens Insititute of Technology mens volleyball team and
Billy Williams
'10 who plays for
Bard College
.
Friday, February 25
On Sunday, March 6
there will be a GEVA Volleyball Tournament at LHS. Volunteers are needed to help with the set-up, concession stands, court help and cleanup. Please let Phil Edelstein know at
phil335@comcast.net
your availability by
March 4
. Thank you for your support for this event.
Congratulations to LHS alumni Brandt Grobeis'07 who as a Senior is also Captain of the Stevens Insititute of Technology mens volleyball team and
Billy Williams
'10 who plays for
Bard College
.