Livermore HS Girl's Lacrosse: Welcome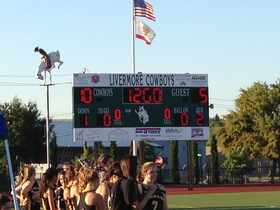 JV Girls vs. Granada Last Game
2013-2014 LHS Girls Lacrosse
Welcome to the 2013-2014 Livermore High School Girls Lacrosse Season!
We are off to a great start! Practice has started and is held at LHS Field from 6:30-8:30pm, Monday though Friday except when there are games. If you are interested in joining, please check out the handouts page and turn in the appropriate paperwork.
Drivers are needed for transporting girls to away games. Please go to LVJUSD Drivers' PDF Form and fill out the PDF online, print and turn into the Livermore High School Office along with a copy of your insurance and your driver's license. This form is required before driving to the first game.
LHS Girl's Lacrosse Game Schedule 2014
Thanks and Good Luck!