Livermore HS Girl's Lacrosse: Welcome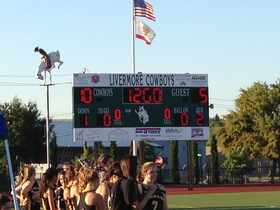 JV Girls vs. Granada Last Game
Keep In Shape With Off Season Options!
There are many ways to keep Lacrosse Fit during the Off Season. Here are few:
Captain's Practices
Winter Open Field Practices are 4:00-5:30 at Tex Spruiell Park off of Felicia Avenue starting on Tuesday, November 5th. Practices will be every Tuesday and Thursday regularly after Thanksgiving break. So until then, we will have practices on Tuesday November 5th, Tuesday November 12th, Thursday November 15th , and then every Tuesday and Thursday after Thanksgiving break.
Club Teams
These are a great way to keep in shape and play in a team environment in the off-season. There are quite a few options on the Bay Area. Most of the teams have Fall Teams, although there are a few that are year long. Tryouts can vary as well, although most hold their tryouts in January or February for their summer teams, and some continue to add girls right before the teams start their season. Travel uniform, tournament fees, coaches stipends, travel costs and registration fees vary from club to club. Here is a list of some local clubs (if you find out about any others; let me know):
Camps
Keep In Shape With Cross Training
Join other teams, play other sports! Swim, Run and Stay Fit! Come check it out! If you have any other suggestions, send them to melanie@redunter.com and I will include them on our website!
Friday, April 26
Summer Camp Scholarships Available
Players and parents,
The NorCal Lacrosse Foundation is pleased to announce the scholarship application for summer lacrosse programs is now available. Although this is not a NCJLA sponsored scholarship, it is a great opportunity for players wishing to participate in a summer camp or on a summer travel team to apply for financial support.
Click on NorCal Lacrosse Foundation Scholarship Application.
The submission deadline has been extended. All completed applications must be emailed to funds@norcallacrosse.orgby May 7, 2013.
The NorCal Lacrosse Foundation, Inc. was incorporated on September 21, 1995 and administers the Faulkner Fund. The Faulkner Fund was established in 1997 for the purpose of providing funding for projects that "expand the scope of participation or the level of quality of players, coaches or officials" in Northern California. The endowment is a legacy of Peter Faulkner who was a pioneer in developing grass roots lacrosse in Northern California.
Please direct any questions regarding scholarships to funds@norcallacrosse.org.