Leo High School Hockey: Welcome
Leo Jr/Sr High School Hockey
This website is pretty much only for Scott's grandma to keep a calendar and link to photos, but all are welcome to look.

Scott Jacoby at Leo tryouts 2010
Wednesday, October 23
(2013-2014) Leo for the first time ever is #1 in the Fort Wayne High School Hockey League
On September 28, Leo defeated Homestead. On the next three Wednesday nights, Leo defeated Panthers, Saints, and Bruins. At the same time Carroll defeated the same four teams. Leo and Carroll were undefeated and tied for first place in the league. On October 23, 2013, Leo defeated Carroll 10-5 and became the lone #1. This is the first time Leo has been the lone #1 in Fort Wayne.
On October 16, Scott became the points leader in the state and league. After the Carroll game, Scott and Nick Janiszewski of Leo are tied in points. Two weeks in a row, Nick had three goals and three assists to catch Scott. In the Carroll game, Scott had four assists and injured a leg late in the game. Scott is also having two top wisdom teeth removed on the next two Thursdays.
Wednesday, October 16
(2013-2014) Scott is a Senior at Leo Jr/Sr High School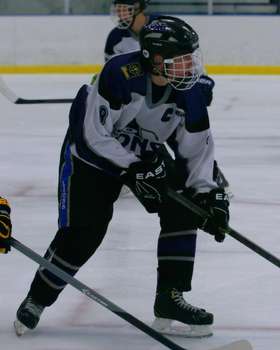 Captain
Monday, September 9
(2013-2014) Summer News
Scott had a job at the Towne House Retirement Community doing meal duty. He burned his hand so could not play when Team Indiana defeated IPFW. He did play some inline hockey with the Tropics at Canlan and the Plex. They won a trophy at Canlan. Scott was suffering extreme leg pain but tried to keep going with Leo Summer Skates. On the way to one of those he totaled the Evo but nobody was hurt. He decided to have the screws removed from his leg. SO he could not play with Team Indiana at the Motor City Cup in September. He will not be playing with Team Indiana, Leo Lions, or Phantoms until late September 2013. He did play with the Phantoms one game on September 22, 2013, then the opening game with Leo vs Homestead on September 28. Scott scored the winning shootout goal against Homestead.
Sunday, April 14
(2012-2013) Scott with Team Indiana at America's Hockey Showcase in Pittsburgh
Thursday, February 28
(2012-2013) Last league game of season
Scott played the whole season. He was third high in points in the city and state so he received a plaque. He also was selected first team All-City. Leo lost the Memorial Cup championship game to Homestead again.
Sunday, July 29
(2012-2013) Scott was selected at the Team Indiana tryouts
Sunday, June 10
(2011-2012) Championship Rings received at the team party June 10 2012
Saturday, March 10
(2011-2012) Leo Lions defeated Crown Point Bulldogs for 3A Indiana State championship!
Sunday, March 4
(2011-2012) Leo won two games with Munster and Noblesville and tied Penn so qualified for the 3A State Championship!!
Wednesday, February 29
(2011-2012) February 29 2012 - Leo lost to Homestead (undefeated) in the City Tournament Championship
Scott did not play because of his broken leg. However, before the game the five top goalies and five top scorers were named. Because of Scott's 34 points in the first 13 games, he was fifth high scorer. Scott was also voted by the head coaches to the All-City second team. Scott is a sophomore - There were no other Leo players on either All-City team.
Wednesday, January 4
(2011-2012) Scott had a leg injury in the first few minutes of the game January 4 2012 (click to see)
after the commercial - when you see players - advance the counter to about 13:30 and watch the right side of the screen - Scott gets the puck and turns toward the goal
Wednesday, November 30
(2011-2012) Scott was the first person in the state to get 30 points in league games
Sunday, October 23
(2011-2012) U16 Phantoms won the Rock n Roll in Cleveland
The Phantoms won the first three games 4-0, 9-1, 12-1, and Scott had 7 goals. In the third game he scored 2 goals in the first period so played defense but not for long. In the final game, they were 1-1 so had to go into overtime. Scott got the assist on the winning goal. Scott was named tournament MVP.
Wednesday, October 19
(2011-2012) Scott got a hat trick against Carroll as Leo won 9 - 1
Wednesday, October 5
10/5/2011 - Scott's 16th birthday - He scored two goals as Leo defeated Northrop 7 - 2
Sunday, October 2
(2011-2012) Fort Wayne U16 Phantoms won The Firestorm
The Phantoms lost to Maine Twp Friday night but won on Saturday vs the Lake Forest Scouts. They played the Marquette Mustangs (who had won three pool games) in the Semi-Final and won 5 to 1. They had to play the Maine team again in the championship. The game was tied up by the Phantoms scoring two goals in the last 56 seconds. They played through a 4 on 4 overtime and a 3 on 3 overtime. In the shootout, Gillig, Jacoby, and Stover scored to only two for Maine Twp. Scott was named the tournament MVP - he said he had three goals and six assists.
Sunday, March 6
(2010-2011) Leo wins three games in pool play so will compete March 12 in 2A State High School Championship
Thursday, February 10
(2010-2011) Leo finished the regular season in second place in Fort Wayne
Carroll is in first place. By defeating Homestead and Northrop the last week, Leo replaced Homestead as the city league runner-up in the regular season. First and second place teams have a bye for the first week of city play-offs. Scott had 5 goals and 12 assists in the 15 city games. He had a goal in the last game.
Wednesday, November 10
(2010-2011) Scott got his first high school goal tonight -- and 3 assists !!!

Scott in his new jersey
Sunday, October 24
(2010-2011) Leo Lions win first game vs Valparaiso Vikings 3 - 2