Lakewood Ranch Little League: Welcome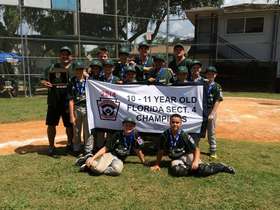 Congratulations LWRLL 10/11 All Stars - 2014
Lakewood Ranch Little League - Florida District 26
Play Ball! Spring 2015 Registration is Here!
Easy Ways to Sign Up... On-Line 24/7 (available mid December) or at The LWRLL Ballpark. In-Person Sign Up Dates Are:

FRIDAYS - Jan 9th, Jan 16th 6:00-8:00pm
SATURDAYS - Jan 10th, Jan 17th 10:00am-2:00pm

New Little League® Eligibility Rule -
In an effort to accommodate Little Leaguers® playing with their classmates, and ease the burden on parents and guardians, Little League® recently amended its residency requirements to allow children to play in the local league whose boundaries where they attend school is located. For example, Little Leaguers who reside outside Lakewood Ranch Little League boundaries and attend Braden River and Freedom Elementary Schools as well as Braden River and Haile Middle Schools are now eligible to play at Lakewood Ranch Little League. Little League has created an official school enrollment form. The form will be available mid-December.
Download Registration Forms (mid-December)