Lake Mary Little League: Welcome
5/28 - 2015 Top Team Updates
We just wanted to provide an update on our Top Team play:

Our AAA Marlins won again and are in the Semi Finals this Saturday at 10 AM at Maitland.

Our Intermediates Dodgers fought back last night to win and continue on in the brackets tonight.

Our Softball Lunachicks also won tonight as well!

Congratulations to all the teams on representing Lake Mary Little League and we hope our families can find some time to help come out and cheer the teams on.
2015 All Stars
We are pleased to announce our Age 9 All Stars. Congratulations to Anthony Bompartito, Chase Cooper, Blake Falco, Lukas Hodgins, Cole Johnston, Andrew Little, Giovanni Mantovani, Mason Masterson, Andrew Merchant, Dylan Powell, Mattthew Trapane, Landon Trask, and Trevor Wright.
The Age 10 and Intermediate All Stars will be announced later in June, so check back for updates.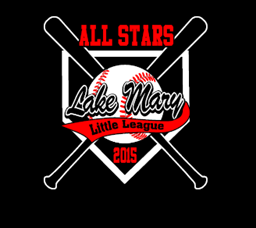 New Lake Mary Little League Website has Soft Launched!
We are happy to announce that we've officially kicked off the process of a new and enhanced website and registration process. We have partnered with a Dick's Sporting Goods company named Blue Sombrero and invite you to check out our new site at http://leagues.bluesombrero.com/lakemaryll/
We have opened the Fall Registration under our new site and have started the migration process for most of our current content and hope you will take a few minutes to check out what the new site offers. We will be wrapping up the Spring 2015 season using our current site, however, you will soon start to see us switching over to the new site as we continue our transition. Please make sure to bookmark lakemarylittleleague.org in your favorite browser to be set for when we formally transition to the site. Don't worry though if you have the current site bookmarked, we will still have a presence on this site and will provide you with a direct link to our new site at that time.
Check Us Out On Facebook
Monday, May 18
Spring 2015 Softball