Lakehead University Thunderwolves Baseball: Welcome
Welcome to the home of the Lakehead University Thunderwolves baseball team. The 2015/2016 season will see the Wolves looking to rebound from a 10-10 finish in 2014/2015. Lakehead will play a fall schedule consisting of approximately 15-20 games along with a 10-15 game schedule in the spring including a possible trip to Orlando, FL during reading week. The Wolves will once again be playing in the National Club Baseball Association in the United States and will play a 12 game conference schedule in the District V North Conference. Lakehead hopes to return to the NCBA DII District V Regional Tournament and grab a berth to the NCBA World Series in Pittsburgh, KS.
------------------------------------------------------------------------------------------
Become a fan of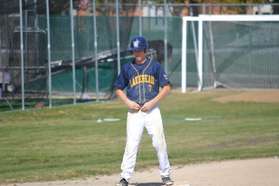 Junior Josh Kennedy
All Lakehead University practices are @ Baseball Central Blue Diamond. You must be a student in good academic standing to particiapte in NCBA conference games.
If you are interested in playing for the Lakehead University Thunderwolves club baseball team, please email Head Coach Jason Hart at baseball@lakeheadu.ca.