Lakehead University Thunderwolves Baseball: Welcome
Welcome to the home of the Lakehead University Thunderwolves baseball team. The 2013/2014 season will see the Wolves looking to build on an impressive back to back berths in the District V Regional Tournament, where they placed 3rd. Lakehead will play a fall schedule consisting of approximately 20-25 games along with a 15-20 game schedule in the spring against NCAA, NAIA and NJCAA teams from across the border. The Wolves will once again be playing in the National Club Baseball Association in the United States and will play a 12 game conference schedule in the District V West Conference. Lakehead hopes to return to the NCBA DII District V Regional Tournament and grab a berth to the NCBA World Series in Paducah, KY.
------------------------------------------------------------------------------------------
Become a fan of
Friday, October 18
New Game Times For Weekend Series
The game times for this weekend's series against the University of Minnesota are as follows:
Saturday Game #1 Noon
Saturday Game #2 2:30 p.m.
Sunday Game #3 Noon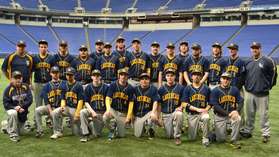 'Wolves in Metrodome