Lakehead University Thunderwolves Baseball: Welcome
Second Baseman Robert Shedden
Welcome to the home of the Lakehead University Thunderwolves baseball team. The 2012/2013 season will see the Wolves looking to build on an impressive 1st year where they finished 18-14 overall and earned a berth in the District V Regional Tournament, where they placed 3rd. Lakehead will play a fall schedule consisting of approximately 20 games along with a 25-30 game schedule in the spring against NCAA, NAIA and NJCAA teams from across the border. The Wolves will once again be playing in the National Club Baseball Association in the United States and will play a 12 game conference schedule in the District V West Conference. Lakehead hopes to return to the NCBA DII District V Regional Tournament and grab a berth to the NCBA World Series in Paducah, KY.
After a successful fall and wet spring season the Thunderwolves have secured the At-Large bid for the District V Regionals in Sheboygan, WI. Our live scoreboard, featured below, allows you to catch up on all the Wolves action.
------------------------------------------------------------------------------------------
Become a fan of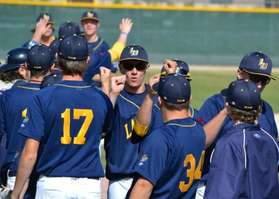 The Wolves congratulate each other after closing out a series win in MN
Wolves win opener at District V Regional's
The Lakehead Thunderwolves defeated the #1 seed Grand Valley State University 7-2 on Friday night at the District V Regional's in Sheboygan, WI.
Ben Dupuis picked up the win in relief of starter Kevin Faber. Dupuis tossed the final 4 innings allowing 1 hit and not allowing a run. Talyor MacAskill was 2-4 with 2 runs scored and Doug Nikkila was 1-3 with a run scored, while Rob Shedden collected 2 hits and 2 rbi. Ben Kennedy added a 1-3 night with a big rbi in the 6th inning, when the Wolves erupted for 5 runs to take a 5-2 lead. Lakehead added 2 more runs in the top of the 7th to seal the victory and advance to tomorrows semi-final contest with the University of Wisconsin at noon.
Friday, April 19
Bad weather continues and forces games to be rescheduled and cancelled
The 'Wolves conference series against Moorhead State University have been cancelled this weekend, as well as next weeks College of St. Scholastica games that were scheduled for Wednesday, April 24th.
We are desperately trying to salvage the remainding conference schedule, but any games that are going to be played will be out of town on the weekend of April 27-28.
Once a plan is in place we will post it on our website.
2013 Baseball Camp announced
The Lakehead Thunderwolves baseball club has announced the date for their summer baseball camp.
There will be two age groups (8-12) and (12-14).
Check out the button to the left and download the registration form and send it in.
Space is limited to a first come first serve basis.