Louisiana Hurricanes: My Site News
Wednesday, April 4
Thank you!
Thank you for several great years of wonderful football.
We have truly enjoyed this experience and have made some great relationships with many people.
Regards,
Damon & Ashley Taylor
Monday, July 4
2011 Team Awards
The team has voted amongst their peers for the 2011 team awards.
Special Teams Player of the Year- Gabe Gamboa, #38 K
Offensive Rookie of the Year- Dexter Scott, #10 QB
Defensive Rookie of the Year- Sage Guidry, #57, DT
Most Valuable Player- Ed Williams, #36, DT/FB
Defensive Player of the Year- Karmen Sam #4, Safety
Offensive Player of the Year- Dexter Scott, #10, QB
The following awards were given from the coaching staff.
Comeback Player of the Year- Desmond Woods, #2, WR
2011 Team Leader- Edwin Pierre, #75, OL
Monday, July 4
Congrats to the 2011 All Star Picks!
The following players were selected for the 2011 All-Star Team!
James Jack #25
Desmond Woods #2
Dexter Scott #10
Ed Williams #36
Edwin Pierre #75
Karmen Sam #4
Gabe Gamboa #38
Brandon Pierre #78
Sage Guidry #57
Stan Thomas #51
Dennis Williams #88
Travis Sereal #41
Lawrence Briggs #21
Thank you to all of the Hurricane supporters!
The LA Hurricanes would like to thank all of our supporters! Even though we fell short, we had a great season!
We would like to thank our staff, coaches, and most importantly the 2011 LA Hurricanes players!
2011 Louisiana Hurricanes Official Regular Season Schedule
2011 LA Hurricanes Schedule
| | | | |
| --- | --- | --- | --- |
| Date | Team | Score | Record |
| 12-Mar | Louisiana Eagles (Home) | 10-7 (W) | 1-0 |
| 19-Mar | Lake Charles Panthers (Away) | 24-0 (W) | 2-0 |
| 26-Mar | South LA Wolfpack (Home) | 26-0(W) | 3-0 |
| 2-Apr | Alexandria Bayou Bengals (Away) | 24-12 (W) | 4-0 |
| 9-Apr | BYE | | |
| 16-Apr | Louisiana Eagles (Away) | 27-7 (W) | 5-0 |
| 30-Apr | Lake Charles Panthers (Home) | 12-6 (L) | 5-1 |
| 7-May | South LA Wolfpack (Away) | 6-0 (W) | 6-1 |
| 14-May | Alexandria Bayou Bengals (Home) | 25-13 (W) | 7-1 |
| 21-May | BYE | | |
PLAYOFFS 2011
4- June LA Blazin Bulldogs 43-6 8-1
11- June LA Jaguars 27-14 9-1
25- June Plaquemine Parish Broncos 31-12 9-2
Sunday, March 6
Pro Athlete WR-Donald Fusilier IFL Indoor Football League WICHITA WILD
Name: Donald Fusilier Position: WR/DB/KR/PR Height: 6ft 1in Weight: 195 lbs Date & Place of Birth: Aug.10, 1984 New Iberia, LA Major: Health & Physical Education GPA: 3.57 Yrs Attended: Spring 09-10 Current Residency: Lafayette, LA Cell: 225-933-2305 Email: fuse337@yahoo.com HS: Westgate New Iberia, LA. Division: NAIA/D2 College: Lindenwood University Address: L.U. 209 S. Kings Hwy Saint Charles, MO 63301 L.U. Coach: Patrick Ross Marketing & Publicity: David Mims 313-624-MIMS (6467) Det2LA@yahoo.com
Donald Fusilier was born and raised in New Iberia , LA until he and his family moved to Lafayette, LA at age 9. Fusilier started playing football at the age of 10 in Lafayette, LA. His dream as a child was to play college football and then play in the NFL. He didn't get recruited out of high school due to lack of exposure. Fusilier used it as motivation and believed that he would eventually play collegiate football. At Westgate High School he was a Team Captain, and lettered in football, basketball, and track. Fusilier graduated from the 1st senior class at Westgate and was apart of the 1st team to win a district basketball championship in school history. He graduated from Westgate in 2002 in the top 50 of his class with a 3.3 GPA, but wasn't a qualifier. He enrolled at Nicholls State University in Thibodaux , LA during the fall of 2002 and did not play sports. While at Nicholls, Donald also became a member of Omega Psi Phi Fraternity Incorporated.
When introduced to Semi-Pro Football, the Lafayette Hurricanes in Lafayette , LA gave Donald hope to play football again. Donald researched and discovered that Semi-Pro/ Minor League Football was designed for athletes like himself, and would provide him with a second chance at a college football career. Fusilier moved back to Lafayette in November 2007 to pursue his football career, at age 23 and four years removed from high school. Donald learned the system quickly and instantly became a starter. Fusilier helped lead his team to the Championship game and won 10-3 with his game winning touchdown. Fusilier had another successful season for the Louisiana Hurricanes and played in the League Championship June 6, 2009, which was his final game. Donald used his semi pro film to get recruited by various colleges and chose Victor Valley College . Coach Hardy of www.Chosen1Sports.com and Coach Mims ofwww.MusclesInMotionSystems.com provided Donald with options to make this great choice. Fusilier became a starter and team captain for the Victor Valley Rams. They finished the season with a 6-4 record. He closed his career at Victor Valley College with a 7 catch, 121 yd, and 2 td performance and also caught the game winning touchdown in a 4-OT thriller vs. Mt. San Jacinto College. Fusilier received calls from numerous colleges to transfer and learned his eligibility clock was running out. His enrollment at Nicholls State University and semester at Victor Valley gave him 9 full-time semesters. Because of NAIA rules he was able to transfer to Lindenwood University in St. Charles, MO. He will play one season as a senior and is a leader and mature athlete at the age of 26.

Lindenwood University opens the season ranked #2 in the NAIA National Poll and has recent success at the receiver position from the 2009 team. Roren Thomas and Marcel Thompson got invites to NFL Camps. Donald is prepared to continue this wave of opportunity for the next level.

Donald is excited about the opportunity to succeed and overcome adversity. He dedicates this season to his mother, Ms. Mary Leisa Fusilier, who passed away a week before his birthday on August 3, 2010. Donald is using the loss as motivation for his continued success. Fusilier is a proud parent of daughter, Saniaya Andrea Fusilier, who was born on May 30, 2007. Lindenwood finished the season recently on Saturday, November 20, 2010 with a 46-38 last minute loss in the First Round of the NAIA Championship Series at the hands of the Saint Francis Cougars. Donald didn't have the productive season like he wanted ,due to issues with being at Lindenwood for only his senior season. The quarterback was more comfortable with the guys that were there before him. Donald Fusilier started all 11 games for the Lindenwood Lions in 2010 and was targeted 23 times. He is looking forward to off-season workouts and a future as a professional ball player. Donald participated in a few all star games, including the www.AllAmericanBowl.com @ the Metrodome on Dec 18, 2010.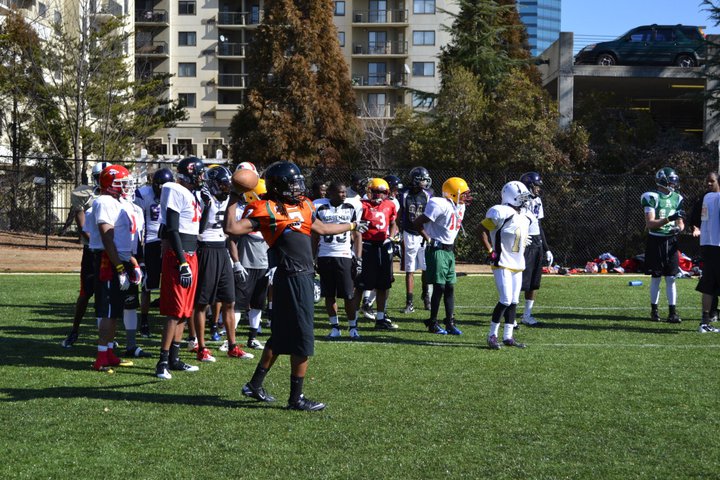 Friday, December 24
LA Hurricanes deliver toys to those in Lafayette General and Women's and Children's hospitals for the holidays!
Louisiana Hurricane's Donald Fusilier participated in the college All American Bowl on December 18, 2010
CONGRATS TO FORMER LA HURRICANES SEMI PRO FOOTBALL PLAYER DONALD A. FUSILIER
FUSE HAD A GREAT PERFORMANCE ON BOTH SIDES OF THE BALL IN THE ALL AMERICAN BOWL
Visit the links below for more information about Donald Fusilier
http://www.eventsetter.com/pr/THEJEH/events/123767.html http://groups.yahoo.com/group/Detroit2LA_LooP/messag...e/994
http://www.iberianet.com/articles/2011/01/02/sports/doc4d20090c7b6ba254885716.txt
http://www.youtube.com/watch?v=v3mZ5iOwbpQ
2010 Louisiana Hurricanes
2010 Louisiana Hurricanes
February 27 Bengals (Home) Won 18-10 (1-0)
March 6 Vipers (Home) Won 38-6 (2-0)
March 13 Eagles (Away) Baton Rouge, LA Lost 32-27 (2-1)
March 20 Crush (Home) Won 40-0 (3-1)
March 27 Swamp Cats (Away) New Orleans, LA Won 29-7 (4-1)
April 10 Bengals (Away) Alexandria, LA Won 6-0 (5-1)
April 17 Vipers (Away) Hammond, LA/Slidell, LA Won 6-0 (6-1)
April 24 Eagles (Home) Loss (6-2)
May 1 Crush (Away) Abbeville, LA Won Forfeit (7-2)
May 8 Swamp Cats (Home) Won Forfeit (8-2)
May 22- Round 1 Playoffs VS. New Orleans Jaguars Won 14-12 (9-2)
May 29- Round 2 Playoffs Vs. LA Westbank Roadrunners (Away) Won 19-8 (10-2)
June 12- Championship Vs. LA Eagles Loss 26-18 (10-3)
Monday, January 4
2009 Christmas
Each year the Louisiana Hurricanes visit the Pediatric floor of Lafayette General Hospital. This year we were fortunate that there were very few children in the hospital during the Christmas holidays. We brought gifts for those who were in the hospital and for their siblings.
Monday, June 15
4th season completed!
The Louisiana Hurricanes have now successfully completed their 4th season.
Thank you to all of our sponsors and supporters for making this a great season! Please visit our site regularly for upcoming updates.
Hurricanes in the Acadiana Community
Canes that Care!
On Saturday December 20, 2008 the Louisiana Hurricanes visited children and donated christmas presents to the children in the pediatric unit of LGMC. Thank you to the staff of LGMC who assisted with this event!
2009 Hurricanes Schedule
Official 2009
Louisiana Hurricanes Schedule
February 28- Hurricanes Vs. Broncos HOME Lost 7-13 (0-1)
March 7- Hurricanes Vs. Bulldogs AWAY Won 26-20 (1-1)
March 14- Hurricanes Vs. Westbank Roadrunners AWAY
Won 19-0 (2-1)
March 21- Hurricanes Vs. Eagles HOME Won 46-20 (3-1)
March 28- Hurricanes Vs. Cardinals HOME Won 34-7 (4-1)
April 4- Hurricanes Vs. Broncos AWAY Won 25-12 (5-1)
April 18- Hurricanes Vs. Bulldogs HOME Won 6-0 (6-1)
April 25- Hurricanes Vs. Westbank Roadrunners HOME Won 26-13 (7-1)
May 2- Hurricanes Vs. Eagles AWAY Lost 26-20 (7-2)
May 9- Hurricanes Vs. Cardinals AWAY Won 10-8 (8-2)
Playoff Game 1 vs Dallas Knights Won 6-0 (9-2)
Playoff Game 2 vs Lake Charles Panthers Won 47-0 (10-2)
Championship Game vs Alexandria Patriots Lost 9-7 (10-3)
The Hurricanes close out season with 2008 Banquet!
The Louisiana Hurricanes completed the 2008 season very successfully as the TLSWFA League Champions. In order to congratulate the players and celebrate, the Hurricanes had a year end family fun day banquet.
At the banquet the coaches, staff, and players were given special awards and gifts.
The Louisiana Hurricanes are the 2008 TLSWFA champions!
The Louisiana Hurricanes traveled down to Houston, Texas on May 31, 2008 to play in the TLSWFA league championship against the Louisiana Survivors. In a hard fought battle, the Hurricanes defeated the Survivors 10-3.
Congratulations to the coach's, players, staff, and fans for a very successful 2008 season!
The building blocks of success......
Friday, June 20
Official Hurricanes Photographs at jcouvphotos.com!
You can view all pictures for the Louisiana Hurricanes by clicking on the image.
Pictures are available for purchase.
2008 Hurricane Schedule
March 1 Home Louisiana Eagles 39 -15 (1-0)
March 8 Away New Orleans Roadrunners 43-0 (2-0)
March 15 Home Houston Cardinals 28-6 (3-0)
March 22 Home Spring Heat 6-0 forfeit (4-0)
March 29 Home Dallas Knights 17-6 (5-0)
April 12 Away Louisiana Eagles 32-26 (6-0)
April 19 Home New Orleans Roadrunners 48 to 27 (7-0)
April 26 Away Houston Cardinals 20 to 0 (8-0)
May 3 Away Spring Heat 6-0 forfeit (9-0)
May 10 Away Dallas Knights 20 to 21 (9-1)
May 17 Home Louisiana Eagles 27 to 6 (10-1)
May 24 Home Dallas Knights 24 to 7 (11-1)
May 31 Away Louisiana Survivors (CHAMPIONSHIP) 10 to 3 (12-1)