Washington Lady Warrior Softball: Welcome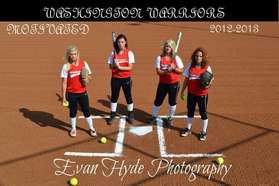 Senior Leadership
Home of the State Champions!
See the STATE TOURNAMENT tab for bracket information. Games start Thursday, October 4th.
Sooner Conference Awards:
Callie Busby, Freshmen Newcomer of the Year
Allison Wells, Junior
Katherine Curry, Senior
Tiffany Winchester, Senior
Katherine Curry, Senior
Jacie Stephens, Senior Defensive Player of the Year
Congrats ladies,way to represent Washington in the Sooner Conference!
FASTPITCH
2010 Class 3A State Runner Up
2008 Class 3A State Champions
2005 Class 2A State Champions
2000 Class 2A State Champions
1999 Class 2A State Champions
SLOWPITCH
2011 Class 4A State Champions
2009 Class 4A State Champions
2006 Class 4A State Champions
2005 Class 4A State Champions
2004 Class 4A State Champions
2002 Class 4A State Champions
2001 Class 4A State Champions
2000 Class 4A State Champions
1999 Class 4A State Champions
1995 Class 3A State Champions