PITTSBURGH LADY ROADRUNNERS: Welcome
July 8th is the one year anniversary of the PLR Proclamation and Roadrunner Day!
_________________________________________________________________________________________________

The Pittsburgh Lady Roadrunners (PLR, Inc.) is a girls traveling fastpitch softball organization.




We are a 501 (c) (3), non-profit organization centered around the Pittsburgh region. The 2013/2014 softball season is our thirteenth year of operation. Since 2001 we have fielded one or more teams in 10U, 12U, 14U, 16U and 18U age groups. In all, this year, there are close to 100 young ladies from the Pittsburgh area playing on our teams.

The goal of the Pittsburgh Lady Roadrunners is to develop our players'skills to compete at the highest competitive levels. This requires the time and dedication of our many players, members and coaches. We accomplish this through skill training; clinics with nationally renown figures such as Howard Kobata and Crystl Bustos; indoor fielding time during the winter months; batting cage work year round at our Training Center and outdoor practices at several local fields that we have access to. Our teams participate at the highest class A level within the national governing bodies ASA, NSA, USSSA and Pony.

The majority of our players have continued their softball careers with Division I, Division II, and Division III college programs..

SEE WHAT OUR GRADUATED ROADRUNNERS ARE UP TO AT "SITE NEWS/ALUMNI" PAGE

_____________________________________________________________________________________

Call Fred Terrell (412-320-0907; haboducky@yahoo.com ) or Jason Minear (724-726-8411; mailto:jminear1@verizon.net)

if you have any questions.

Website: www.pittsburghladyroadrunners.net

_________________________________________________________________________________________________
Roadrunner song
Sunday, July 5
Mass shows strong at the Battle of the Burgh
Great weekend for Mass 12U finishing 3rd out of the 31 teams that participated at the Battle of the Burgh over the weekend.
Way to Go Girls!
Mass 12U players... is that coach Mass (center) in his 4th of July best?
Thursday, June 25
2015-16 Tryout Dates set
The Pittsburgh Lady Roadrunners will be holding tryouts for the
2015-16 Tournament Softball Season for 10U, 12U, 14U, 16U, and 18U.
Participants will be judged on a variety of Softball Skills
(hitting, fielding, throwing, base-running, pitching and catching where appropriate).
Please arrive 30 minutes early for registration.
Tryouts are:
Wednesday, Aug 5th

1

0U and 12U

6 pm to 8:30 pm

Fairhaven Field (tentative)
Thursday, Aug 6th

14U, 16U, 18U

6 pm to 9 pm

Fairhaven Field (tentative)
Saturday, Aug 8th and Aug 15th

Greentree Sportsplex
10U and 12U

8:30AM to 11:30 AM
14U

1:30PM to 3:30 PM
16U and 18U

3:30PM to 5:30 PM
(There is a $10.00 Non-Refundable Tryout Fee)
Monday, July 15
Follow the PLR on Twitter or Like us on Facebook
Exciting News about the Lady Roadrunners......The Pittsburgh Lady Roadrunners ...

Sunday, June 14

NOW PRESENTING: THE QUEEN OF DIAMOND CHAMPIONS - ROADRUNNERS BELL 14U!!
Awesome weekend for the girls and coaches of 14U Bell as they won the Queen of Diamond tournament.
Way to go Roadrunners!!!
Sunday, June 14
Roadrunners show Power in Home Run Contest with the Rebellion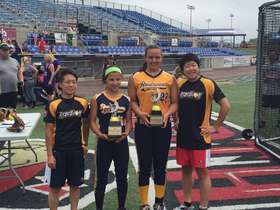 Ava and Mackenzie with two the Professional Rebellion Players
The Pittsburgh Lady Roadrunners participated in the PA Rebellion Qualifer Home Run Contest.
Roadrunners sweep the 10U and 12U events winning both.
Congrats to Ave Martion of Ralston 10U and Mackenzie Freeman of Mass 12U.
Sunday, June 14
Mass Rebellion!!!
ROADRUNNER 12U MASS takes the CHAMPIONSHIP at the PA Rebellion Qualifier. Allowing just 5 runs while scoring 37.
CONGRATS TO MASS
Sunday, June 7
16U Seibert Wins Again at the IUP College Showcase
Congrats to the Roadrunner 16U Seibert team for their second win in there first two tournaments.
Again this week Team Siebert went undefeated on there way to a 4 to 0 victory in the Championship.
KEEP IT GOING LADYS!
Sunday, May 31
Roadrunners Seibert 16U start the Summer off with a win at the ASA Summer Slam
16U Team Seibert started the summer season with a CHAMPIONSHIP at the ASA Summer Slam.
Congratulations to the entire team on an undefeated CHAMPIONSHIP weekend!
Monday, May 25
Roadrunners 10U WINS AGAIN at the Memorial Day Classic
Team Ralston made there 4th Championship appearance in as many tournaments winning again at the Pittsburgh Lady Roadrunner's Memorial Day Challanges.
Way to go girls, another undefeated weekend!
Sunday, May 24
12U Mass and 12U Sutherland meet in Final
Our Memorial Day Classic saw 12U Mass win over 12U Sutherland in the Championship game.
Good showing by both teams and we congratulate them on a good weekend.
Best of luck for the season!
Sunday, April 12
Ralston 10U Wins AGAIN at the Eggstravaganza at Youngwood
Congrats to the girls of Ralston 10U for going 5 - 0 at the Eggstravaganza. In that Championship Game Morgyn George pitched a no - hitter. Impressive effort, along with great pitching the Lady Roadrunners showed their great ddefense as well. Shortstop Ashley Connor had a put out, throwing from her knees in a great defensive play. The Roadrunners brought their bats as well. Long home run Ava Martin and Maddie Crile won the Home Run contest.
Congrats to ALL the ROADRUNNERS for a great weekend.
Thursday, March 19
Dicks Sporting Goods (click here for coupons)
Just for Roadrunners an offer for e-coupons from Dicks Sporting Goods.
Monday, March 16
Roadrunner & Seton Hill's Kutchman Named PSAC West, ECAC Athlete of the Week
Junior infielder/pitcher
Kaitlyn Kutchman
was named the PSAC West Athlete of the Week for the week ending Sunday, March 15th, the league office announced on Monday afternoon. Kutchman is the first Griffin to earn a weekly award this season and joins
Lauren Sauerwein
as the only Griffins to earn a PSAC weekly award. Kutchman was also named the ECAC Division II Softball Player of the Week.
Kutchman led the Griffins to a 8-2 record over their spring break trip to Myrtle Beach, SC. She hit .567 (17-30) over her 9 games played. She scored 8 runs and drove in 18 runs. She added 7 doubles and 1 homer. Kaitlyn had multiple hits in 7 of the 9 games she played and had multiple RBI in 4 games. She also threw a 5 inning no hitter vs Robert Morris Springfield. Kaitlyn was 3-4 with a homer and 4 RBI in the win over Union College (KY). She gave up just 1 run in 7 innings in the circle while giving up 1 hit and striking out 7.
Sunday, February 22
Ralston 10U Wins it ALL at the G-Plex
Congrats to the girls and coaches of Ralston 10U for winning the Championship at the G-Plex. It may have been cold ooutside but the girls were on fire indoors, a 10 run victory in the Championship proves that.
Way to go girls! Keep it up!
About the Roadrunners (click to open)