PITTSBURGH LADY ROADRUNNERS: Welcome
_________________________________________________________________________________________________
The Pittsburgh Lady Roadrunners (PLR, Inc.) is a girls traveling fastpitch softball organization.




We are a 501 (c) (3), non-profit organization centered around the Pittsburgh region. The 2015/2016 softball season is our fifteenth year of operation. Since 2001 we have fielded one or more teams in 10U, 12U, 14U, 16U and 18U age groups. In all, this year, there are close to 100 young ladies from the Pittsburgh area playing on our teams.

The goal of the Pittsburgh Lady Roadrunners is to develop our players'skills to compete at the highest competitive levels. This requires the time and dedication of our many players, members and coaches. We accomplish this through skill training; clinics with nationally renown figures such as Howard Kobata and Crystl Bustos; indoor fielding time during the winter months; batting cage work year round at our Training Center and outdoor practices at several local fields that we have access to. Our teams participate at the highest class A level within the national governing bodies ASA, NSA, USSSA, PGF and Pony.

The majority of our players have continued their softball careers with Division I, Division II, and Division III college programs..

View our teams through our Teams Page or Click on the URL Below:

10U Blue:http://www.eteamz.com/LADYROADRUNNERS/index.cfm?league=797066&subsite=6612147

12U Futures 04:http://www.eteamz.com/LADYROADRUNNERS/index.cfm?league=797066&subsite=6612157

12U Futures 03:http://www.eteamz.com/LADYROADRUNNERS/index.cfm?league=797066&subsite=6612163

14U Elite:http://www.eteamz.com/LADYROADRUNNERS/index.cfm?league=797066&subsite=6612164

14U Gold:http://www.eteamz.com/LADYROADRUNNERS/index.cfm?league=797066&subsite=6612166

16U Elite:http://www.eteamz.com/LADYROADRUNNERS/index.cfm?league=797066&subsite=6612169

16U Premier:http://www.eteamz.com/LADYROADRUNNERS/index.cfm?league=797066&subsite=6612173
16U Gold:http://www.eteamz.com/LADYROADRUNNERS/index.cfm?league=797066&subsite=6612175
18U Gold:http://www.eteamz.com/LADYROADRUNNERS/index.cfm?league=797066&subsite=6612177
SEE WHAT OUR GRADUATED ROADRUNNERS ARE UP TO AT "SITE NEWS/ALUMNI" PAGE
___________________________________________________________________________________________
Call Jason Minear (724-726-8411; mailto:jminear1@verizon.net)
if you have any questions.
Website: www.pittsburghladyroadrunners.net
_________________________________________________________________________________________________
Saturday, January 30
Success at the Night at the Races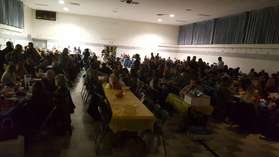 The Betting was Fierce!
On Saturday January 30, 2016; Over 300 people enjoyed the Pittsburgh Lady Roadrunners Night at the Races. In addition to betting on 10 great races, patrons enjoyed a great dinner and was able to try to win several auction items at our annual event.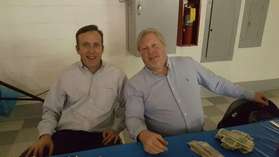 Ken and Bill at the Money Table during the Night at the Races
Follow the PLR on Twitter or Like us on Facebook
Exciting News about the Lady Roadrunners......The Pittsburgh Lady Roadrunners ...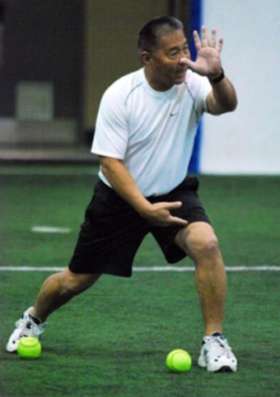 Nationally Reknown Howard Kobata
Thursday, December 10
Howard Kobata works with Roadrunners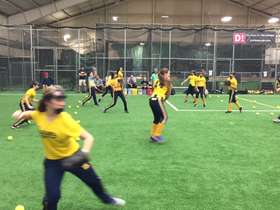 Warming Up the Kobata way!
The week of December 10th saw Nationally Reknown Howard Kobata work with our teams bringing his Kobata Style to the Roadrunners again this year. Kobata Style is the reason our feilding is NOT to slow.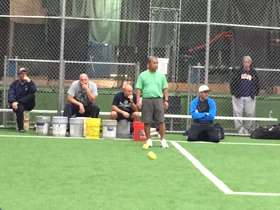 Howard with some "Powerful" coaching minds!
Saturday, November 21
Roadrunners and Griffins
Saturday November 21, 2015 was the first day of a Softball Camp hosted by Seton Hill University. Over the course of the two (2) day camp the 2015/2016 Roadrunners sent several players from six (6) of our teams.
Pictured here are current Roadrunners along with Roadrunners/Griffins:
Kaitlyn Kutchman; Abbey Suhoski and Carlee Wichstrom.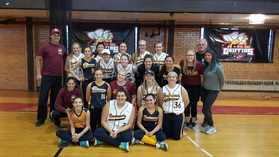 Roadrunners and Griffins
Sunday, October 25
Roadrunners 12U Futures 03 Win the Pumpkin Smash!!!
Congrats to Joe Perri and the Lady Roadrunners 12U Futures 03 for winning the West Hills Pumpkin Smash over the weekend.
What a TREAT for the Organization this Halloween season.
WAY TO GO ROADRUNNERS!!!
About the Roadrunners (click to open)