Clearwater Lady Bombers 02: Welcome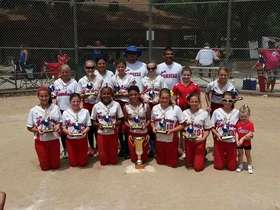 2014 NSA 12U B WORLD SERIES CHAMPIONS
!!!2014 NSA 12U B WORLD SERIES CHAMPIONS!!!
Please check out www.gameon4kids.com. This is a website dedicated to local youth sports for the Tampa Bay area and they have done 4 wonderful stories on this Lady Bombers team.
Here is our schedule for 2014:
Jan 11-12 Clearwater NSA: 1-2 5th place (8 teams)
Jan 25-26 Clermont NSA: 2-1-2 5th place GOLD bracket (12 teams)
Feb 8-9 Ft Myers USSSA 2-2-1 3rd place (10 teams)
Mar 1-2 Kissimmee USSSA 3-2 3rd place (6 teams)
Mar 8-9 Palmetto GRSD 5-1-1 CHAMPIONS (11 teams)
Mar 22-23 Jacksonville USSSA 3-1 3rd place (8 teams)
Apr 12-13 Kissimmee USSSA 1-2-1 5th place GOLD (14 teams)
Apr 26-27 Clearwater NSA 3-2 3rd place (8 teams)
May 10-11 Clearwater NSA 3-1-1 2nd place (6 teams)
May 24-25 Palmetto GRSD 4-3 5th place (9 teams)
May 30 June 1 Clearwater GRSD States 6-2 2nd place (12 teams)
Jun 14-15 Clearwater NSA 3-3 3rd place (9 teams)
Jun 21-22 Clermont NSA B States 8-2 2nd place (29 teams)
Jul 4-6 Ft Myers USSSA B States 5-2 3rd place (25 teams)
Jul 16-20 Clearwater NSA B World Series 5-1-1 CHAMPIONS (17 teams)
Internet Safety and Confidentiality - The Clearwater Lady Bombers are committed to the Safety and Confidentiality of all the players and parents involved in this organization. Personal information is contained on this site for the benefit of college recruiting and player scouting. Use of this information inconsistent with the mission of the Clearwater Lady Bombers is unethical and may be violation of local, state, and federal laws. Further, any person wishing to contact a player on the team roster should first contact the team manager. DIRECT PLAYER CONTACT, WITHOUT THE MANAGER'S PERMISSION, IS STRICTLY FORBIDDEN.