LADY ASTROS SOFTBALL: Welcome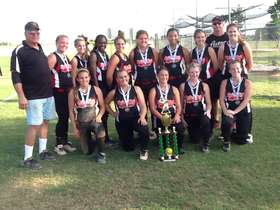 2013 SLIDE INTO SUMMER CHAMPIONSHIP
Friday, January 3
GULFSOUTH FALL STATE CHAMPS 2013
GULFSOUTH FALL STATE CHAMPS 2013-- THE ASTROS PLAYED IN THE LAST FALL TOURNAMENT OF THE SEASON AND FINISH ON TOP WITH THE CHAMPIONSHIP WHEN. PLAYING IN 3GAMES SAT AND NOT WINNING A SINGLE GAME THEY PLAYED GOOD OFFENSE AND DEFENSE BUT COULDNT GET A BREAK BUT THEY NEVER GAVE UP COMING BACK SUNDAY THE OFFENSE AND DEFENSE STOOD THEIR GROUND. LED BY PITCHER MEGAN GREEN AND JESSICA BRIGGS THE TEAM WON 4 STRAIGHT GAMES WITH JESSICA PITCHING 2 BACK TO BACK GAMES FOR THE TEAM TO WIN THE CHAMPIONSHIP.

WINNING TEAM
ESPN Theme
Tuesday, November 27
TWO SENIOR ASTROS WILL BE SIGNING
TWO OF THE LADY ASTROS SENIOR PLAYERS WILL BE SIGNING SCHOLARSHIP TO ATTEND AND PLAY AT LOCAL COLLEGES. JESSICA BRIGGS WILL BE SIGNING TO GO TO PENSACOLA STATE COLLEGE. JESSICA POSITIONS IS PITCHING AND INFIELDER JESSICA IS A SENIOR AT WEST FLORIDA HIGH SCHOOL, ALSO HEATHER THOMASON WILL BE SIGNING AT ALABAMA SOUTHERN COMMUNITY IN MONROEVILLE ALA. HEATHER ALSO PITCHS AND PLAYS INFIELD HEATHER IS A SENIOR AT TATE HIGH SCHOOL CONGRADULATIONS TO BOTH PLAYERS
FOR A JOB WELL DONE
Wednesday, August 1
2012 LADY ASTROS 2 TIME RUNNERUP CHAMPS
2012 LADY ASTROS FINISH SUMMER SEASON WITH TWO RUNNER UP CHAMPIONSHIPS. ONE IN THE HIGH SCHOOL DIVISION AND THE OTHER IN THE SOUTHERN NATIONALS FINALS, MAKING THE FINALS WITH AND 8-0 RECORD. ALSO AFTER FINISHING IN NATIONALS FINALS THE LADY ASTROS ARE RANKED #2 IN THE STATE, GREAT FINISH TEAM
Centerfield (Let's Go!)

LADY ASTROS
Tuesday, December 27
USSSA 18U OPEN FALL CHAMPS
LADY ASTROS FINISH ON TOP- THE LADY ASTROS COMPLETED IN THE USSSA 18UOPEN FALL FINALE AND WITH A WALK OFF 2 RUN HOME RUN FROM KORINA ROSARIO WE WON 4-3 AGAINST DOTHAN ELITE. AFTER A WINNING RECORD OF 4 WINS AND 1 LOST THE ASTROS WAS RANKED #1 SEED. ELITE WENT AHEAD IN THE 2 INNING 3-2, THE DEFENSE HELD UNTIL THE LAST INNING TO GIVE THE ASTROS A CHANCE TO FINISH, AND THEY DID WITH THE 2 RUN HOME RUN. THE CHAMPIONSHIP WAS A GREAT GAME WITH THE DEFENSE AND OFFENSE ON TOP OF THEIR GAME. WE ARE LOOKING FORWARD TO 2012 SEASON.

2011
Thursday, October 27
2011 SEASON
2011 ASTROS AT ALABAMA SOUTHERN

2010 GULFSOUTH FALL RU
Tuesday, November 16
2010 GULFSOUTH FALL STATE RU CHAMPS
THE LADY ASTROS CAME THROUGH TO THE CHAMPIONSHIP WITH ONE LOST. WITH RECORD 5 WINS AND 1 LOST THE TEAM GAVE ALL THEY HAD BUT CAME UP SHORT IN THE CHAMPIONSHIP LOSTING 1-0 IN 8 INNS. IT WAS A HARD FOUGHT GAME. DURING THE TOURNAMENT OUR DEFENSE AND OFFENSE WAS GREAT. WE HAD A TOTAL OF 3 HOMERUNS HIT 2 BY CATCHER JESSI UJVARI AND 1 BY CATCHER AND INFIELDER PEIHDEN COURTNEY. OUR DEFENSE ONLY ALLOWED ONLY 4 RUNS IN 7 COMPLETE CAMES. THIS TOURNAMENT ENDED OUR SEASON FOR 2010, WE HAD A GREAT YEAR WITH A TOTAL OF 26 WINS AND 11 LOSTS WE ARE LOOKING FOR ANOTHER EXCITING YEAR NEXT SEASON(2011) AND WE WILL ALSO BE DOING SOME EXPOSEURE TOURNAMENTS AS WELL AS STATE AND LOCAL. THANKS TEAM FOR A GREAT YEAR.
Monday, November 5
LADY ASTROS SOFTBALL Images
Monday, November 5
LADY ASTROS 2009 WS
Monday, November 5
USSSA 2011 FALL FINALE 18U CHAMPS
Monday, November 5
LADY ASTROS SOFTBALL Images
Tuesday, November 27
LADY ASTROS THEN AND NOW