Louisiana All Star Baseball Team: Welcome
We are the Louisiana All Star Baseball Team, a NATIONALLY RECOGNIZED Select Baseball Organization! We are the longest running and most successful select program in the state! We specialize in promoting players who want the opportunity to play at the next level!
Welcome to our website...We will be updating this site continuously, so check back with us...but while you're here, please sign our guestbook! For more information, please contact Chris Counts at louisianaallstars@cox.net or call 225-978-5352
INTEGRITY CHARACTER COMPETIVENESS
Opening Day Rosters Posted
ROSTERS POSTED
I have posted initial rosters, there could be some changes during the week or after the first weekend based on needs! Still working on Central's rosters.
Thank you to everyone who came out last Sunday, we had specific and limited positions to fill based on our needs.
2018 Summer Events Hosted by the Louisiana All Stars
Email me at louisianaallstars@cox.net to reserve your spot...16U and 18U divisions in all events...
June 1-3 19th Annual ALL STAR CLASSIC (surrounding High Schools)
June 7-10 Tulane University Showcase (Loyola Unv.)
June 14-17 ULL Ragin Cajun Invitational
June 21-24 Louisiana Tech and Northwestern State Showcase
June 28-July 1 LSU Invitational
June 29-July 1 McNeese State Showcase
July 8-14 BEST Baseball National Championships in Pensacola, Florida
ALL STAR '18 Commitments
Congratulations on these current or former Louisiana All Star players on their verbal commitments to the respective colleges or universities. Good luck guys! Very proud of you all!
Michael Lee Panola College
Drayton Harris Navarro College
Nick Harris LSU-Eunice CC
Chase Pendarvis UNO
Brennan Lambert Lamar University
Brady Hebert LSU-Eunice CC
Landon Boeneke Tulane University
Destin Dotson Tulane University
Layne McLin Bossier Parish CC
Cameron Peirs Hill College (TX)
Brant Husser Southeastern Louisiana Univ.
Colby Steib-Dennis Piedmont College
Nathan Carriere Louisiana College
Jarian Green Mountainview College
Colin Bonine Delgado CC
Carson Balthezar Bossier Parish CC
Travis Dowden Towson University
Connor Joffrion University of Louisiana Lafayette
Nicholas Weaver Bossier Parish CC

BEST Baseball National Championships
Congratulations to Coach Jon Ramsey (All Star 16 Blue) and Coach Mike Forbes (All Star 17) and their teams for finishing as National Runner Ups in Pensacola this week!
Congratulations to the Louisiana All Star 17 Blue team for winning the 2017 BEST Baseball 17U National Championship!
ALL STARS in the 2017 MLB Draft
Congratulations to the following current or former Louisiana All Star players on being selected in the 2017 MLB Amateur Draft...Proud of you all!

Greg Deichmann 2nd Rd. (43rd pick) Oakland A's
Blayne Enlow 3rd Rd. (76th pick) Minnesota Twins
Mac Sceroler 5th Rd. (137th pick) Cincinnati Reds
Steven Sensley 12th Rd. (362nd pick) New York Yankees
Wyatt Marks 13th Rd. (381st pick) Oakland A's
Cole Stapler 22nd Rd. (652nd pick) Arizona Diamondbacks
Corey Merrill 37th Rd. (1120th pick) Los Angeles Dodgers
ALL STAR '17 Commitments
Congratulations to the following current or former ALL STAR player on their verbal or written commitments to the respective schools. Good luck!
Blayne Enlow LSU
Nick Webre LSU
Briggs Bourgeois Southern Miss (FB)
Bryce Copper Frank Phillips JC
Seth Wicker Lee University (TN)
Ivan Prejean Nicholls State
Greg Leger Jr. Wharton County JC
Payton Alexander Loyola University
Patrick Crifasi Loyola University
Kade Pousson LSU-Alexandria
Connor Landry College of St. Joseph
Jalen Hicks Mountain View College (Tx)
Jacori Hicks Mountain View College (Tx)
Trevor Jarreau East Texas Baptist Univ.
Logan Toups LSU-Eunice
Hunter Meche LSU-Alexandria
Cole Johnson LSU-Eunice
Parker Evans Delgado CC
William Nelson Southern University
Taylor Knowles East Texas Baptist Univ.
Layne Didier Bossier Parish CC
Jake Fayard Richland College
Matthew Graves Southwest Mississippi CC
Jason Bellew Tyler JC
Ryan Usie Tyler JC
Brendon Baker Southwest Mississippi CC
Dallin Bourgeois Baton Rouge CC
Peyton Wagner Baton Rouge CC
Jared Kilcrease Baton Rouge CC
Mitchell Lemoine William Carey University
Walker Castle Millsaps
Chris Brinson Grambling State
Brandt Broussard LSU (Delgado CC)
Congratulations!
Congratulations to the Louisiana All Star 17s for finishing in the top 32 out of 264 teams in Ft. Myers at the Perfect Game Underclass World Championships! We won our pool without giving up a run, advanced to championship bracket play and won our first game before losing the 2nd game.
Also, congratulations to the following players for making the All Tournament Team...
Justin Devillier
Destin Dotson
Landon Boeneke
Brennan Lambert
Drayton Harris
Austen Izzio
Very proud of the way we competed!
Congratulations Blayne!
Congratulations to former ALL STAR RHP Blayne Enlow of St. Amant for making the Team USA 18U Final Roster! Very proud of you!
Congratulations Nick!
Former Louisiana All Star and LSU commitment, Nick Webre (C/OF Teurlings Catholic) was just named Louisiana's Mr. Baseball for 2016! Congrats Nick and we are very proud of you!
Nick is the 7th ALL STAR to be given this honor!
Congratulations!
Congratulations on another great summer!
Louisiana All Star 17s Red NATIONAL CHAMPIONS
Louisiana All Star 17s Blue NATIONAL RUNNER-UP
Louisiana All Star 16s Red NATIONAL CHAMPIONS
Congratulations Ross!
Former ALL STAR and current Tulane LHP Ross Massey was selected as a Freshman All American! Congratulations to Ross and his family for such a great honor!
CAPTAINU Partnership
Sign Up for FREE
We are excited about teaming up with CAPTAIN U and offering our athletes another opportunity to continue their careers! More info coming soon...
You should be receiving an email from CAPTAIN U at some point asking to register for FREE.
ALL STAR '16 Commitments
Congratulations to the following current or former ALL STAR player on their verbal commitments to the respective schools. Good luck!
Gavin Sonnier McNeese St.
Josh Danna BRCC
Rorey Combs Kansas City CC
Tyler Clark Pittsburg State
Seth Daugherty BRCC
Adam Sevario Florida International Univ.
Hunter Racca McPherson College (Ks)
Tyler Etheridge Copiah-Lincoln CC
Charlie Solar BRCC
Da'Shaun Dotson Doane University (Ne)
Mason Oswald LSUA
Aidan Sanders Centenary College
Brady Atkins Louisiana College
Wes Anderson Bossier Parish CC
Grant White Richland College
ALL STAR '15 Commitments
Congratulations to the following current or former ALL STAR player on their verbal commitments to the respective Universities or Colleges. Good luck!
Tristan Babin Nicholls St.
Ross Massey Tulane
Dustin Duhon McNeese St.
Caden Doga Hutchinson CC (KS)
Austin Reich Northwestern State
Jacob Stagg University of New Orleans
Gage Veron BRCC
Austin Bollinger BRCC
Cy Bryson LSU-Eunice CC
Hayden Mixon LSU-Eunice CC
Caleb Nunez Grambling
Hunter Worley Jefferson Davis CC
Trent Allen LSU-Alexandria
Zach Hebert LSU-Alexandria
Jake Wharton ULL
Manny Miles North Carolina (FB)
Ashton Martin Louisiana College
Tyler Ezell Belhaven
Conner Ghere Mississippi College
Will Hopkins Millsaps
Konner James Belhaven
Matt Breaux Belhaven
Shane Fontenot Arkansas-Monticello
Blaise Schillace BRCC
Charlie Soileau Birmingham Southern
Spencer Noel LSU-Alexandria
Devin Smith William Carey
Brett Weeks Jefferson Davis CC

ALL STAR '14 Commitments
Congratulations to the following current or former ALL STAR players on their signing and/or verbal commitment to the respective universities or colleges. Good luck!
Wyatt Marks ULL
Brennan Grant Louisiana Tech
Nick Coomes LSU-Eunice CC
Greg Deichmann LSU
Haden Schoen Louisiana Tech
Scottie Sanders SLU
Mac Sceroler SLU
Carl Guidry SLU
Erin Baldwin Houston
Wes Brown William Carey
Conner Whelan Nicholls State
JT Mauldin LSU-Eunice CC
Spencer Rosenbohm Loyola
Justin Acevedo Louisiana College
Davis Dunn Shelton State CC
Blake Manola BRCC
Landon Andre BRCC
Tristan Butler BRCC
Preston Fondren LSU-Eunice CC
Doc Wilkerson Bossier Parish CC
Wyatt Butler Bossier Parish CC
Robert Bruce BRCC
Wesley Lassere Millsaps College
Brandt Broussard Nicholls State
Matt Delaune Northwestern State
Brennan Messina Panola JC

Preston Guillory (Panola JC RHP) Texas Christian U.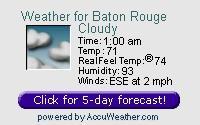 width="200" alt="WXPort">

Testimonials Speak for Themselves...
Click on the headline above or the "TESTIMONIAL" menu item to the left to hear what people are saying about the Louisiana All Star Baseball Team!
Want to be an ALL STAR Sponsor?
Fill out the Sponsor Sign-Up Sheet and mail it in today!
Thank You SPONSORS!
CONTACT INFORMATION
Chris Counts
12751 Newcastle Ave.
Baton Rouge, LA 70816
louisianaallstars@cox.net
225-978-5352 cell
225-223-6403 home