Louisiana All Star Baseball Team: Welcome
We are the Louisiana All Star Baseball Team, a NATIONALLY RECOGNIZED and LOUISIANA-BASED Select Baseball Organization! We are the longest running and one of the most successful select programs in the state! We specialize in promoting players from Louisiana with 95% of our rosters from Louisiana! Welcome to our website...We will be updating this site continuously, so check back with us...but while you're here, please sign our guestbook! For more information, please contact Chris Counts at louisianaallstars@cox.net or call 225-978-5352
INTEGRITY CHARACTER COMPETIVENESS
ALL STAR Summer Events
The following events will be hosted by the Louisiana All Stars for the Summer of 2015. All events will have an 18U division as well as a 16U division usually. To register or get more information, please contact Coach Counts at 225-978-5352 or email at louisianaallstars@cox.net
May 29-31 Warhawk Showcase (Univ. of Louisiana-Monroe)
June 4 - 7 16th Annual ALL STAR CLASSIC (BR)
June 11 - 14 Ragin Cajun Classic (Univ. of Louisiana-Lafayette)
June 18 - 21 Demon Invitational (Northwestern St. Univ.)
June 18 - 21 SWCC Showcase (Southwest MS CC) 18U ONLY
June 25 - 28 Cowboy Showcase (McNeese St. Univ.)
July 2 - 5 SWCC and Lion Showcase (Southeastern Louisiana Univ. and Southwest MS CC)
July 13-18 BEST Baseball National Championships (Pensacola, FL) (18U, 17U, 16U)
*Hosted by BEST Baseball, Inc.
Summer '15
We are finalizing our rosters for the Summer of 2015. The tournament schedule is posted. We will once again have teams at various age groups 16U-18U. If you are interested in participating, please contact Coach Counts via email at
louisianaallstars@cox.net
or by phone/text to 225-978-5352.
ALL STAR '15 Commitments
Congratulations to the following current or former ALL STAR player on their verbal commitments to the respective Universities or Colleges. Good luck!
Tristan Babin Nicholls St.
Ross Massey Tulane
Dustin Duhon McNeese St.
Caden Doga Hutchinson CC (KS)
Austin Reich Northwestern State
Jacob Stagg University of New Orleans
Michael Claverie LSU-Eunice CC
Gage Veron BRCC
Austin Bollinger BRCC
Cy Bryson LSU-Eunice CC
Hayden Mixon LSU-Eunice CC
Caleb Nunez Grambling

ALL STAR '14 Commitments
Congratulations to the following current or former ALL STAR players on their signing and/or verbal commitment to the respective universities or colleges. Good luck!
Wyatt Marks ULL
Brennan Grant Louisiana Tech
Nick Coomes LSU-Eunice CC
Greg Deichmann LSU
Haden Schoen Louisiana Tech
Scottie Sanders SLU
Mac Sceroler SLU
Carl Guidry SLU
Erin Baldwin Houston
Wes Brown William Carey
Conner Whelan Nicholls State
JT Mauldin LSU-Eunice CC
Spencer Rosenbohm Loyola
Justin Acevedo Louisiana College
Davis Dunn Shelton State CC
Blake Manola BRCC
Landon Andre BRCC
Tristan Butler BRCC
Preston Fondren LSU-Eunice CC
Doc Wilkerson Bossier Parish CC
Wyatt Butler Bossier Parish CC
Robert Bruce BRCC
Wesley Lassere Millsaps College
Brandt Broussard Nicholls State
Matt Delaune Northwestern State
Brennan Messina Panola JC

Preston Guillory (Panola JC RHP) Texas Christian U.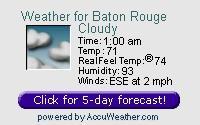 width="200" alt="WXPort">

Testimonials Speak for Themselves...
Click on the headline above or the "TESTIMONIAL" menu item to the left to hear what people are saying about the Louisiana All Star Baseball Team!
Want to be an ALL STAR Sponsor?
Fill out the Sponsor Sign-Up Sheet and mail it in today!
Thank You SPONSORS!
CONTACT INFORMATION
Chris Counts
12751 Newcastle Ave.
Baton Rouge, LA 70816
louisianaallstars@cox.net
225-978-5352 cell
225-223-6403 home