Louisiana All Star Baseball Team: Welcome
We are the Louisiana All Star Baseball Team, a NATIONALLY RECOGNIZED Select Baseball Organization! We are the longest running and most successful select program in the state! We specialize in promoting players who want the opportunity to play at the next level!
Welcome to our website...We will be updating this site continuously, so check back with us...but while you're here, please sign our guestbook! For more information, please contact Chris Counts at louisianaallstars@cox.net or call 225-978-5352
INTEGRITY CHARACTER COMPETIVENESS
THANK YOU and CONGRATS!
I want to personally thank each and every player and family for another great summer! You guys amaze me every year in the way you bond as teammates and play together and support each other. Good luck next spring at your high school programs...for those moving on to play in college, best of luck, work hard, and always believe in yourself!
Phillipians 4:13
Thanks again...
Congratulations!
17U National Champions All Star 17s BLUE
16U National Runner Up All Star 16s
FALL BALL
Anyone interested in playing this Fall, please email Coach Counts at
louisianaallstars@cox.net
Wednesday, July 1
Former ALL STARS On the Move
These former Louisiana All Stars making some noise in Pro Ball! Congratulations guys! Phil 4:13
OF Taylor Dugas was called up to the Majors with the NY Yankees (July 1)

OF Leon Landry was promoted to AAA Tacoma with the Mariners

INF Austin Nola was promoted to AAA New Orleans with the Marlins

RHP Aaron Nola was promoted to AAA Lehigh Valley with the Phillies
Congratulations
A big congratulations to former Louisiana All Star Steven Sensley on being drafted by the Tampa Bay Devil Rays! 38th round, #1138 overall



Also congratulations to former Louisiana All Star Lance Jones on being drafted by the Toronto Blue Jays! 36th round, #1082 overall

ALL STAR '15 Commitments
Congratulations to the following current or former ALL STAR player on their verbal commitments to the respective Universities or Colleges. Good luck!
Tristan Babin Nicholls St.
Ross Massey Tulane
Dustin Duhon McNeese St.
Caden Doga Hutchinson CC (KS)
Austin Reich Northwestern State
Jacob Stagg University of New Orleans
Gage Veron BRCC
Austin Bollinger BRCC
Cy Bryson LSU-Eunice CC
Hayden Mixon LSU-Eunice CC
Caleb Nunez Grambling
Hunter Worley Jefferson Davis CC
Trent Allen LSU-Alexandria
Zach Hebert LSU-Alexandria
Jake Wharton ULL
Manny Miles North Carolina (FB)
Ashton Martin Louisiana College
Tyler Ezell Belhaven
Conner Ghere Mississippi College
Will Hopkins Millsaps
Konner James Belhaven
Matt Breaux Belhaven
Shane Fontenot Arkansas-Monticello
Blaise Schillace BRCC
Charlie Soileau Birmingham Southern
Spencer Noel LSU-Alexandria
Devin Smith William Carey

ALL STAR '14 Commitments
Congratulations to the following current or former ALL STAR players on their signing and/or verbal commitment to the respective universities or colleges. Good luck!
Wyatt Marks ULL
Brennan Grant Louisiana Tech
Nick Coomes LSU-Eunice CC
Greg Deichmann LSU
Haden Schoen Louisiana Tech
Scottie Sanders SLU
Mac Sceroler SLU
Carl Guidry SLU
Erin Baldwin Houston
Wes Brown William Carey
Conner Whelan Nicholls State
JT Mauldin LSU-Eunice CC
Spencer Rosenbohm Loyola
Justin Acevedo Louisiana College
Davis Dunn Shelton State CC
Blake Manola BRCC
Landon Andre BRCC
Tristan Butler BRCC
Preston Fondren LSU-Eunice CC
Doc Wilkerson Bossier Parish CC
Wyatt Butler Bossier Parish CC
Robert Bruce BRCC
Wesley Lassere Millsaps College
Brandt Broussard Nicholls State
Matt Delaune Northwestern State
Brennan Messina Panola JC

Preston Guillory (Panola JC RHP) Texas Christian U.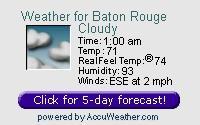 width="200" alt="WXPort">

Testimonials Speak for Themselves...
Click on the headline above or the "TESTIMONIAL" menu item to the left to hear what people are saying about the Louisiana All Star Baseball Team!
Want to be an ALL STAR Sponsor?
Fill out the Sponsor Sign-Up Sheet and mail it in today!
Thank You SPONSORS!
CONTACT INFORMATION
Chris Counts
12751 Newcastle Ave.
Baton Rouge, LA 70816
louisianaallstars@cox.net
225-978-5352 cell
225-223-6403 home