Kentucky State Little League: Welcome
 Welcome to the Kentucky State Little League Website.  There are 7 Little  League Districts in the State of Kentucky. Contact information for each district is listed below.
Thursday, July 23
Baseball State Champions
Three baseball State championships were decided at Walsh Park in LaGange on Wednesday. In the 11-12 Year Olds Bowling Green East got a strong pitching performance from Eli Burwash(12 strikeouts in six innings) to beat Paintsville 6-2. In 10-11 Year Olds , North Oldham knocked off Lexington Eastern 7-1 behind the strong pitching of Jonathan Klein. In the 9-10 Year Olds, Warren County North, took the state championship with a 13-10 win over the Lexington eastern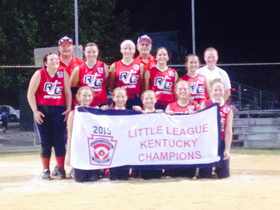 Stae Champions Russell County
Saturday, July 18
State Softball Champions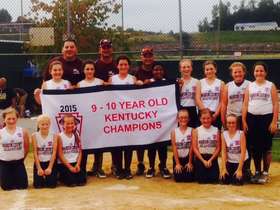 State Champions Marion COunty
The State champions were decided last night at Morehead as Russell County defeated North Laurel 1-0 in 11-12 Year Old Division. In the 9-10 Year Old Division Marion County defeated Russell-Flatwoods 4-2.Congratulations Ladies
Sunday, June 28
2015 9-12 Year Old Baseball State Tournament
The 2015 State Little League Tournament will be hosted by Distict 2 and North Oldham Little League in LaGrange. Picnic and Opening ceremonies, managers meeting, umpire meetings will be on Friday night July 17, Games will start Saturday, July 18th at 10:00am and the state championship games will be on Wednesday July 22. Tournament information is in the handout below.
Handout:
9-12 Year Olds Baseball state tournament packet