Keystone Volleyball Club (Greensburg PA): Welcome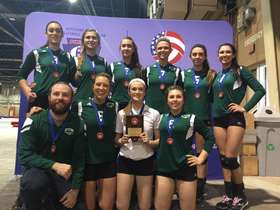 18 Green win KRVA Regional Championships
Thursday, May 5
15 Green captures KRVA Regional Title
IF FOR SOME REASON YOU ARE HAVING A HARD TIME VIEWING OUR WEBSITE. SIMPLY DOWNLOAD THE FIREFOX BROWSER. IT'S FREE... HERE IS THE LINK http://www.mozilla.org/en-US/firefox/fx/ THEN SIMPLY OPEN OUR WEBSITE USING THE FIREFOX BROWSER.
********************
SHU Volleyball Camp Info & Registration is here...
** Monday 7/11 Grades 4-8
** Tuesday, 7/12 Grades 9-12

All the information & registration is at our website:
http://abcsportscamps.com/shuvb

********************

TOURNEY RESULTS
16 White place 2nd and just miss winning GOLD at the Regional Championships
The #1 seeded 16 White Team breezed through their competition in the 2-day event up until the last 2 sets of the championship match. After crushing Pitt United in the first set the White team was caught off guard when their opponent put forth a relentless effort to win the match and the championship. All in all sometimes the losses teach you more than the wins. We are still proud of this extremely talented group who will be better off because of the ups and downs they encountered this past weekend. Keep your chin up girls, we here at KVC are very proud of what you have accomplished so far this season :)
16 White / Coach / Kathy Kuhns
Ashley Roberts, Taylor Sharp, Terese Mihalcin, Emily Richie, Mackenzie Schropp, Marissa Farabaugh, Kierstin Shade, Gabby Kuhns
---
No Report Yet
16 Green / Coaches / Leah Bisignani and Rachel Satira
Emily Earle, Breanna Bruno, Samantha Dunbar, Adrianna Guarino, Hailey Thiel, Carolyn Kowalyk, Nicole Caputo
---
15 White Wins SILVER Bracket at the Regional Championship

They went into Saturday as #5 Seed in the tourney and went 3-1 matches in pool play. Unfortunately they lost the last match of the day to Pitt United Red (14-25, 23-25) to fall to #8 Seed. The first match on Sunday was against Push The Rock, if they win they go to the Gold Bracket. If they lose go to the SILVER Bracket. They played two tough, grind'em out sets but came up short in both: 23-25, 25-27. Heart broken but not out, and determined to show KRVA that they were a Gold bracket team, they swept thru the entire bracket, Beating Sparks VBC in 1/4's, Fusion VBC (25-7, 25-7) in Semi's and finally, beating Westmoreland Elite 25-19, 25-17 to win the SILVER Bracket.
15 White / Coaches / Robin and Dave Klimke
Ruby Bickerton, Justyne Howell, Savina Pavlik, Emma Garris, Sarah Petnuch, Abbey Kilkeary, Delaney O Shea, Kourtney Horchar, Rebecca Miller, Rachel Nolfi
---
KVC 15 GREEN BRINGS BACK GOLD REGIONAL CHAMPIONSHIP FROM HARRISBURG TOURNEY
On Saturday: The 15's beat West E. White in 2 sets, Sparks VBC White in 2 sets, P3R Liberty in 2 sets and Ballyhoo Black in 2 sets.
On Sunday: They played in the quarter-finals of the GOLD Bracket against Push the Rock and won 25-20 and 25-10. In the semi-finals it was more of the same... they played TEVA gold and won 25-11 and 25-15. In the finals of the GOLD Bracket they played West E Black. It was a crazy 3 set match seeing the 15's lose the first set 22-25. But they fought hard in the second set and won 25-23. In the 3rd set our 15 Green were not to be denied... they were unstoppable and won 15-12!
CONGRATS TO THE REGIONAL CHAMPION KVC 15 GREEN!!!!!
15 Green / Coach / Christa Calgaro
Sydney Mizikar, Kasey Verna, Rachel Milke, Chasey Mercado, Hannah Horvath, Madelyn Beasley, Carly Augustine, Elizabeth Colecchia, Jenna Uncapher
---
The KVC 18s are KRVA Regional Champions taking first place in the Gold Bracket!
The girls played some of their best volleyball only losing one set all weekend. This is their second tournament win in a row and third overall. Great job girls:)
18 Green / Coach / Ryan Kelley
Helena Richie, Nicole Novak, Noelle Carota, Danielle Nese, Christie Redinger, Taylor Wisniewski, Taylor Sabol, Emma Pevarnik, AnnaLise Shank
********************
DANIELLE NESE SIGNS NLI TO SHU...
Congratulations to KVC 18 GREEN team member DANIELLE NESE who signed a National Letter of Intent to study & play volleyball at NCAA Division II SETON HILL UNIVERSITY
TAYLOR SABOL SIGNS NLI TO SHU
Congratulations go out to Taylor who will be studying and playing volleyball at NCAA Division II SETON HILL UNIVERSITY
NOELLE CAROTA VERBALLY COMMITS TO UPJ

Congratulations are in order for Noelle who will be playing at NCAA Division II
UNIVERSITY OF PITTSBURGH AT JOHNSTOWN
Emma (Turtle) Pevarnik verbally commits to NCAA DIII MOUNT ALOYSIUS COLLEGE
Congratulations to KVC 18 Green team member Emma Turtle Pevarnik who has accepted an invitation to to study and play volleyball at MOUNT ALOYSIUS COLLEGE.

********************