Keystone Volleyball Club (Greensburg PA): Welcome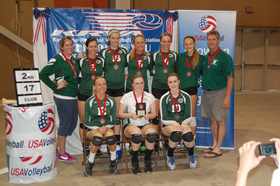 17 Red enjoys their runner up finish at the KRVA Championships
Tuesday, May 21
KEYSTONE VOLLEYBALL CLUB / GIRLS / GREENSBURG, PA
IF FOR SOME REASON YOU ARE HAVING A HARD TIME VIEWING OUR WEBSITE. SIMPLY DOWNLOAD THE FIREFOX BROWSER. IT'S FREE... HERE IS THE LINK http://www.mozilla.org/en-US/firefox/fx/
THEN SIMPLY OPEN OUR WEBSITE USING THE FIREFOX BROWSER.
*************
HAPPY VOLLEY TOURNEY OVER MEMORIAL DAY WEEKEND IS THE KVC FINALE

The finale of our season & the last remaining tourney for all of our teams at KVC is the Penn State Happy Volley Tourney over the Memorial Day Weekend. Play will begin on Saturday, May 25 - 27. For more information on this tourney go to...
http://www.gopsusports.com/camps/happy-volley-chaperones.html
IF YOU HAVE ANY QUESTIONS PERTAINING TO THE TOURNEY PLEASE CONTACT HAPPY VOLLEY AT... sportcampinfo@athletics.psu.edu

HAPPY VOLLEY PRE TOURNEY FAMILY FUN AT CHAMPS
Don't forget about the KVC Happy Volley Kick off fun family get together at Champs in Penn State. We have reservations beginning at 8-8:30pm on Friday, MAY 24. This is our last get together for the season & a great way to kick off the Happy Volley Tourney. Good food & a chance to meet & talk with players, parents & friends of our Club. We made the reservations, the food & fun are on you:)
************

WE NEED YOUR HELP TO HELP YOUR KIDS...

Parents, players & fans, please send us your pictures to put up on this website. Action shots as well as team shots are welcome. Help us promote your team & players.
Send to hall@setonhill.edu

************

Here are the overall rankings in the Keystone Regional Volleyball Association...
Congratulatations to all of the KVC teams.

17 RED - Ranked 1 out of 40 teams
16 WHITE - Ranked 1 out of 55 teams
15 GREEN - Ranked 10 out of 49 teams
14 PURPLE - Ranked 24 out of 63 teams
TREMENDOUS JOB PLAYERS & COACHES

************************************
Here are the latest results...
***16 White takes the

GOLD Championship

at the KRVA CLUB CHAMPIONSHIPS!!! That's right, your seeing correctly, the 16's won the ENTIRE Tourney in Harrisburg. They played fantastic all day & proved that they are truely the BEST 16's TEAM in the KRVA!!!! They placed number 1 out of 19 teams entered!!!!
***The 17 RED Team played great all day at the KRVA Championships. They made the

GOLD Championship FINALS

but couldn't get past a strong & determined P3R team that deserved to win the tourney.They placed 2 out of 18 teams entered!!!
***Our 14 Purple Team played spectacular in the Club Hollywood Tourney at Crestview High School in Columbiana Ohio this past Sunday. They made it to the

GOLD Semi-Finals

in the tourney.
***********

To view your teams tourney schedule:
Click "teams" link on the left
Click on your specific team name
Click "Schedules" link on the left
Click on the "Full Schedule" tab on the top right of the page

***********
CONGRATS TO THE 2012-2013 KEYSTONE VOLLEYBALL CLUB TEAMS...
KVC 14 Purple
Mikayla Bisignani, Christina Couchenour, Olivia Gerard, Gabby Holmberg, Haley Moore, Caroline Perz, Christie Reddinger & Cami Ward
KVC 15 Green
Noelle Carota, Kyra Dugan, Kristen Hickey, Julia Howard, Madison Keating, Emma Pevarnik, Aleisha Stas, Abby Stoner & Emma Taormina
KVC 16 White
Leah Bisignani, Lexi Irwin, Leah Knizner, Rachel Moore, Emma Mull, Kelsey Paul, Rachel Satira, Megan Stunja & Zoe Zahorchak
KVC 17 Red
Natalie Cignetti, Deanna Coll, Hannah Cubarney, Hanna Evanchak, Natalie Gilbert, Tristen Heffelfinger, Caitlyn Petrosky & Kelsey Roush
*************
Send us some pics of your team in ACTION
*************
LIKE us on facebook... search Keystone Volleyball Club
CONTACT US
For information please feel free to email us at keystonevball@gmail.com