Keystone Volleyball Club (Greensburg PA): Welcome
18's win the first tourney for KVC this season!!
Tuesday, February 24
IF FOR SOME REASON YOU ARE HAVING A HARD TIME VIEWING OUR WEBSITE. SIMPLY DOWNLOAD THE FIREFOX BROWSER. IT'S FREE... HERE IS THE LINK http://www.mozilla.org/en-US/firefox/fx/ THEN SIMPLY OPEN OUR WEBSITE USING THE FIREFOX BROWSER.
********************
Welcome to Keystone Volleyball Club
Parents please remember to send your pics of your team/player/etc... to me at hall@setonhill.edu. That way we can get lots of pictures on the site:)
********************
EVERYONE STAY WARM AND KEEP CHECKING HERE AND WITH YOUR COACHES FOR CANCELLATIONS DUE TO WEATHER.

********************
TOURNAMENT RESULTS 2/15/15...
15's advance to
GOLD
bracket at Pitt Elite Winter Blast Tourney...
KVC went 2-1 in pool play beating P3R Birmingham & Clover 15 Green in 2 straight. A tough loss in a 3 setter against Elite Sports Goodwill finalized pool play with our 15's coming out 2nd. That was good enough for a birth in the
GOLD BRACKET.
KVC continued on their winning ways in the first round of the
GOLD
by beating Renaissance 14 Black to advance to the semi-finals of the
GOLD BRACKET
. However they ran into a tough Renaissance 15 Black team who ended their tourney in a thrilling 3 setter. GREAT JOB BY ALL THE KIDS!!!!!!!
KVC TEAMS
Keystone Girls 14's Green Team
Head Coach - Christa Calgero, Assistant - Cassie Hausfeld
Hannah Horvath, Delaney O' Shea, Madelyn Beasley, Emma Garris, Ruby Bickerton, Justyne Howell, Rachel Milke, Mekayla Dedo, Kasey Verna, Sydney Mizikar
********************
Keystone Girls 15's Green Team
Head Coach - Robin Klimke, Assistant - David Klimke
Brianna Bialota, Marissa Farabaugh, Nicole Caputo, Carolyn Kowalyk, Terese Mihalcin, Emily Richie, Hailey Thiel, Gabby Kuhns, Kierstin Schade
***SHU Tourney: 3rd Gold Bracket
********************
Keystone Girls 16's Green Team
Head Coach - Bob Hall, Assistant - Kathy Kuhns
Olivia Girard, Haley Moore, Nicole Novak, Christie Redinger, Cami Ward, Taylor Wisniewski, Christina Cochenour, Claire Staines, Mikayla Bisignani
********************
Keystone Girls 17's Green Team
Head Coach - Ryan Kelly, Assistant - Shelby Kyllo
Noelle Carota, Kyra Dugan, Emma Pevarnik, Helena Richie, Faith Rock, Aleisha Stas, Taylor Sabol, Danielle Nese, Emily Horwatt
***Pitt Elite 17 Tourney: 3rd in the Gold Bracket
***Ohio Sports Net Complex 17 Mixed Tourney: 3rd in the Gold Bracket
********************
Keystone Girls 18's Green Team
Head Coach - Rick Hall, Assistant - Courtney Field
Kristyn Howell, Rachel Moore, Rachel Satira, Leah Bisignani, Emma Mull, Lexi Irwin, Zoe Zahorchak, Trisha Bungard
***SVC 18 Tourney: 3rd in the Gold Bracket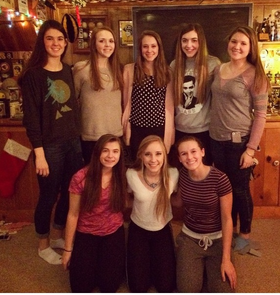 15's Pre-Season Sleepover... Just hangin' out
Upcoming Events
Date
Event
Time
Location
Mon 3/2
Practice (16, 17, 18)
5:30 PM - 8:00 PM
Seton Hill University
Mon 3/2
Practice (15)
6:30 PM - 8:30 PM
Bisignani Gym
Wed 3/4
Practice (14, 17 & 18)
5:30 PM - 8:00 PM
Seton Hill University
Wed 3/4
Practice (16)
5:30 PM - 8:00 PM
Bisignani Gym
Thu 3/5
Practice (15)
6:30 PM - Mar 26, 2015 8:30 PM
Bisignani Gym
Fri 3/6
Practice (16, 17, 18)
5:30 PM - 7:30 PM
Seton Hill University
Fri 3/6
Practice (14)
6:00 PM - 8:00 PM
Saint Joe's Practice Facility
Mon 3/9
Practice (16, 17, 18)
5:30 PM - 8:00 PM
Seton Hill University
Wed 3/11
Practice (14, 17 & 18)
5:30 PM - 8:00 PM
Seton Hill University
Wed 3/11
Practice (16)
5:30 PM - 8:00 PM
Bisignani Gym
Thu 3/12
Practice (15)
6:30 PM - Apr 2, 2015 8:30 PM
Bisignani Gym
Fri 3/13
Practice (14)
6:00 PM - 8:00 PM
Saint Joe's Practice Facility
Mon 3/16
Practice (16, 17, 18)
5:30 PM - 8:00 PM
Seton Hill University
Wed 3/18
Practice (14, 17 & 18)
5:30 PM - 7:30 PM
Seton Hill University
Wed 3/18
Practice (16)
5:30 PM - 8:00 PM
Bisignani Gym
Thu 3/19
Practice (15)
6:30 PM - Apr 9, 2015 8:30 PM
Bisignani Gym
Fri 3/20
Practice (14)
6:00 PM - 8:00 PM
Saint Joe's Practice Facility
Sun 3/22
KVC 14 / Westmoreland Elite Mixed
8:30 AM - 6:30 PM
Monroeville Sports Center
Mon 3/23
Practice (16, 17, 18)
6:00 PM - 8:00 PM
Seton Hill University
Wed 3/25
Practice (14, 17 & 18)
5:30 PM - 7:30 PM
Seton Hill University
Wed 3/25
Practice (16)
5:30 PM - 8:00 PM
Bisignani Gym
Thu 3/26
Practice (15)
6:30 PM - Apr 16, 2015 8:30 PM
Bisignani Gym
Fri 3/27
Practice (14)
6:00 PM - 8:00 PM
Saint Joe's Practice Facility
Mon 3/30
Practice (16, 17, 18)
6:00 PM - 8:00 PM
Seton Hill University