Keystone Volleyball Club (Greensburg PA): Welcome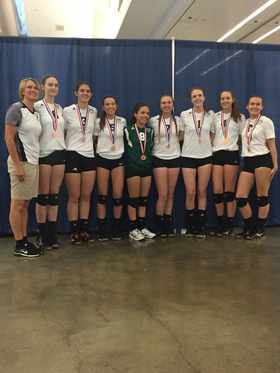 16 White places 3rd in GOLD at East Coast Championships
Saturday, June 18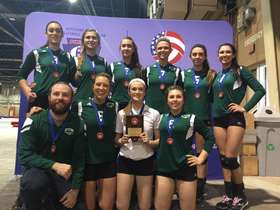 18 Green win KRVA Regional Championships
IF FOR SOME REASON YOU ARE HAVING A HARD TIME VIEWING OUR WEBSITE. SIMPLY DOWNLOAD THE FIREFOX BROWSER. IT'S FREE... HERE IS THE LINK http://www.mozilla.org/en-US/firefox/fx/ THEN SIMPLY OPEN OUR WEBSITE USING THE FIREFOX BROWSER.
********************
A letter from the Director

Hello All,
I just wanted to take a minute to thank all the parents and players for a great year of volleyball from all of our teams. We had quite a few tournament wins and two regional champions. Also some very good results last weekend at the East Coast Championship. All of the wins and championships are really great and we really appreciate all of your effort.
I just want to be sure everyone understands that KVC is not only about wins. I have watched all of our teams in practice and tournaments and I am most proud of the improvements of each and every player in our club. I am confident that all of our players are going back to their high school volleyball teams better players than before coming to KVC. I am also very proud of our coaches for teaching players the correct way to play the game of volleyball.
Keystone Volleyball club is not a business. We will never be a huge club because that becomes a business and they end up creating teams just to make money. We are more interested in teaching the game and making sure that players have fun while they learn. We have learned over the years that teaching the game right and having fun equals wins.
My favorite way to describe KVC teams is that we strive for quality not quantity. Of course we couldn't do any of this without you parents. You are a great group and your daughters are a reflection of that. We appreciate all your help and dedication to the teams.
Showing everyone what a TEAM can accomplish when they play together...sound familiar?

********************
TEAMS
16 White / Coach / Kathy Kuhns
Ashley Roberts, Taylor Sharp, Terese Mihalcin, Emily Richie, Mackenzie Schropp, Marissa Farabaugh, Kierstin Shade, Gabby Kuhns
---
16 Green / Coaches / Leah Bisignani and Rachel Satira
Emily Earle, Breanna Bruno, Samantha Dunbar, Adrianna Guarino, Hailey Thiel, Carolyn Kowalyk, Nicole Caputo
---
15 White / Coaches / Robin and Dave Klimke
Ruby Bickerton, Justyne Howell, Savina Pavlik, Emma Garris, Sarah Petnuch, Abbey Kilkeary, Delaney O Shea, Kourtney Horchar, Rebecca Miller, Rachel Nolfi
---
15 Green / Coach / Christa Calgaro
Sydney Mizikar, Kasey Verna, Rachel Milke, Chasey Mercado, Hannah Horvath, Madelyn Beasley, Carly Augustine, Elizabeth Colecchia, Jenna Uncapher
---
18 Green / Coach / Ryan Kelley
Helena Richie, Nicole Novak, Noelle Carota, Danielle Nese, Christie Redinger, Taylor Wisniewski, Taylor Sabol, Emma Pevarnik, AnnaLise Shank
********************
DANIELLE NESE SIGNS NLI TO SHU...
Congratulations to KVC 18 GREEN team member DANIELLE NESE who signed a National Letter of Intent to study & play volleyball at NCAA Division II SETON HILL UNIVERSITY
TAYLOR SABOL SIGNS NLI TO SHU
Congratulations go out to Taylor who will be studying and playing volleyball at NCAA Division II SETON HILL UNIVERSITY
NOELLE CAROTA VERBALLY COMMITS TO UPJ

Congratulations are in order for Noelle who will be playing at NCAA Division II
UNIVERSITY OF PITTSBURGH AT JOHNSTOWN
EMMA (Turtle) PEVARNIK COMMITS TO NCAA DIII MOUNT ALOYSIUS COLLEGE
Congratulations to KVC 18 Green team member Emma Turtle Pevarnik who has accepted an invitation to to study and play volleyball at MOUNT ALOYSIUS COLLEGE.