Keystone Volleyball Club (Greensburg PA): Welcome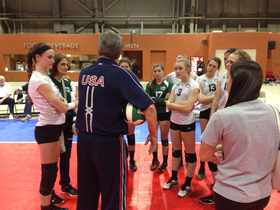 USA Olympic Coach John Kessel clinics KVC kids:)
Monday, June 22
IF FOR SOME REASON YOU ARE HAVING A HARD TIME VIEWING OUR WEBSITE. SIMPLY DOWNLOAD THE FIREFOX BROWSER. IT'S FREE... HERE IS THE LINK http://www.mozilla.org/en-US/firefox/fx/ THEN SIMPLY OPEN OUR WEBSITE USING THE FIREFOX BROWSER.
********************
THANKS FOR A GREAT YEAR. SEE YOU ALL NEXT YEAR

********************
Congratulations to these players on the 18's Team. They have committed to study & play volleyball at the institutions below...
:):):) We are really proud of you and will miss you all :):):)
** Leah Bisignani - NCAA Division II / SETON HILL UNIVERSITY
** Rachel Satira - NCAA Division II / SETON HILL UNIVERSITY
** Zoe Zahorchak - NCAA Division II / SHEPHERD UNIVERSITY
** Rachel Moore - NCAA Division III / WESTMINSTER COLLEGE
** Lexi Irwin - NCAA Division III / PENN STATE BEHREND UNIVERSITY
** Emma Mull - NCAA Division II / CHESTNUT HILL UNIVERSITY
KVC TEAMS
Keystone Girls 14's Green Team
Head Coach - Christa Calgero, Assistant - Cassie Hausfeld
Hannah Horvath, Delaney O' Shea, Madelyn Beasley, Emma Garris, Ruby Bickerton, Justyne Howell, Rachel Milke, Mekayla Dedo, Kasey Verna, Sydney Mizikar
SEASON ENDING REGIONAL RANK: 18th OUT OF 91 TEAMS
***Pitt Elite Winterblast Tourney: 3rd Gold Bracket
***SHU 16 Mixed Tourney: 4th Silver Bracket
***KRVA Regional Championships: 3rd in the Gold Bracket
***East Coast Championships: 3rd in the Bronze Bracket
********************
Keystone Girls 15's Green Team
Head Coach - Robin Klimke, Assistant - David Klimke
Brianna Bialota, Marissa Farabaugh, Nicole Caputo, Carolyn Kowalyk, Terese Mihalcin, Emily Richie, Hailey Thiel, Gabby Kuhns, Kierstin Schade
SEASON ENDING REGIONAL RANK: 12th OUT OF 78 TEAMS
***SHU 16 MixedTourney: 5th Gold Bracket

***Pitt Elite 15 Winterblast Mixed Tourney: 3rd Gold Bracket
***P3R Best of the Burg 15 Mixed Tourney: 3rd Gold Bracket
***Westomoreland Elite 15 Mixed Tourney: TOURNEY WIN / 1st in the Gold Bracket
***Westminster 15 Mixed Tourney: 4th in the Gold Bracket
***Southwest VBC 15 Mixed (OVR) Tourney: 2nd in the Gold Bracket
***KRVA Regional Championships: TOURNEY WIN / 1st in the Gold Bracket
***East Coast Championships: 9th in the Gold Bracket
********************
Keystone Girls 16's Green Team
Head Coach - Bob Hall, Assistant - Kathy Kuhns
Olivia Girard, Haley Moore, Nicole Novak, Christie Redinger, Cami Ward, Taylor Wisniewski, Christina Cochenour, Claire Staines, Mikayla Bisignani
SEASON ENDING REGIONAL RANK: 8th OUT OF 84 TEAMS

***CAL 16 Mixed Tourney: 3rd in the Gold Bracket
***Pitt Elite 16 Mixed Tourney: TOURNEY WIN / 1st in the Gold Bracket
***Best of the Burg 16 Mixed Tourney: TOURNEY WIN / 1st in the Gold Bracket
***SHU 17 Mixed Tourney: Had to DQ due to team injuries
***Spooky Nook 16 Mixed Tourney: 2nd in the Gold Bracket
***KRVA Regional Championships: TOURNEY WIN / 1st in the Gold Bracket
***Pitt Elite Invitational 16 Mixed Tourney: 6th in the Gold Bracket
***East Coast Championships: 5th in the Gold Bracket
********************
Keystone Girls 17's Green Team
Head Coach - Ryan Kelly, Assistant - Shelby Kyllo
Noelle Carota, Kyra Dugan, Emma Pevarnik, Helena Richie, Faith Rock, Aleisha Stas, Taylor Sabol, Danielle Nese, Emily Horwatt
SEASON ENDING REGIONAL RANK: 14th OUT OF 55 TEAMS
***Pitt Elite 17 Mixed Tourney: 3rd in the Gold Bracket
***Ohio Sports Net Complex 17 Mixed Tourney: 3rd in the Gold Bracket
***P3R Best of the Burg 17 Mixed Tourney: 2nd in the Gold Bracket
***SVC 17 Mixed Tourney: 1st in the Silver Bracket
***Westmoreland Elite Tourney: TOURNEY WIN / 1st in the Gold Bracket
***SHU Mixed Tourney: 3rd in the Gold Bracket
***KRVA Regional Championships: 3rd in the Gold Bracket
***East Coast Championships: 3rd in the Gold Bracket
********************
Keystone Girls 18's Green Team
Head Coach - Rick Hall, Assistant - Courtney Field
Kristyn Howell, Rachel Moore, Rachel Satira, Leah Bisignani, Emma Mull, Lexi Irwin, Zoe Zahorchak, Trisha Bungard
SEASON ENDING REGIONAL RANK: 5th OUT OF 44 TEAMS
***SVC 18 Tourney: 3rd in the Gold Bracket
***Pitt Elite 18 Mixed Tourney: TOURNEY WIN / 1st in the Gold Bracket
***SHU 18 Mixed Tourney: TOURNEY WIN / 1st in the Gold Bracket
***Pitt Elite 18 Invitational Mixed Tourney: 5th in the Gold Bracket
***KRVA Regional Championships: TOURNEY WIN / 1st in the Gold Bracket
***East Coast Championships: 5th in the Gold Bracket