Keystone Volleyball Club (Greensburg PA): Welcome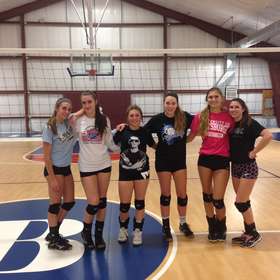 Some 18's hangin' out at practice
Friday, February 5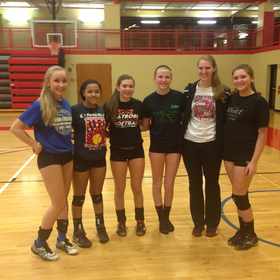 Some of the 16 Green Team after a hard practice at SHU
IF FOR SOME REASON YOU ARE HAVING A HARD TIME VIEWING OUR WEBSITE. SIMPLY DOWNLOAD THE FIREFOX BROWSER. IT'S FREE... HERE IS THE LINK http://www.mozilla.org/en-US/firefox/fx/ THEN SIMPLY OPEN OUR WEBSITE USING THE FIREFOX BROWSER.
*******************
NESE SIGNS NLI...
Congratulations to KVC 18 GREEN team member DANIELLE NESE who signed a National Letter of Intent to study & play volleyball at NCAA Division II SETON HILL UNIVERSITY
********************
HAPPY NEW YEAR
2016

********************

2015/16 TEAMS LISTED BELOW
15 White / Coaches / Robin and Dave Klimke
Ruby Bickerton, Justyne Howell, Milissa Pavlik, Emma Garris, Sarah Petnuch, Abbey Kilkeary, Delaney O Shea, Kourtney Horchar, Rebecca Miller, Rachel Nolfi
15 Green / Coach / Christa Calgaro
Sydney Mizikar, Kasey Verna, Rachel Milke, Chasey Mercado, Hannah Horvath, Madelyn Beasley, Carly Augustine, Elizabeth Colecchia, Jenna Uncapher
16 White / Coach / Kathy Kuhns
Ashley Roberts, Taylor Sharp, Terese Mihalcin, Emily Richie, Mackenzie Schropp, Marissa Farabaugh, Kierstin Shade, Gabby Kuhns
16 Green / Coaches / Leah Bisignani and Rachel Satira
Emily Earle, Breanna Bruno, Samantha Dunbar, Adrianna Guarino, Hailey Thiel, Carolyn Kowalyk, Nicole Caputo
18 Green / Coach / Ryan Kelley
Helena Richie, Nicole Novak, Noelle Carota, Danielle Nese, Christie Redinger, Taylor Wisniewski, Taylor Sabol, Emma Pevarnik, AnnaLise Shank
********************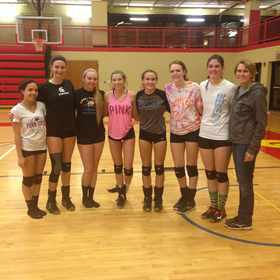 16 White getting ready for a GREAT season!!