Keystone Volleyball Club (Greensburg PA): Welcome
15's Crush Competition in route to 1st GOLD Tourney Win @ West E 15's Tourney
Friday, March 27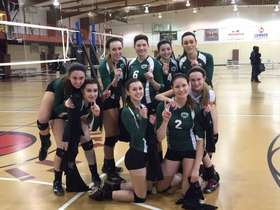 16's get their second GOLD win at P3R tourney
IF FOR SOME REASON YOU ARE HAVING A HARD TIME VIEWING OUR WEBSITE. SIMPLY DOWNLOAD THE FIREFOX BROWSER. IT'S FREE... HERE IS THE LINK http://www.mozilla.org/en-US/firefox/fx/ THEN SIMPLY OPEN OUR WEBSITE USING THE FIREFOX BROWSER.
********************
ALERT ALERT ALERT ALERT ALERT ALERT ALERT ALERT ALERT ALERT ALERT ALERT
ALL PLAYERS AND PARENTS... PLEASE USE YOUR BEST JUDGEMENT WHEN DECIDING TO ATTEND PRACTICES AND TOURNEYS WHEN THE WEATHER TURNS BAD. WE DON'T WANT ANYONE TAKING ANY UNNECESSARY CHANCES TRAVELING IN BAD WEATHER!!!!

********************
TOURNAMENT RESULTS FOR MARCH 16th WEEKEND...
18's
Not competing
17's
Not competing
16's
Not competing
15's win

GOLD

at the West E 15 Mixed Tourney
The KVC 15's decided winning their first tourney wasn't enough, they wanted to make it exciting. So they came out of pool play in 3rd place... thats right, 3rd in their pool. But this still placed them as the last seed in the
GOLD BRACKET
. So what did they do in the quarter finals against PE Black? BEAT THEM IN 3 SETS! What did they do in the semi finals against P3R Birmingham? BEAT THEM IN 2 TOUGH SETS, outlasting them with scores fo 25-23 & 29-27. What did they do in the finals against West E Black (the home tourney team)? PUNISHED THEM IN 2 SETS TO SWEEP THE CHAMPIONSHIP MATCH!
If this is what is the future of KVC... the future is very bright!!!! Congrats to the team & coaches. I'll bet that day was FUN:)
14's make it to the

GOLD Bracket

at 16 team West E 14 Mixed Tourney
The 14's played tremendously throughout the day in pool play coming out first in their pool. They advanced to the
GOLD BRACKET
where they ran in to a tough P3R Team. This is a great result for our young 14's team who will continue to get better the more they play. Great job girls and coaches... Keep it going.
KVC TEAMS
Keystone Girls 14's Green Team
Head Coach - Christa Calgero, Assistant - Cassie Hausfeld
Hannah Horvath, Delaney O' Shea, Madelyn Beasley, Emma Garris, Ruby Bickerton, Justyne Howell, Rachel Milke, Mekayla Dedo, Kasey Verna, Sydney Mizikar
***Pitt Elite Winterblast Tourney: 3rd Gold Bracket
***SHU 16 Mixed Tourney: 4th Silver Bracket
********************
Keystone Girls 15's Green Team
Head Coach - Robin Klimke, Assistant - David Klimke
Brianna Bialota, Marissa Farabaugh, Nicole Caputo, Carolyn Kowalyk, Terese Mihalcin, Emily Richie, Hailey Thiel, Gabby Kuhns, Kierstin Schade
***SHU 16 MixedTourney: 5th Gold Bracket

***Pitt Elite 15 Winterblast Mixed Tourney: 3rd Gold Bracket
***P3R Best of the Burg Mixed Tourney: 3rd Gold Bracket
********************
Keystone Girls 16's Green Team
Head Coach - Bob Hall, Assistant - Kathy Kuhns
Olivia Girard, Haley Moore, Nicole Novak, Christie Redinger, Cami Ward, Taylor Wisniewski, Christina Cochenour, Claire Staines, Mikayla Bisignani
***CAL 16 Mixed Tourney: 3rd in the Gold Bracket
***Pitt Elite 16 Mixed Tourney: TOURNEY WIN / 1st in the Gold Bracket
********************
Keystone Girls 17's Green Team
Head Coach - Ryan Kelly, Assistant - Shelby Kyllo
Noelle Carota, Kyra Dugan, Emma Pevarnik, Helena Richie, Faith Rock, Aleisha Stas, Taylor Sabol, Danielle Nese, Emily Horwatt
***Pitt Elite 17 Mixed Tourney: 3rd in the Gold Bracket
***Ohio Sports Net Complex 17 Mixed Tourney: 3rd in the Gold Bracket
***P3R Best of the Burg 17 Mixed Tourney: 2nd in the Gold Bracket
********************
Keystone Girls 18's Green Team
Head Coach - Rick Hall, Assistant - Courtney Field
Kristyn Howell, Rachel Moore, Rachel Satira, Leah Bisignani, Emma Mull, Lexi Irwin, Zoe Zahorchak, Trisha Bungard
***SVC 18 Tourney: 3rd in the Gold Bracket
***Pitt Elite 18 Mixed Tourney: TOURNEY WIN / 1st in the Gold Bracket
***SHU 18 Mixed Tourney: TOURNEY WIN / 1st in the Gold Bracket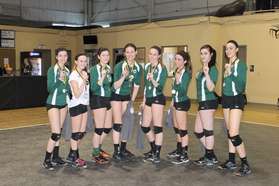 KVC 16's after winning first GOLD of the season at Pitt Elite Tourney:)
Upcoming Events
Date
Event
Time
Location
Mon 3/30
Practice (16, 17, 18)
6:00 PM - 8:00 PM
Seton Hill University
Mon 3/30
Practice (15)
6:30 PM - Apr 21, 2015 8:30 PM
Bisignani Gym
Wed 4/1
Practice (14, 17 & 18)
5:30 PM - 7:30 PM
Seton Hill University
Wed 4/1
Practice (16)
5:30 PM - 8:00 PM
Bisignani Gym
Fri 4/3
Practice (14)
5:30 PM - 7:30 PM
Saint Joe's Practice Facility
Mon 4/6
Practice (16, 17, 18)
5:00 PM - 7:00 PM
Seton Hill University
Wed 4/8
Practice (14, 17 & 18)
5:00 PM - 7:00 PM
Seton Hill University
Fri 4/10
Practice (14)
5:30 PM - 7:30 PM
Saint Joe's Practice Facility
Sat 4/11
KVC 14's / California of PA Tourney
All Day
California University of PA
Mon 4/13
Practice (16, 17, 18)
5:00 PM - 7:00 PM
Seton Hill University
Wed 4/15
Practice (14, 17 & 18)
5:00 PM - 7:00 PM
Seton Hill University
Fri 4/17
Practice (14)
5:30 PM - 7:30 PM
Saint Joe's Practice Facility
Mon 4/20
Practice (16, 17, 18)
6:00 PM - 8:00 PM
Seton Hill University
Wed 4/22
Practice (14, 17 & 18)
5:00 PM - 7:00 PM
Seton Hill University
Fri 4/24
Practice (14)
5:30 PM - 7:30 PM
Saint Joe's Practice Facility
Mon 4/27
Practice (16, 17, 18)
6:00 PM - 8:00 PM
Seton Hill University