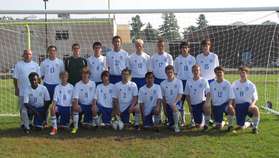 2013 Varsity
Friday, November 1


WELCOME TO THE KEARSARGE BOYS SOCCER WEB SITE. IF YOU HAVE ANY QUESTIONS OR CONCERNS CONTACT HEAD COACH ROB RAGAZZO AT ragazzo520@myfairpoint.net or 763-2614

Latest News:

11/1/13 We will get together one last time this season on Thursday 11/14 at 6:00 in the KRHS cafe to celebrate our season and say goodby for the year.


10/31/13 Kearsarge plays strong but is defeated by #8 Laconia in the prelim round of the D3 tourney.

Final record 10-6-1 Story below.

Coach Ragazzo - ragazzo520@myfairpoint.net

*********************************************
If players or parents do not want pictures posted or players/pictures identified by name please let me know and I will remove them.
*******************************************


Kearsarge High School Sports Schedules Click on this link if you want to view ScheduleStar. The new day by day scheduling program used by the Kearsarge athletic department . This is a great site to check Kearsarge High School sports schedules.


NHIAA Click on the link if you would like to find out scores,standings, schedules and more information on other teams or sports.



Shutterfly Pictures Click on the link if you would like to add or view team pictures. Contact Christine Donovan if you need help with our Shutterfly page.


Kearsarge Regional High School

Boys Varsity Soccer 2013 Schedule

Day Date Place Opponent Time Result




Friday, November 1


Kearsarge at Laconia 10/31/13




No. 8 Laconia 4, No. 9 Kearsarge 3

Kearsarge (10-6-1) had its offense going but couldn't keep up with Laconia (12-5) in their second-round matchup, as the Sachems started the scoring and got two crucial consecutive goals in the second half to put the Cougars away. Kearsarge did make a late run with two goals in the last 11 minutes of the game, but didn't have enough time to complete a comeback after pulling it back to 4-3 with only a minute left to play. Senior Bobby Lauster scored two goals in his best game of the season, and Andrew Van Hooydonk had a goal and an assist to lead the Kearsarge offense. Laconia started the scoring in the 22nd minute before Kearsarge tied it through Lauster in the 33rd. The Sachems then went on to score the next three goals, going up 2-1 in the 36th minute before getting two big goals around the midway point of the second half (in the 57th and 63rd minutes). Van Hooydonk got the comeback attempt going for Kearsarge, scoring on an assist by Nick Bailey before Lauster got his second with just a minute left. The following Kearsarge seniors played well in their final games as Cougars: defenders Reed Bell and Karver Bosela, midfielders Lauster and Roudy Rehor, and forwards Bailey and Van Hooydonk.



Friday, September 20


Kearsarge at Mascoma 9/19/13


Kearsarge 4, Mascoma 0 Andrew Van Hooydonk scored two second-half goals and assisted on the Cougars' opening tally, leading Kearsarge (4-1-1) to its fourth consecutive win against Mascoma (1-6). Persistence and patience were the keys to victory, according to Cougars Coach Rob Ragazzo, whose team overcame a slow start before breaking the deadlock in the 23rd minute. Jacob Donovan had the opening goal and Bobby Lauster's strike in the 39th minute (assisted by Nick Bailey) gave Kearsarge a 2-0 halftime lead. Lauster also assisted on Van Hooydonk's first goal 10 minutes into the second half. Mike Sullivan made four saves to Kearsarge's first shutout of the season, which was also made possible by the play of Reed Bell and Karver Bosela in the central defense.

Saturday, September 14


Kearsarge at Pelham 9/13/13




From Concord Monitor Sports 9/14/13

Kearsarge 4, Pelham 3

Andrew Van Hooydonk scored two goals, including the game-winner with two minutes remaining, to lead Kearsarge (2-1-1) over Pelham (2-2). The game started in exciting fashion, with Jacob Donovan scoring for the Cougars 22 seconds into the match and then with Pelham scoring an equalizer in just the third minute to tie the game. Pelham broke a 1-1 halftime tie, but goals from Nick Bailey and Van Hooydonk put Kearsarge back on top, 3-2, The end of the game was just as dramatic, with the Pythons tying the game 67th minute on a penalty kick before Van Hooydonk won the ball in a scramble in the box and put it past the keeper for the win. Kearsarge goalie Mike Sullivan (eight saves) "played an absolutely fantastic game" and "did a little of everything," according to Coach Rob Ragazzo, including stopping two breakaway attempts. Central defenders Karver Bosela and Reed Bell anchored the back line.