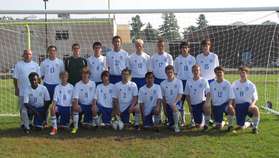 2013 Varsity
Monday, April 7
WELCOME TO THE KEARSARGE BOYS SOCCER WEB SITE. IF YOU HAVE ANY QUESTIONS OR CONCERNS CONTACT HEAD COACH ROB RAGAZZO AT ragazzo520@myfairpoint.net or 763-2614
Latest News:
4/7/14
Planning for the 2014 season is underway. A summer D4 schedule is currently being created and the varsity game schedule for 2014 is complete.
Varsity captains for the Fall season have been selected by Coach Ragazzo. Congratulations to Tad Sternberg and Jacob Donovan.
Coach Ragazzo - ragazzo520@myfairpoint.net
*********************************************
If players or parents do not want pictures posted or players/pictures identified by name please let me know and I will remove them.
*******************************************

Kearsarge High School Sports Schedules Click on this link if you want to view ScheduleStar. The new day by day scheduling program used by the Kearsarge athletic department . This is a great site to check Kearsarge High School sports schedules.

NHIAA Click on the link if you would like to find out scores,standings, schedules and more information on other teams or sports.


Shutterfly Pictures Click on the link if you would like to add or view team pictures. Contact Christine Donovan if you need help with our Shutterfly page.

Kearsarge Regional High School
Boys Varsity Soccer 2014 Schedule
Day Date Place Opponent Time Result