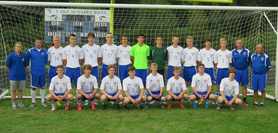 2015 Varsity
Wednesday, October 7
WELCOME TO THE KEARSARGE BOYS SOCCER WEB SITE. IF YOU HAVE ANY QUESTIONS OR CONCERNS CONTACT HEAD COACH ROB RAGAZZO AT ragazzo520@myfairpoint.net or 763-2614
Latest News:
10/7/15 I haven't been keeping up. The JV continue on a roll with only one loss on the season. The varsity have improved to 9-3 witha big game coming up - Senior night against Bow Wed. 10/14.
9/26/15 Thanks for the Birthday present guys. After a very well played first half the varsity scored three goals in the first 13 minutes of the second to defeat long time rival Merrimack Valley 3-0. The JV saw their first defeat of the year 2-1.

9/23/15 Big win over Hillsboro 1-0. Brandon Thibodeau got the lone goal. The defense played very tough. JV continues on a roll with an 8-0 win.
9/19/15 Both teams get wins over Mascoma.
9/16/15 The varsity has improved their record to 4-2. Wins over Mascoma 3-1 and Framklin 6-0.
9/16/15 The JV team continues on a role staying undefeated. They had wins over Newport, Stevens, and Mascoma.
9/11/15 The Varsity defeated Stevens in a rain shortened game 2-1. The JV remain undefeated with a 7-0 victory.
Going back this is part of what the Sanborn Coach wrote in game notes after a tough 2-1 loss for the Varsity.
Today the soccer Gods dealt us the hand of good fortune and Lady Luck. We were able to take a 2-0 lead by halftime…good fortune! And then hold on from a wild barrage of attack from Kearsage…Lady Luck! Again, Sanborn started strong with sharp accurate possession and at the 20th minute a long throw-in from Logan Kalinowski was miscued by a Kearsage defender and it drifted in the far upper corner for a 1-0 lead to Sanborn. At the 28th minute, freshman Wyatt Linville scored his first career goal with a nice turning shot around the Kearsage defender. More good fortune! Ian Messina slotted the pass to Wyatt to get the assist. When the 2nd half started, Kearsage came out "on fire". They had great possession, strong attacking runs, plenty of service into the box…and they hit the post 4 times...Sanborn's Keeper Luc LeBlanc stopped a PK… and at the end, they were only able to pull back one goal. Whew! Sanborn survived 2-1 for their first victory… Thank You Lady Luck!
9/1/15 Congratulations to the JV - 2-1 win over MV. Tough loss for the Varsity 2-1 to MV.
8/28/15 Great start to the season with wins for JV and Varsity. Thank You to everyone who helped out with our cookout.
8/20/15 Tryouts are completed.

11/13/14 Jacob Donovan and Michael Sullivan have been selected as Varsity captains for the 2015 season.
Coach Ragazzo - ragazzo520@myfairpoint.net
*********************************************
If players or parents do not want pictures posted or players/pictures identified by name please let me know and I will remove them.
*******************************************

Kearsarge High School Sports Schedules Click on this link if you want to view ScheduleStar. The new day by day scheduling program used by the Kearsarge athletic department . This is a great site to check Kearsarge High School sports schedules.

NHIAA Click on the link if you would like to find out scores,standings, schedules and more information on other teams or sports.


Shutterfly Pictures Click on the link if you would like to add or view team pictures. Contact Christine Donovan if you need help with our Shutterfly page.

Kearsarge Regional High School
Boys Varsity Soccer 2015 Schedule
Day Date Place Opponent Time Result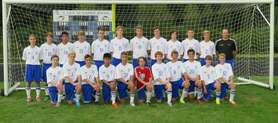 2015 JV
Upcoming Games
Date
Event
Time
Location
Wed 10/14
Bow
6:00 PM - 7:30 PM
KRHS
Fri 10/16
Stevens
4:00 PM - 5:30 PM
KRHS
Recent Games
Date
Event
Time
Location
Tue 10/6
Newfound
4:00 PM - 5:30 PM
Newfound
Thu 10/8
Fall Mountain
6:00 PM - 7:30 PM
KRHS