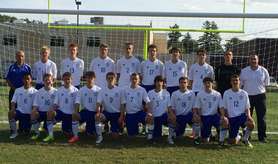 2014 Varsity
Friday, October 17
WELCOME TO THE KEARSARGE BOYS SOCCER WEB SITE. IF YOU HAVE ANY QUESTIONS OR CONCERNS CONTACT HEAD COACH ROB RAGAZZO AT ragazzo520@myfairpoint.net or 763-2614
Latest News:
10/17/14 The games with Stevens high school have been rescheduled to Saturday 10/18/14. We play at Monadnock Park in Claremont. Varsity at 1:00 pm and JV to follow.
10/13/14 Practice today JV 3:00-4:30 Varsity 4:00-5:30
10/6/14 Tonight the Varsity are hosting a game against Newfound Regional in support of Grassroot Soccer. Please come out and show your support. Details below.
10/1/14 The varsity lost a tough game to undefeated Hopkinton 2-0. I thought I'd share the Concord Monitor report.
Hopkinton 2, Kearsarge 0
Key players: Hopkinton – Tucker Windhurst, Joe Cullinan, Tim Jones (assist), Riley McNicholas (two goals), Rob Ferguson (3 saves); Kearsarge – Mike Sullivan (10 saves), Jacob Donovan and Tad Sternberg (strong midfield play)
Highlights/key moments: Windhurst played great defense in the first half and Ferguson made a point-blank save as Hopkinton thwarted a strong Cougars' attack. In the second half, Cullinan stepped up defensively, playing well at the stopper position. Jones beat three defenders and played the ball across to McNicholas for an easy tap-in goal in the 31st minute. McNicholas scored again in the 62nd minute on an incredible individual effort, taking the ball 40 yards before firing a shot from 20 yards out. Kearsarge hit the post in the second half. Sullivan had several key saves in the last 10 minutes to keep the score close.
Coaches' quotes: "Tonight we faced (what turned out to be) our toughest opponent of the year in Kearsarge. They played with high energy all night and ran forward in numbers at intelligent times, creating chaos when their backs effectively joined the attack." – Hopkinton's Scott Zipke
"We had some chances, but didn't finish. Hopkinton had a few more chances than us and took care of business. I like the way my team played and competed right to the end of the game." Kearsarge's Rob Ragazzo
Records: Hopkinton 10-0-0; Kearsarge 5-4-1
10/1/14 Great win for our JV program over Hopkinton 3-2. The JV are on a roll 6-0-2
9/24/14 Big win for the Varsity 2-0 over Hillsboro.
9/9/14 3-3 tie with Stevens.
9/5/14 On an hot and humid afternoon the Varsity boys battled to a 2-1 victory over visiting Sanborn.
9/2/14 The varsity played a very good game against a strong MV team, but were defeated 2-1. The JV played well and won 2-1
8/29/14 The varsity defeated Winnisquam 2-0.
Varsity captains for the Fall season have been selected by Coach Ragazzo. Congratulations to Tad Sternberg and Jacob Donovan.
Coach Ragazzo - ragazzo520@myfairpoint.net
*********************************************
If players or parents do not want pictures posted or players/pictures identified by name please let me know and I will remove them.
*******************************************

Summer League Click on this link if you want to information about the high school summer league. Navigate to Kearsarge Sunapee 4 using the team button on the right side of the page.
Kearsarge High School Sports Schedules Click on this link if you want to view ScheduleStar. The new day by day scheduling program used by the Kearsarge athletic department . This is a great site to check Kearsarge High School sports schedules.

NHIAA Click on the link if you would like to find out scores,standings, schedules and more information on other teams or sports.


Shutterfly Pictures Click on the link if you would like to add or view team pictures. Contact Christine Donovan if you need help with our Shutterfly page.

Kearsarge Regional High School
Boys Varsity Soccer 2014 Schedule
Day Date Place Opponent Time Result
Wednesday, September 24
GRASSROOT SOCCER
Grassroot Soccer Is Excited To Announce Two Commemorative Games at Kearsarge Regional High School Norwich, VT (September 18, 2014) – Grassroot Soccer announced today that Kearsarge Regional High School will hold two Commemorative Games this fall in their honor. These events will be held at Kearsarge Regional High School and the first game will be when the Boys Varsity team takes on Newfound on Monday October, 6th at 6:00pm. The second game will be on Tuesday October 7th at 6:00 pm when the Girls Varsity team faces Hopkinton. Grassroot Soccer (GRS) is an international non-profit that uses the power of soccer to educate, inspire, and empower young people to stop the spread of HIV. All funds raised at these games will go to help them achieve this mission.
-------------------------------------------------------- About Grassroot Soccer: Grassroot Soccer (GRS) is a non-profit organization founded in 2002 that uses the power of soccer to educate, inspire, and empower young people to stop the spread of HIV. Founded by four professional soccer players, Grassroot Soccer is mobilizing the most vulnerable population of youth, ages 12-19, to break the cycle of AIDS by engaging local coaches who equip young people with the knowledge, skills and support they need to avoid HIV. GRS has a global reach, with flagship sites in South Africa, Zambia and Zimbabwe