KEARNY MESA LL: Welcome
Saturday, March 8
Kearny Mesa Little League
Picture Day is Saturday, March 15th. The schedule for each team has been updated in the Calendar of Events. See your Team Parent if you have not received your Picture Order Form.

Thank you to everyone that came out for Opening Day!
The kids looked great in their uniforms and everyone had a great time! The first games of the season were exciting to watch!
And, Congratulations to all the winners of our Random Drawing!
It's not too late to Sign Up!
We will be taking registrations thru April 1st. Stop by the Snack Shack or see a Board Member during any of our scheduled home games. Or, contact Danyell DiLena at 858-869-7394
The Games Schedule has been updated. Be sure to look at it to see when and where your favorite Little Leaguer is playing.
Kearny Mesa Little League
2013-2014 Baseball Season Registration
Ages 4 to 19 years welcome
$90.00 First Child
$150.00 Two Children (siblings)
$190.00 Three or more (family)
On Site: Cash or Check only
Credit Cards accepted online @
$50.00 Snack Bar deposit required
(Refunded upon completion of four volunteer hours in snack bar)
Registration Includes:
Uniform Shirt, Hat, and Picture Package with an 8x10 Memory Mate, a 3" Button, and 4 Wallets.
All players must provide birth certification and proof of residency at registration
Sign Up @
KMLL SNACK SHACK
Located behind Kearny Mesa Recreation Center
3170 Armstrong Street, 92111
(Off Mesa College Drive)
---
Thank you to everyone that came out to help set up the fences!
---
*******We also want to remind Coaches, Parents and Players that there are no seeds, gum or food allowed in the dugout or on the fields.*******
Volunteers Needed
Make a difference and help out by volunteering!
We are looking for 2013-2014 Board Members
How can you help? Please contact us at
Volunteers are seldom paid; not because they are worthless, but because they are PRICELESS!

---
What Makes A Nightmare Sports Parent - And What Makes A Great One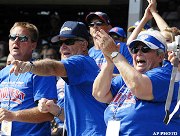 Hundreds of college athletes were asked to think back: "What is your worst memory from playing youth and high school sports?" Their overwhelming response: "The ride home from games with my parents."
With the new baseball and softball season fast approaching, we would like to share the following article published on the website " The Post Game" with all of you. Take a minute and click on the following link: www.thepostgame.com//blog/more-family-fun/201202/what-makes-nightmare-sports-parent and see if what type of Little League parent you are?
---
We are looking for Sponsors!
Local businesses—please consider supporting
your youth by helping us out with your tax deductible
donation. Email the league President at
KearnyMesaLL@aol.com for more information.
---