HEAD COACH BRAD PETERS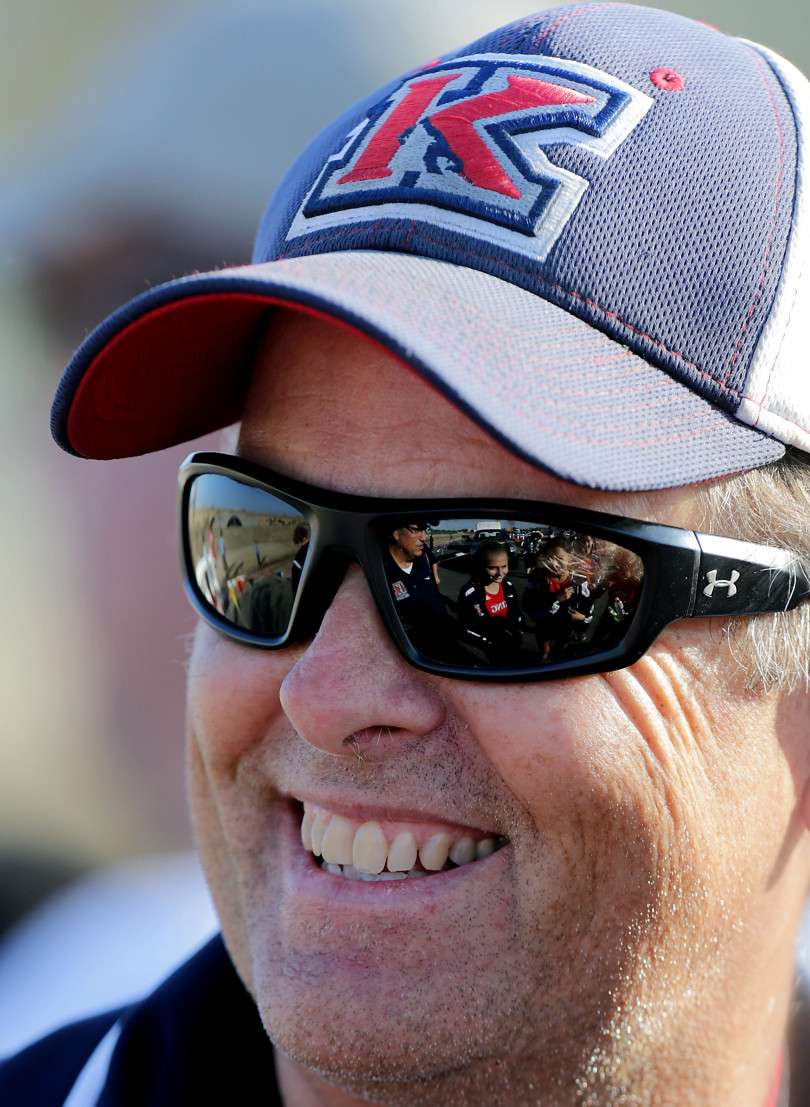 Head Coach Brad Peters
started coaching in 1989 at his alma mater, Whittier Christian High School. He followed that with a one-year tenure at Sonora High in La Habra before taking the helm at Ayala High School in Chino Hills in 1992. In 1999 he was part of the inaugural faculty at King High School and worked with Jim Griesinger to start the cross country program. A runner since 1980, he has enjoyed competing in every thing from the mile to the marathon. He has completed eight marathons (San Diego, LA, Sacramento, Boston, Silicon Valley, Portland, St.George and San Francisco) over 30 years of running. Since 1988 he has been married to Rebekah; they have one daughter, Mackenzie.
Coach Peters teaches AP US History at King High. For fun he loves to read -- especially good books on US History -- travel and watch Dodger baseball!
As Martin Luther King's Head Cross Country Coach and Assistant Head Track Coach, Brad was named as a 2014-15 State CIF Model Coach of the Year. Coach Peters was one of 12 recipients across the state of California so honored.
Thursday, May 19
ASSISTANT COACH DAN PEIRCE
Coach Dan Peirce joined the staff in 2000. Dan originally came on staff "just to help" but has grown to become a full-fledged coach and upholds the core values and ethic of the program. Though he is often in the "background" his impact and influence on the team is tremendous and invaluable. Dan is THE MAN when it comes to organizing the many trips our program launches out into, and is renowned for his menus and kitchen organization during our week in Mammoth. He put together a perfect itinerary and did a tremendous amount of work for our first out-of-state trip, the Great American Cross Country trip in 2007. A teacher of history and government at King, his athletic background in high school was waterpolo.
He is married to Renee and has three children. He loves to travel or dream about traveling and is an accomplished cook. His grace, kindness and winsome spirit are gifts to all who know him.
Email Coach Peirce at dpeirce@rusd.k12.ca.us
Thursday, May 19
ASSISTANT COACH JIM GRIESINGER
Coach Jim Griesinger is father to seven children and was the first on-board to help start the program in 1999. He has been a steady contributor to all the good that has come to King cross country since the program's inception. He was a runner for most of his adult years, and during the first decade of the 21st century, he competed in several marathons, running the San Diego, Las Vegas, Michigan, San Francisco and Boston Marathons during a span of less than 10 years.
His younger kids were part of the program with Steve ('02), Diane ('03), James ('05), and Mary ('06) all competing at one time for the King Wolves. He is now retired and enjoys doing construction work for clients and fishing the local lakes in his spare time. He's also a huge Angels fans and enjoys season tickets to watch the Halos!
Email Coach Griesinger at jimgriesinger@gmail.com
Sunday, July 23
ASSISTANT COACH KEITH JANES
One of the most respected and liked human beings on King High School's staff, Keith Janes will make his return to cross country coaching after about a 12 year absence from his first stint as assistant coach. He has been coaching baseball for most of his tenure at King High which began back in 2000. However, his running credentials go deep, as he was a solid high school and collegiate runner "back in the day" and knows much about the sport and the science behind the sport. Most significantly, he's a great motivator and communicator and will serve the cross country community well.
Keith teaches in the special education department at King. He is a graduate of Cal Baptist University and Indio High. All three of his children, Matt, Tyler and Allison attended or currently are attending King High. Tyler and Allison both excelled in cross country and track while Matthew was a starter on the baseball team before going on to play ball for the Master's College in Saugus, from which he graduated in 2017.
An avid fisherman in his spare time, he loves to be outdoors and loves planning his family's next great vacation.
Thursday, May 19
ASSISTANT COACH CARRIE SOHOLT
Carrie Soholt is a graduate of the 2011 class of King High School and an alum of the program. She had one of the most decorated and remarkable careers at King in the school's history. She is one of the few to be awarded the Martin Luther King Servant Leader Award, given to the one athlete who most embodied the character and style of servant-leadership embodied by Martin Luther King. She was a four year letter earner, a member of the 2009 girls State team, carried a 4.0 GPA and her name is visible on almost every "All Time" list we keep in both cross country and track.
She had a scholarship to compete at Biola University in La Mirada, which she did with continued distinction. She was an NAIA All American, Scholar Athlete and earned the "Champions of Character" award in track. On the track, she earned All American honors there as well as setting the Biola School Record for the half marathon, running 1:23 in 2014. She earned her degree in Kinesiology. She'll be entering Azusa Pacific University in the spring of 2017 to begin work on her Doctorate in Physical Therapy.
Carrie still runs and competes and loves getting outdoors for recreation as often as possible.