Welcome to the Web Site of King High Cross Country
King's First Ever League Champions
State Finalists: 2006, 2008, 2009, 2010, 2014, 2015, 2016
CIF Finalists: 1999, 2000, 2002, 2003, 2004, 2005, 2006, 2007, 2008, 2009, 2010, 2011, 2012, 2013, 2014, 2015, 2016
Girls League Champions: 2001, 2002, 2003, 2004, 2005, 2006, 2007, 2008, 2009, 2010, 2012, 2013, 2016
Boys League Champions: 1999, 2004, 2005, 2010, 2012, 2015
Boys Riverside County Academic Champions: 2008
Check us out on Facebook Follow us on Twitter Follow us on Instagram
Our XCSTATS.COM web page ~~ Our ATHLETIC.NET web page
Sunday, August 20
THIS WEEK WITH THE WOLVES, AUGUST 20-26
Practice starts this week at 6:30 AM!
All athletes who have yet to be seen but desire a spot on this year's roster MUST contest a 3 mile Time Trial on Tuesday morning in order to demonstrate basic fitness levels. Meet in the school's front parking lot at 6:30 AM.
The rosters for the 2017 teams will be posted on this website by Tuesday afternoon.
SEASON OFFICIALLY STARTS ON WEDNESDAY
Those who have earned a spot on the roster have required practice starting on Wednesday morning (6:30 AM) and each day thereafter. If you have to miss practice, there are consequences and expectations in order to do so. Read our attendance policy here.
Monday night is our August Booster Club meeting. Meet in Coach Peters' room, G123 at 7:00 - 8:00 PM. All parents are welcome. Park in the back lot by the stadium, as the classroom opens to that parking lot.
Two-a-day's are Tuesday and Wednesday at 4:00 PM.
Friday is Freshman First day at school. Freshmen are excused from practice and are encouraged to attend the Freshman First event.
Saturday we are at the Gage Canal at 7:00 AM.
LOOKING AHEAD:
Parent-Athlete meeting at school on Wednesday, August 30 at 6:00 PM
First race - September 1
Practice will be held September 2
No practice on Labor Day
Friday, January 13
HOW TO MAKE THE 2017 KING CROSS COUNTRY TEAMS!
Tuesday, August 15
SEASON BEGINS WEDNESDAY, AUGUST 23
On Wednesday, August 23, our season will officially begin. Summer camp will be over.
Please note, those who have earned a spot on the 2017 roster (Rosters of those who have made the team will be posted on Tuesday, August 22 on this website) will be required to be at practice starting August 23.
Attendance is required, and there are consequences for missing practice without prior notification. Read this link to understand our attendance and running requirements during the competitive season.
Practice during August 21-22 (summer camp) and August 23,24,25 (competitive season) is at 6:30 AM to 8:15 AM due to teacher responsibilities during the morning.
Tuesday, August 15
BOOSTER CLUB MEETING IS MONDAY AUGUST 21
Our first booster club meeting of the 2017 season will be next Monday, August 21. We will meet in Coach Peters' classroom, G123, which is conveniently located next to the back/stadium parking lot.
Starts at 7:00 PM and ends at 8:00 PM. All parents are welcome and encouraged to join in our efforts to put forth a first-class progam for our student athletes. We need a lot of help this season! Please consider joining us.
FUNDRAISING - WE NEED EVERYONE INVOLVED
Each season we are faced with the prospect that a program like ours is NOT fully funded by the school or the RUSD. While some funding is provided, we are left FAR SHORT of what it actually costs to have a canopy banner, banquet yearbook, coaches, awards, invitational fees paid, travel expenses, drinks and water at practice, awards, and more. NONE of these things are fully funded by the school or district.
So, we need all athletes to participate in our fundraising, and we ask that each of you raise a minimum of $125 toward the financial necessities of the season. Each season, it costs approximately $12,000 to fund our season, all of which we have to raise. (As just one example, our banquet alone - not counting food and room rental - is close to $2,000 each season!)
You can do this through a variety of ways.
Here they are:
Parent volunteer hours working the parking lot of the Riverside Cross Country Course - we have multiple weekends in which we need help. KXC receives fundraising dollars from this effort.

Business Sponsorship Friends/Family Donation
Straight Family Donation of $125. Make check payable to "King Cross Country Booster Club"
Scrip balances - While this is not a "quick" way of accruing $125, over time, the proceeds that you earn from purchasing scrip from our scrip coordinator, can be donated to the program to help cover all or part of the $125 request
TRAINING SCHEDULE
Friday, August 18
SUMMER SPEAKER SERIES - ALEC FILLMORE
"All choices are mental" Alec Fillmore (class of '07) said to us this morning, tying beautifully into our season's theme of Think Different.
"You need to be preparing for racing right now in practice; how you'll respond to the challenges of competition, because they are gauranteed to challenge you."
Alec is one of the shining legacies of King High Cross Country. "I wasn't one of the fastest runners ever" he said, "but I was one who pushed myself to get better."
And indeed he did, as he became passionate about the sport, took training seriously and dreamed big about what was possible to whomever wants to go after the prize. He went on to compete for the University of Redlands and is still avidly racing with Skechers as one of his sponsors.
"You have 1,385 days in high school. If you take out Sunday rest days, you have 990 days of that total to train. That breaks down to about 250 days per year if you take both XC and track seasons into account. Each season you have 125 days to do something. To change habits or start new ones."
Wow. Powerful words. What we do with our chances, our choices, is the fine line often, between success and defeat.
"Did you watch Emma Coburn win the steeple in the World Championships last week?" he asked the group, to which a number acknowledged they did. While praising the gold medal she earned, he took them back to the Rio Games last summer where she finished third. Alec told them that in an interview following the Bronze performance, Coburn said, "I was sitting in fourth, and I had a choice: Stay there or go for the medal. She chose to dig deeper and went home an Olympic medalist."
Be prepared, Alec, advised. School will require much of you, now is the time to prepare for the choices you'll make as a runner.
Awesome stuff. Think different!
Monday, August 14
SUMMER SPEAKER SERIES - RAELYN WERLEY
It was an honor to have back on our campus Raelyn Werley, who graduated from King in 2013 after four years of running and growing in both the XC and Track programs. Now finishing up at Cal State San Marcos, her 8 years of competitive running have brought her full circle.
"After all these years, I've learned that while I'd highly recommend being fully committed, buy in to it, remember it's just running. It should be fun."
She said those words with conviction and a smile.
"You really learn a lot about yourself when you really commit yourself to something" she advised some 75 student-athletes, many of whom are at the starting line of the high school sports with much to learn and grow in.
Raelyn recalled her very challenging junior year in which a nasty bout with anemia kind of wrecked both seasons of that school year, in fact, it brought her track season to a premature ending as she just couldn't find the health to keep going. "That illness taught me that my identity was all running. That running was all there was, and that was just as unhealthy as anemia."
Like so many, adversity taught her a lesson that may not have been learned any other way.
"Running ultimately taught me, and it will teach you, what your character is all about. Learning to be a good teammate, no matter how well I was running, was something I learned along the way."
Tuesday, August 1
SUMMER SPEAKER SERIES - ALVIN DAVIS
"The more you can grow in being concerned with others rather than yourself the better athlete you will be".
What powerful words and truth from our guest speaker today, Alvin Davis. To shamelessly use a baseball analogy, Alvin Davis - the former Seattle Mariner and AL Rookie of the Year - hit it out of the park.
"The whole is no greater than the sum of its parts" he said, citing the known reality that it is the strength, resolve and friendship of the individuals on a team that make teams rise.
"Have fun, don't chase results - focus on the process and the results will come - do the right thing and be selfless" he advised us. Great words. True words whether you're playing baseball or running XC.
"We all run the race, so run in such a way that you may win the prize" he said. "Give it all you have and give all you have to your teammates".
Friday, July 28
SUMMER SPEAKER SERIES - CARISSA HOERNER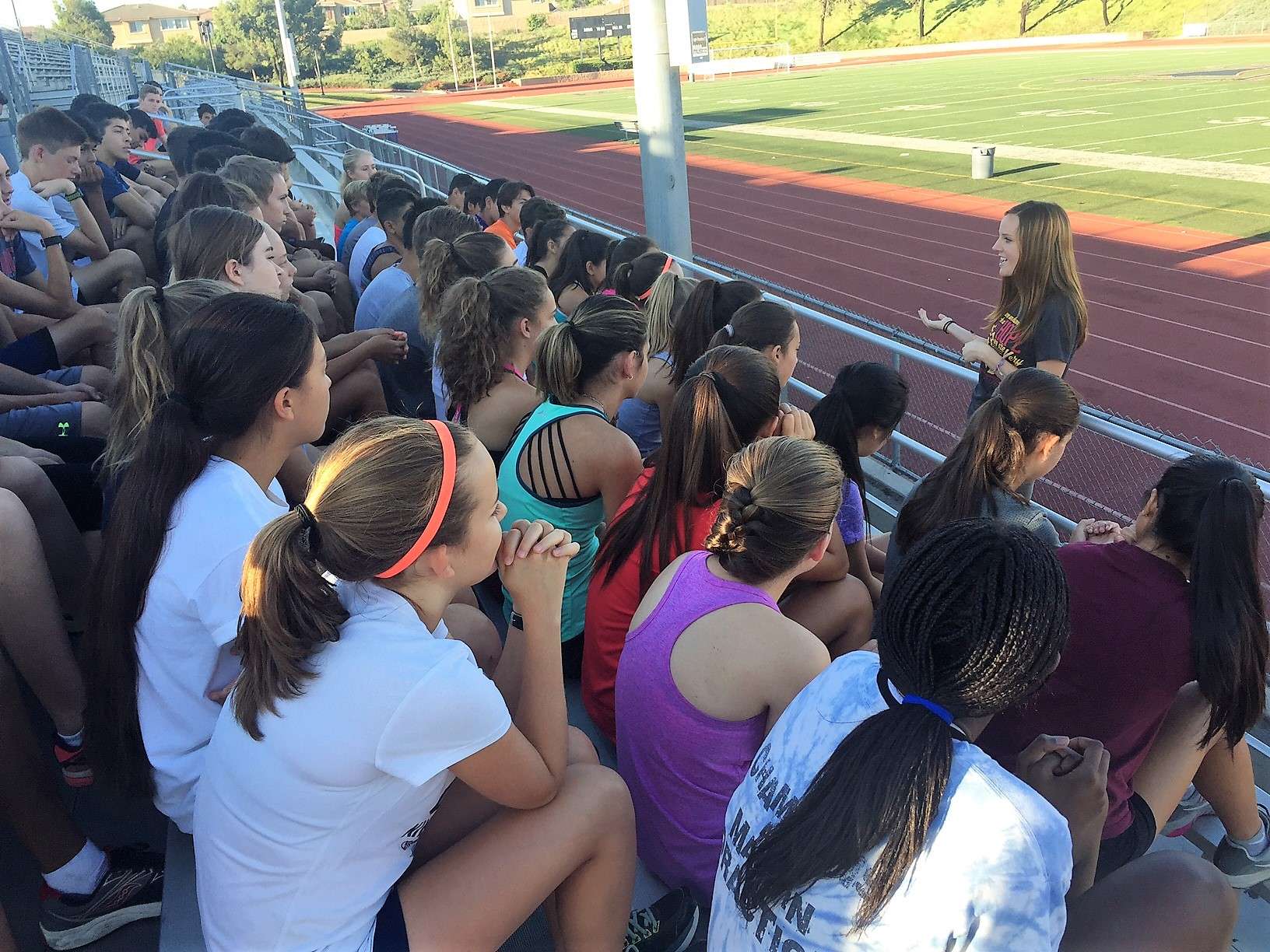 Carissa Hoerner (class of '08) brought the good stuff this morning at summer camp! Wow, powerful words, eloquently stated about the things she's learned on her journey thru high school running, collegiate running and now adulthood. "The thing you will take from this sport" she said, "is how to suffer."

Truer words couldn't have been said. Suffering is part of the sport,(and life) ... it's not "if" it comes, it's how we respond "WHEN" it comes.

"Suffering produces perseverance in us, which produces character, and character gives hope" she said, as she encouraged the current King kids to not try and avoid suffering, but instead learn and grow from it. So, so good!

Peppered with stories of her running career - both victories and defeats - she served a savory meal and gave us all something good and true and right to take home with us.

One of the core values of King XC is learning -- we all have much to learn -- and Carissa was our teacher this morning. Really powerful. Thanks Carissa Hoerner! You are one of King High Cross Country's treasures! #xc4life #learning #thincdiphrunt



Tuesday, July 25


SUMMER CAMP ATTENDANCE


This is for accountability purposes only. If absent, please notify Coach Peters in advance at bradapeters@gmail.com.

Wednesday, May 14


AN IMPORTANT READ ON IRON DEFICIENCIES AMONG RUNNERS. PLEASE READ!