Admin

Last updated

11-06-13 01:23 PM

Keystone Elite Wrestling

Todd R. Miller

484-571-1774

Fax: 717 442-4480

992 Pheasant Run Dr

Gap, Pennsylvania

17527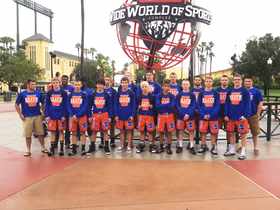 2013 Disney Dual Team
For God has not given us the spirit of fear; but of power, and of love, and of a sound mind. 2 Timothy 1:7
The Keystone Elite Wrestling philosophy is to teach a consistent system of wrestling week after week. The goal is to improve on what you learn and add to the system each week. The practices are designed for the wrestler who has set high goals. We highly encourage all participants to compete in as many tournaments as possible. This way you can put to use what you have learned. Keystone Elite is open to all age wrestlers: elementary, middle school and high school.
Thursday, July 18
Super 32 Wrestling Tournament
For the 8th year in a row, we will be competing at the largest preseason wrestling tournament in the country. Super 32 in Greensboro, NC, Oct 25-27, 2013. There are two divisions, high school and middle school. Middle school is considered 6th through 8th grade. I have attached a registration form for anyone who is interested in serious competition. Space is limited.
Handout:
Super 32 Registration
Monday, August 12
Marsteller Clinic
Join us Sept 8 from 12:30-4pm to learn from one of the best. Chance Marsteller, 3X undefeated PA State Champion. Space is limited to register early.
Handout:
Marsteller Clinic