Kensington Valley Cardinals Travel Baseball: Welcome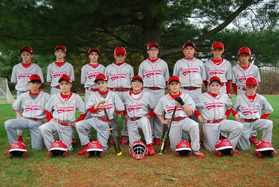 NEW 2015 12U TEAM TRYOUTS THIS WEEKEND!!
Sunday, July 27
TRYOUTS FOR THE 2015 CARDINALS ARE THIS WEEKEND AT SHEPHERD OF THE LAKES IN BRIGHTON 12-2 SAT AND SUNDAY

Click Here to Visit our Sponsor
Welcome to the Official Site of the 2015 Kensington Valley 12u Travel Baseball Team, Affiliated with S.W.A.T Elite Sports in Howell. MC Sports in Brighton is now a Platinum Sponsor of the Kensington Valley Cardinals 12u. More to come on this partnership!!
UPCOMMING EVENTS
TRYOUTS FOR THE 11U/12U, 2015 SEASON WILL BE HELD AT SHEPHERD OF THE LAKES CHURCH IN BRIGHTON.2101 S.HACKER ROAD IN BRIGHTON. DATES ARE 7/26 FROM 12-3 AND 7/27 FROM 12-3 FOR ROUND 1. ROUND 2 WILL BE HELD 8/2 AND 8/3 FROM 3-5PM. PLEASE EMAIL TO REGISTER smurray75@comcast.net or call (248) 818-4390 (CELL) 0r home at (810) 227-5274. WE WILL BE SELECTING 11 TOTAL PLAYERS FOR THE 2015 TEAM. RETURNING PLAYERS ARE NOT GUARANTEED SPOTS. now only 5 SPOTS OPEN.
CONGRATULATIONS TO THE FIRST 6 NEW CARDINALS!!
***NEW Videos have been added in the "AT HOME VIDEO DRILLS" section Watch these multiple times. Start your training TODAY, with these 70 at Home drills.
Kensington Valley 12u is Now affilliated with SWAT Elite Sports in Howell. Home Games will be played at Shepherd of the Lakes in Brighton/Hartland. We are a competitive based Travel Baseball team that competes in the KVBSA league. Players are welcome from Brighton, Hartland, Howell, South Lyon , Milford or anywhere in Livingston, Genesee, Oakland or Washtenaw Counties. We also take part in several crossover games, scrimmages and tournaments. This team is designed for the advancement and development of youth players. Tryouts are fair, teams are not determined by "RETURNING" players or 6 asst coaches. We are looking for talented players with a winning attitude and Baseball 1st mental approach during the season. Our roster will end at 11 players. We look for quality players and families, willing to improve both on and off the field. "Perfect Practice, Makes Perfect!"-Don Mattingly
Sean Murray
(248) 818-4390
Feel free to use the "At Home Drills", "Players Tests", "Home Work" Sections of this site, they are designed for every player to benefit from. Please contact Coach Murray if you have interest in joining The Kensington Valley Cardinals Team.
SPONSOR NEWS
NOW AFFILIATED WITH SWAT ELITE SPORTS IN HOWELL. WE WILL BE TRAINING DURING AND IN THE OFF-SEASON WILL BE AT SWAT ELITE IN HOWELL.
Friday, August 23
Click Here to Donate to Kensington Valley Cardinals11U
Playing Travel Baseball takes dedication, talent and money. Costs include: Equipment, League Fees, Umpire fees, Insurance, Uniforms, Bat Bags, Tournaments and travel expenses (Just to name a few). Any money raised will go to support the teams tournament fund and Night Game exhibitions.
Thank you for your interest and support
Kensington Valley Cardinals!!