John F. Kennedy High School: Welcome
2008 NVL Copper Division Champions
WELCOME friends, family, fans and Alumni of the Kennedy Eagles Football program. Thank you for taking the time to visit our website. Please check out what the site has to offer, including the 2016 schedule, roster, player profiles, 2015 photo/video highlights and much more! We hope that you will follow our Eagles through the regular season as they prepare to capture the 2016 Brass Division title!
Thanks for your support.

Coach Sarlo
Varsity Football Head Coach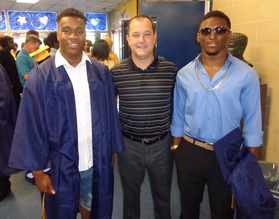 2014 'ROCK' recipients, Stanley Little & Eli Benjamin
The Stephen Rockwell Memorial Award
In 2005, Coach Sarlo dedicated an award to honor the memory of his close friend Stephen Rockwell. The Stephen Rockwell Memorial Award, known as the 'ROCK' is given to the player who serves as the 'ROCK' of the Kennedy Football program. He may not be the best athlete, but he models the principles of the Foundation of the Kennedy football program, TEAM, COMMITMENT and HARD WORK. He makes the Commitment to Work Hard for the success of the TEAM. He attends practice every day and leads with his actions. He makes that same commitment in the classroom as well. Above all, he is the player who still cracks a smile and makes others laugh, even after a exhausting practice, or a tough loss on game day. He is passionate not only about football, but about life itself.

Stephen Rockwell had those same passions. A former football player and 1982 graduate of Kennedy, Steve was killed in a motorcycle accident back in 1988. He left us way too early, but during his time on this Earth he made everyone in his life smile. One of his favorite songs was Bobby McFarrin's 1988 hit, 'Don't worry, Be happy'. That is exactly how Steve lived his life. No matter what life threw at him, Steve never let anything or anyone bring him down. He made everyone laugh with his wonderful sense of humor and he had a smile that was contagious! The three student-athletes honored with the 2014 Stephen Rockwell Memorial Award are seniors, Tri-Captain Jake D'Alusio, Stanley Little and Eli Benjamin.
Jake is the only player to earn the 'ROCK' award twice at JFK. He is also the only player to serve as captain for 3 of his 4 years at JFK. His hard work and commitment to the team paid off as he earned selections to the 2013 ALL COPPER and All-City Offensive teams and the 2014 ALL BRASS and All-City Offensive teams. Jake's work ethic and quiet leadership will surely be missed next season as he heads off to attend Endicott College in the fall. Good luck Jake!
Stanley will also be missed. One of the hardest working kids in the weightroom during the off-season, Stanley earned recognition from the coaching staff as a Game Captain several weeks during the 2014 season. He also earned a selection to the 2013 and 2014 ALL-City Offensive teams and the 2014 ALL BRASS Offensive team. A quiet leader who led by example on and off the field, Stanley was an obvious choice to receive the 'ROCK'. Good luck next year Stan!
Another clear choice for the 'ROCK' this year was senior Eli Benjamin. A four year player who battled through potential career ending illnesses, Eli overcame these hardships to finish a four year career at JFK. His hard work and commitment earned him recognition as a Game Captain and served as a great model for the younger players. Eli earned post season honors by being selected to the 2012, 2013, and 2014 All-City Offensive and Defensive teams and the 2013 ALL COPPER and 2014 ALL BRASS teams. His mental and physical toughness will surely be missed next season. He moves on to attend American International College in the fall. Good Luck E!


The 'ROCK' honorees
2005-Nevin Thomas
2006-Queshaun Harvin
2007-Steve Anton, Ken Fermin, James McColl
2008-Ronald Naraine
2009-Devin Myers
2010-Oscar Jean-Baptiste, Travis Johnson, Ryan Boland
2011-Cody Colon-Dudeck
2012-Steven M. Perrone Jr.
2013-Jake D'Alusio
2014-Jake D'Alusio, Stanley Little, Eli Benjamin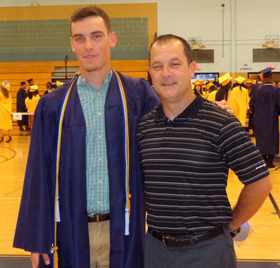 2014 'ROCK' recipient Jake D'Alusio
SUMMER CONDITIONING BEGINS
Kennedy Eagles
FOOTBALL
Conditioning
STARTS WEDNESDAY, July 13th @ 9:00 AM
ALL incoming 9TH graders, ALL Returning players, AND any JFK student that is interested in playing football during the 2016 season are invited to attend. These conditioning sessions are NOT mandatory, but its a great way to stay in shape for the upcoming CIAC pre-season practices in August.
Conditioning DAYS: EVERY Monday, Wednesday, Friday until CIAC Pre-Season practice starts in August
Conditioning TIMES: 9-10:30 AM
Conditioning PLACE: WEST SIDE MS (Sport fields in back of the school)
ALL interested student-athletes MUST have a City of Waterbury Sports' Physical on file with the JFK Nurse's Office, 203.574.8150. Athletes should be prepared for outdoor conditioning sessions by wearing gym clothes; sneakers, cleats, shorts, or wind/sweat pants, t-shirts, etc... Please eat a healthy breakfast in the morning and drink plenty of clear fluids before, during, and after each workout.
Any QUESTIONS?
Contact Varsity Football Head Coach
Chris Sarlo, 203.804.2795, sarlo@att.net
Friday, April 26
Dariel 'Rudy' Perez 1992-2013
I am not sure exactly what I want to write in this post so it may ramble on, but I ask for your patience. Today, a former player visited Kennedy to inform me and others that Dariel Perez passed away on Tuesday. He died as the result of a one car accident late Sunday night. I don't know any more details about his death, but I would like to share more about his life.

Everyone in the football program knew Dariel as 'Rudy'. It was such a fitting name for him too. He played for our program from 2007-2010 and he graduated with the class of 2011. He served as a team captain his senior year and earned All City Defense honors for the 2010 Varsity season.

The best way to describe 'Rudy' as a player will sound cliche, but he always gave 110 percent! When guys were dragging a bit in practice or down in a game, he always kept moving at top speed. He was never an all state caliber player, but 'Rudy' was ALL HEART! I never coached anyone with more courage and mental strength than 'Rudy'. His performance on the practice and playing field was so inspirational that I named an end of the year award in his honor. Each year since 'Rudy' graduated, we have awarded the player with the most heart who NEVER quits with the Dariel Perez 'Rudy' Award. We will continue to do so for as long as I am the Head Coach, but sadly now it is a memorial award.

The photo that I have attached with this post gives the ideal image of 'Rudy'. As a sophomore, he was one of only a few 10th graders who suited up and played in the 2008 NVL Football Championship game. Take a close look at his helmet. Anyone who knows the game of football recognizes that this kid played hard and you can tell that by the 'war paint' on his helmet. 'Rudy' worked just as hard off the field as well. He was always in the weight room trying to increase his strength and serving as the model for other players throughout the off-season.

Even more important than his football contributions, were his contributions to the Kennedy school community. He got along with everyone. He made everyone around him a better person. He was a hard working student who always took the time to help others. I had him as a student in class and I witnessed the same level of commitment and hard work. The Kennedy community, the city of Waterbury, this state, this nation and the world, lost a great young man.

I think that I can speak for all of my staff, his former teammates and even the current players in the program when I say that 'Rudy' will be missed. #8 will always hold a special place in our hearts. We offer our condolences to his family and we want to thank them for allowing us the opportunity to spend time and share life with their wonderful son.
In Memory,
Coach Christopher Sarlo
EAGLES ENDZONE CLUB
CALLING ALL friends, family, fans and alumni of Kennedy, Croft and Leavenworth High Schools! The Kennedy Eagles Football program invites you to join the 2013 Eagles Endzone Club, the booster organization for the Kennedy Eagles Football team.

All who join the Eagles Endzone Club will have their names entered as part of the Honor Roll in our Varsity game day program. They will receive a certificate of membership, 2 free passes to any EAGLES home game at Municipal Stadium and the necessary documentation for their tax records.

Members from the business community will have their sponsorship information placed in the Varsity game day program and their business advertisement will also be highlighted on the Sponsors' page of our website.. This will allow our sponsors to reach out to those from the Naugatuck Valley region who attend our games and who visit our website.
What better way to honor the glory of our past, recognize the players of today and ensure the success of our future? Spread the word to all family members and to friends who may have played for or attended Kennedy, Croft, or Leavenworth High Schools, and to anyone who is a fan of the great game of football.

Please feel free to contact Varsity Head Coach, Chris Sarlo at 203.574.8150, or sarlo@att.net. Thank you for your consideration.