Katy Tiger Baseball: 2012 Archives
Tuesday, February 7
2012 Katy Invitational Varsity Baseball Tournament
The Katy Tigers will host the 2012 Katy Invitational Varsity Baseball Tournament on March 1-3 where five premier Houston area teams (Katy, Pearland Dawson, Kingwood Park, Cy Lakes and Oak Ridge) will be competing for bragging rights and where coaches will be developing their strategies and rosters for the upcoming season. A spring training showcase right here in our own back yard. We would like to invite all of you to come out and watch some great Tiger Baseball !
We are currently looking for sponsors for this upcoming tournament to cover the cost of umpires, game balls, tournament programs, extra field usages, etc. Our sponsorship levels range from $25 to $500. Recognition of our sponsors will be given throughout the tournament as well as a listing or ad in our tournament program. Below you will find the sponsorship form handout.
Your continued support of the Katy Tiger Baseball program is greatly appreciated.
Handout:
2012 Katy Invitational Sponsorship
2012 Baseball Dates and Alignment
NCAA Clearing House
Seniors and Juniors need to register with the NCAA Clearing House. You can do so at http://www.eligibilitycenter.org/
2012 Baseball Dates
January 27 First Day of Practices
February 6 First Day of Interschool Scrimmages
February 20 First Day of Interschool Games
May 1 District Certification Deadline
May 5 Bi-District Deadline
May 12* Area Deadline
May 19 Regional Quarter-Finals Deadline
May 26 Regional Semi-Finals Deadline
June 2 Regional Playoffs
June 6-9 State Tournament
* No games in this series shall be played prior to Friday of that week due to STAAR tests. No travel is allowed in association with this series until at least the end of the school day on Friday, May 11. If there are any conflicts between an Area baseball series and the state track meet, it is recommended that schools schedule only a one game series.
2012 Baseball Alignment - District 19-5A
Katy
Taylor
Cinco Ranch
Seven Lakes
Mayde Creek
Morton Ranch
Houston Memorial
Houston Strake Jesuit
Wednesday, December 14
2012 Baseball Tryouts & Practice Information
Baseball tryouts are just around the corner! Tryouts will begin on Friday, January 27th at 4:30pm and continue on to January the 29th, when final cuts will be made. There will be another tryout for the basketball players when their season is over. You need to bring your own gloves, bats, cleats, and work out clothes. You also need all your paperwork turned in and your physical on file before you will be allowed to try out. You can pick up the physical packet and UIL forms from Coach Mac's office.
Practices begin after school on January 27th. The sub-varsity players will workout during fifth period and will practice after school from 4:30pm to 6:30pm. The varsity players will start their practices during seventh period and continue on until 4:30pm. Teams WILL workout on Saturdays!
There will be a parent meeting for the parents of the players that made the teams on Tuesday, January 31st in the West Campus cafeteria. This is a MANDATORY MEETING for all parents. We will pass out schedules and maps to games as well as go over all rules and regulations.
THE WEIGHT ROOM AND THE BASEBALL FIELD WILL BE OPEN FOR YOUR USE AFTER SCHOOL. THERE IS NOT MUCH TIME LEFT, SO MAKE THE MOST OF IT. GET YOUR ARMS AND LEGS IN SHAPE!!!
Friday, December 16
Katy Tigers 2012 Baseball Hit-A-Thon
Dear Katy Tiger Baseball Fans, Family, and Friends:
The 2012 baseball season is upon us and our players and coaches are very excited about the great opportunities to have another successful season. We would like for you to be a part in helping the Tigers achieve their goals. As we have done in the past, the Katy Tiger Baseball Program will raise money to help fund the cost of equipment, supplies, and projects to improve our facilities and maintain it's rating as one of the top high school baseball programs and facilities in Texas. Due to the expense of these items, we are asking for your support.
There are three ways individuals may donate to our program:
1st - Player Pledges: Each player will get 5 swings to see how far he can hit the ball. We will then measure the distance to where the ball landed in the air. In advance, each player will have obtained pledge forms filled out by family, friends and supporters. Each pledged amount will then be multiplied by his longest hit. For example, if a players gets 2 pledges, one for $0.30 per foot and one for $0.10 per foot, and the longest ball he hits at the Hit-A-Thon is 300 feet, then the $0.30 sponsor would donate $90.00 and the $0.10 sponsor would donate $30.00, for a total of $120.00 for the Katy Baseball Program.
2nd - All-Star Guest Pledges: In addition to each of our Tiger players taking a turn at bat, we will have two guests, former Tigers (TBA), collecting pledges for each home run they hit during the Hit-A-Thon. They will be given 10 swings and you can pledge a specific amount per homerun by one or both of them.
3rd - Straight Donation: You can take all the guesswork out of it and donate any amount of money you choose to the program. The amount will not be determined by the hitting distances or home runs.
With your help and the hard work of these young men, we can make our 2012 season the most successful baseball season ever and help these young men make memories that they will treasure for a lifetime. Thank you for your support, and we look forward to seeing you at the ballpark often!
Yours in Baseball,
Coach McPherson
Handout:
2012 Hit-A-Thon Pledge Sheet
Monday, January 9
Houston 5A Baseball Presents Returning Strength Team Preview
In 2011, the Tigers fielded a young team in spots and Coach MPherson was awarded for his ability to blend youth with experience as Katy was able to give eventual District Champion Memorial all they could handle in their two head-to-head contests. Unfortunately, the Tigers finished a step shy of another District Championship but were able to secure yet another play-off appearance with a second place finish in District 19-5A.
In 2012 they return three committed players in Cameron Friess (San Jac), Dylan Gaffney (Angelina) and Ivan Garcia (San Jac). Combined with a strong returning underclass, it should surprise no one if the Tigers are in the play-off hunt again in 2012.
KATY TIGERS
District: 19-5A
Head Coach: Tom McPherson
Assistant Coaches: Mike Langan, Michael Barrow, Terry Jaimes
Previous season record: (District 12-2, Overall 22-6)
Previous season play-off accomplishments: Loss to Westside 2-games-to-0 in bi-district
Graduated starters/key losses: Colt Atwood, Kyle Thompson, Will Wadas, Dillion Mazzoccoli, Christian Ramsey, Tyler Holsey, Angel Montoya, Jordan Thompson
Returning starters & honors/lettermen/others: Quinn Atwood, Cameron Friess, Dylan Gaffney, Ivan Garcia, Caleb Thompson, Colton Asheim, Dylan Sutton, Ryan Phillips, Austin Frick, Zane Garcia, Gerard Montez, Travis Wiley, Zach Wilson, Jonathan Martinez, Jason Jones
- Courtesy of Houston 5A Baseball (www.houston5abaseball.com)
Tuesday, January 17
Keys To Success In 2012
KEYS TO SUCCESS IN 2012
1/13/2012 H5AB.COM

With the 2012 NFHS mandate to BBCOR bats many teams will quickly realize that fundamental baseball will be the rule of the day. Those who excel fundamentally on the field will be those who make the deep play-off runs in 2012. From the parents to the students, and coaches, the successful teams in 2012 will be those who possess the best combination of these qualities.
1. BASE RUNNING WILL BE PREMIUM IN 2012 – The ability to steal, take the extra base, get the proper lead, execute the hit & run, will be key to 2012 success.
2. PITCHERS MUST THROW STRIKES; WALKS WILL BE DEVASTATING – In 2012, pitchers must throw strikes! With the emphasis on high quality base running, now more than ever, walks will turn into runs.
3. FUNNDAMENTALS; BUNTING, HIT & RUN, WILL STAND OUT – The ability to get a bunt down on any count at any spot in the order will be a necessity for any team to be successful in 2012.
4. UP THE MIDDLE DEFENSE WILL BE KEY TO SUCCESSFUL TEAMS – Catcher, SS, 2B, & CF will once again be the prime positions on the field. The positions where you will likely find some of your best players in the game. To be successful, teams will need smart, athletic, catchers who possess above average arm, footwork, throwing, & leadership. The SS of 2012 will have to possess above average footwork, glove work, range, and arm. At 2B teams will need an above average glove man as well as good speed, and superior communications skills with fellow team mates. The CF will once again be the true captain of the outfield! He will possess above average speed, footwork, arm, & glove. Will have a take charge mentality. Solid at the corners; 1B & 3B will be required to excel at defensive skills on the field now more than ever. 1B will require above average glove work, & leadership qualities. 3B will require above average instincts, footwork, & arm.
MOST IMPORTANT OF ALL; WILLINGNESS TO PLAY UNSELFISHLY – The willingness for players to play as a team, put down the bunt, make the perfect slide, accept your role, and the overall willingness of players to incorporate "what's best for the team' in their decisions and game play. Unselfishness at home; willingness of parents to except what the best roll for player's particular team is as designated by his coach.

2012 Baseball Signees on National Signing Day
2012 Commitments
Shortstop, Dylan Gaffney, commits to Angelina College
Catcher, Cameron Friess, commits to San Jac College
2nd Baseman, Ivan Garcia, commits to San Jac College
Former Tigers at Next Level
Colt Atwood (2011), Sam Houston State University
Dillion Mazzocolli (2011), Alvin Junior College
Thursday, February 2
2012 Katy Tiger Home Run Derby
Former Katy Tiger, Carter Jurica (now with the San Francisco Giants) wins his second straight Home Run Derby title. A huge "THANK YOU" to all the participates and spectators that made our 2012 Hit-A-Thon a great success
.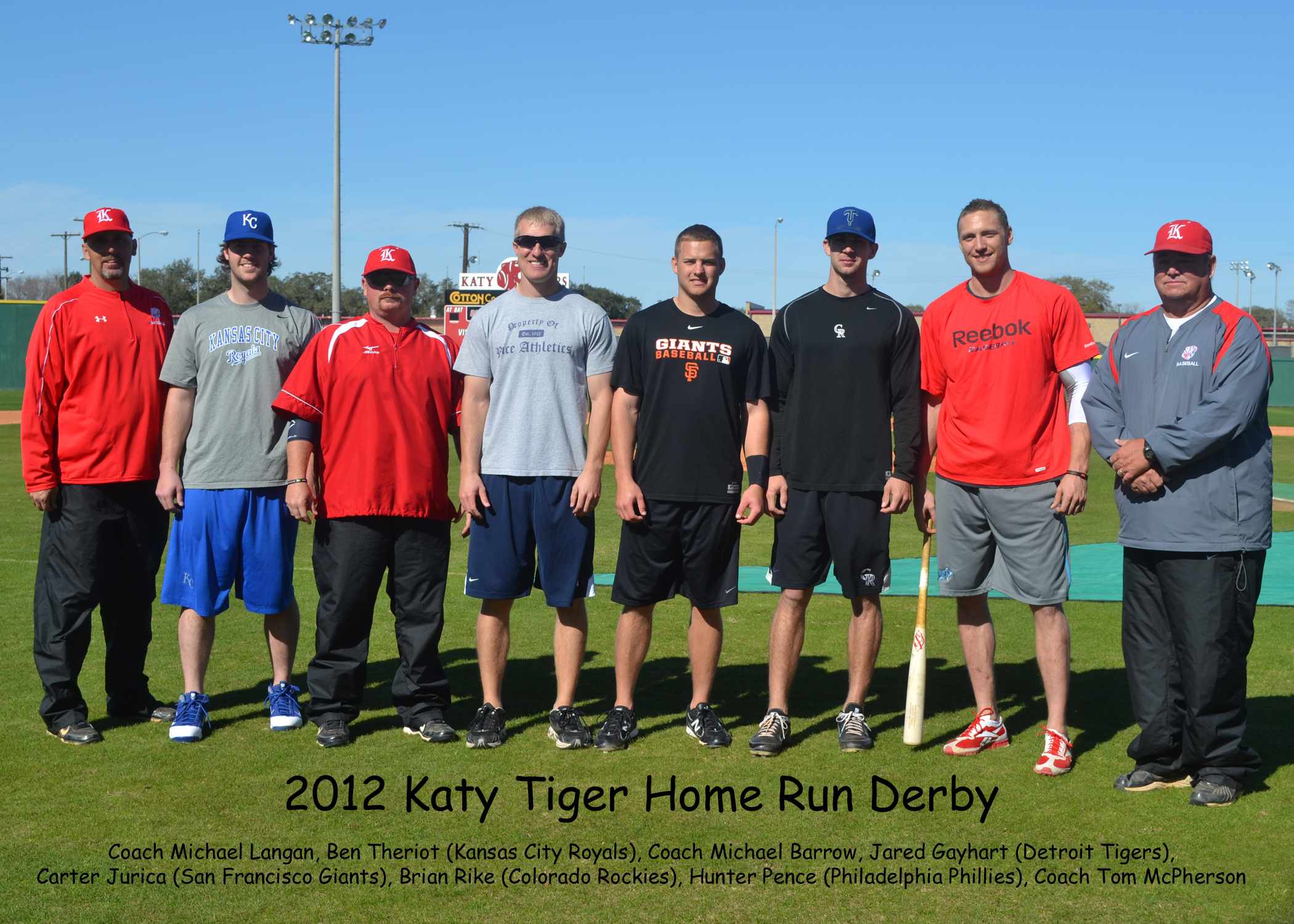 2012 Home Run Derby
Tuesday, February 7
2012 Katy Baseball "Wish List"
Another exciting year of Katy baseball is upon us and the baseball program is asking for your support. Katy athletes have always been a strong force in our community and the community has always taken pride and supported all of our amateur athletes.
What we need is to be able to provide the baseball program the rest of the financial support needed for the consumable and depreciable items that our annual budget doesn't support. Items such as additional baseballs and gear and items that degrade like pitching mounds and home plate covers, fence boards and tires on the portable hitting cages.
The 2012 Katy"Wish List" handout is below. If you are interested in donating any of the items on the Wish List or would like to make a monetary donation to go toward any of these items, please contact Teri Gaffney at gaffneykaty@aol.com for more information.
Thank you in advance for your continued support of the Katy Tigers.
Handout:
2012 Katy "Wish List"
Tigers Making Headlines
3-22-12 "Katy sets sights on postseason" by Jason McDaniel, Freelance Writer for Houston Chronicle
Tom McPherson, who's in his 25th season as Katy's baseball coach, picked up his 600th career win in the second game of last season. It was a big milestone that he enjoyed adding to his resume. But he found what the Tigers did at the end of the season a lot more enjoyable. (continue reading at http://www.chron.com/default/article/Baseball-Katy-sets-sights-on-postseason-3421363.php )
3-15-12 "The Hidden Ball Trick" by Thomas Lott, Times Sports Editor, The Katy Times
Zach Wilson made Conroe Oak Ridge look silly in the Katy Tigers 4-2 win on Thursday night. The junior pitcher came out pounding the strike zone time and time again in each of his six innings of work. (continue reading at http://katytimes.com/sports/article_8c37f09a-6702-11e1-93cf-0019bb2963f4.html )
Wednesday, March 28
2012 Katy Gold Glove Information
Katy Gold Glove
(Katy High School Summer League Teams)
The name of the league has been changed to:
KCF Baseball, Inc.
The website (www.kcfbaseball.org) is currently under construction but here is the basic information for the upcoming 2012 Summer Season
Tryouts - for Katy incoming 9th graders for the KCF summer league team will be on
Sunday, May 6th
from 2-5pm at the Katy High School Baseball Facility
May 20th
Managers meeting - details forthcoming
Season runs June 4 - July 11
Post Season Tournament July 12 - 15
Stay Tuned for More Details
Thursday, April 19
2012 Tiger Scramble
The Katy Athletic Booster Club is putting on a golf tournament, Tiger Scramble, on June 7th at the River Ridge Country Club. The Tiger Scramble is one of the biggest fundraisers for the athletes of Katy High. Please check this website this weekend for more information about fees, registration and sponsorship opportunities.