Home of the BBYC Bulldogs: Welcome
Wednesday, June 22
2016 Bloomingdale Butler Youth Club
ONLINE Registration is OPEN!!!!
Monday, August 8
Quick Chek and BBYC Team Up!!!
The new Quick Chek in Butler is committed to giving back to the communities it serves, QuickChek will donate $0.25 for every sub, sandwich and wrap sold in the store from August 9-September 8, 2016 to the Bloomingdale Butler Youth Club.
Grand Opening promotions include free large hot coffee and free 20-ounce iced coffee offered to all patrons and free 20-ounce fountain or QuickFreeze drinks for children 5-feet-tall-and-under from August 9-21, 2016. All 6-inch subs are $2.99 for a limited time and all smoothies and specialty drinks are $1.99 for a limited time.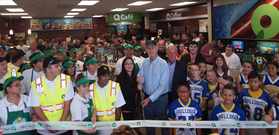 BBYC at Butler Quick Chek
Thursday, July 28
2016 - Important Information
2016 - Important Information
The content in this preview is based on the last saved version of your email - any changes made to your email that have not been saved will not be shown in this preview.
| | |
| --- | --- |
| Bloomingdale & Butler Youth Club | |
Football Uniform Handouts
(Richard Butler School Parking lot)
Tuesday August 9th:
Mighty Mites 6pm, Seniors 7:30pm
Wednesday August 10th:
Juniors 6pm, Pee Wee 7:30pm
First practice - Football Only
Saturday, 8/13, 10:30-12:30pm, Delazier Field
Equipment Adjustments: 9-10 at shed
August Practice Schedule - Football Only
Monday thru FRIDAY
Mighty Mites & Pee Wee 6-8:30pm
Juniors & Seniors 6:30-9pm
NOTE: Monday 8/15 all squads, no pads at
Butler Practice Field.
Also, please check with team moms and coaches for practice locations as it will vary as the season goes forward.
**************************************
PICTURE NIGHT

MONDAY, AUGUST 15TH


(If raining, indoor location will be announced)

**Cheer mascots will take photo with the squad they will be with.

at Memorial Field in Butler.



**Unless you are doing a sibling shot your individual picture

will be taken AFTER your squad picture**
****Sibling shots will be done during YOUNGEST child time slot****
***Please arrive 20 minutes prior to your teams

time slot.***



Please have order forms filled out in advance.
(Envelopes will be given out during uniform
handouts). For information please see the
website at http://www.colorgraphicsphoto.com
There is package information and directions on
how to complete order envelopes.
*****************************************
General Membership Meeting - CANCELLED
Our July General Membership is
Thursday, July 28th (7:30 - 8:30pm).
The meeting is held at the Butler Community Center (behind the Butler Police Station).