Ashland Junior Clockers: Welcome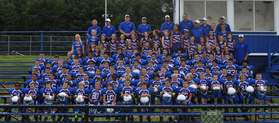 Whether or not you have played Football or Cheered before there IS a place for YOU on the Ashland Junior Clockers!
WHY CHOOSE ASHLAND JR. CLOCKERS? – The Ashland Junior Clockers are about teaching the value of team work and having fun doing it! You don't have to be the best athlete, the fastest runner, or the hardest hitter or do the best cartwheels; you just have to want to be part of the team! Playing with your friends at this now will lead to a strong team once you move up to the high school level!
WHAT IS THE OBLIGATION? - Two to three practices during the week and games on Sundays. Practice begins in August with Monday-Thursday practice from 6-8 pm. 2 Days a week once school starts 6-7:30 with an optional non-contact walkthrough on Saturday. We will work with you on summer vacations. DO NOT LET THAT BE A DETERENT.
WHAT DO I NEED TO BUY FOR EQUIPMENT? – The Ashland Junior Clockers invested in brand new uniforms and safety helmets in 2013. All you will have to buy is an practice jersey and cleats!
Teams are made up by age and weight following the outline below
TEAM AGE Weights
E Team
(older/lighter)

7-8-9
NA

45-90 lbs
NA

D Team
*(older/lighter)

8-9-10
*11

60-105 lbs
60-85 lbs

C Team
*(older/lighter)

9-10-11
*12

75-120 lbs
75-100 lbs

B Team
*(older/lighter)

10-11-12
*13

90-145 lbs
90-120 lbs

A Team
*(older/lighter)

12-13-14
*15

105-170 lbs
105-140
Registration will Begin MARCH 15th online and we are planning two paperwork/information nights Times to be determined. If you are interested in coaching or volunteering we are taking applications.
Cost $195 Football $150 for Cheerleading. After 4/30/2014 Football will be $225. SO REGISTER EARLY! Family Cap at $450
Scholarships can be granted for financial hardships. Contact us for more information.
QUESTIONS: Please email us at info@jrclockers.org
FIND US ON FACEBOOK - like our Facebook Page to keep updated on the latest events available to the Ashland Junior Clockers! https://www.facebook.com/JrClockers
Sign up ONLINE for the 2014 AYF&C Junior Clockers!!!
Sign up for the
AYF&C Pop Warner
2014 Season beginning March 15th, 2014 ONLINE!
https://active.leagueone.com/OLR/Pages/Welcome.aspx?ClubId=3180
Ashland Pop Warner Football and Cheerleading