Jefferson County Little League: Fundraising
Wednesday, December 4
Ruby Tuesday's Added as Bite of the Night Partner
Visit Ruby Tuesdays at any time during the first Friday and Saturday and second Sunday of each month, take a copy of this flyer, and JCLL will receive a 20% donation based on your total order!
Wednesday, November 27
JCLL HOME for the Holidays Campaign
The fields have been closed for the season, the weather is turning cold, and the winter holidays have arrived but we still have baseball and softball on the brain (we can't help it!). To help our families and fans get ready for the gift giving season, JCLL has put together lots of fantastic holiday offerings that we'd love to share. Please consider taking advantage of some of these great deals and keep in mind that with each gift you purchase for a loved one, JCLL is also gifted with funds to help get next year off to a great start! Any questions regarding the campaign can be sent to
jcllfundraising@yahoo.com
. Thank you so much and happy holidays to all!
Friday, November 8
JCLL Partners with Brother's Pizza for Spirit DAY!!!
We're very excited to announce the addition of a new partner to our JCLL Bite of the Night program! This coming Monday, November 11th, will be our very first Brother's Pizza JCLL Spirit DAY! That's right – Brother's is opening their doors to the JCLL for the entire day from open to close, 11:00 a.m. until 10:00 p.m.! Visit Brother's any time on Monday and show this flyer (paper copy or on your phone) OR simply mention Jefferson County Little League when placing your order and 10% of your total purchase will be donated back to the league. And it's not just next week…Brother's will be hosting JCLL Spirit DAYS on the second Monday of EVERY MONTH OF THE YEAR! Now you can stuff yourself every month with delicious pizza and subs, all while supporting your local Little League! It doesn't get better than that!
Wednesday, October 2
Sweet Frog JCLL Spirit Night
Calling all Sweet Frog Fans! JCLL has partnered with Sweet Frog in Charles Town for a spirit night on the first Monday of every month! We know you love (and deserve) some yummy Sweet Frog yogurt so be sure to stop by next Monday, November 4th from 6 p.m. until 9 p.m. for the first Sweet Frog JCLL Spirit Night! All you need to do is print this coupon (or show a copy on your phone) and a percentage of your total purchase price will be donated back to the league. It's as easy as that! And an added bonus is that Mondays are double punch nights for those who have Sweet Frog cards, so you get twice the rewards! Pass the word to all of your friends and family. And thanks to YOU and SWEET FROG for your support!
Jefferson County Little League Fundraisers at Glory Days Restaurant
Glory Days Dining for Dollars Fundraiser for JCLL
JCLL has partnered with Glory Days restaurant on a "Dining for Dollars" fundraiser. Guest copy receipts (NOT credit card receipts) from ANY Glory Days Location (NOT just the Ranson location) turned in by JCLL will earn our league 10% of each receipt (minus tax and alcohol)! Receipts can be given to any JCLL board member, dropped off at the concession stand on Saturdays during Fall Ball, or can be dropped off at any JCLL Spirit Nights.
NOTE: The Receipt that we need looks like this: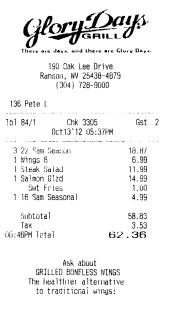 Glory Days CANNOT accept this receipt: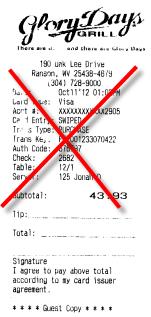 In addition, there will be spirit nights where JCLL will get 10% of the receipts turned into us that night! The next JCLL spirit night for the 2013 season will be held on Thursday, October 10.
See the handout and help us publicize these events!
As an update, thanks to everyone's support of our Glory Days fundraiser, JCLL has received $2,744.78 from Glory Days from October 2012 through May 2013!! Many thanks to all who helped out by either working our spirit nights OR dining there and giving their receipts to us! Remember, we accept original, itemized receipts for any visit to ANY Glory Days, so encourage friends and family to save their receipts! Our next Glory Days spirit night is Thursday, October 10th from 5 to 8:30 PM.
JCLL would also like to thank Glory Days Grill for its tremendous level of support they provide to us!!
Handout:
Glory Days Fundraiser Flyer