Jefferson County Little League: Welcome
Jefferson County Little League Baseball & Softball 2013-14
JCLL Accepting Photo Bids - Spring, 2014
Proposals are now being accepting for those photographers interested in taking team and individual player photos for the Spring, 2014 season. Please see our Fundraising tab for additional information.

---
JCLL Winter Conditioning Opportunity
A&T Athletic Training in Kearneysville is offering a special JCLL winter conditioning package to all interested athletes. Please see the information flyer under the FORMS & JCLL Info tab to the left.
---
JCLL HOME for the Holiday Campaign
Be sure to check out our Fundraising tab for information on JCLL's great holiday deals!
---
Manager/Coach Applications Being Accepted for Spring, 2014

Yogi Berra once said "Little League is a very good thing because it keeps the parents off the streets." We'd love to get you off the streets and on to the field making a positive impact on the lives of some of Jefferson County's most dedicated young athletes. The JCLL Board of Directors is currently accepting applications for those interested in serving as Managers and Coaches for the upcoming 2014 JCLL Spring season. All candidates must complete a 2014 Volunteer Application (including a copy of a valid ID) and submit a brief statement explaining which division(s) you are interested in volunteering for and why. Forms for both NEW and RETURNING volunteers can be found on the "Forms and JCLL Info" tab.Applications for all positions must be received no later than Saturday, January 11th, 2014 and selections will be made the following week. Please forward applications to Nikki Albright at angelswebmd@gmail.com or mail them to Nikki Albright c/o Jefferson County Little League, P.O. Box 339 Ranson, WV 25438.
---
Board of Directors Seeks Umpire in Chief
Have you ever found yourself questioning a call made at first base during your child's game? How many times have you thought to yourself, "Geez! I could do a better job than this guy!"? Well, now is your chance to step up to the plate by offering a bit of your time in order to benefit an entire league of hard-working kids who need your help! The JCLL Board of Directors is currently seeking a motivated, dedicated individual to serve as the league's Umpire in Chief for the 2014 season. Candidates for this volunteer position should possess a basic knowledge of the rules of the game and should have excellent people skills that will allow for the recruitment and training of other volunteers to serve as umpires for both baseball and softball. The individual who is selected for the position will hold a place on the current Board of Directors and will have voting rights on all league matters. All interested candidates should contact JCLL President Nikki Albright at angelswebmd@gmail.com as soon as possible.
---
Monthly Locations for the JCLL Bites of the Night!
Check back regularly for additions to our JCLL Bite of the Night locations!
First Week of the Month
Monday - Sweet Frog, 6 - 9 p.m.
Friday - Ruby Tuesday's - All Day Long (must bring flyer found on Fundraising tab)
Saturday - Ruby Tuesday's - All Day Long (must bring flyer found on Fundraising tab)
Second Week of Month
Sunday - Ruby Tuesday's - All Day Long (must bring flyer found on Fundraising tab)
Monday - Brother's Pizzeria - 11 a.m. - 10 p.m.
Thursday - Glory Days Grille - 5 - 8 p.m. (but we collect receipts every day - see information below)
Third Week of the Month
Five Guy's Burgers & Fries
---
In-Game Action Photos Available
Check out
www.cuttinglenz.com
. Pictures were taken at most games, and many albums are available. You may view and purchase pictures and other cool merchandise at reasonable prices to help preserve those memories. 25% of purchases GO TO JCLL! Please note: This IS different from any photos posted under the Photo Albums tab on the website.
Many thanks to Tammy at Cutting Lenz Photography for her support of JCLL this season.

---
Glory Days Dining for Dollars Fundraiser for JCLL
JCLL has partnered with Glory Days restaurant on a "Dining for Dollars" fundraiser. Guest copy receipts (NOT credit card receipts) from ANY Glory Days location turned in by JCLL will earn our league 10% of each receipt, less tax (now includes ALL beverages)! Receipts can be given to any JCLL board member or can be dropped off at any JCLL spirit night.
NOTE: The receipt that we need looks like this: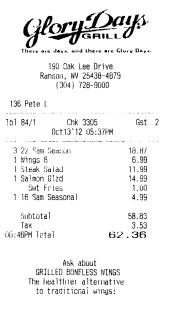 See the Fundraising tab for more information.
---
---
Want to see how much you know about umpiring in Little League?? Go
here
to find out!
Want to test your reaction time against a 90 mph fastball? Click
here
to try it!
---
Feedback on this website? Ideas for Improvements? Please send them to mailto:jcllfundraising@yahoo.com.
Jefferson County Little League
P.O. Box 339
Ranson, WV 25438
Information Line: 304-725-6800
Facebook: