Westminster Jaycees Girls Softball: Welcome
Aces Assistant Coach Mike Ridgell was killed in the recent shooting at the D.C. Navy Yard. Coach Mike was always positive and supportive of all of the girls and was not only a good coach but a good person, good father, and good friend. All of us in the league will miss him and send our condolences to his family, including one daughter that plays on the Aces and two older daughters that played in our league. 
A memorial fund has been created to help pay college and other expenses of daughters Heather, Megan and Maddi. Contributions to the Ridgell Children Memorial Fund can be directed to PNC Bank, 2325 Hanover Pike, Hampstead, Md. 21074.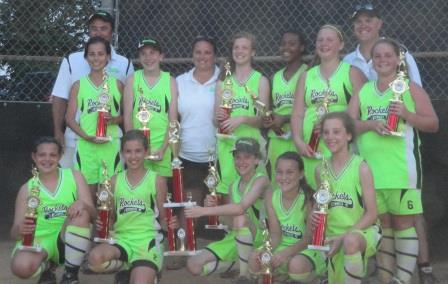 12U Summer All-Star Slowpitch Team Sweeps With 3 Tournament Titles in 3 Tries
And the End-of-Season Tournament Winners are: Aces, Jets, and Stingers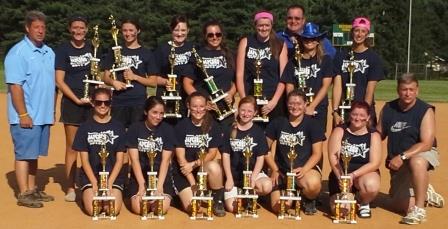 After nights lost to torrential rains and a marathon session of games on Saturday, the champions triumphed over the Jaybirds, Cardinals, and Ravens.
Scholarship Winners Announced
On June 15, the 2013 recipients of the WJGSL Megan Estey Memorial Scholarships were named.  Jayme Gorman and Colleen Harvey were this year's awardees. Congratulations to them and to all of our league's Class of 2013 on their accomplishments!
Congratulations to the Regular Season Champions: Flames, Jets, and Aces 
Runners-up were the Rockies, Cardinals, and Jaybirds.  Well done to all of the girls on all of our teams for a good season.  Now everyone starts with a clean slate in our unseeded end-of-season tournament.
Family Day & All-Star Games are a Slam Dunk 
Last Saturday we had our annual Family Day with All-Star games, home-run derbies, skill and speed contests, raffles, free meals, and more for all girls in the program.  We were pleased to see so many girls out there; if you missed it, please make sure to put it on your calendars next spring so you can take part.  Special kudos to the coaches who braved the dunk tank - that water was cold!