List of places to play table tennis around Jacksonville. Check this site often for any schedule changes.
Scroll down to see the list of upcoming tournaments and updated Jax. USATT ratings

Note - Upcoming Events:
May 3rd -Jacksonville Parks and Recreation Table Tennis Tournament is on May 3rd at the The Legends Center, 5130 Soutel Drive -Entry Form

May 24th-We are having a tournament on Sat. May 24th at the YMCA starting at 9A.M. The tournament will have 3 Open Classes(A,B,C Division) Cost is $25 adults and $20 students which will include lunch. Entry Form

1. Arlington Family YMCA TTC - Map
Where: 8301 Ft. Caroline Rd. Jacksonville, Fl. 32277
When: - Mondays, Wednesdays. Thursdays, and Fridays 6:00P.M. til 10:00 P.M.
Cost: $6 per night Club now has 13 tables. Everyone is welcome.
The YMCA also has a gymnasium which will be used for tournaments. Video
Feel free to contact me if you have any questions.
Jean-Marie Kanani (904)885-4203


2. St. Augustine TTC-Galimore Community Center - Map
Where: 399 Riberia St. St. Augustine, Fl. 32084
When: Monday and Tuesdays from 6:30 til 9:30P.M.
Cost: $4 per night. Club has 4 Tables 10-15 Players per night
Contact: Barry Scott - barscott@comcast.net

Also in St. Augustine-
Flagler College - Gameroom. Two tables. Located in Ringhaver Student Center on King St. in St. Augustine
St. Johns State College in St. Augustine- One table located in cafeteria.

3. University of North Florida-Gameroom- Open 7 Days a week. Hours
1 University of North Fl Dr Jacksonville, FL 32224 - Map
Where: Located across the street from the UNF arena in Bldg. 58 East/Room 1200 P)620-1141. The gameroom has two tables.
Cost is Free- Open to everyone. If you drive there on weekdays(Before fridays 7P.M.) UNF requires you to buy a $3 parking pass to park on campus. No parking pass required on weekends.

There are usually student players there on weekday afternoons and evenings but there is no set schedule when the good players are there.
THE GAMEROOM SCHEDULE CHANGES SOMETIMES AND IS USUALLY CLOSED ON HOLIDAYS AND IN BETWEEN SEMESTERS. So Check the UNF hours link above!!!
UNF now has 4 Outdoor concrete tables w/ outdoor lighting which are outside next to the gameroom.

UNF Gameroom UNF Outdoor Ping Pong
Outdoor table tennis tournament at UNF- Pictures
Other Colleges
FCCJ South Campus(Now called Florida State College of Jax.) has a gameroom over their cafeteria. 3 Tables Hours M-Th til 6P.M. Fridays til 3P.M. Link
FCCJ Kent Campus-Located next to their cafeteria 2 Tables. M-Thurs til 4P.M. Fridays-closes earlier not sure.
FCCJ North Campus- 2 tables
FCCJ Downtown Campus- 1 table
All FCCJ campuses might check for student ID's. and are closed on weekends, and student breaks. Make friends with the staff or try to blend in. ;)

St. Johns State College - in Orange Park off College St. One table in the cafeteria.
M-thur til 9P.M. Fridays not sure when they close the cafteria. Park in parking space marked Visitors or the nearby Thrasher Center for the arts because the school requires parking decals, and you don't want a parking ticket.

Bars w/ ping pong tables
Green Room Brewing, Jax Beach- Map
Located at 228 Third St. N., Jacksonville Beach
Ping Pong Tournament Every Tuesday For more info. on tournament contact Rick Vach rvach@comcast.net
7 p.m. warm-up, 7:30 p.m. start, $10 to enter , One game to 21 double elimination. 16 players limit and played on one table. Come and enjoy good competition and great beer!! :)
Green Room Brewery- Phone: (904) 201-9283. http://www.greenroombrewing.com

Other bars in town that have tables:
Dahlia's Pour House - Bar located by riverside. http://www.dahliaspourhouse.com/
2695 Post Street Jacksonville, FL 32204 One ping pong table- Free to use. Facebook
Pete's Bar- 117 1st St
Neptune Beach, FL 32266
------------------------------------------------------------------------------------------------------------
We no longer play at these clubs:
The Equestrian(Aquatic Center) TTC closed in Jan. 2013, the Holly Oaks Club TTC in Oct. 2012, the Lakewood United Methodist Church TTC in Mar. 2009 and the Burnett Park TTC in May 2008. Have an idea of a new location email or contact me with details and I'll look into it.
Thanks, Richard Johns (904)291-9963 email me to be added to the JaxTTC email list. rjohns1225@gmail.com


Upcoming USATT Tournaments
| Tournament | City | State | Date(s) | Sanction | Contact |
| --- | --- | --- | --- | --- | --- |
| Robo-Pong April 2014 BTTC Open | Broward | FL | 4/12/2014 - 4/13/2014 | 3 | Carlos Zeller, 954-849-5436 |
| Space Coast Spring Open | Cocoa Beach | FL | 4/19/2014 | 1 | Dwight Newton, 321-265-1556 |
| Florida Orange Blossom Table Tennis Series Spring Classic Open 2014 | Lakeland | FL | 5/2/2014 - 5/3/2014 | 2 | Brad Woodington, 863-370-5163 |
| Robo-Pong May 2014 BTTC Open | Hollywood | FL | 5/17/2014 - 5/18/2014 | 3 | Carlos Zeller, 954-849-5436 |
| Clearwater Spring Open | Clearwater | FL | 5/24/2014 | 2 | Keith Hanley, 727-726-2181 |
| Florida Sunshine State Games Table Tennis Open 2014 | Lakeland | FL | 6/21/2014 - 6/22/2014 | | Brad Woodington, 863-370-5163 |
| South Florida Newgy RoboPong US Open Warm Up (53 Points) | Dania Beach | FL | 6/27/2014 - 6/29/2014 | 3 | Terese Terranova, 954-695-3218 |
| Mid-Florida Table Tennis Tour-2014 Lakeland July Classic Open | Lakeland | FL | 7/18/2014 - 7/19/2014 | 2 | Brad Woodington, 863-370-5163 |
| Robo-Pong August 2014 BTTC Open | Hollywood | FL | 8/2/2014 - 8/3/2014 | 3 | Carlos Zeller, 954-849-5436 |
| Florida Orange Blossom Table Tennis Series Summer Classic Open 2014 | Lakeland | FL | 8/15/2014 - 8/16/2014 | 2 | Brad Woodington, 863-370-5163 |
| Mid-Florida Table Tennis Tour-2014 Lakeland September Classic Open | Lakeland | FL | 9/19/2014 - 9/20/2014 | 2 | Brad Woodington, 863-370-5163 |
| Florida Orange Blossom Table Tennis Series Fall Classic Open 2014 | Lakeland | FL | 10/24/2014 - 10/25/2014 | 2 | Brad Woodington, 863-370-5163 |
Other tournaments: Lakeland 10/19/13
Results
The City of Jacksonville "Parks and Rec. Dept." runs two tournaments a year one in the spring and one in the fall. The next tournament is scheduled to be held on March 1, 2014.
Click here for Entry Form
For more information: contact Kevin Coleman, Recreation Specialist at (904) 384-8687 or
Kevinc@coj.net
Jacksonville Senior Games- Includes Table Tennis Events
September 30 - October 5, 2013 Info -
Link
The City of Jacksonville presents The Forever Fit 50 & Beyond: Jacksonville Senior Games, an Olympic-style event series designed for seasoned athletes to participate on a competitive level and novice athletes to participate for their own enjoyment and promote healthy and active lifestyles for First Coast seniors.
Congratulations to the 16 local senior atheletes competing in the 2013 National Senior Games!
Learn more
Age Breakdown Individual and partner sports age divisions are:
50-54, 55-59, 60-64, 65-69, 70-74, 75-79, 80-84, 85-89, 90-94, 95-99, 100+
For more information about the 2013 Forever Fit 50 & Beyond: Jacksonville Senior Games, call (904) 630-7392 or email
mferrell@coj.net
.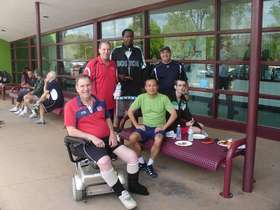 Stu, Glenn, Jean-Marie, Ping Lu, Stanley and Edis at Lakeland Tournament 2/23/13
Friday, March 28
Jacksonville Club Rating
Jacksonville area table tennis players on the USATT Ratings List
Updated 3/28/2014 New Ratings posted here every Friday.
Florida Players
Click on name to see rating history.

Rating(Highest) Name Last USATT Tournament
-------------------------------------------------------
2306(2425) Fleisher Dickie 12/01/13 Video
2251(2251) Lu Ping 2/23/13
2205(2205) Xiao Panrong 4/21/02
2076(2076) Klebener Samuel 1992
2021(2100) Beckford Jim 9/21/13
2004(2004) Bowery, Brandon 4/09/11
2002(2002) Chen Jerry 9/30/06
2001(2176) Morales, Angel 2/09/14
1992(2005) Estacion Peter 7/13/13
1975(2073) Dowridge Winston 2/09/14
1956(1956) Sapp. Shaun 2/22/14 UNF
1937(2148) Johns Richard 6/05/10
1922(1927) Kessler, Daniel 12/01/13
1911(1941) Kanani, Jean Marie 3/15/14
1867(1867) Huynh Tony 4/21/02
1845(1903) Jackson Arnold 5/10/03
1833(1833) Krupka, Martin 6/01/13
1832(1832) Arnette, Dewey 6/30/13
1820(1820) Condez Larry 11/18/06
1798(1801) Wada Satoko 1/11/14
1744(1744) Osmanagic, Edis 3/15/14
1721(1721) Shaker, Ausama 3/15/14
1712(1712) Fleming Roland 7/04/09
1654(1876) Brantley Barry 2/22/14
1641(1687) Szamiel, Stanley 6/01/13
1633(1686) Ogunsan Isaac 5/18/97
1630(1630) Almeida, Regis 12/20/08
1627(1886) Scott Barry H. 3/15/14
1605(1640) Boateng, Juliana 7/13/13
1594(1839) Caplin Stuart(Stu) 3/16/14
1594(1600) Villorente, Kirkfred 2/22/14 UNF
1593(1593) Rivera, Edwin 2/22/14 UNF
1542((1768) Ruggiero, Joan 8/10/13
1527(1527) Gragg, Zachary 9/21/13
1519(1575) Hernandez. Sean 2/22/14 UNF
1488(1488) Master, Mark 2/22/14
1463(1678) Caplin Glenn 3/16/14
1340(1340) Balfour, Cainan 8/10/13
1338(1338) Hooker, Alan 2/09/14
1304(1304) DeJesus. Adrian 9/22/12 UNF
1280(1300) Wolfe, Zack 3/15/14
1238(1241) Soto Ramon 7/13/13
819(884) Anos, Albert 10/19/13


Rocky.mid



USA No. 1 Forrest Gump :)
Top 100 US Men Top 100 US Women


Want to learn real skills than come join the JaxTTC.

Watch Online Table Tennis
Table Tennis Equipment and Coaching Links