2005 Issaquah Takes 4th at State, Overwhelming White River

2004 KingCo Champions Undefeated Season

Saturday, January 12
Issy topples #1 Bellevue Seattle Times Jan 12, 2002

News Stories from 2000-2001 Season
You can see a file of all the news stories from the 2000-01 season by clicking on the headline above.



2000-2001 Issaquah Girls Varsity


Standing (L-R): Coach Caller, Coach Gibson
Kneeling: Kathryn Field, Beth Knudtson, Kara Siems, Laura Vertatschitsch
Sitting: Alison Gangl, Breanna GIberson, Lexi Bean, Mychelle Beach, Nicole Dascenzo
Front: Christa Bowsher, Hilary Bates



2000 District II Championship Team


left to right - Coach Caller, Jamie Sackville, Laura Vertatschitsch, Nicole Dascenzo, Hilary Bates Jami Sweeny, Breanna Giberson, Crista Bowsher, Alison Gangl, Lindsay Bates, Laura Downing, Marisa Young, Kathryn Field, Coach Gibson, Coach Hepworth. kneeling- Beth Knudtson, Mychelle Beach, Kara Siems


2000 District II Tournament Bracket
(view Kennedy game story)
(view Lakeside game story)
(view Liberty game story)
(view Bellevue game story)

News Stories from the 1999-2000 Season
View a collection of newspaper stories from the season.

Issy girls make some history: Eagles savor best finish, 4th



Issaquah (49) beats Tumwater (39)


Class 3A first-round game capsules

After a stuttering start, the ninth-ranked Eagles (20-6) closed out the first half with an 8-2 spurt to open up a 10-point lead, 25-15, and Tumwater never got closer than eight the rest of the way.
Defense made the difference as Issaquah held Tumwater (13-12) scoreless for the final 2 ½ minutes of the second period.

Lauren Dascenzo led Issaquah with 15 points, eight rebounds, five steals and three assists. For Tumwater, Tawana Brown scored 12.





Issaquah Finishes Regular Season Strong


with big wins over Newport and Bellevue

Consolation games: Issaquah stuns Beach again
Melissa Richardson and her Issaquah teammates wanted to prove the Eagles' victory over Rainer Beach a week earlier in the Sea-King District tournament was no fluke.

It wasn't.

Issaquah did it again yesterday, beating the Vikings 58-47 in a loser-out game at the Class 3A tournament, this time behind Richardson's 21 points.

"I don't think anyone wanted it to end today," Richardson said.

The ninth-ranked Eagles (21-7) play No. 6 White River (22-5) today at 1:30 p.m. for the fourth-place trophy, which would be the school's best finish. Issaquah placed sixth in 2003. The loser of today's game takes seventh.

It was a disappointing 1-2 finish for fourth-ranked Rainier Beach (22-7), which placed second last year, and marked the end of a sensational prep basketball career for senior guard Jacqua Williams. Williams scored a game-high 23 points — including her team's final 13 — and added seven steals, five rebounds and five assists.

"It hurts," said the Georgia Tech-bound Williams, who will move on to track and field, where she is the defending 3A state champion in the 100, 200 and long jump. "I've just got to keep my head up and look forward to the season."

It was 26-all early in the third quarter before Issaquah scored eight unanswered points and never looked back. The Vikings made only 2 of 15 shots in the quarter.






Issaquah Gets Even


KingCo 3A: Issaquah gets even
By Matt Peterson Seattle Times staff reporter

ISSAQUAH — Lauren Dascenzo was unavailable, still struggling with a pesky case of mono the last time her team played Newport. That was on Dec. 17. And what happened that night, nobody in the Issaquah High locker room had forgotten.

With a healthy Dascenzo and a thriving perimeter offense, the eighth-ranked Eagles avenged their only conference loss in more than two years with a 56-40 victory over No. 9 Newport in a showdown of KingCo 3A leaders last night.

Earlier this season, Newport beat Issaquah, 55-54, snapping the Eagles' 21-game conference win streak.

"Pride, basically," said Dascenzo of what the victory meant. "We kind of lost a little bit of it when we lost to them last time, and we definitely earned it back."

The win also plants Issaquah (13-4 overall, 10-1 KingCo 3A) alone atop the conference standings and gives the Eagles the inside track to a third straight conference championship.

Newport (13-4, 9-2) saw an 11-game winning streak broken in a sluggish offensive showing that produced the fewest points since a 48-37 Valentine's Day loss to Bellevue last year.

"They definitely looked like the team that has been here before," Newport coach Travis Whitaker said. "And we definitely looked like a team that hasn't."

Issaquah hit 10 of 24 three-point shots and led 31-10 at halftime. The Eagles' lead ballooned to as many as 29 in the third quarter before a furious Newport rally, highlighted by a 12-0 run, cut the lead to 43-35 with under five minutes to play.

But back-to-back three-pointers from sophomore Amanda Harms and junior Melissa Richardson stopped the spurt cold and Issaquah coasted.

Dascenzo finished with 12 points, five rebounds and four assists. Harms added 12 points, and Richardson had 11 points and six rebounds.


"When we lost, we knew we had more to work on," said Dascenzo, who announced afterward that she will play soccer next year at Gonzaga. "And we definitely showed this game that we worked on our weaknesses."

Newport shot just 12 of 38, including 4 of 16 from three-point range. Dani Quinn led the Knights with 13 points and seven rebounds.




Amy Aubrey Amanda sandwich Newport
Knights out: Issaquah derails Newport, takes Kingco lead


Knights out: Issaquah derails Newport, takes Kingco lead
2005-01-27
by Ryan Lambert
Journal Reporter

ISSAQUAH -- With a chance to sweep the two-time defending league champs and take sole possession of the lead in 3A Kingco, Newport just couldn't get out of harm's way.

Amanda Harms, that is.

Moments after the Knights had capped a 24-4 run, Harms hit one of her four 3-pointers to snap the spell and end Newport's 11-game winning streak Wednesday night, lifting Issaquah to a 56-40 victory and into sole possession of first place.

``Our team kept doing well the whole time,'' said Harms, the Eagles' sophomore guard, who had 12 points. ``We just kind of need that boost.''

Harms' 3-pointer not only deflated Newport's hopes of a comeback it was contagious. Melissa Richardson immediately followed with a pair of 3-pointers. Richardson hit three 3-pointers in the second half to finish with 11 points.

Newport (9-2 Kingco, 13-4) was tied for the Kingco lead with Issaquah (10-1, 13-4) entering the night and had defeated the Eagles already once this season, 55-54. But the Knights' performance at Issaquah Wednesday was troubled from the start.

After taking their only lead of the game, 3-0, the Knights' shooting went cold, and they managed just seven points in the remaining 15 minutes and 39 seconds of the half. Issaquah led 31-10 at intermission.

Everything appeared to be going in the Eagles' favor, and all the defending Kingco champs needed was a knockout blow. They didn't get it right away.

``The same thing happened when we played Bellevue,'' Issaquah coach Kathy Gibson said.

Earlier this season, Issaquah led 31-16 at halftime only to see Bellevue storm back in the third quarter.

Issaquah hung on for the win and grabbed a share of first place that night. The Eagles will play host to Bellevue Friday in what might be the last serious threat to their bid for a third consecutive Kingco title.

Newport's second-half surge Wednesday night came when Gibson gave her starters a rest toward the end of the third quarter. The Knights scored 12 unanswered points during a 2:22 span and carried the momentum into the fourth quarter when the Eagles' starters returned.

``They definitely had a new look on their face,'' Issaquah guard Lauren Dascenzo said. Dascenzo tied Harms for the team-high with 12 points.

Dascenzo didn't play in the previous meeting at Newport. Mononucleosis kept her out during the first month of the season. Issaquah has won eight straight since her return to the lineup.

``I was sitting the bench the first time just dying to be out there,'' Dascenzo said.

Dani Quinn scored 10 of her game-high 13 points during Newport's run. Issaquah's Brittany Bowsher scored six of her 10 points in the fourth quarter.





Marisa Sweeney Drives Baseline vs Lake Washington


courtesy King County Journal

Wednesday, December 8
Issaquah takes down Mount Si 41-37

Issaquah Ranked 8th in State by Seattle Times



Lauren Dascenzo returns to the Lineup
Eagles take flight: Dascenzo steps up as Issaquah downs Bell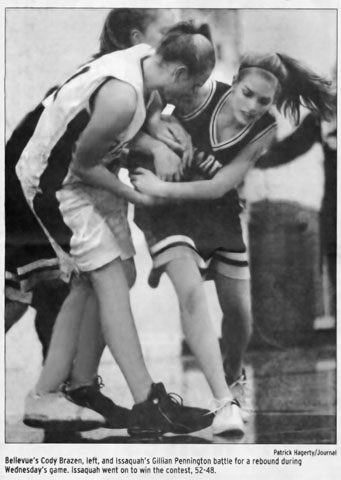 Gillian fights for a rebound

2005-01-06
by Ryan Lambert
Journal Reporter

BELLEVUE -- Welcome back, Lauren Dascenzo. Welcome back, Issaquah.

After sitting out the first eight games of the season with mononucleosis -- and watching as two-time defending 3A Kingco champion Issaquah stumbled out of the gate -- Dascenzo turned her league debut against first-place Bellevue into one memorable evening.

In five trips to the foul line during the final three minutes of the game Wednesday night, Dascenzo single-handedly staved off a Wolverines' comeback, scoring Issaquah's final four points to seal a 52-48 victory.

``I finally came back, and that first league game is always the most stressful one,'' the Eagles senior point guard said. Dascenzo had a team-high 14 points, including the final six at the line in the fourth quarter.

Issaquah and Bellevue, who have combined to win the last seven 3A Kingco titles, share first place in the league with 4-1 records. Bellevue is 8-3 overall; Issaquah is 7-4.

From the start, Bellevue didn't play like a league leader on its home court. The Wolverines had one lead in the game, 9-8, and maintained it for 90 seconds. Issaquah regained the lead for good on a pair of back-to-back 3-pointers by Amanda Harms, whose nine points all came from behind the arc.

Melissa Richardson's jumper early in the third quarter gave the Eagles built their biggest lead at 36-16. Richardson finished with 12 points, but that basket woke up Bellevue.

``We weren't hitting our shots early and even then we talked about attacking the basket,'' Bellevue coach Rebecca Valdivia said.

The Wolverines launched a 16-2 run in the third quarter, pressuring Issaquah's defense by taking the ball inside. The result was layups and several trips to the foul line.

Gretchen Buchberger, who had a game-high 21 points, was the main force. She scored 15 of her points in the second half, including her final layup with 31 seconds remaining to pull the Wolverines within three, 51-48. Buchberger sank six of her seven free-throw attempts, making all her shots in the second half.

``Gretchen is a great player,'' Dascenzo said. ``It seems like she's getting to the basket and drawing a foul every time out.''

Shortly after Buchberger's bucket, Dascenzo pushed Issaquah's lead back to four, 52-48, hitting one of two from the line.

Then, with 25 seconds left, Bellevue zipped the ball around the perimeter but couldn't get off a shot, in part because Dascenzo was patrolling the area. The Wolverines were forced to call a timeout with two seconds remaining, making their comeback attempt virtually impossible.

The final buzzer allowed Issaquah coach Kathy Gibson to finally breathe a sigh of relief after she watched her team squander most of a 20-point third quarter lead.

``Yeah, we had opportunities,'' she said, ``and had we lost, that would certainly be something we brought up. In fact, we're still going to talk about it.''

Ryan Lambert can be reached at ryan.lambert@kcjn.com or at 425-453-4255.


2004-05 Game Schedule

Some Recent Photos - last update Dec 16, 2003
Recent Photos from the Issy High School Girls Basketball Program


Issaquah 70, at Interlake 11

Issaquah 86, at Cedarcrest 29

Eagles hold off Patriots

Bue's 14 sparks Issaquah past Mount Si

Eagles hit by cold spell, finish second in tourney

Issy Downs #6 Roosevelt

We Open KingCo Season with a win

Eagles Drop a Pair

2003-04 Season Schedule

Issaquah shoots down MI
King County Journal 2004-01-17

ISSAQUAH -- The Issaquah girls basketball team remained unbeaten in league play Friday nightby beating Mercer Island 59-38 in 3A Kingco league game.

The Eagles (6-0, 9-4) were led by Lauren Dascenzo, who scored 15 points and added 10 steals, six rebounds and six assists.

Issaquah led at halftime 34-26 and took control of the game in the third quarter outscoring Mercer Island 18-4.

The Eagles combined to outscore the Islanders (1-5, 3-10) 25-12 in the second half.

``We weren't very pleased with our defensive effort in the first half,'' said Issaquah coach Kathy Gibson. ``The girls took some pride playing better defense in the second half and the intensity was much better than the first.''

Melissa Richardson contributed with 12 points, eight steals, and four assists for the Eagles.

Earlier in the week, Issaquah beat Bellevue 42-39. It was the Wolverines first loss in league play since Jan. 11, 2002.

``We've had two good wins this week. It was a good win tonight especially how we came out in the second half,'' said Gibson.

Ann Hisken led Mercer Island with nine points.

Seattle Times Box Score and Game Stats


Issaquah drops Bellevue

PHOTO by Rick Schweinhart/Journal: Issaquah's Ellen Vertatschitsch drives to the basket against Bellevue



Issaquah gets physical, drops Bellevue to stay atop the race
Eagles snap Wolverines' Kingco winning streak
King County Journal 2004-01-15
by Brandon Cossel, Journal Reporter

BELLEVUE -- Issaquah head girls basketball coach Kathy Gibson said she got the physical playoff-like game she hoped for Wednesday night.

And not only did the Eagles rise to the challenge, but they emerged as 3A Kingco's only unbeaten team.

Ellen Vertatschitsch scored 14 points and Lauren Dascenzo scored six of her 13 points in the third quarter as Issaquah beat Bellevue 42-39.



The win stopped Bellevue's 23-game winning streak in league play. Issaquah (5-0, 8-4) was the last team to beat the Wolverines during the regular season Kingco slate-- a 31-30 victory on Jan. 11, 2002.

``They were letting the physical stuff go, which I like,'' Gibson said. ``It was good for our kids to see how well they would respond.''

Issaquah has now beaten Bellevue three times in a row dating back to last year's Kingco title game.

``I think it'll help our confidence,'' Gibson said. ``Hopefully after this game we learn from our mistakes and the things we did well and take that with us into the next one.''

Bellevue trailed the entire way, but the defense gave the Wolverines a shot to even the game on the final possession. Trailing 42-36 with :19 left, Gretchen Buchberger hit a 3-pointer that pulled the Wolverines (4-1, 8-3) to within three points.

After a timeout, the Eagles inbounded to ball to Dascenzo and she held the ball believing she would be fouled immediately. But Bellevue swarmed her along the baseline going for a steal. Jamie Webber tipped away a pass and earned a jump ball that gave Bellevue possession with nine seconds left.

On the final possession, the Wolverines got the shot they wanted -- Buchberger on the side of the 3-point arc -- but her shot rimmed off.

``We were in the huddle and everyone was confident -- I could see it in their eyes,'' Dascenzo said before the final shot. ``I knew we could do it. I had no doubt.''

Buchberger scored a team-high 14 points and Webber keyed a strong defensive performance with eight steals and five rebounds.

``I think I was open maybe two times during the game,'' Dascenzo said. ``They have really good deny defense that makes it hard to get open.''

The Wolverines trailed 21-16 at half, but pulled to within two points with 5:13 left to go in the third. Issaquah responded with a 9-0 run to close out the quarter which included a 3-pointer by Dascenzo and two big inside buckets by Vertatschitsch.

``We just didn't start out strong, I think that was the key,'' Bellevue coach Rebecca Valdivia said. ``We seem to always want to start playing when we're down instead of going from the get-go. Once we curb that we'll be a lot better.''

Issaquah tops Bellevue again
Eagles snap Wolverines' Kingco winning streak
Seattle Times High School Sports 2004-01-15
By Matt Massey Special to The Seattle Times

BELLEVUE — Lauren Dascenzo knows tough games build tough teams. Dascenzo and her Issaquah girls basketball teammates welcomed tradition-rich Bellevue, which has won five of the last six KingCo 3A titles, last night.

The 5-foot-8 junior guard supplied 13 points, nine rebounds, two assists and two steals as the Eagles collected a character-building 42-39 victory over 16th-ranked Bellevue in a KingCo 3A showdown.

Unranked Issaquah (8-4 overall, 5-0 Valley Division) escaped with its second win in a row at Bellevue (8-3, 4-1 Sky Division) as both teams played tenacious defense.

"This kind of game is our practice for state," Dascenzo said. "Bellevue is one of the best teams in KingCo, so every game with them will be like it will (be) at state. When we play Bellevue, it makes us improve and shows us what we have to work on."

The victory wasn't secure until the Eagles survived a turnover in the backcourt by Dascenzo, who was under pressure from Bellevue's Jamie Webber with nine seconds remaining in the physical contest. Dascenzo lost control among four Wolverines.

That gave Bellevue one last gasp to force overtime, but Gretchen Buchberger's three-point shot from the corner rimmed off long with three seconds showing. Issaquah's 6-foot-1 Brittany Bowsher hauled down the miss and time ran out on the Wolverines' fourth-quarter rally.

"Bellevue played tough," Issaquah coach Kathy Gibson said. "The refs kind of let the physical stuff go, which I like because it helps us in the long run. Our district includes Metro (League) and they have quick, physical and good teams. These kinds of games get us ready for that."

Issaquah's Ellen Vertatschitsch and Bellevue's Buchberger each scored 14 points.

Seattle Times Box Score and Game Stats





03-04 Schedule



Date
Team
Location
Mon
Dec-1
Jamboree
.
Home
Tue
Dec-6
Roosevelt
.
Home
Fri
Dec-7
LakeWashington
.
@Lake WA
Mon
Dec-9
Inglemoor
.
@Inglemoor
Thur
Dec-12
Liberty
# *
Home
Wed
Dec-18
Cedarcrest
# *
@Cedarcrest
Fri
Dec-20
Interlake
#
@Interlake
Dec 26-31
Cascade Classic Tourament
.
Wed
Jan-8
Sammamish
# *
Home
Fri
Jan-10
MountSi
# *
@MountSi
Wed
Jan-15
Bellevue
#
@Bellevue
Fri
Jan-17
MercerIsland
#
Home
Wed
Jan-22
Newport
#
Home
Fri
Jan-24
Liberty
# *
@Liberty
Wed
Jan-29
Cedarcrest
# *
Home
Fri
Jan-31
Skyline
#
Home
Wed
Feb-5
Sammamish
# *
@Sammamish
Fri
Feb-7
MountSi
# *
Home
* = Division Games
# = League Games
Cascade Classic
Issaquah 55 — Liberty 43
Issaquah withstands Newport comeback
Issy wins 2 more
Issaquah girls clamp down on Skyline
Plenty at Stake
Issaquah in Command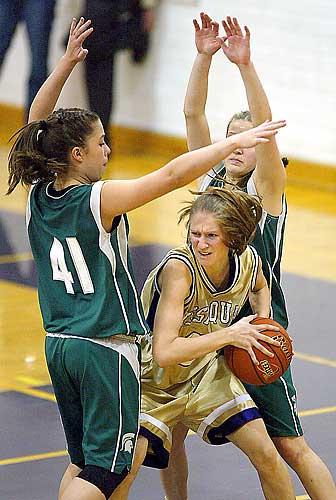 MARK HARRISON / THE SEATTLE TIMES
Issaquah's Brittany Bowsher fights through double-team pressure
from Skyline's Alex Hope (41) and Laura Payne.


<! -----------------------------NEWS PAPER ----------------------------------------------------> Seattle Times 1-31-04
By Matt Massey
Special to The Seattle Times

<! -----------------------------START STORY ----------------------------------------------------> ISSAQUAH — Jodi Sackville, the Skyline High School girls basketball coach, took the floor many good times at Pat Hatmaker Gymnasium during her playing career at Issaquah.

In her first trip back to her former gym as a coach, Sackville received a rude awakening. It was less of a homecoming and more of a homecourt cooking.

Buoyed by tough defense and a strong inside-outside game, Issaquah pounded Sackville's Skyline team 50-36 last night to make a strong statement as KingCo 3A's best team.

Danielle Bue, a 5-foot-11 junior forward, tallied 13 points to lead the Eagles (14-4 overall, 11-0 Valley Division) to their eighth consecutive victory. Junior point guard Lauren Dascenzo provided 12 points and Brittany Bowsher, a 6-1 junior, did more damage inside with 10 points.

Issaquah outscored Skyline (11-6, 9-2 Sky Division) 25-12 over the middle two quarters after a back-and-forth opening quarter.



"Since they were one of the league leaders in scoring, we knew it was going to be a challenge defensively to play them," Issaquah coach Kathy Gibson said of the Spartans, who came in averaging 55.3 points. "The key was to keep them from scoring points."

Mission accomplished.

The Spartans made only 13 of 50 shots from the floor and 7 of 17 free throws. On the flip side, when smaller Skyline went to zone defense, the Eagles had a field day inside.

Bue and Bowsher had eight and six points, respectively, by halftime. All were on layins and power moves at close range. The Eagles essentially beat Skyline at its own game — with tough hustle plays.

"A game like this helps us to know that we can play to that potential," Bue said. "We knew they'd be aggressive. We also knew that our size advantage would help us. The guards just did a good job of getting us the ball inside with good entries."

Gibson called Issaquah's defensive effort the team's best of the season. Sackville didn't argue about the Eagles' tough defense, but felt her team was timid on offense.

"Give them a lot of credit for defense, but we just didn't play very well, especially on offense," said Sackville.

After many memorable games during her Issaquah career, Sackville left without the satisfaction of a win.

"I think this is like my 529th time in this gym," Sackville said. "I like this gym. I've always liked it. I would've preferred a different outcome tonight." <! -----------------------------END STORY ----------------------------------------------------> <! ------------------------------- STATS ----------------------------------------------->

Seattle Times Box Score and Game Stats



Issy 50 Skyline 36
Bue-yah! Issaquah girls win


<! -------------------- INSIDE HEADLINE -----------------------------------------------> Eagles earn spot in 3A Kingco championship game
<! -----------------------------NEWS PAPER ----------------------------------------------------> King County Journal 2004-01-31
by Brandon Cossel

<! -----------------------------START STORY ----------------------------------------------------> ISSAQUAH -- For the first six minutes of the girls basketball game between Issaquah and Skyline, it was literally back-and-forth with both teams trading buckets in front of a vocal crowd.

But as the game wore on, the Eagles' inside attack and Skyline's cold shooting ensured that Issaquah will be returning to the 3A Kingco title game for the third straight year.

Junior forward Danielle Bue led the Eagles with 13 points and front-court partner Brittany Bowsher scored 10 as Issaquah topped the Spartans 50-36 Friday.

''We've been playing together since sixth grade and we have rally formed a chemistry between us,'' Bue said. ''For some reason we always know where the other is going to be on the court.''



The Eagles (11-0 in league, 14-4 overall) have won eight in a row and are unbeaten in 2004. Skyline (9-2, 11-6) fell back into a tie with Bellevue atop the Sky Division. Either the Spartans or the Wolverines will meet Issaquah for the league title on Feb. 14.

Issaquah emerged from the frantic first quarter with a 14-13 lead and held Skyline to a single field goal in the second quarter to take a 26-18 advantage into halftime.

``I think this is one of our better defensive efforts tonight,'' Bue said. ''We did a lot better with help defense and switches and we talked very well. We tried to match Skyline's intensity and I think we did.''

Bue scored six of her points in the second quarter and her deft passing from the high post proved troublesome for the Skyline defense.

``They went into a zone and that's just our zone offense,'' Gibson said the high-low work of Bue and Bowsher. ''Danielle had some nice looks and the kids ran it just beautifully.''

A 9-0 Eagles run over a stretch of 3:40 in the third quarter gave Issaquah a 37-23 lead that proved insurmountable.

Lauren Dascenzo also showed great poise at the point guard for the Eagles, finishing with 12 points and six steals.

Alex Hope led Skyline with 13 points and was the only Spartan to hit a field goal for the first 10:28 of the second half.

For the game, Skyline shot an uncharacteristic 13-for-51 from the floor and 7-for-15 from the free-throw line.

''I've got to give them credit, but we missed a lot of open shots,'' Spartans coach Jodi Sackville said. ''We knock down some of those open shots and it's going to open up a lot of opportunities for us.''

Friday's game was also the first time Sackville, a 1996 graduate of Issaquah, had coached in her old gym against her alma mater. Sackville went on to play college basketball at Pepperdine.

''It's my 529th time in this gym,'' Sackville said with a laugh. ''I like this gym, I've always liked it.''

The Spartans close the league season with games against Mercer Island (2-9, 4-14) and Interlake (0-11, 0-17). Sky Division rival Bellevue finishes with Liberty (5-6, 9-9) and Newport (6-5, 11-7). <! -----------------------------END STORY ----------------------------------------------------> <! ------------------------------- STATS ----------------------------------------------->

Seattle Times Box Score and Game Stats



Eagles clinch Valley


<! -------------------- INSIDE HEADLINE -----------------------------------------------> Issaquah girls down Skyline
<! -----------------------------NEWS PAPER ----------------------------------------------------> Issaquah Press 2/4/2004
by Bob Taylor

<! -----------------------------START STORY ----------------------------------------------------> Pressure defense, patience on offense and just plain old teamwork are paying off again for the Issaquah Eagles.

The Eagles have used those components all season, a reason why they are headed for the 3A Kingco Conference girls championship game for the third straight year. Those were also the ingredients the Eagles used last Friday to defeat their rival Skyline Spartans 50-36 in Pat Hatmaker Gymnasium.

With the victory, the Eagles, 11-0 in Kingco competition, clinched the Valley Division title for the third straight year.

Besides being a showdown between Issaquah district rivals, the contest matched 3A division leaders and the hottest teams in Kingco. While Issaquah had not lost in Kingco action, Skyline carried an eight- game Kingco winning streak into Friday's contest.

It was difficult for the Eagles not to think about Skyline, even though they had two earlier games before the key match up.

"We were so excited all week. We were looking forward to playing Skyline. We couldn't wait for Friday to get here," Issaquah junior Brittany Bowsher said. "We were really pumped up for this game."

The Eagles were not only excited, they were well prepared for their rivals. Issaquah especially had worked hard on its defensive preparation for Skyline, which entered the game averaging 57 points a game.

"Defensively, we really came out to play tonight," said junior Danielle Bue. "We knew we had to talk on defense and shut down the passing lanes. We knew we had to play with a lot of intensity."

Issaquah's defense forced Skyline into 26 turnovers and also was a factor in the Spartans having one of their worst shooting nights of the season. Skyline, hitting just 13 of 50 field goal attempts, was held to its lowest point total of the season.

"Defensively, this was an excellent effort by our team," Issaquah coach Kathy Gibson said.

Skyline coach Jodi Sackville, a 1996 Issaquah High graduate, noted that some of the Spartans' problems were due to poor execution on offense.

"We didn't run our offense effectively and that was frustrating," Sackville said. "We couldn't get our shots to fall down. But Issaquah is a good team. They were fast and aggressive. We haven't played against a team like them for a while."

When on offense, the Eagles made good passes, often three or four during a possession, to get high percentage shots. Bue, a forward, was the main recipient of the passes. She finished with a team-high 13 points. Bowsher, a forward, added 10 points and eight rebounds.

"We work a lot on our high-low drill in practice. It really paid off for us." Bowsher said.

Guard Lauren Dascenzo had 12 points, six steals and six rebounds.

"Dascenzo had a great game for them. She is a great leader," Sackville said.

What was pleasing for Gibson was that every starter had at least one assist. "We did a good job of working the ball inside and hitting the open person," Gibson said.

The Eagles also got production from their reserves. Freshman Aubrey Jensen came off the bench in the second quarter and hit two key baskets.

"We were totally ready for this game. This was probably our best effort of the season, even better than when we played Bellevue," Dascenzo said, referring 10 the Eagles 42-39 victory over Bellevue earlier this season.

Issaquah, in its only regular- season meeting with Skyline and possibly the last one for a few years because the Spartans move up to 4A next year, never trailed in the game.

Skyline tied the score at 14-all on a free throw by Madison Maloney early in the second quarter. Bue, getting a pass from Melissa Richardson, scored on a layin to break the tie. Then Bue, off a pass from Courtney Stringer, hit a 5-footer to put the Eagles up by four. Issaquah then pulled away to a 26-18 halftime lead.

Skyline cut its deficit to five points when Alex Hope drilled a three-pointer with 5:25 left in the third quarter. However, Dascenzo made a steal and scored on a layin to begin a run of nine straight points for Issaquah, which led by 14 at the end of the quarter.

Hope led Skyline with 13 points. The loss dropped Skyline, 9-2, into a tie with Bellevue for first place in the Sky Division. The winner of that division will play Issaquah on Feb. 14 in the Kingco title game.

Eagles coast

While the Eagles were looking forward to their game with Skyline, they didn't look past Sammamish or Cedarcrest.

Issaquah thumped Sammamish 63-34 last Monday. Richardson paced Issaquah with 15 points. Bowsher added 11 points and Dascenzo 10.

Wednesday, Issaquah cruised by Cedarcrest 64-23. Bowsher led the Eagles with 14 points. <! -----------------------------END STORY ---------------------------------------------------->



Issaquah 56, Sammamish 40


<! -----------------------------START STORY ----------------------------------------------------> King County Journal 2-5-2004

At Issaquah 56, Sammamish 40: Melissa Richardson led the Eagles (12-0, 15-4) with 12 points and Danielle Bue chipped in 10 points and 15 rebounds in a win over the Totems (4-8, 6-13).

Brittany Bowsher also had 11 points for Issaquah, which put the game away by outscoring Sammamish 14-6 in the third quarter.

Alyssa Watts scored 15 points to lead the short-handed Totems and Jessica Myers also scored 12 points.

``When our girls get tired they have to fight through it,'' Sammamish coach Lorinda Flikkema said of her six-person squad. ``I thought my girls did really well. They didn't give up.''

Seattle Times 2/5/2004

Issaquah 56, at Sammamish 40 — Valley Division-leading Issaquah (15-4, 12-0) rolled to its ninth consecutive victory, but it didn't come easily against shorthanded Sammamish. The Totems (6-13, 4-8) suited only six players, but trailed by only 10 points with two minutes remaining.

"We've been battling with six players when others have 10 or 12 each night," said coach Lorinda Flikkema, whose Totems have finished some games this season with only four players after getting into foul trouble. "Six people playing that well against Issaquah, that's awesome," she said.

Melissa Richardson scored 12 points, Brittany Bowsher scored 11 and 5-11 junior forward Danielle Bue had 10 points and 15 rebounds for Issaquah. Alyssa Watts scored a game-high 15 points and Jessica Myers scored 12 for Sammamish. <! -----------------------------END STORY ----------------------------------------------------> <! ------------------------------- STATS ----------------------------------------------->

Seattle Times Box Score and Game Stats



A Family Practice
Article about Coach Gibson, Issaquah Press Feb 4, 2004


Issaquah 63 Mt Si 51
Issaquah girls top Mount Si to finish perfect in Kingco


King County Journal Feb 7, 2004

<! -----------------------------START STORY ----------------------------------------------------> ISSAQUAH -- The Issaquah Eagles completed an undefeated 3A Kingco league season with a 63-51 win over Mount Si.

The Eagles finish 13-0 in league and 16-4 overall. The Wildcats fall to 8-5, 13-7.

After trailing 11-2 early, Issaquah called a timeout and stepped up its defensive pressure. The Eagles outscored the Wildcats 19-7 in the second quarter and 20-11 in the third quarter.

Melissa Richardson scored 12 of her 17 points in the first half and added five steals and six rebounds for the Eagles. Lauren Dascenzo hit 7-for-10 from the field, including two 3-pointers in the first half. She also had eight steals and six rebounds for Issaquah. Ellen Vertatschitsch added 12 points and six steals.

<! -----------------------------END STORY ----------------------------------------------------> Seattle Times 2-7-2004

At Issaquah 63, Mount Si 51 — Valley Division champion Issaquah (16-4, 13-0) tuned up for next Saturday's conference title game with its 10th consecutive win. Melissa Richardson scored 17 points and Lauren Dascenzo had 16 points on 7-of-10 shooting with eight steals and six rebounds for the Eagles. Rachele Travis got 12 of her 23 points in the fourth quarter for Mount Si (13-7, 8-5), which goes into next week's KingCo 3A tournament as the Valley Division's No. 2 playoff team. <! ------------------------------- STATS ----------------------------------------------->

Seattle Times Box Score and Game Stats



Young Eagles snare Kingco crown
Issaquah beats Skyline to repeat
Photo by Greg Farrar
Marissa Sweeney of Issaquah (right) muscles up a shot against Skyline's Laura Payne. Sweeney scored two key fourth-quarter baskets


Issaquah Press 2-18-2004
By Bob Taylor

Issaquah girls basketball coach Kathy Gibson knew she had a young but talented team entering this season. The question she and Dick Nelson, her father and assistant coach, had was whether this young team was still a year away from being a bona fide 3A Kingco Conference champion.

The answer was revealed during the regular season when the Eagles posted a 13-0 record. Last Saturday Issaquah, which doesn't have a senior in its starting lineup, won its second straight Kingco title by defeating the Skyline Spartans 58-52 at Bellevue Community College.

"We knew the players we had coming back were not only good basketball players but very athletic ones," Gibson said. "I thought we might have a shot at getting to the Kingco title game, it was just a matter of how quickly they improved during the season. To go unbeaten in league play and win the Kingco title is just amazing."



With the victory, Issaquah enters the 3A Sea-King District tournament as Kingco's No. 1 seed. The Eagles play at 6:30 p.m. Friday against Mount Si or Blanchet at Bellevue Community College. Skyline, the Kingco No. 2 team, plays at 3 p.m. Thursday against Liberty of Chief Sealth at Bellevue Community College. The Eagles graduated four starters off last year's team that finished sixth at state. Forward Brittany Bowsher was the lone returning starter although guard Lauren Dascenzo was in the starting lineup from time to time. Danielle Bue, Ellen Vertatschitsch and Melissa Richardson all saw considerable action, too.

"You could see this team come together last summer," said Nelson, who coached the girls in summer tournaments.

Defense and teamwork have been the components for Issaquah's success this season. In addition, the catalyst in many of the games has been Dascenzo. She was selected to the all-Kingco first team, which was announced after Saturday's championship game. Newport's Ryan Trettevik was named the league's most valuable player although not everyone agreed with that pick.

"I voted for Dascenzo as the league's MVP," said Skyline coach Jodi Sackville. "She controls the game at both ends of the court."

Dascenzo had a spectacular performance in the Kingco title game. She scored a game-high 17 points, grabbed eight rebounds and made three steals. Whether she was disappointed with not receiving the MVP award was not apparent. What was apparent was how elated she was with the team championship. Minutes after the game the Issaquah team captain was still clutching the championship plaque.

"This definitely means more because we won this as a team," Dascenzo said. Dascenzo opened the game by hitting a three-point shot. She had nine points in the first quarter to get the Eagles out to a 16-14 lead.

Richardson, a sophomore guard, took over the second half, scoring 10 of her 13 points. Vertatschitsch, also a sophomore guard, added seven points, made key assists and grabbed clutch rebounds.

"Our guards played great," Bowsher said.

As a team, the Eagles hit an astounding 23 of 37 shots.

As they did in their previous meeting with Skyline, Issaquah jumped out ahead early. Issaquah led 26-18 at halftime. With 6:03 left in the third quarter, Richardson hit Vertatschitsch on a pass and the latter scored on a layin to give the Eagles a 34-21 lead.

Skyline then whittled away at the Eagles' lead. Two free throws by Tiffany Johnson with 7:17 left in the game cut the Issaquah lead to 42-37. However, that was as close as Skyline got as two baskets by Marissa Sweeney helped the Eagles pull away to a 53-41 lead.

"This was just a great team win," Bowsher said. "Everyone contributed." Although Issaquah had defeated Skyline earlier this season, Bue said the Eagles were did not take the Spartans lightly.

"Skyline plays with a lot of intensity, we knew we had to match that and a little more. We knew what we had to do. We weren't cocky," Bue said.

Laura Payne led Skyline with 15 points and Alex Hope added 14.

"Issaquah is a real good team," Sackville said. "We've improved from the last time we played them. Even in a loss, I feel we improved. Our kids are eager to keep on going. They got a taste of playing in the state tournament last year and they want to keep on playing."

Skyline qualified for the Kingco title game when the Spartans defeated Bellevue 51-49 in overtime last Monday in a playoff game. The teams had finished the regular season tied for first place in the Sky Division. Johnson, who finished with 17 points, hit a game-winning shot in overtime to beat Bellevue for the second time this season. Payne also had 17 points





Bue is one of "Four built Tough"




<! -------------------- INSIDE HEADLINE -----------------------------------------------> Four built tough
a look at the dirty work on the Kingco title path
<! -----------------------------NEWS PAPER ---------------------------------------------------->
King County Journal 2004-02-14
by Brandon Cossel

<! -----------------------------START STORY ----------------------------------------------------> BELLEVUE -- Toughness.

On the basketball court you can see it in big defensive stops or when the smallest player on the floor comes away with the game's biggest rebound.

You can see it afterward in the bruised elbows, bruised knees, swollen ankles and the grimaces after another game playing hurt.

Almost without fail, it also shows up in the win column at the end of a hard season.

Each team that steps onto the floor at Bellevue Community College tonight to compete for a 3A Kingco title has those kinds of players on their side.



For Mercer Island it's an all-league linebacker. For Sammamish it's a pair of undersized guards. For Issaquah, it's a do-everything forward. For Skyline it's a team leader, who happens to have diabetes.

Danielle Bue, Issaquah

If you watch the Issaquah girls basketball team run its offense, there are games when you might miss Danielle Bue.

You'll probably see Lauren Dascenzo's confident ballhandling, Brittany Bowsher scoring in the post and Melissa Richardson dropping in outside shots.

But if you want to find Bue, wait until the Eagles are on defense -- she's guarding opposing team's most dangerous player.

''She always draws the other team's best player,'' Issaquah coach Kathy Gibson said of her 5-foot-11 junior forward. ''Sometimes she's undersized, but that doesn't matter.''

Whatever Issaquah needs to stop -- the other team's scoring threat or the tenacious rebounder -- Bue is there to get the job done.

''She's grabs key rebounds for us, sets good screens and takes charges for us,'' Gibson said. ``The stats aren't always in her favor, but she's been the most consistent player on our team. ''

Her biggest offensive games have come in some of the most important games of the season, including a team-high 13 points in a win over Skyline, but every game she's been there helping will the Eagles to another victory.

''She doesn't say a lot,'' Gibson said. ''But she performs on a high level because she pushes herself very hard.''

see the comple story on line which includes the other players





Issaquah rules Kingco


Dascenzo, Richardson guide Eagles past Skyline

King County Journal 2004-02-15
by Brandon Cossel

BELLEVUE -- Unlike their first meeting, the Skyline girls basketball team had plenty of runs left after falling behind early to Issaquah.

But Issaquah's Lauren Dascenzo and Melissa Richardson hit every big shot in the second half, helping the Eagles to their second straight Kingco title.

Dascenzo scored a game-high 17 points and Richardson scored 10 of her 13 in the second half to guide Issaquah past Skyline 58-52 in the 3A Kingco title game Saturday at Bellevue Community College.



"It's amazing," Dascenzo said. "I knew we could do it, I knew we had the talent. I think our team finally realized it."

The Eagles (16-4) took a 26-18 halftime lead after holding the Spartans (14-8) to four second-quarter points.

From then on, Issaquah was able to answer every Skyline charge.

Richardson buried a 3-pointer to spark an 8-0 run out of halftime, and the only other time the Spartans got within five points Dascenzo hit a driving bucket and made a free throw to keep the lead safe.

"I feel great because we're winning these games and we're competing hard," Issaquah coach Kathy Gibson said. "But I still see things we can improve on."

Skyline's Laura Payne scored a team-high 15 points and Alex Hope also chipped in 14 points.

The Spartans will play the winner of the Liberty-Chief Sealth game at 3 p.m., Thursday at BCC.

"The kids love the postseason,"head coach Jodi Sackville said. "They're not ready for the season to be over and that's a big thing for us."

Issaquah will play the winner of the Mount Si-Blanchet game at 6:30 p.m., Friday at BCC.

"It's going to be pretty hard. Playing Metro teams it's a different kind of basketball," Dascenzo said. "We can play like that too, we just haven't had to yet."

Seattle Times Box Score and Game Stats



Issaquah title is good pain-killer


<! -----------------------------NEWS PAPER ----------------------------------------------------> Seattle Times Sunday, February 15, 2004
By Matt Peterson
Seattle Times staff reporter

<! -----------------------------START STORY ----------------------------------------------------> BELLEVUE — The day didn't start nearly as well as it ended for Lauren Dascenzo, who spent most of Valentine's Day laid up with a migraine.

By nightfall, however, the Issaquah junior was celebrating on the basketball court at Bellevue Community College, her head clear, her arms clutching the Eagles' second consecutive KingCo 3A girls championship trophy.

"Everyone's like, 'Hold it!' I'm like, 'OK, I will!' " said Dascenzo, who in several pictures will be shown holding the trophy that came courtesy of Issaquah's 58-52 victory over rival Skyline in the championship game of the KingCo 3A tournament.

Dascenzo said she prepared for the game by hanging out at her house with a few of her teammates, watching "Hoosiers" — as is her custom before big games — and popping "every single pill you can think of" to defeat the throbbing in her head.

Something in that mix must have worked because the 5-foot-8 guard scored nine points in the first quarter and helped stake the Eagles (17-4) to a big lead they wouldn't relinquish. She tied her season high with 17 points.

"I think once the game got in my system, like before the game, I kind of forgot about it," Dascenzo said of her migraine. "I guess the emotion of the game just overtook the pain in my head. It's gone!"

Dascenzo also earned selection as a first-team, All-KingCo 3A player, and Issaquah coach Kathy Gibson was named KingCo 3A Coach of the Year.

The Eagles, with only two seniors on the roster, hit their first seven shots and led 26-18 at halftime en route to their 11th consecutive win.

Issaquah sophomore Melissa Richardson added 13 points.

Skyline (14-8), playing in its first conference championship game, saw its three-game win streak snapped.

"We dug ourselves a little bit of a hole in the beginning," said Skyline coach Jodi Sackville. "But we missed some lay-ups and some other things that allowed them to get out in transition."

Laura Payne scored 15 points and Alex Hope 14 for the Spartans.

Seattle Times Box Score and Game Stats





Issaquah's Dascenzo



picture by Jim Bates/Seattle Times: Issaquah point guard Lauren Dascenzo, at 5 feet 8, doesn't appear imposing until she has the ball in her hands during a game.


<! -------------------- INSIDE HEADLINE -----------------------------------------------> Issaquah's Dascenzo is one tough opponent
<! -----------------------------NEWS PAPER ----------------------------------------------------> Seattle Times 2-10-2004
By Matt Massey
Special to The Seattle Times

<! -----------------------------START STORY ----------------------------------------------------> ISSAQUAH — Toughness reigns supreme. Call it Dascenzo drive.

As point guard of the Issaquah High School girls basketball team, Lauren Dascenzo has one mantra that drives her career: no guts, no glory.

Her father, Don Dascenzo, made sure his daughters, Lauren and Nicole, were equipped to compete. Don has coached Lauren since kindergarten, including sitting on the Eagles' bench as an assistant her freshman and sophomore seasons.



In the Dascenzo household, you can't coddle a competitor. Tough love grooms winners and champions.

"If my dad wasn't as hard on me as he was, I wouldn't be as good as I am," Lauren Dascenzo said of her father, a coach-turned-fan who sits on the top row directly across from the bench, videotaping every game. "He's coached me my whole life. He made sure when I was goofing to point it out to me. He's still my coach even though he's not on the bench.

"Sometimes at the time, I'm not happy about what he's saying. But now, I'm like, 'Thank you.' I know I got my competitiveness from him."

Dascenzo, a junior, has played three sports since kindergarten and is on pace to earn 12 varsity letters at Issaquah in soccer, basketball and fastpitch softball. Her sister, Nicole, is a junior on the Seattle University women's basketball team after completing her Issaquah career in 2001.

Now the younger Dascenzo is leading Issaquah (16-4 overall) into the playoffs. The Eagles play Skyline for the KingCo 3A championship at 8 p.m. Saturday at Bellevue Community College.

Lauren Dascenzo's competitiveness was also honed from playing against boys from an early age. She often faced off against neighbor Ryan Van Tighem, who now plays soccer and baseball at Skyline.

"He always beat me and he would always brag," said Dascenzo, who averages 10.4 points, four assists, four steals and four rebounds, and makes 70 percent of her free throws. "That always bugged me that he could beat me, even though I was taller."

The 5-foot-8 Dascenzo — her short, dark hair pulled into a ponytail — isn't that imposing. But give her the ball and watch out.

"I would say I purposely tried to make her tough in a personality sense, so she could handle adversity in sports and prevail," said Don Dascenzo, a corporate attorney. "To be successful, you need to be controlled, but aggressive. I tried to teach my daughters that you have to have a mentality of wanting to win.

"Any challenge put before her, she wants to accept. She has a great will to win and to prevail. You can see in her games, she imposes her will on the game."

That toughness was on display last Friday. After spraining her right ankle in practice four days before, Lauren Dascenzo gutted out a 16-point performance as Issaquah concluded the regular season with a 63-51 home victory over Mount Si.

After a school-best sixth-place finish at state last season, the Eagles lost five seniors. But Dascenzo watched closely the way last year's point guard, Kathryn Field, ran the team. She's doing the job now, and coach Kathy Gibson is pleased with the results.

"Her decision-making has been tremendous," said Gibson. "Most of all, she's been controlling the tempo of the game for us very well."

Dominated by sophomores and juniors, Issaquah hasn't skipped a beat this season. The Eagles cruised through KingCo 3A as Valley Division champions at 13-0.

With the playoffs looming, the movie "Hoosiers" will be played at the Dascenzos' house before every big game. Dad introduced the movie, and it serves as extra motivation.

"That movie gave me a lot of heart," Lauren Dascenzo said.

Most of that drive comes from within, thanks to her lifelong coach, main critic and No. 1 fan.

"I'm just proud of what Lauren's become as a competitor," Don Dascenzo said. "She passes the foxhole test. Both of my daughters do. They do what it takes within the rules." <! -----------------------------END STORY ---------------------------------------------------->



Game Summaries - All Games

View Season Schedule and Game Summaries
View the complete schedule for the season. [click on
for directions] Click on the opponent to view game summaries.

Issy Shuts Down South Kitsap

Issy Wins Season Opener Against Bethel

Saturday, December 15
Issy wins at Sammamish

Saturday, December 8
Issaquah girls open 3A Kingco with win over Liberty

Tuesday, December 11
Indians Thump Interlake

Tuesday, December 18
Unbeaten Issaquah wins with defensive display

Wednesday, December 19
Issaquah 50, Mount Si 41

Thursday, December 20
Gibson-coached Indians win with defense, desire

Serious Indians stroll by Totems

Saturday, January 12
Stopped cold: Issaquah ends Bellevue's league win streak
Eastside Journal, Saturday January 12, 2002
Photo by Maxwell Balmain/Journal:Bellevue's Megan ...

Friday, January 11
3A Kingco basketball: "This game is obviously huge"
Eastside Journal January 11,2002

Thursday, January 10
Issaquah gets defensive
Eastside Journal January 10,2002
Issaquah 50 Skyline 24

Thursday, January 10
Issy defense subdues Skyline 51-24

Record and Schedule
Schedule and record listed in the Seattle Times

Wednesday, January 16
Issaquah Press January 16, 2002

Saturday, February 2
Issaquah girls win, roll to lucky 13-0
Saturday February 2, 2002 - Eastside Journal - Seattle Times




Wednesday, February 6
Indians go 13-0
Issaquah Press Feb 6 2002

Indians go 13-0
Indians ...



We Love Our Class of 2002



Tuesday, February 5
Associated Press high school basketball rankings

Thursday, January 31
No. 8 Issaquah keeps rolling
Seattle Times January 31, 2002
view ...

Wednesday, January 30
Issaquah girls stretch Kingco winning streak to 11 games
Issaquah Press January 29, 2002


Press ...

2001- 2002 schedule

Thursday, February 7
Seattle Times basketball rankings

Tuesday, January 15
Prep Sports - Athletes of the Week
Eastside Journal, Saturday January 15, 2002






Issaquah 57, at Cedarcrest 16


Seattle Times January 30, 2003



— The Indians (8-2, 11-6) rolled to a 30-6 halftime lead against the overmatched Red Wolves (0-10, 4-12). Beth Knudtson had 15 points on 5-of-8 shooting for Issaquah. Cedarcrest made only 15 percent of its field-goal attempts and didn't make a free throw.

Issaquah 57 Cedarcrest 16
Issaquah 15 15 14 13 57
Cedarcrest 4 2 8 2 16
Cedarcrest --
Nikki Neilson 6, Betsy Westermann 4, Jenine Drew 2 , Kimmi Drew 2, Jennifer Hamilton 2, Roxanne Blair 0, Kelsi Coltom 0, Katy Dern 0, Sophia Foster 0, Diane McKenney 0, Tricia Neilson 0, Kaitlin Worden 0
Issaquah --
Beth Knudtson 15, Lauren Dascenzo 10, Kathryn Field 8, Ellen Vertatschitsch 7,Michelle Beach 5, Tracey Miyazaki 4, Brittany Bowsher 3, Courtney Gates 2, Melissa Richardson 2, Danielle Bue 1






Issaquah 59 - Skyline 52




Eastside Journal February 1, 2003
Issaquah 59, at Skyline 52 — The Indians (9-2, 12-6) were able to hold Skyline (6-5, 8-10) to only 23.7 percent shooting from the field and used the Spartans poor shooting to hold on for a close victory and remain on top in the Valley Division.

Issaquah was led by Beth Knudtson's 16 points. Michelle Beach and Ellen Vertatschitsch each added ten points for the Indians.

Jordan Hollar had a game-high 17 points and nine rebounds to lead Skyline.

Seattle Times February 1, 2003
Issaquah 59, at Skyline 52 — Beth Knudtson scored 16 points to pace three Indians in double figures as they turned away the Spartans. Michelle Beach and Ellen Vertatschitsch each scored 10 points for Issaquah (9-2, 12-6), the Valley Division leader. Jordan Hollar scored 17 points and had nine rebounds, and Danica Dougherty had 14 points to lead Skyline (6-5, 8-10).

Issaquah 59, Skyline 52
Issaquah 10 18 15 16 --59
Skyline 10 17 10 15 --52
Issaquah--
Michelle Beach 10, Brittany Bowsher 7, Danielle Bue 0, Lauren Dascenzo 2, Kathryn Field 3, Courtney Gates 9, Beth Knudtson 16, Melissa Richardson 2, Ellen Vertatschitsch 10. Issy box
Skyline--
Tiffany Johnson 5, Jordan Hollar 17, Danica Dougherty 14, Allie Cason 1, Melinda Shelton 4, Laura Payne 7, Alex Hope 4, Mallorie Hebert 0, Christine LaBrie 0, Hannah Kirby 0.





Knudtson revisits the zone


Eastside Journal January 28, 2003


view story online
by Nathan Fenno, Journal reporter

For eight minutes last Friday night, Beth Knudtson couldn't miss.

In an attention-grabbing performance, the Issaquah High senior hit six straight 3-pointers during the third quarter of the Indians' game with Liberty.

``During warm-ups you hit 11 shots in a row,'' Knudston said, ``and you say, `I wish I'd do that in a game.'''

Knudtson scored 18 of her season-high 24 points in the quarter. Issaquah outscored the shorthanded Patriots 30-8 in the period to take control of the game.

``Beth Knudtson is incredible,'' said Liberty coach Shiree Harsh, who only used just eight players in the game because of injuries. ``We did our best defensively. She came out on fire. There's no shutting her down.''

Liberty started in a man-to-man defense and switched to a 3-2 zone, but nothing seemed to slow down Knudtson. She didn't feel any different coming out of halftime, but started to gain confidence after she hit her first shot.

Knudtson has reached double-figures in her past eight games, averaging 17 points per contest during the stretch.

``Every time she hit another shot I'd turn and smile at her and she'd smile back at me,'' Issaquah senior Kathryn Field said. ``She's been working really hard and I'm glad to see that happen to her.''

The win was key for Issaquah, which lost 38-36 to Newport last Tuesday.




Eastside Journal January 28, 2003


view story online
Athletes of the Week

Beth Knudtson, Issaquah
Year: Senior
Sport: Basketball
Position: Guard
Last week's highlights: Knudtson went 6-for-6 from 3-point range in the third quarter in the Indians' 63-36 victory over Liberty. Her 18-point period helped break open a 17-14 game. She finished with 24 points.
Notable: Knudtson was a second-team All-Kingco pick last year and she also plays softball for the Indians. She has scored at least 14 points in each of Issaquah's last eight games. During the summer, she plays basketball for the Seattle Magic.









Issy 63 Liberty 36


Eastside Journal January 25, 2003


view story online
Issaquah's Knudtson drills 6 3-pointers in 3rd quarter
by Journal Staff
3A Kingco
Issaquah 63, Liberty 36: The Indians (7-2, 10-6) held onto a slim 17-14 halftime lead before the Beth Knudtson show started in the third quarter. Issaquah outscored the Patriots 30-8 in the period behind 18 points from Knudtson.

Knudtson was a 6-for-6 from behind the 3- point line in the quarter and finished with a game-high 24 points on 9-of-18 shooting.

Coming off a disappointing loss to Newport, the Indians managed only eight first-quarter points and nine in the second before Knudtson took over the game.

Issaquah forced Liberty (4-5, 9-7) into 22 turnovers and committed only 15 of its own.

Kathryn Field turned in an all-round performance with eight points, five rebounds and five assists for the Indians.

Issaquah 63, Liberty 36
Liberty 3 11 8 14 --36
Issaquah 8 9 30 16 --63
Liberty--
D'yona Bunker 0, Rachelle Bartholomew 3, Chrissy Kubota 4, Jessie Simons 6, Alisha Weible 0, Rebekah Bartholomew 20, Katie Connors 1, Ashton Lucenti 2.
Issaquah--
Michelle Beach 6, Brittany Bowsher 1, Danielle Bue 5, Lauren Dascenzo 6, Kathryn Field 8, Courtney Gates 0, Beth Knudtson 24, Tracey Miyazaki 6, Melissa Richardson 5, Ellen Vertatschitsch 2.
Rebounds--Field 5.
Assists--Field 5.





Issaquah girls defeat Islanders


Eastside Journal January 16, 2003


view story online
by Journal Staff
MERCER ISLAND -- The Issaquah girls basketball team defeated a Beth Richards-less Mercer Island team 54-41 in a 3A Kingco Conference game Friday night.

Richards, who scored 35 points on Wednesday night, spent the following day sleeping as she ran 100-degree fever. She attended classes Friday to be eligible to play the game, but threw up just before the game and was sent home.

The Indians (6-1, 9-5) opened with a 14-2 run in the first three and a half minutes and then went to their bench. The Islanders (2-4, 5-7) started to chip away at the lead and closed the gap to three points, 19-16 at the end of the quarter.

Beth Knudston scored a team-high 15 points for the Issaquah and scored four straight points in the final two minutes of the game.

Brittany Bowsher had a double-double for the Indians with 10 points and 10 rebounds.

Caity Connolly scored a team-high eight points for Mercer Island.

Issaquah 54, Mercer Island 41
Issaquah 19 9 11 15 --54
Mercer Island 16 8 8 9 --41
Issaquah--
Michelle Beach 2, Brittany Bowsher 10, Danielle Bue 2, Lauren Dascenzo 5, Kathryn Field 10, Courtney Gates 0, Beth Knudtson 15, Tracey Miyazaki 2, Melissa Richardson 8, Ellen Vertatschitsch 0.

Mercer Island--
Molly McIntosh 0, Ann Hisken 1, Alyson Sorba 7, Bethany Paterson 5, Caity Connolly 8, Elizabeth Stanley 0, Rita Dierdorff 6, Claire Robertson 5, Tiffany Lee 6, Ellie Chapman 3.





Issy drops one to Bellevue


photo by JIM BATES / THE SEATTLE TIMES
Lauren Shaughnessy (11), of Bellevue, is fouled by Beth Knudtson, right, and Kathryn Field in the last moments of the game.


Seattle Times Thursday, January 16, 2003
view story online
High School Sports
KingCo 3A girls basketball roundup:
Threes are keys to Bellevue win
By Matt Peterson, Seattle Times staff reporter
ISSAQUAH — The defenders rushed her from every direction last night, swallowing her in a sea of arms and elbows and gold.

The approach was not completely unexpected, however, as Emily Shubin has carried the Bellevue girls basketball team in some of its toughest games this season.

So Issaquah came out with an eye — and more than a few arms — aimed toward shutting down the 5-foot-9 center, Shubin's teammates responded.

The Wolverines hit six of nine three-point attempts in the first half, providing more than enough cushion to walk away with a 52-41 victory over Issaquah in a battle of KingCo

"As soon as we got in there and they started doubling down on the post, we just knew we should kick it outside," said Shubin, who was held to two points in the first half before finishing with 11. "It kind of felt like every time I turned around there were three people on me. It was good all our guards were hitting the threes."

Bellevue connected on 7 of 16 three-point attempts. Junior guard Leanne Bellar accounted for three of those, including one on Bellevue's opening possession.

Freshman Lauren Coombs and sophomore Gretchen Buchberger also hit three-pointers in the first half.

"We spend a lot of time practicing the threes," said Buchberger, who finished with five points. "They would collapse on Emily, so we knew that if we passed it in there we would have a shot on the way back out."

Second-ranked Bellevue improved to 6-0 in conference, 12-1 overall. The Wolverines have yet to lose to a Class 3A opponent.

Issaquah (5-1, 8-5) had a four-game winning streak snapped.

"Shubin was a big key for us. We gotta make it so she didn't score points," said Issaquah senior Beth Knudtson, who scored a game-high 15 points. "Or we tried to. It didn't work very well, I don't think."

Shubin also had seven rebounds. Teammate and fellow post player Claudia Bishop had 12 points and eight rebounds.

Bellevue took command with a 15-1 run midway through the second quarter. Coombs, Bellar and Buchberger hit three-pointers during the spurt, which gave the Wolverines a 28-10 lead.

"They did an awesome job shooting," Knudtson said. "They were just hitting their shots. They couldn't miss. That's tough to stop when three different people are hitting from the outside."

Issaquah never pulled closer than seven points to the lead the rest of the way.



King County Journal January 16, 2003
view story online
Girls Basketball
Taking charge: Quick start propels Wolverines to key win over Issaquah
by Nathan Fenno, Journal reporter
ISSAQUAH - Before Wednesday night's game against Issaquah, Bellevue junior Claudia Bishop made herself a promise.

In the anticipated showdown with the 3A Kingco Conference rival Indians, Bishop was determined to take more shots.

She did just that and helped the Wolverines jump out to an 18-point lead in the first half and hang on to top Issaquah, 52-41. The girl who teammates have called Gumby and rubber band since the fourth grade because she's always grabbing rebounds and diving for loose balls, was more assertive with her offensive game Wednesday night.

``Deep down we wanted to get them,'' Bishop said. ``We knew how hyped up they get to play us. We love playing against good competition.''

This was not an ordinary midseason league contest. The Indians (5-1 league, 8-5 overall) and Wolverines (6-0, 12-1) are the league's top two teams. In last year's regular season meeting, Issaquah beat Bellevue 31-30 to snap the Wolverines' 41-game regular-season conference winning streak.

Bellevue broke its huddles with shouts of ``CP'' (short for composure and poise), but they might as well have said payback.

``Issaquah is always a tough game,'' Wolverines senior Lauren Shaughnessy said. ``Every time they come out so strong. They're always ready.''

Said Issaquah senior Beth Knudtson: ``We look forward to playing them every year. A loss to them hurts. That was an exciting win last year and we knew they were going to come in looking for revenge.''

Bellevue never trailed in the game. The team opened the second quarter on a 12-2 run and took a 28-10 lead after Gretchen Buchberger hit a 3-pointer. Bishop scored six of her team-high 12 points in the quarter.

Bishop spent much of the game picking herself up off the court after chasing down rebounds or forcing jump balls, finishing with eight rebounds and three assists. She used to wear knee pads because she dove for balls so much, but gave them up because it was harder to run with them on.

``That's my favorite part. I like really intense games like this,'' Bishop said. ``My parents and coaches have been drilling into my head that I can shoot, that I don't always have to pass the ball. I was determined to shoot.''

Issaquah never got closer than eight points in the fourth quarter. Shaughnessy helped seal the victory by hitting five free throws in the final quarter, part of her nine-point effort. After scoring only two points in the first half, Emily Shubin had nine in the second half and also pulled down seven rebounds.

The teams will probably meet again next month in the league title game. But with a young group that is quickly gaining experience and confidence, Bellevue walked out of Issaquah's gymnasium grinning on Wednesday night.

``We're young and short, but we're holding our own,'' Shaughnessy said. ``We get more excited knowing every game is going to be close. We could play bad last year and still do pretty well.''

Bellevue held the advantage at the free-throw line, hitting 15 free throws to Issaquah's eight. The Wolverines also hit seven 3-pointers.

Knudston scored 15 points for the Indians and saw a lesson in the defeat.

``We've got to have everybody here, every night,'' she said. ``You can learn from every game. This gave us more to learn from.''

Bellevue 52, Issaquah 41
Bellevue 13 16 11 12 --52
Issaquah 7 10 13 11 --41
Bellevue--
Annie Davison 0, Leanne Bellar 9, Lauren Shaughnessy 9, Claudia Bishop 12, Lauren Coombs 6, Gretchen Buchberger 5, Emily Shubin 11.
Issaquah--
Michelle Beach 5, Brittany Bowsher 2, Danielle Bue 2, Lauren Dascenzo 1, Kathryn Field 8, Courtney Gates 8, Beth Knudtson 15, Tracey Miyazaki 0, Melissa Richardson 0, Ellen Vertatschitsch 0.





Issy downs Mt Si and wins division


Eastside Journal February 9, 2003


view story online
Journal Staff
Issaquah 53, at Mount Si 37 – Kathryn Field scored a game-high 16 points to lead the Indians (11-2, 14-6) past the Wildcats (9-4, 13-6).

With the victory, Issaquah earned a place in the Kingco title game against Bellevue.

Courtney Gates also scored 10 points for the Indians, who outscored Mount Si 14-5 in the third quarter to pull away.

Whitney Beyerlin led the Wildcats with 11 points and Nicci Landdeck added 10 points and 11 rebounds.

Issaquah 53, Mount Si 37
Issaquah 17 13 14 9 --53
Mount Si 14 10 5 8 --37
Issaquah—
Michelle Beach 6, Brittany Bowsher 6, Danielle Bue 2, Lauren Dascenzo 5, Kathryn Field 16, Courtney Gates 10, Beth Knudtson 6, Tracey Miyazaki 0, Melissa Richardson 0, Courtney Stringer 0, Ellen Vertatschitsch 2.
Mount Si—
Nicci Landdeck 10, Sabrina Porterfield 0, Christie Leatiota 0, Whitney Beyerlin 11, Rachel Travis 1, Amy Keogh 0, Landa Pastrana 2, Marie Will 1, Karin Brevick 7, Rachel Perrell 3, Shannon Posey 2.





Issy 66 Totems 40


Eastside Journal February 6, 2003


view story online
High school basketball
Journal Staff
At Issaquah 66, Sammamish 40: The Indians (10-2, 13-6) celebrated Senior Night with a convincing victory over the Totems (2-10, 3-16).

Tracy Miyazaki scored six of her 11 points in the first quarter as Issaquah jumped out to a 15-6 lead. Kathryn Field added five or her seven points in the first quarter and had six assists in the game.

Beth Knudtson led Issaquah with 16 points, Lauren Dascenzo had nine and Michelle Beach contributed six rebounds.

Janelle Potter led Sammamish with 15 points.

Issaquah 66, Sammamish 40
Sammamish 6 11 9 14 --40
Issaquah 15 15 17 19 --66
Sammamish--
Janelle Potter 15, Lauren Stillwell 13, Jessica Myers 4, Marcela Panduro 2, Alyssa Watts 3, Jenny Cromwell 1, Anna Guardia 2, Lizzie Blair 0, Lucas 0.
Issaquah--
Michelle Beach 2, Brittany Bowsher 2, Danielle Bue 2, Lauren Dascenzo 9, Kathryn Field 7, Courtney Gates 4, Beth Knudtson 16, Tracey Miyazaki 11, Melissa Richardson 2, Courtney Stringer 3, Ellen Vertatschitsch 8.line score1






Eastside stars of the week




view story online
Seattle Times February 18, 2003
High School Sports
Eastside stars of the week

Issaquah girls basketball team

The Indians, coached by Kathy Gibson, upset second-ranked Bellevue 44-33 on Saturday at Bellevue Community College to win the KingCo 3A Conference title. The win snapped the Wolverines' four-year run as conference champs. Issaquah is 15-6 overall.





..Twice as Nice..


Twice as nice


---


Indians Sweep Kingo Basketball


Issaquah girls end Bellevue's
four-year reign
Issaquah Press Feb 19, 2003
view story online
By Bob Taylor



The Issaquah girls basketball team watched and rooted for their male counterparts in the 3A Kingco Conference boys championship game. After watching the Issaquah boys win a title last Saturday at Bellevue Community College, the girls didn't want to go home empty-handed.

"We wanted to go back to back," Issaquah senior Beth Knudtson said.



The Issaquah girls made sure the boys didn't get all the glory, too. The Indians, overcoming some shooting woes, defeated No. 2-ranked Bellevue 44-33 to win their first title since 1998.

It was the first time since the formation of the 3A Kingco Conference that one school captured the boys and girls championships. In fact, in the history of Kingco basketball, it was just the third time one school had won both titles.

Members of the Issaquah boys team were among the first to congratulate the girls. Issaquah center Hans Gasser and senior Tracey Miyazaki, a reserve guard on the girls team, held championship trophies while fans snapped photos of them.

"We got two of them!," Gasser shouted.

With the victory, Issaquah also earned Kingco's No. 1 berth to this week's 3A Sea-King District tournament. The Indians, 15-6, play at 6:30 p.m. Saturday at Bellevue Community College in the quarterfinals against Mount Si or Cleveland. A victory in that game would send Issaquah to the state tournament for the first time since 1999.

Issaquah, which lost to Bellevue in last year's Kingco title game, ended the Wolverines' four-year reign as league champions.

"This feels so good," Issaquah senior Kathryn Field said. "We're not done, either. Our goal is to get to state."

Field, connecting on two long three-point shots, sparked the Indians' 23-point fourth-quarter charge. She finished with a game-high 12 points.

Issaquah snapped Bellevue's 11-game winning streak and avenged a 52-41 loss to the Wolverines earlier this season. Like the boys team, things didn't look promising for the girls at times.

The Indians led13-10 at the end of the first quarter when Field scored on a layin with just two seconds left. It would be the last field goal the Indians scored until late in the third quarter.

Issaquah went 0-11 in the second quarter and managed just two points on free throws by Lauren Dascenzo and Courtney Gates. Bellevue took advantage of Issaquah's cold spell to lead 19-15 at halftime.

Although disappointed with their cold shooting in the second quarter, Knudtson said, "We couldn't get down. We knew we just had to keep on fighting."

Issaquah missed seven straight shots to open the third quarter. Finally Brittany Bowsher, off a pass from Dascenzo, scored on layin with 2:17 left in the quarter. Melissa Richardson later hit a three-point field goal. However, Bellevue led 27-21 going into the final quarter.

Dascenzo begins charge
Dascenzo started Issaquah's fourth quarter charge when she stole a ball and scored on a layin. Fouled on the play, Dascenzo also hit a free throw. With 4:29 left in the game, Field hit a trey to put the Indians ahead 33-31.

"I hadn't been shooting that well. When I hit that first one, it felt pretty good. I had my confidence back," Field said.

Field also connected on another trey with 3:05 left.

"When Kat hit those shots, we started believing again," Issaquah coach Kathy Gibson said.

Field said the way the boys team fought back from an 11-point deficit also inspired the girls team.

"We saw the guys come back and win. We knew we could, too. There's never a time when you can afford to give up," Field said.

In the fourth quarter, the Indians hit all seven of their field goal attempts. Bowsher gave the Indians strong inside play, scoring eight points and grabbing seven rebounds.

Knudtson, who was named to the all-Kingco first team, had a solid game. She contributed seven points, grabbed seven rebounds and had three steals.

As a team, the Indians played tough defense as no Bellevue player scored in double figures. Issaquah, burned from the outside in the first meeting, denied Bellevue the three-point shot. The Indians also held center Emily Shubin to eight points. Bellevue as a team was held to its lowest point total of the season. "I thought it would be a low-scoring game because both teams play so well defensively," Gibson said. "I knew to get this game, defense would be the difference. Our girls executed the game plan almost perfectly."






Issaquah boys capture first league crown
Issaquah Press Feb 19, 2003
view story online
By Bob Taylor

Hans Gasser vowed before the Issaquah team even walked on the court last Saturday night that the Indians would put up a 3A Kingco Conference championship banner on the Issaquah gymnasium wall.

Gasser and the Indians made good that promise when they defeated perennial Kingco power Mercer Island 54-52 at Bellevue Community College. The Kingco championship was the first in Issaquah boys basketball history.

"We got something to put up the wall," Gasser said. "Now we need to keep putting some more on the wall."

With the victory, the Indians (16-5) enter the 3A Sea-King District tournament as Kingco No. 1. Issaquah, which draws a first-round bye, plays at 8:15 p.m. Saturday at BCC against Newport or O'Dea, who met Feb. 18 in the first round. A victory in that game would send the Indians to the 3A state tournament for the second year in a row.

A year ago the Indians lost to Mercer Island 46-44 in the championship game. The loss was hard for Gasser to swallow, even after he had been named the league's MVP. Saturday, he was again named the league MVP but the award didn't mean as much to Gasser as the championship trophy he was clutching after the title game.

"I'd rather have this trophy anytime than the MVP," said Gasser.

But the 6-foot-10 center showed why he was the MVP, too. He scored a game-high 20 points, grabbed 10 rebounds and blocked two shots.

Gasser was just part of the story. Issaquah had plenty of heroes as it stunned the state's third-ranked team.

Sophomore guard Garrison Carr scored 16 points. Carr connected on two crucial three-point shots in the fourth quarter to highlight an Issaquah rally.

John Chaney provided Issaquah with heady playmaking skills and defensive play.

Erik Woldseth had a four-point play to open the second half when the Indians needed something desperately to ignite them.

And Colin Curtis somehow soared up and grabbed a rebound away from Mercer Island's big guys to score the game-winning basket.

The combination of players enabled Issaquah to beat Mercer Island for the first time since 1994. Issaquah also snapped Mercer Island's 10-game winning streak and prevented the Islanders from winning a 21st Kingco title under coach Ed Pepple.

"That makes up for four years," Gasser said. "To win a championship game and beat Mercer Island, it's something you only dream about."

The game didn't quite go according to Issaquah coach Jeff Patrick's plans. In previous encounters with Mercer Island, the Indians always fell behind early and had to battle from behind. Patrick hoped the Indians would get off to a quick start. Instead, they fell behind 6-0, then after catching up, trailed by six at the end of the first quarter.

The Islanders seemed to have the game in control in the second quarter, going up by as many as 11 points. Two free throws by Brandon Burmeister gave the Islanders a 31-21 halftime lead.

But one of the turning points of the game came in the opening seconds of the second half when Woldseth hit a trey and was fouled. He hit the free throw to cut Mercer Island's lead to six points.

"Erik's shot was huge," Patrick said. "It really got us going." Issaquah was still down 43-37 at the end of the third quarter.

Gasser, getting a pass from Carr, hit a short jumper. Then Carr connected on two straight three-pointers to tie the score.

"When I hit the first shot it really built up my confidence. I knew the next one was going in," said Carr.

Carr's long-range bombs electrified an Issaquah crowd that had been relatively quiet for most of the game.

"We really hadn't give them too much to cheer about until the fourth quarter," Gasser said.

With 4:57 left, Gasser hit an eight-footer to put Issaquah ahead for the first time at 47-45.

But with 3:07 left, Mercer Island's Austin Yuen stole the ball, hit a jump shot and was fouled. Yuen hit a free throw to put Mercer Island ahead 52-49.

Issaquah answered when Gasser, again getting pass from Carr, hit a short jump shot. Then with 1:52 left, Curtis rebounded a missed shot, went past Mercer Island's 6-10 Brayden Billbe and 6-8 Kevin Chirls and scored on a tip to put the Indians ahead for keeps at 53-52.

"Every time we play those guys I'm overmatched by like a foot. So I'm looking for my opportunities. I just saw a little gap and I just jumped up and I got over both of them and got a finger on it," Curtis said.

With 8.2 seconds left, Gasser hit the front end of a one-and-one to account for the final margin.

Mercer Island had a chance for the game-winning basket but a last-second shot by Burmeister bounced off the rim.

Billbe was the main reason the Islanders got off to their big lead. He scored 13 of the Islanders' first 19 points. Billbe finished with 17 points and 11 rebounds.

Patrick, a former player and assistant coach at Mercer Island, got some satisfaction in beating his old mentor.

"It always feels good to get a win against him because it's so rare," Patrick said. "But mainly I'm happy for my kids. It was a big win for them because they had never beaten Mercer Island.

To beat them, it means you have played well. This win should give us a lot of confidence for district and motivate us to get to state again."







Athletes of the Week




King County Journal February 18, 2003
view story online

Kathryn Field, Issaquah

Year: Senior

Sport: Basketball

Position: Guard

Last week's highlights: Field scored a team-high 12 points, including back-to-back 3-pointers late in the fourth quarter to help Issaquah beat Bellevue 44-33 in the 3A Kingco title game Saturday. It was the Indians' first title since 1998.

Notable: Field was an honorable mention All-Kingco pick this year. She plans on attending Utah Valley State to become a kindergarten teacher.



Issy Boys showed the way to a championship!!!
Hans Gasser & John Chaney after win over MI- photo by Steve Shelton Journal
...



Issaquah Shocks No. 2 Bellevue


Seattle Times February 16, 2003 page D12


view story online
By Matt Peterson,Seattle Times staff reporter

BELLEVUE — Slated to play the late game, members of the Issaquah girls basketball team watched from the bleachers last night as their male counterparts upset third-ranked Mercer Island to win the KingCo 3A crown.

Afterward, as the celebration gathered steam, the girls retreated to their locker room with visions of an even bigger upset. And when they returned to the court 30 minutes later, they delivered.

Overcoming a slow start and more than a few bad memories, the Indians rallied to beat second-ranked Bellevue 44-33 and win the KingCo 3A championship at Bellevue Community College.

The victory was the sixth in a row for Issaquah (15-6), which also earned the conference's No. 1 seed in this week's Sea-King District tournament.

Bellevue (19-2) suffered its first loss against a Class 3A opponent and had its 11-game win streak snapped.

Issaquah players and coaches said they were inspired by the earlier boys game in which Issaquah knocked off the high-powered Islanders 54-52.

"That pumped us up," said senior Kathryn Field, who scored 10 of her game-high 12 points in the fourth quarter for the Indians. "All of us were sitting behind the guys' bench and just yelling and it made us pumped up. We wanted that."

Bellevue beat Issaquah 47-23 in last year's KingCo 3A girls championship game.

"We are just so excited," Field said. "We wanted to do this because we have five seniors on our team and this is our last year. It was just all or nothing, basically."

Field scored all 10 of her fourth-quarter points in the final 4:30. She hit back-to-back three-pointers to give the Indians a 36-31 lead with 3:06 remaining and Issaquah never trailed again.

"She was off early," said Coach Kathy Gibson. "But we wanted her to keep shooting. We needed her to hit some shots. She is clutch. I think when the pressure is on, she likes to take it even more."

Bellevue was held to its lowest offensive output of the season.





..A Field day for Issaquah girls


Kathryn Field dribbles against defender Lauren Shaughnessy - photo by Steve Shelton


King County Journal February 16, 2003 page B6
view story online
by Nathan Fenno, Journal reporter

BELLEVUE-- The day before they played in the 3A Kingco Conference title game, the Issaquah girls basketball team looked around the school's gym.

The Indians saw the banner from the team's league title in 1998 and decided it was time to add another one.

Consider the mission accomplished. Completing Issaquah's sweep of the boys and girls league basketball titles Saturday night, the Indians topped Bellevue 44-33 at Bellevue Community College. The victory snapped the Wolverines' streak of four consecutive league titles.

``This is what you want. This is what you look forward to. It's the ultimate,'' Isssaquah senior Beth Knudtson said. ``But we're not done yet.''

In a game centered around defense, the Indians (15-6) survived an untimely shooting slump and the memories of their loss to Bellevue (19-2) earlier this season.

``We had full confidence in ourselves. We couldn't give up,'' Indians senior Kathryn Field said.

``It's the best feeling ever. But we still have a long way to go.''

Both teams advance to next week's Sea-King district tournament. The first round starts on Tuesday, but Issaquah and Bellevue both have first-round byes.

The Indians stayed in the game despite going without a field goal for all of the second quarter and six minutes and 43 seconds of the third. After Brittany Bowsher broke that streak with a jumper, Issaquah only trailed 21-17.

``Every time we play them it's like that,'' Bellevue coach Al Russell said.

The Wolverines won the regular season meeting 51-41 this year, part of their perfect 13-0 league season.

``We never lost faith in ourselves,'' Knudtson said. ``We couldn't do that. We learned from the last game.''

Field keyed Issaquah's last victory over Bellevue-- a 31-30 win last season that snapped Bellevue's 44-game regular-season home winning streak. On Saturday night the quick 5-foot-6 guard struck again.

With 4:32 left, Field put the Indians up 33-31 with a 3-pointer. On the next possession she nailed another 3-pointer for a 36-31 lead. As Issaquah's fans cheered an approaching league title, Bellevue called timeout.

``She is so clutch,'' Knudtson said.

Bowsher added eight points for the Indians and Knudtson had seven.

Bellevue struggled to rebound the basketball on the offensive end and was hurt when senior post Emily Shubin picked up her fourth foul with 5:13 left in the third quarter.

Sophomore Gretchen Buchberger led the Wolverines with nine points and Shubin had eight. Lauren Shaughnessy and Claudia Bishop each had six points for Bellevue.

Russell thought his team would score a few more points, but took the loss in stride.

``It's going to hurt for a while, but it's a temporary setback,'' Russell said. ``It's not like it's a loser-out game. When you get to districts, anything can happen.''

Issaquah 44, Bellevue 33
Issaquah 13 2 6 23 --44
Bellevue 10 9 8 6 --33
Issaquah –
Michelle Beach 4, Brittany Bowsher 8, Danielle Bue 0, Lauren Dascenzo 5, Kathryn Field 12, Courtney Gates 3, Beth Knudtson 7, Tracey Miyazaki 0, Melissa Richardson 5, Courtney Stringer 0, Ellen Vertatschitsch 0.
Bellevue –
Leanne Bellar 2, Lauren Shaughnessy 6, Claudia Bishop 6, Lauren Coombs 0, Gretchen Buchberger 9, Emily Shubin 8, Jayme Estep 0, Meghan McIntyre 0, Brett Bogachus 2, Catherine Querhn 0, Jamie Webber 0.





ISSY DOUBLE DIP!! --- GIRLS AND BOYS WIN


KingCo CHAMPIONS!!
WHAT A DIFFERENCE A YEAR MAKES !!!



Seattle Times state girls basketball rankings


Seattle Times Feb 18, 2003


view story online

1. Meadowdale 20-0
2. Kelso 19-0
3. Bellevue 19-2
4. Rainier Beach 19-2
5. Kennedy 17-4
6. Black Hills (Tumwater) 16-3
7. Lakeside (Seattle) 17-5
8. Seattle Prep 18-4
9. W. Valley (Yakima) 16-4
10. Issaquah 15-6

On the bubble: Mark Morris 14-5, Columbia River 13-6, Ellensburg 16-4, Hanford 13-7, Prosser 14-6, Shorecrest 12-8, Squalicum 16-4, Bellingham 15-5, Anacortes 14-6, Yelm 15-4, Chehalis 12-7, Centralia 12-7, Ferndale 11-9, Sehome 12-8, Sequim 13-7, Newport 15-7, Skyline 12-11, Mount Si 14-7, Bishop Blanchet 15-7, Cleveland 14-8, Lindbergh 19-3, Mount Rainier 15-7, White River 14-8, Lakes 12-9.






Issaquah teams move on


King County Journal Feb 23, 2003
Lauren Dascenzo of Issaquah beats Cleveland defender Ophelia Whitfield-photo by Steve Lindemann/Journal


Field, Knudtson lead girls back to state tournament

by Nathan Fenno, Journal reporter
view story online

BELLEVUE-- A photo provides all the motivation the Issaquah girls basketball team needs.

Snapped during last year's district tournament, the it shows the long faces on the Indians' bench during their season-ending, one-point loss to Eastside Catholic.



And when Issaquah stepped onto the same court at Bellevue Community College Saturday night with a state tournament berth on the line, the Indians remembered that moment. This time Issaquah delivered, beating Cleveland 53-50 in the Sea-King district game to earn its first trip to state since 2000.

"I didn't want to feel like that again," Issaquah senior Beth Knudtson said. "We've wanted this ever since last year when we sat in that locker room and knew how it felt not to be going to state. Now we're there."

Issaquah (16-6) faces Lakeside at 6:30 p.m. Tuesday at BCC in a semifinal game.

A week after beating Bellevue for the Kingco championship, the Indians showed they had plenty of magic left in their season.

"We wanted to go last year, but we missed our chance," Indians senior Kathryn Field said. "We didn't want it to be like that again."

Against Bellevue, Field hit a pair of late 3-pointers to help seal the victory. On Saturday night she sank a 3-pointer with 1:20 left to put Issaquah ahead, 52-50. Field's shots weren't falling earlier, but when it mattered most, she couldn't miss.

"My shots weren't even close before," said Field, who finished with eight points. "Then for some reason they went in."

The Eagles (15-9) got the ball back on a jump ball with 23 seconds left. But Field stole the ball with 10 seconds left and was fouled. The first thought that went through Field's mind when she got control of the ball was that her team had won.

Cleveland had a final chance, but Ophelia Whitfield's 3-pointer rimmed off and the Eagles couldn't get another shot.

Knudtson scored her team's first 13 points-- including all 11 in the first quarter-- but Issaquah trailed 24-20 at halftime. The Indians would've trailed by more, but Ellen Vertatschitsch drained a long 3-pointer at the horn.

Knudtson finished with 20 points and said the win against Bellevue has the team rolling.

"That gave us confidence," Knudtson said. "We knew we could play with the rest of the teams."

Issaquah 53, Cleveland 50
Cleveland 13 11 16 10 --50
Issaquah 11 9 15 18 --53
Cleveland-
Nakeya Isabell 20, Elaina Isabell 0, Nicole Savini 13, Ophelia Whitfield 11, Janay Reese 0, Bridgett McGuinnis 3, Gina Anderson 0, Mahogany Villars 3.
Issaquah-
Lauren Dascenzo 0, Beth Kundtson 20, Kathryn Field 8, Melissa Richardson 2, Ellen Vertatschitsch 5, Brittany Bowsher 12, Michelle Beach 5, Courtney Gates 1.





Issy's goin' to State!




view story online
Seattle Times Feb 23,2003
High School Sports


Field's three gets Issaquah to state

Cleveland faces must-win

By Matt Peterson Seattle Times staff reporter

BELLEVUE — Sometimes at practice, when the team is shooting free throws or working on its outside shots, teammates will playfully shorten Kathryn Field's name to "Clutch."

"We always joke around," said Issaquah senior Beth Knudtson, "We're like, 'You're clutch.' "

Really, though. It's no joke.

Field, who fast is becoming the Indians' postseason charm, drilled the go-ahead three-pointer with just over a minute to play last night, lifting Issaquah to a 53-50 victory over Cleveland at the Sea-King 3A District tournament.

The victory earned the Indians (16-6) the third state-tournament berth in school history and their first since 2000.

"I went (to state) my freshman year and that was an awesome feeling," said Field, whose top-of-the-arc, three-pointer with 1:20 to play gave Issaquah a 52-50 lead. "But I didn't know how much it meant since I was so young. Coming now as a senior, it's such a good feeling to end my senior year. That was one of our goals."

Field, who also hit two big three-pointers in the final quarter of the Indians' upset of Bellevue in the KingCo 3A championship game, added a final free throw with 10 seconds remaining after stealing a pass from Cleveland's Nicole Savini.

"We gutted that one out," said Issaquah Coach Kathy Gibson. "We willed ourselves to win. It wasn't pretty."

Issaquah advanced to a district-tournament semifinal game at 6:30 p.m. Tuesday at Bellevue Community College against Lakeside.

Cleveland (15-9) will play a loser-out game Thursday at 4:45 p.m. at BCC against the winner of a Tuesday game between Bainbridge and Bishop Blanchet.

Issaquah trailed Cleveland 40-35 after the third quarter and 48-43 with about three minutes remaining. But a 9-2 run capped by Field's three-pointer put Issaquah back in the lead for the first time since early in the second half.

"We can't lose faith in the fourth quarter," Knudtson said. "When you're down, you just can't give up."

Knudtson carried the load for Issaquah early, scoring the team's first 13 points. No other Issaquah player scored until freshman Ellen Vertatschitsch dumped in a short jumper with 2:30 remaining in the first half.

"Beth typically isn't a first-quarter player," Gibson said. "And we were commenting on the bench that thank goodness she was tonight. She carried us and did an extremely good job."

Knudtson scored 20 points, seven above her average.

"I knew my teammates would step it up," she said. "Sometimes, it just takes a little bit longer to get going."

Junior guard Nakeya Isabell scored 20 points for Cleveland







Lakeside cruises past Issaquah


King County Journal Feb 26, 2003


by Nathan Fenno, Journal reporter


BELLEVUE -- With their trip to the state tournament already secured, the Issaquah girls basketball team played for a spot in the Sea-King district finals Tuesday night.

But the Indians ran into a tough Lakeside team and lost 67-57 at Bellevue Community College.

``Every game from now on is going to prepare us for state,'' Issaquah senior Beth Knudtson said.

``We still have another game. They just played better than we did.''

Issaquah (16-7) will play Seattle Prep at 8:15 p.m. Friday at BCC in the third-fourth place game.

Last year Lakeside (19-5) beat the Indians 46-42 in the first round of the district tournament. Despite a spirited effort from Issaquah, this year's matchup wasn't as close.

``We can't get down on ourselves for losing this one,'' Knudtson said.

``We've got a game on Friday and we have to bounce back.''

Mikaela Cowles, a 6-foot junior guard, led the Lions with 27 points.

In one fourth-quarter stretch she hit a 3-pointer, then recorded a steal and a layup to give Lakeside a 59-44 lead. Cowles finished 9-for-12 from the field and hit all four of her 3-point attempts.

Lakeside led by as many as 11 points in the first half, but Issaquah rallied and trailed 31-27 at halftime.

The Indians would have been within one point at the break, but Mary Kuder hit a 3-pointer with 12 seconds left in the half for the Lions.

But turnovers hurt the Issaquah in the second half. Knudtson said the team was turning the ball over in practice, too, and that this was an important lesson in practicing the way to want to play.

Lakeside outscored Issaquah 23-12 in the third quarter. The Indians didn't score in the quarter until Kathryn Field's layup with 4:14 left in the period.

Field, a senior guard, led the Indians with 14 points, including nine in the second half, and hit a pair of 3-pointers.

Knudtson had 12 points, but was just 1-for-9 from 3-point range and battled frequent double-teams.

Issaquah never led in the game, but got as close as 28-27 after a 6-0 run late in the second quarter.

Kuder added 13 points for Lakeside.


Seattle Times Feb 26, 2003


Lakeside 67, Issaquah 57 — Mikaela Cowles survived a third-quarter poke in the eye and came back to deliver the knockout blow in the fourth quarter for the sixth-ranked Lions.

Cowles, a 6-foot junior, scored 17 of her 27 points in the second half and rang up five in a 13-second span midway through the fourth. Then, she sank a pair of free throws with 32.3 seconds to go to essentially seal the win as the Lions (19-5) won for the 14th time in 16 games.

"I couldn't see," said Cowles, who came out of the game after getting a fingernail scratch to her right eye late in the third quarter. "I couldn't even pass the ball."

The Lions never let ninth-ranked Issaquah (16-7) closer than eight points in the second half.

"Thankfully that (eye poke) came late in the game," said Lakeside Coach Sandy Schneider. "I've always said the only that can keep her down is a fingernail to the eye. It's not just scoring with her. It's leadership."

Lakeside plays Skyline Saturday at 8 p.m. at BCC for the district title. Issaquah faces Seattle Prep (20-5) at 8:15 p.m. Friday at BCC for third and fourth places. Lakeside and Issaquah already had locked up state berths with quarterfinal victories last week.

Kathryn Field led the Indians with 14 points and Beth Knudtson added 12. Defensive specialist Mary Kuder scored 13 points and Eleanor Miller 10 for Lakeside.

Lakeside 18 13 23 16 --67
Issaquah 10 17 12 18 --57
Lakeside--
Maggie Wilkens 0, Leigh Myer 0, Mikaela Cowles 27, Glenna Wiley 7, Mary Kuder 13, Jenny Weissbourd 2, Haley Hansen 8, Jennie Lobsenz 0, Eleanor Miller 10, Lisa Baldini 0.
Issaquah--
Lauren Dascenzo 5, Tracey Miyazaki 3, Beth Knudston 12, Kathryn Field 14, Melissa Richardson 6, Ellen Vertatschitsch 8, Brittany Bowsher 2, Michelle Beach 0, Danielle Bue 7, Courtney Gates 0.



Seattle Times article about Hans Gasser
click to read article on Hans
Issy downs the Totems
Eastside Journal, January 09,2003


view online story
Girls basketball: Issaquah still unbeaten in 3A Kingco
by Nathan Fenno, Journal reporter

BELLEVUE-- When you play for the Issaquah girls basketball team, defense is the bottom line.

And even after the Indians defeated Sammamish 60-35 in a 3A Kingco Conference game Wednesday night, they expected more.

``We don't think our defense was as good as it could've been tonight,'' Issaquah's Beth Knudtson said. ``(Defense) is our pride. Each night we have to prove ourselves.''

The Indians (4-0 league, 7-4 overall) are unbeaten in league play. Next week they face Bellevue in a rematch of last year's conference title game and one of the season's top contests.

On Wednesday night, Issaquah displayed many of the reasons league coaches expect the team to contend again after last year's 13-0 conference season. Only two seniors graduated (Alison Gangl and Laura Vertatschitsch) and the Indians showed not much has changed.

Their defense helped force the Totems (1-3, 2-9) into 37 turnovers and created havoc with a full-court press.

``That's our strength,'' Issaquah's Courtney Gates said. ``We had good pressure with our defense.''

The Indians only led by three points after the first quarter, but quickly found their stride. They opened the second quarter on a 11-0 run that was bolstered by Sammamish turnovers.

Issaquah's attack heated up in the third quarter, when the Indians outscored the Totems, 19-5. In the first 20 seconds of the quarter, the Indians recorded a pair of steals and layups. That started a 15-3 run that put the game away.

Kundtson scored seven of her 14 points in the period. Five of those came on free throws.

The Indians' bench combined for 30 points. Gates scored 10, while Danielle Bue and Tracey Miyazaki each scored eight.

``We have a lot of depth on this team,'' Gates said. ``The momentum keeps going.''

Lauren Dascenzo, one of five freshmen and sophomores on the team, scored eight points. Along with quick freshman guards Melissa Richardson and Ellen Vertatschitsch, Dascenzo helped ignite the team's press in the third quarter.

``They've really stepped up a lot for us,'' Knudtson said of the team's young players. ``They're playing a big role.''

Sammamish's one-two punch of Janelle Potter and Lauren Stillwell combined for 27 of the Totems' 35 points.

Stillwell scored 16 in the post, eight of those in the fourth quarter. Potter had 11.

Sammamish shot 10-for-35 from the field, compared to 20-for-45 for Issaquah. The Indians held the advantage at the free throw line, hitting 17 of 28 attempts.

Issaquah 60, Sammamish 35
Issaquah 15 16 19 10 --60
Sammamish 12 8 5 10 --35
Issaquah--
Michelle Beach 3, Brittany Bowsher 0, Danielle Bue 8, Lauren Dascenzo 8, Courtney Gates 10, Beth Knudtson 14, Tracey Miyazaki 8, Melissa Richardson 5, Courtney Stringer 2, Ellen Vertatschitsch 2.
Sammamish--
Janelle Potter 11, Lauren Stillwell 16, Jessica Myers 2, Marcela Panduro 3, Alyssa Watts 0, Jenny Cromwell 2, Anna Guardia 1, Alicia Pelton 0, Lizzie Blair 0.





team picture


(back) Courtney Stringer, Melissa Richardson, Coach Gibson, Coach Dascenzo, Coach Caller, Danielle Bue, Ellen Vertatschitsch
(middle) Tracey Miyazaki, Kaley Evanger, Lauren Dascenzo, Sicily Sanelli, Kathryn Field, Beth Knudtson
(front) Brittany Bowsher, Courtney Gates, Mychelle Beach




Indians thump the Saints


Eastside Journal January 21, 2002


view story online
Prep Sports
Issaquah 73, at Interlake 22: Beth Knudtson scored 12 points as the Indians (3-0, 4-2) routed the Saints (0-3, 3-3).

Michelle Beach scored 10 points and grabbed six rebounds and Brittany Bowsher also added 10 points for Issaquah.

Dana Allen led Interlake with 11 points.

Issaquah 73, Interlake 22
Issaquah 16 16 26 15 --73
Interlake 10 6 5 1 --22
Issaquah--
Michelle Beach 10, Brittany Bowsher 10, Danielle Bue 4, Lauren Dascenzo 9, Kathryn Field 2, Courtney Gates 6, Beth Knudtson 12, Tracey Miyazaki 9, Melissa Richardson 7, Courtney Stringer 2, Ellen Vertatschitsch 2.
Interlake--
Erin Gibson 3, Dana Allen 11, Katie Taylor 2, Chelsea Halvorson 6, Kiki Landau 0, Myriah Staton 0, Karina Rasanen 0, Roya Zahed 0, Kendra Sheedy 0. box score top





Indians escape from Patriots in OT


Eastside Journal .. December 13, 2002


view story online
Girls basketball: Issaquah outlasts Liberty for OT win
by Journal Staff

RENTON-- The Issaquah Indians survived a scare in the 3A Kingco Conference girls basketball season opener against the Liberty Patriots Friday night.

Beth Knudtson scored nine points for the Indians (1-0 league, 2-2 overall). Last season Issaquah completed the league season unbeaten at 13-0 and played in the Kingco championship game.

Brittany Bowsher and Melissa Richardson each added eight points for Issaquah.

Jessie Simons had 15 points and nine rebounds for Liberty (0-1, 3-2) and Alisha Weible scored 13 points.

Issaquah 48, Liberty 47, OT
Issaquah 8 6 17 10 7--48
Liberty 8 9 16 8 6--47
Issaquah—
Michelle Beach 6, Brittany Bowsher 8, Danielle Bue 0, Lauren Dascenzo 2, Kathryn Field 6, Courtney Gates 6, Beth Knudtson 9, Tracey Miyazaki 0, Melissa Richardson 8, Courtney Stringer 0, Ellen Vertatschitsch 3.
Liberty--
D'yona Bunker 0, Rachelle Bartholomew 5, Chrissy Kubota 0, Jessie Simons 15, Alisha Weible 13, Rebekah Bartholomew 7, Laura Machia 0, Katie Connors 0, Hilary Tanneberg 7.





Issy Crushes Cedarcrest


Eastside Journal December 18, 2002


view story online
Prep Sports
Journal Staff

At Issaquah 68, Cedarcrest 18: The Indians used their trademark defense to blow out the Red Wolves.

Issaquah held Cedarcrest to 14 percent shooting (6-for-42) and forced numerous turnovers.

Courtney Gates scored 15 points, including 9-for-12 from the free-throw line, and added seven rebounds for the Indians (2-0, 3-2).

Beth Knudtson added 12 points and seven steals, and Kathryn Field scored 11 points for Issaquah.

Eleven players earned minutes for the Indians and 10 of them scored. Issaquah outscored the Red Wolves 34-5 in the second half.

Katy Dern's five points led Cedarcrest (0-2, 1-4).

Issaquah 68, Cedarcrest 18
Cedarcrest 2 11 3 2 --18
Issaquah 12 22 14 20 --68
Cedarcrest--
Roxanne Blair 3, Jenine Drew 2, Kimmy Drew 0, Nikki Nielson 0, Kaitlin Worden 0, Tricia Nielson 3, Sofia Foster 2, Diane McKenney 3, Jennifer Hamilton 0, Katy Dern 5, Marcie McCoy 0.
Issaquah--
Michelle Beach 2, Brittany Bowsher 9, Danielle Bue 2, Lauren Dascenzo 2, Kathryn Field 11, Courtney Gates 15, Beth Knudtson 12, Tracey Miyazaki 4, Melissa Richardson 3, Courtney Stringer 0, Ellen Vertatschitsch 8.





2002-2003 Schedule




Day
Date
Team
Location
Mon
Dec-2
Jamboree
.
@Liberty
Fri
Dec-6
LakeWashington
.
Home
Sat
Dec-7
Redmond
.
@Redmond
Mon
Dec-9
Inglemoor
.
Home
Thur
Dec-12
Liberty
# *
@Liberty
Wed
Dec-18
Cedarcrest
# *
Home
Fri
Dec-20
Interlake
#
Home
Dec 26-31
Cactus Jam Tourament
.
Phoenix
Fri
Jan-3
Bothel
.
Home
Wed
Jan-8
Sammamish
# *
@Sammamish
Fri
Jan-10
MountSi
# *
Home
Wed
Jan-15
Bellevue
#
Home
Fri
Jan-17
MercerIsland
#
@MercerIsland
Wed
Jan-22
Newport
#
@Newport
Fri
Jan-24
Liberty
# *
Home
Wed
Jan-29
Cedarcrest
# *
@Cedarcrest
Fri
Jan-31
Skyline
#
@Skyline
Wed
Feb-5
Sammamish
# *
Home
Fri
Feb-7
MountSi
# *
@MountSi
* = Division Games
# = League Games





Issaquah 65 Mount Si 48


Eastside Journal January 10, 2003


view story online
Issaquah girls rally, then rout Mount Si
Journal staff

ISSAQUAH-- The Issaquah girls basketball team found themselves in unfamiliar situation, trailing 12-2 to Mount Si in Friday night's 3A Kingco basketball game.

But the Indians didn't panic and started to chip away at the Wildcats lead and won with ease 65-48.

``It was a really good team effort,'' Issaquah coach Kathy Gibson said.

Issaquah remains perfect in league play at 5-0 and improved to 8-4 overall. Mount Si fell to 3-2, 7-4.

``Mount Si was a good test at this point of the season,'' Gibson said.

Beth Knudtson scored 17 points, grabbed five rebounds, had firve assists and three steals for the Indians.

Brittany Bowsher had a double-double with 12 points and 10 rebounds for Issaquah.

Mount Si's Nicci Landdeck scored 20 points to pace the Wildcats.

Issaquah 65, Mount Si 48
Mount Si 17 9 10 12 --48
Issaquah 13 19 13 20 --65
Mount Si--
Nicci Landdeck 20, Sabrina Porterfield 0, Christie Leatiota 0, Whitney Beyerlin 10, Rachel Travis 7, Amy Keogh 2, Landa Pastrana 0, Karin Brevick 9, Rachel Perrell 0, Shannon Posey 0.
Issaquah--
Michelle Beach 8, Brittany Bowsher 12, Danielle Bue 0, Lauren Dascenzo 7, Kathryn Field 6, Courtney Gates 0, Beth Knudtson 17, Tracey Miyazaki 0, Melissa Richardson 6, Ellen Vertatschitsch 9. line score2





Meese Being Helpful


Well we got the team pictures done - I needed a model to set the lighting.
Meese is always ready to volunteer.

Friday, March 3
Issaquah Hangs on to beat Hanford 41-38 in the Elite 8
Class 3A tournament: No. 4 Issaquah gets past Hanford
By Sandy Ringer

Seattle Times staff reporter

TACOMA — Amanda Harms is one of the most feared defenders on the Issaquah girls basketball team.

Especially during practice.

"We call her Amanda Long-Arms," teammate Melissa Richardson said. "We hate practicing against her, because she's got such long arms."

...

Saturday, March 4


Issaquah Goin' to the 'Ship 2006 beating Sehome 50-33



Saturday, March 4
Richardson lifts Issaquah into title game



Melissa Tip-Off vs Regina

Tuesday, March 7
3A state girls: Issy suffers heartbreaker against Sealth 43-44


Alexa Smith makes a desperate attempt to save a ball from going out of bounds


Thursday, November 16

Issaquah Selected to Participate in National Tournament
NFHS and T-Mobile Partner to Promote Participation in High School Activity Programs

"T-Mobile Invitational" ...

Wednesday, November 29
Eagles Shoot for Rematch
By Bob Taylor

The 2005-06 girls 3A basketball season will always be remembered for what transpired after ...

Thursday, December 14
Eagles get defensive in win against MI
Eagles get defensive in win against MI

By Bob Taylor

Aubrey Jensen, of Issaquah, goes up for ...

Thursday, December 21
Jensen's Family of Teammates
When Aubrey Jensen smiles, she can light up the entire Pat Hatmaker Gymnasium. Throughout her Issaquah High School ...

Tuesday, December 26


Monday, January 1


Wednesday, January 3
National Powers Pluck Eagles
National powers pluck Eagles
Issaquah girls team can't overcome loss of court time, or talented opponents in ...

Saturday, January 6
KingCo 3A Girls Roundup | Issaquah handles Bellevue
By Matt Massey

Special to The Seattle Times

BELLEVUE — Jensen and Shoji.

The combination has the sound of a big law firm. However, Aubrey Jensen and Alyssa Shoji are the little leaders of the now-powerful Issaquah High School girls basketball program.

The 5-foot-6 guards teamed for 38 points and helped turn up the defensive pressure as sixth-ranked Issaquah bounced 10th-ranked Bellevue 56-44 in a KingCo 3A girls basketball game Friday night.

Shoji, the Eagles' junior playmaker, went scoreless in the first quarter, but heated up for 20 points to lead Issaquah (5-3 overall, 5-0 league) to its ninth consecutive win over once-dominant Bellevue (5-3, 2-2). Jensen added 18 points, with eight in the first quarter.

A third-year starter, Shoji scored 10 in the third quarter as the Eagles forced many of the Wolverines' 29 turnovers by laying down the law defensively. Shoji also had eight steals and six assists.

"She's just a great all-around player," Jensen said of her backcourt mate. "She controls the floor nicely for us. I love fast-breaking with her. She and [teammate] Amanda [Harms] are such good passers."

Issaquah, the Class 3A state runner-up last season, switched back and forth from zone to man-to-man defense and befuddled Bellevue most of the second half, taking control with a 17-1 run.

Eagles coach Kathy Gibson remembers taking over the program nine seasons ago and aspiring to the success that then-power Bellevue was achieving.

"I remember that [Bellevue] had all that height and all those [NCAA] Division-I players back then and we had none," said Gibson of the Wolverines' dominant years in the late 1990s and early 2000s.

"I feel like early on we had some good teams, but we didn't get a lot of respect. Finally, we've earned it."

Junior Joey Brazen, one of three sisters playing varsity for Bellevue, led the Wolverines with 15 points. Cody Brazen, a 6-1 senior, had 12 points and a game-high 17 rebounds.

Thursday, January 11




Wednesday, January 17


Issy Shoots Past Mercer Island




Wednesday, January 24


Issaquah Downs Skyline for Kingco Lead


Nicol refuses to knuckle under

By Bob Taylor, Issaquah Press


Erin Nicol might not be a woman of steel, but the Issaquah High School sophomore certainly plays with an iron will.

She demonstrated that fact Jan. 20 in a 3A KingCo Conference girls basketball game at Skyline.

Nicol got knocked to the floor often, suffered a cut under her chin, and had a sprained ankle before the contest even began. Yet her determination typified that of the Eagles, who rallied in the fourth quarter to beat Skyline, 61-46, in a showdown between the league's top two teams.

With the victory, Issaquah improved its league-leading record to 8-0 and season record to 8-3. Skyline, which had hoped to share the top spot with Issaquah, remained in second place with a 6-2 record. The Spartans are 8-3 for the season.

Despite her wounds, Nicol finished the game with 13 points and a team-high 12 rebounds.

In the fourth quarter, when Issaquah made its run, Nicol scored five points, grabbed six rebounds and blocked a shot. With center Alexa Smith fouling out in the fourth quarter, the Eagles were really depending on Nicol to hit the boards.

"She saved us tonight," said Issaquah coach Kathy Gibson.

Nicol wasn't the only fourth-quarter hero for the Eagles. Guard Alyssa Shoji, who finished with a team-high 17 points, scored five points and had four steals in the final period.

Guard Aubrey Jensen scored 10 of her 13 points in the fourth quarter, and Amanda Harms, who finished with 11 points, hit four clutch free throws in the final period.

Their efforts were enough to withstand a 32-point effort by Skyline's Maddie Maloney.

"Maddie had a great night. Unfortunately, she can't do it all," Skyline coach C.J. Sealey said. "We really needed some other players to step up to beat Issaquah."

Maloney was the only Skyline player to score in double figures. The Spartans did get a strong defensive and play-making performance from senior Lauren Matthews, who had three assists and three steals.

The contest was one of momentum. Skyline had it for most of the first half and the third quarter.

"We had a pretty good first quarter, played a decent second quarter and did well in the third quarter. The fourth quarter we just didn't play well as a team," Sealey said. "You have to give credit to Issaquah. They are a solid team. Their experience showed. They were calm when it counted."

Skyline led 9-7 at the end of the first quarter. On the final play of the period, Nicol battling for the ball hit her chin on the floor. While other players went to their benches, Nicol knelt down to the floor.

"It didn't hurt, but blood was gushing. I didn't know what else to do except stay down," said Nicol, who was joined by Gibson and other coaches.

Eventually Nicol was walked off the court, trying to stop the bleeding with a towel. Skyline's trainer came to her assistance and put a large Band-Aid over the cut.

Midway through the second quarter, Nicol, bandage and all, was back on the court.

Skyline led by as many as four points after a 3-pointer by Sam Angel with 2:57 left in the second quarter. However, Issaquah fought back to earn a 23-23 halftime tie when Shoji hit a free throw with 7.3 seconds left.

Issaquah went on a 10-2 run to open the third quarter. However, just when it seemed the Eagles were going to pull away, Skyline came back. The Spartans closed out the quarter with a 13-4 run to lead 38-37. A layin by Maloney with 16 seconds left put the Spartans up by one.

In the fourth quarter, a 3-point shot by Maloney with 6:19 left in the game put Skyline ahead 42-41. It was the last time the Spartans had the lead as Issaquah ran off nine straight points.

Shoji began the run with a layin. Then, Jensen wove through the Spartans for a layin. Shoji followed with a steal, scored on a layin and was fouled. She hit the free throw to complete a 3-point play.

Shoji later added another steal and fed the ball to Jensen, who was fouled. Jensen hit two free throws to put Issaquah ahead 50-42.

Two free throws by Maloney with 4:26 ended the Issaquah run.

In the next two minutes, Nicol seemed to be everywhere for Issaquah, grabbing boards on the defensive and offensive ends. With 2:16 left, she grabbed an offensive rebound, went up and scored, and got fouled. She converted the free throw for a 3-point play and gave the Eagles a 9-point lead.

At the end of the game, her teammates said they were amazed.

"She played with a battered body, but she still gave us 100 percent," Shoji said of Nicol.

Shoji pointed out that the Eagles knew they would have to play well to beat Skyline.

"Skyline is a quick and aggressive team," Shoji said. "We knew everyone on our team would have to step up and contribute."



Eagles win two others

Issaquah had three victories in all for the week.

The Eagles broke open a close battle Jan. 17 at Mercer Island by outscoring the host Islanders 21-12 in the final period. Jensen led the Eagles with a season-high 26 points. Shoji added 19 points.

Issaquah had an easier time Jan. 19, when it cruised by visiting Interlake 71-31. The Eagles took command of the game early, jumping to an 18-6 first quarter lead. Issaquah held Interlake to 11 second-half points.

Shoji topped the Eagles with 15 points. Freshman Kristin Maris scored a career-high 13 points. Smith added 13 points while Jensen and Nicol each had 10 points.




Monday, February 12


Issaquah Holds On - Gets Feel-Good Victory


Girls Basketball Roundup | Issaquah holds on, gets feel-good victory
By Seattle Times staff

ISSAQUAH — The Issaquah girls basketball team won the KingCo 3A regular-season title Friday by beating Newport — but it wasn't easy.

A night after losing to Skyline, the flu-bug-affected Eagles beat the Knights 43-42 to avoid finishing in a first-place tie with the Spartans.

Newport tried its best to make the tie happen, cutting its deficit to one point on a Kelsi Russell steal and layup with 31 seconds left. Fifth-ranked Issaquah (15-4 overall, 15-1 league) then played keep away until getting fouled with 3.4 seconds left. The Eagles missed both free throws, and Newport missed a three-pointer at the buzzer.

The Eagles, who were led by Aubrey Jensen's 11 points, next play Bellevue in the league tournament Thursday at Bellevue Community College.

Newport (10-10, 9-7), which was led by Betsy Kingma's 18 points and eight rebounds, will play a loser-out, league-tournament game Wednesday against Mercer Island.







Issaquah Secures State Berth




Issaquah 47 Lakeside 35



Saturday, March 10


Issaquah Takes 5th at State







Link to Official Tournament Website





Issaquah High School Girls Basketball
View Our Guestbook | Sign Our Guestbook
1 visitors have signed our guestbook.



"The only way to overcome is to hang in. Even I'm starting to believe that." - Dan O'Brien

Copyright © 2019, eteamz.com, Inc
User Agreement