Thursday, December 4
Issaquah begins 2008-2009 season ranked #10 in 4A
Preseason girls state rankings
(includes last season's records)
CLASS 4A
1. Lewis and Clark (Spokane) (29-0)
Jeneva Anderson (UW) is just one of several reasons Tigers can talk four-peat
2. Snohomish (21-7)
Trio of early college commits put Panthers clearly in the title picture
3. Auburn Riverside (25-3)*
It's no leap of faith to expect two-time 3A champs to make successful jump in class
4. Moses Lake (23-6)
With dynamic duo of Carly Noyes and Jordan Loera, Chiefs have chance to return to title game
5. Kentwood (Covington) (22-6)
Disappointing 2007-08 season left Nebraska-bound Lindsey Moore longing for more
6. Pasco (22-7)
Powered by six four-year vets, Bulldogs have plenty of bite
7. Mead (Spokane) (19-6)
Even without 6-5 Alexis Olgard (USC volleyball commit), Panthers appear fierce
8. Bellarmine Prep (25-6)
Lions could maul most competition with help from 6-foot transfer Simmone Potts
9. Redmond (18-8)
Deep squad returns KingCo 4A's top scorer in senior Courtney Martin
10. Issaquah (22-4)*
Young Eagles have the veteran go-to girl in 6-foot Alexa Smith
Others (alphabetically): Auburn, Eastlake, Edmonds-Woodway, Federal Way, Garfield, Graham-Kapowsin, Heritage, Marysville-Pilchuck, Puyallup, Roosevelt, Skyline, Walla Walla.
*3A school in 2007-08
Thursday, December 4
Basketball team eyes improved season
Girls basketball teams eye improved seasons
November 24, 2008
By Christopher Huber
Issaquah
The Issaquah girls basketball team fell one win short of advancing to the state tournament for the fourth straight time last season. If the Eagles are going to get back to state this winter, they'll need a crop of talented young players to grow up quickly. After losing six seniors to graduation, Issaquah enters this season with only three seniors and one junior. The rest of the cast is made up of sophomores, some of which played varsity as only freshmen. Still, because of the talent on hand, Issaquah has big things in mind.
"The girls worked really hard over the spring and summer," said head coach Kathy Gibson, whose team finished 22-4 last season. "The girls who return are quite capable of sustaining what we've done. We have high expectations for this group." The starting lineup has yet to be set, but there are good indications about how it could look. Alexa Smith is a likely candidate to start at forward, while Erin Nichol may start at guard. They could be joined by Maddey Pflaumer, Brooke Miller and Heather Morris, who is regarded as one of the team's best defensive players. Issaquah doesn't expect to stand as tall as many of its opponents this season. But size shouldn't be an issue for an Eagle team that is accustomed to an up-beat style of play. "We don't really have a true post player," Gibson said, "but we have players who can play as post players." The Eagles begin Dec. 10 by playing host to Redmond.
Friday, December 12
Young Issaquah passes first test, edges Redmond 54-49
Saturday, December 13
Girls Basketball Roundup | Issaquah rallies, stops Garfield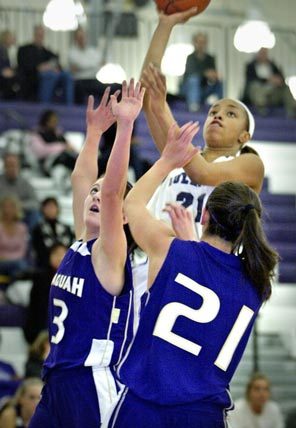 Alyse Harris shoots over Issaquah's Dominique Mendezona and Heather Morris


Sunday, December 14
Girls Prep Basketball | Issaquah overcomes early deficit to beat Lakeside

Tuesday, December 16
Girls Basketball Rankings for December 15, 2008


December 15, 2008 12:30 PM

Class 4A

1. Lewis and Clark (Spokane) 4-0
2. Kentwood (Convington) 5-0
3. Moses Lake 3-1
4. Auburn Riverside 4-1
5. Snohomish 3-1
6. Pasco 4-0
7. Mead (Spokane) 4-0
8. Bellarmine Prep (Tacoma) 3-0
9. Issaquah 3-0
10. Edmonds-Woodway 4-0

Others (alphabetically) -- Federal Way, Graham-Kapowsin, Heritage, Inglemoor, Kelso, Kentlake, Marysville-Pilchuck, Newport, Redmond, Roosevelt, Walla Walla.


Class 3A

1. Kennedy (Burien) 4-0
2. Prairie (Brush Brairie) 4-0
3. Meadowdale (Lynnwood) 3-0
4. Lakeside 4-1
5. Shadle Park (Spokane) 3-1
6. White River (Buckley) 4-0
7. Bainbridge 3-1
8. Holy Names 5-1
9. Mercer Island 3-1
10. Auburn Mountainview 4-1
Others (alphabetically) -- Bonney Lake, East Valley (Spokane), Enumclaw, Franklin, Lakes (Tacoma), Liberty (Renton), Mount Rainier (Des Moines), West Valley (Yakima), Yelm.




Tuesday, December 16
Eagles win third straight at hoops challenge


December 15, 2008

By Ryan Piersol

To pick up a victory, the Issaquah High School girls basketball team first had to pick up the pace.

The Eagles did both Dec. 13 at the Les Schwab Hoops Challenge and, as a result, picked up some early-season momentum.After falling behind by as many as eight points in the first half, the Eagles finally found their offensive flow and pulled out a 48-43 win against Lakeside at Bellevue Community College. The win makes Issaquah 3-0 on the season and gives them their third straight single-digit victory.

"It was a competitive game between two good teams," head coach Kathy Gibson said. "We kind of weathered their storm a little bit. It's a great way for us to go into next week."

Lakeside led, 15-8, at the end of the first quarter and still held a 19-11 advantage when the Eagles started to click. They went on an 11-2 run to end the half, then opened up the third period with back-to-back buckets to forge a 26-21 lead they never relinquished.

For Gibson, the difference was pace. When the Eagles finally started running their offense at a productive clip, good things started to happen.

"We have to play with heart. We have to play with energy. We cannot play flat-footed," she said. "At the start, we weren't playing our ball and we were playing slow. And we aren't very good when we play slow."

Spurred on by a MacKenzie Schiltz 3-pointer, Issaquah ended the third period with another 8-3 run to take a 38-31 lead into the fourth. A 3-pointer by Erin Nichol lifted the lead to 10, before a late Lakeside rally cut the deficit to only 47-43 with 13 seconds remaining.

The problem then for the Lions was they only had three team fouls and by the time they fouled Issaquah enough to send the Eagles to the line, there was less than a second left.

Once again, Issaquah won without standout senior Alexa Smith, who is expected to return soon. Sophomore Maddy Pflaumer picked up the slack inside, posting team-highs of 14 points and 14 rebounds.

Pflaumer's play was yet one more example of what is quickly becoming a theme for Issaquah. The Eagles played nine players extensively against Lakeside with eight of them scoring. Gibson said she's comfortable putting any of those players on the court at any time.

"The coaches love our team," she said. "We tell the girls to go hard for 10 minutes and then we get someone else in. We have to play that way, because we're undersized."

Nichol was Issaquah's only other scorer in double-figures with 13 points.

Madeline Barnes led Lakeside with 18 points. The loss was the first this season for the Lions.




Tuesday, December 16
Seattle Times Stars of the week


Stars of the week

Issaquah girls basketball team

The Eagles, coached by Kathy Gibson, opened the season with three impressive victories in four days — two over ranked teams. They started with a 54-49 win over Redmond, then rated No. 9 in Class 4A. Then, after topping Garfield 68-59, they posted a 48-43 victory over Lakeside, then No. 3 in Class 3A.




Tuesday, December 30
Issaquah 50, Monroe 35
Erin Nicol scored 16 points and Alexa Smith 15 as Issaquah broke open a close game in the third quarter. Issaquah (4-0), ranked 9th in 4A, will face Kennedy, the state's top-ranked team for the tournament chamionship at 3:00 p.m. today. Sammi Clark led Monroe (3-2) with 14 points.




Kennedy's Andrea Goins, left, battles Issaquah's Maddy Pflaumer for the ball.
Wednesday, December 31
Les Schwab/BCC Christmas Classic Girls | No. 1 Kennedy girls beat Issaquah for title

Alexa Smith goes in for two of her 15 points Monday against Monroe.
Saturday, January 3
Issaquah flusters Monroe, forces 27 turnovers

Alexa Smith goes up for a shot
Tuesday, January 6
Turnovers end title hopes for Eagles
Wednesday, January 7
Seattle Times girls state basketball rankings
Thursday, January 8
KingCo 4A Girls Basketball | Roosevelt rises up over No.8 Eagles, 55-45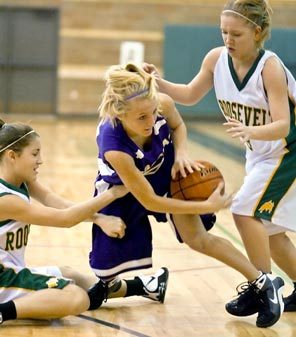 Dayna Talley of Issaquah is caught between Roosevelt's Killian and Judd
Special to The Seattle Times; Special to The Seattle Times
With a downpour raging outside, the Roosevelt girls basketball team generated a torrent of three-pointers Wednesday night to upend eighth-ranked Issaquah 55-45.
The unranked Roughriders (6-2 overall, 4-0 KingCo 4A) sank six three-pointers, three by freshman guard Katherine Woodworth, and senior Frannie Hemmelgarn was a nonstop force with 17 points and 11 rebounds.
"I've only coached here for a year and a month, but I just told her in front of the team that that was the best game she ever played for us," second-year coach Gregg Kalina said of Hemmelgarn. "She was all over the place. I don't think any coach in the league wouldn't want her on their team."
Hemmelgarn, who suffered a torn ACL in her left knee in the final regular-season game last season, says she is just starting to feel comfortable again on the court.
"I couldn't go all out and I just wasn't connecting [early in the season]," said the 5-foot-11 guard, who also recorded four steals and five assists against Issaquah (4-2, 2-1).
"I got to play the last few games in [fall] soccer, but I was still limping a little bit. Then when I started the first couple of basketball games I was nervous about it. With a hurt knee you don't want to go all out because you worry about stepping the wrong way.
"After the first couple of games it would be swollen afterwards," she said. "Now it barely bothers me. The only way I can tell I injured my leg is I play with a brace on."
Issaquah used an 11-4 run at the end of the first quarter to take a 15-10 lead. Roosevelt responded with 10 straight points in the middle of the second quarter, six on three-pointers by Hannah Judd and Sydney Melkerson.
Leading 24-20 at the half, the Roughriders broke it open in the third quarter, outscoring Issaquah 15-6 on the momentum of three three-pointers, two by Woodworth and another by Kaitlin Monnahan.
"We all came to play," Hemmelgarn said. "We're a deep team, and all of us can step up at different times, so we don't have to count on one person. That's really nice."
Alexa Smith led Issaquah with 16 points. Maddey Pflaumer added nine and Erin Nicol finished with eight.
Eagles coach Kathy Gibson conceded Roosevelt simply outplayed her team.
"Their perimeter shooting was outstanding and they killed us on the boards," she said.

Saturday, January 10
Issaquah's Pflaumer four blocks short of a triple-double
By DARREN FESSENDEN
SPECIAL TO THE P-I
BELLEVUE -- Sophomore forward Maddey Pflaumer nearly pulled off a triple-double and senior guard Erin Nicol had a game-high 17 points to lead Issaquah to a much-needed 54-47 girls' basketball victory Friday at Newport.
Pflaumer (13 points, 11 rebounds, six blocks) and Nicol (6-for-8 on free throws in the fourth quarter) had 21 of their 30 points in the second half. The Eagles overcame the sting of Wednesday's 55-45 loss to KingCo 4A leader Roosevelt. With the Roughriders now 7-2 overall and 5-0 in the Crown division -- and with wins over both Issaquah and Newport -- it was time to see how the Crest Division leaders stacked up.
"We talked about all week how we can't change the Kennedy game (Issaquah's other loss, to the undefeated defending 3A state runner-up), we can't change the Roosevelt one," Nicol said. "We just needed to focus on this one and come in with the right mind-set."
Issaquah (5-2, 3-1 KingCo 4A Crest) was locked in from the stripe, making 18 of 23 free throws to put the pesky Knights (6-2, 3-2 Crest) away in the fourth after the host team held leads of 1, 2, and 3 points at the end of the first three periods.
Newport's largest lead was 22-14 after three consecutive 3-pointers -- including a pair from junior star Betsy Kingma -- ending with 4:44 left in the first half.
The Knights' man-to-man defense and pressing style got to Issaquah early in a game that featured players sprawled all over the floor diving for loose balls and taking hard shots when driving into the lane.
"We know they play the same (aggressive) style as us, and that they probably had the same game plan," Nicol said.
Newport coach Travis Whitaker's squad was on the short end of this tenacious play shortly after taking the big lead. Second-leading scorer Christina Meehan, a senior guard, left the game for good about a minute later after suffering a concussion.
Whitaker said she should be fine, but her absence down the stretch was glaring.
With Meehan sidelined and the rest of Newport's starters -- all seniors -- other than Kingma each managing only two points, someone had to step up. Fortunately for Whitaker, two Knights did.
Sophomore guard Chanel Cambronero (nine points, all on first-half 3-pointers) and junior guard Randi Boseman combined for 16 points.
More importantly, they had four of Newport's seven 3-pointers while Issaquah made none.
"We were looking for kids to step up," said Whitaker, in his ninth year. "That's something we have to find -- a consistent third scorer."
But with Kingma (19 points, three 3-pointers), an all-league selection in each of her first two seasons, being Newport's tallest player at 5 feet 10, Whitaker's options are limited. This is particularly the case when facing a grind-it-out, pack-style defense like the Eagles.
Trailing 37-35 entering the fourth, Issaquah forced three turnovers on Newport's first four possessions and scored on five straight possessions later on to take a 46-41 lead with 3 1/2 minutes left. With the Knights in foul trouble, Issaquah capitalized by being in the bonus the rest of the way.
The Knights were just 4-for-9 on free throws.

Saturday, January 17
Issaquah girls snap Skyline winning streak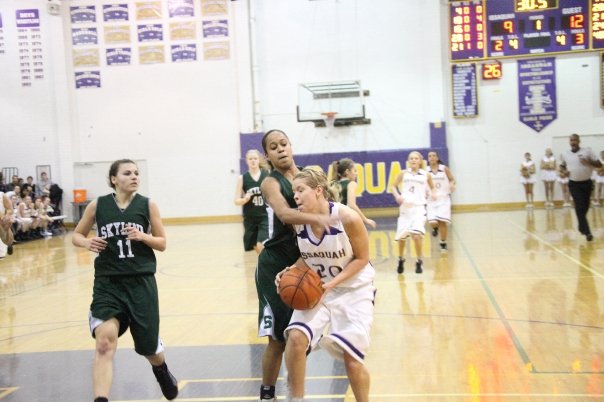 Brooke Miller drives to the hoop
Issaquah 56 Skyline 53
ISSAQUAH -- The battle of the plateau raged on as Issaquah edged Skyline 56-53 in a KingCo 4A girls' basketball showdown Friday night.
Maddey Pflaumer scored 17 points for the Eagles (7-3, 5-1), who endured a slow start but trailed by just two points at the half.
"All you have to do is look around and you will see what this rivalry is about," Issaquah head coach Kathy Gibson said. "The intensity, the noise, it can't be denied."
The Spartans (7-3, 5-2) whose loss snapped a seven-game winning streak, came out with commanding energy, using their size and speed to easily move the ball around and crash the boards on offense and rendered Issaquah helpless on defense.
"Our defense started off slow," Gibson said. "But we did a good job of staying in there with (Skyline)."
Sophomore Brooke Miller came off the bench and scored seven points in the last two minutes of the first quarter to spark the Eagles offense.
"Brooke stepped it up on offense tonight," Gibson said.
Miller finished with a season-high 12 points.
The Spartans used the space on floor to work the ball around for success from the inside and the outside. Senior Lindsey Perry hit several midrange shot and found ways to draw fouls inside.
Perry finished with 17 points.
The Spartans were really lacking inside presence with 6-foot-1 senior Carlie Wolken in early foul trouble.
"Carlie is a big player. She hit the winning shot against Redmond last game," Skyline head coach Greg Bruns said. "And not having that size makes a difference."
Wolken finished with 10 points and six rebounds before fouling out in the second half.
Issaquah senior Erin Nicol, one of KingCo 4A's leading scorers, was not as effective offensively as usual. The Spartans forced her to put up off-balance shots and held her without a field goal in the first half. She finished the game with eight points. But what she lacked in offense, she made up with hustle on defense. She pulled down rebounds and went after every loose ball.

Tuesday, January 20
Issaquah girls outlast Skyline 56-53 in high-energy match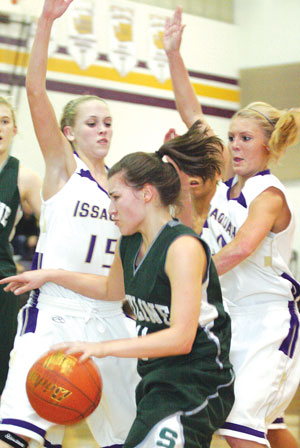 Taryn Holmes and Dayna Talley of Issaquah try to stop Lindsey Perry of Skyline.
By Christopher Huber
It's never good when four of your players foul out in the biggest rivalry game of the season. That's what happened for Skyline High School Jan. 16 against district rival Issaquah.
Despite getting into foul trouble early, the Lady Spartans stayed stride for stride until the end. Losing seniors Carlie Wolken and Mikayla Neves, and juniors Kassia Fortier and Rachel Grasso, in the final minutes of the contest didn't help, though.
The Eagles beat the Spartans 56-53 in a heated matchup that had both teams battling the crowd as much as they were battling each other.
"We really had to rise to the occasion on defense," said Issaquah forward Maddey Pflaumer, who led scorers with 17 points. "It was one of the best games we've probably played this year."
Skyline (7-3) led 14-13 at the end of the first quarter, but Issaquah kept it close through the second. The teams exchanged leads, but the Lady Eagles went into halftime up two at 31-29. Issaquah improved to 7-3 overall.
Picking up steam in the second half, both student sections chanted back and forth, feeding the energy on the court. The gym was full to the brim. As the game wore on, the tension between the girls was more and more visible.
"We haven't played against the crowd yet," Skyline coach Greg Bruns said after the game. "We came out today knowing they had some good people that could score. And we did some good things. Defensively, we got tired, I think."
And it showed. Neither team controlled the ball particularly well in the second half, as they tried to win the game down low.
Skyline's Lindsey Perry dominated against Issaquah's tight defense. She finished with 17 points and four assists.
"I thought they did a good job," Issaquah coach Kathy Gibson said of Skyline. "Lindsey Perry, she's a great player. She just made some great shots."
Pflaumer gave the Lady Eagles a 44-42 lead at the end of the third, when she beat the buzzer for a left-side layin.
"I just had to play hard and I had to do things for my team," Pflaumer said. "They found me tonight in the open gaps and I got the ball."
Despite losing key players like Wolken to foul trouble, Skyline held it together until literally the last 30 seconds.
"When you don't have a Carlie Wolken in the game — the game winner against Redmond — that hurts," Bruns said.
Issaquah's Brooke Miller scored 12 points and Alexa Smith had 10. Skyline's Neves and Wolken each finished with 10 points each. Wolken also had nine rebounds and shot 6-for-8 from the free throw line.
"We just came together as a team and pulled it out," Pflaumer said.
Friday, January 23
Issaquah edges Skyline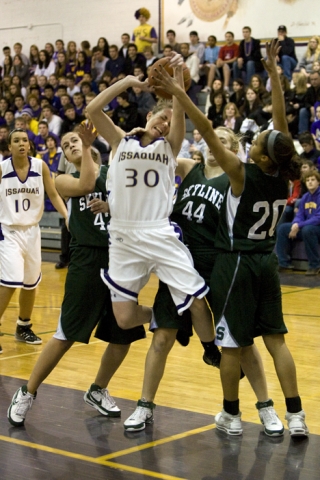 Issaquah's Erin Nicol gets fouled by Skyline last Friday

Issaquah moved into sole possession of first place Friday night, beating rival Skyline 56-53. The Eagles had three scorers in double figures, led by Maddy Pflaumer's 17. Brooke Miller scored 12 and Alexa Smith had 10. Skyline was led by Lindsey Perry's 17. Issaquah improved to 5-1 in league and 7-3 overall with the win. Skyline moved to 5-3 in league and 7-4 overall.


Tuesday, January 27
Eagles nab top KingCo spot


Issaquah won two key league contests, beating Redmond 57-50 Friday and Eastlake 48-35 on Saturday. The victories boosted the Eagles into sole possession of first place in the KingCo Crest with a 8-1 league and 10-3 overall record.

Issaquah trailed Redmond by nine points in the first quarter of Friday's game, but exploded for 22 fourth-quarter points to take the win. Alexa Smith and Erin Nicol combined for 40 points, scoring 22 and 18 respectively. Nicol scored 19 to lead all scorers in Saturday's win.






Issaquah senior guard Erin Nicol draws the foul
Tuesday, January 27
Eagles maintain division lead with 48-35 victory
 By Christopher Huber
If you hold the opposing team to nine points in the first two quarters of a game for the top spot in KingCo 4A Crest Division, you've got it made.
That's what the Issaquah High School girls did against the Eastlake Wolves Jan. 24 at Issaquah High School. 
And despite an 11-2 Eastlake run in the third quarter, the Lady Eagles (8-1, 10-3) held it together long enough to outscore and outhustle the visiting Lady Wolves (7-3, 9-4). Issaquah maintained its spot atop the division with a 48-35 win. "We just got outplayed, outworked," said Eastlake coach Scott Sartorius. "Issaquah came to play. They were disciplined and they were aggressive. They make it really hard for you to get into your offense and to execute, and we didn't really respond to that pressure."
The key for Issaquah was to maintain its composure throughout what was, at times, a sloppy, out-of-control foul-fest. The two teams committed nearly 40 fouls between them. 
Maintain composure on offense is just what Issaquah senior guard Erin Nicol did down the stretch. She entertained the sparse crowd with a couple of circuslike layups in the fourth quarter, thanks to some creative passing from her teammates. With just over a minute left, she caught a sneaky pass from the left side and tossed it up as she sailed under the hoop, out of bounds. 
"I made a couple of baskets, but I was just the recipient of a couple of good passes," Nicol said after the game. "I can't take credit for just making the layup. It was a good pass."
She led all scorers with 19 points, well above her average of 12.1 points per game.
"Erin always plays so hard," Issaquah coach Kathy Gibson said. "To get that production from her is awesome."  
The win was a culmination of Issaquah's composure on offense and consistency on defense. 
"I think we played really well as a team," Nicol said. "We handled the press better than we have in the past, and I think that it's helped that we've played a lot of teams that have put a lot of pressure on us and so we were more patient today."
The Eagles led 25-9 at the half, but the Wolves, a strong second-half team, used it as a comeback opportunity. 
"When we're down by that much, we know that we're a better team. We tell ourselves, 'We need to come out in their faces," said Eastlake senior forward Ellie Martinez.
However, the energy boost was too little, too late.
Eastlake, one of the better shooting teams in the league this year, averaging 42 percent from the field, missed easy shots and fell apart on offense at times. 
Martinez led Eastlake scorers with 11 points, while teammate Hannah Ostic had seven.
Issaquah's Blaire Brady and Alexa Smith each finished with eight points.  
"I just hope this is a sign of us maturing on the court," Gibson said. "We're going to need to. We need them to be able to be confident and make the right decisions when they're out on the court." 
Tuesday, February 3
Issaquah girls beat Garfield
Written by Christopher Huber
The Lady Eagles asserted their dominance in the KingCo 4A Crest Division play when they beat the Garfield girls 58-46.
Issaquah went into the half with a 32-21 lead over the Bulldogs and never looked back.
Senior guard Erin Nicol led scorers with 17 points, while senior forward Alexa Smith finished with 12. Sophomore forward Maddey Pflaumer had eight points.
The win helped Issaquah maintain its lead in the Crest Division with a 6-1 league record (11-4 overall).
Saturday, February 7
Halftime message pushes Eastlake to win
Special to The Seattle Times
SAMMAMISH — The message at halftime was simple.
"To be the best, you have to beat the best," Eastlake girls basketball coach Scott Sartorius told his team.
The Wolves responded with an 8-2 run to start the third quarter to build an eight-point lead against division-leading Issaquah and earned a 48-45 KingCo 4A Conference win Friday. The victory keeps Eastlake's hopes alive for a Crest Division title and No. 1 seed in the playoffs.
"This is a real big win for us. They've been the No. 1 team in our division for basically the whole season," Sartorius said.
Eastlake (12-5, 10-4 KingCo 4A) held its largest lead of the game at 43-34 with 2:20 remaining, but Issaquah (12-5, 10-3) got four points apiece from Erin Nicol and Maddey Pflaumer to cut the lead to 47-45 with 10.6 seconds left. The Eagles extended the lead to three with a Jena Boyle free throw, and a game-tying three-pointer by Eagles freshman Taryn Holmes rimmed off just before the buzzer.
"They didn't give up," said Issaquah coach Kathy Gibson of her team. "They did everything we asked them to do."
A back-and-forth, turnover-filled first half saw no team lead by more than four points.
In the third quarter, Eastlake got by with six consecutive points from 6-foot-1 junior Alyssa Charlston and some sharp shooting from beyond the three-point arc to build a lead it would never relinquish.
"We're a really good second-half team," said Charlston, who had a game-high 15 points along with six rebounds and four steals.
Issaquah played without its second-leading scorer, Alexa Smith, who missed her second straight game with an ankle injury.
Pflaumer, a 5-11 sophomore forward, led the Eagles with 13 points, eight rebounds and three blocks. Nicol, who scored 19 points to lead Issaquah to a 48-35 win over Eastlake two weeks ago, added nine points, five rebounds and three steals.

Tuesday, February 10
Issaquah girls cling to division lead after 48-45 loss to Eastlake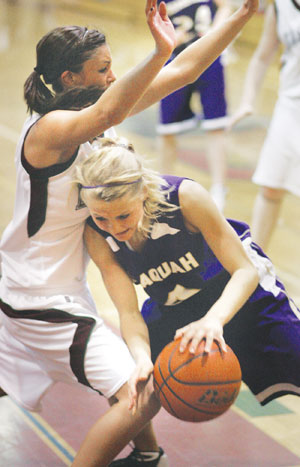 Dayna Talley drives to the hoop
February 9, 2009
By Christopher Huber
It was pretty straightforward: The Issaquah girls basketball team had to hold off division-rival Eastlake if it wanted to remain atop the KingCo Crest Division standings.
The Eagles had beaten the Wolves two weeks ago at Issaquah and needed to assert their dominance on the road.
"We wanted revenge from them from last time," Eastlake senior Alyssa Charlston said. "We lost big to them last time and got embarrassed."Eastlake (12-5, 10-4 KingCo Crest) got its revenge in a 48-45 win against Issaquah (12-5, 10-3) Feb. 6 in front of an excited home crowd.
"I told the girls, 'To be the best, you've got to beat the best,'" Eastlake head coach Scott Sartorius said after the game.
Neither team looked its best in the first half. Eastlake finished the quarter with an 11-9 lead. The two teams traded turnovers for the beginning part of the second quarter and scored a combined four points in three and a half minutes. "Since the shots weren't falling and we weren't finishing, we really had to get defensive stops," Issaquah's Maddey Pflaumer said. "We had to contain them and we'd try to score, but it didn't work."
Eastlake's Ellie Martinez broke the scoring drought with less than three minutes left in the half and Issaquah turned up its defense to finish out the second.
"I think we played a little bit tentative in the first quarter," Issaquah coach Kathy Gibson said after the game. "It took us a while to build that confidence. The girls were kind of frustrated and kind of dwelling on missing some of those layins."
Eastlake led by two, 18-16, at halftime after senior forward Laura Bachman drained a 3-pointer in the final minute.
Both Eastlake and Issaquah came out ready to play in the second half. In the third, Pflaumer had her second block of the game just as the Lady Wolves found their rhythm down low and went on an 8-2 run.
"We moved better outside," Sartorius said. "The defense shifted and allowed Ellie (Martinez) and Alyssa to get some more shots."
Issaquah held its own down the stretch, battling to within two points late in the fourth quarter, but Eastlake senior guard Jena Boyle hit one last free throw to make it a 3-point game.
"We were actually pretty proud of the way we played," Pflaumer said. "We kept it close, and it was a hard loss, but we were happy with the way we finished strong."
Charlston finished with a game-high 15 points; Martinez and Bachman each had 11.
Pflaumer led the Lady Eagles with 13 points, while senior Erin Nicol scored well under her average with nine points.
"In the second half, to their credit, they fought back and it got away from them a little bit, but they didn't give up. They played hard and did everything we asked them to do," Gibson said. "Down the stretch, I thought we executed pretty darn well. I told them, 'You've got to think about the good things we did in this game.' And the things we didn't do well, like finish, some turnovers early on, those are fixable things."
Thursday, February 12
Issaquah defeats Newport 69-57 on Senior Night to secure #1 seed in Kingco Tournament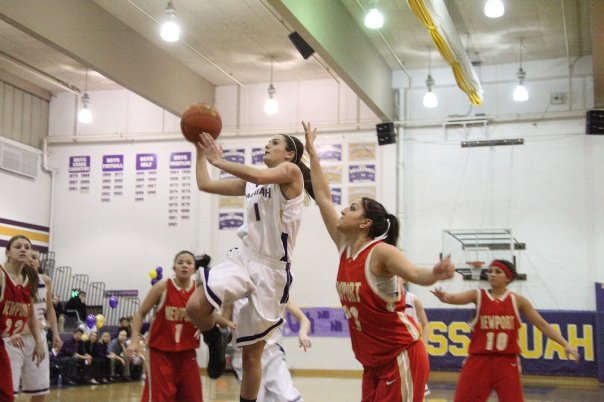 Heather drives to the hoop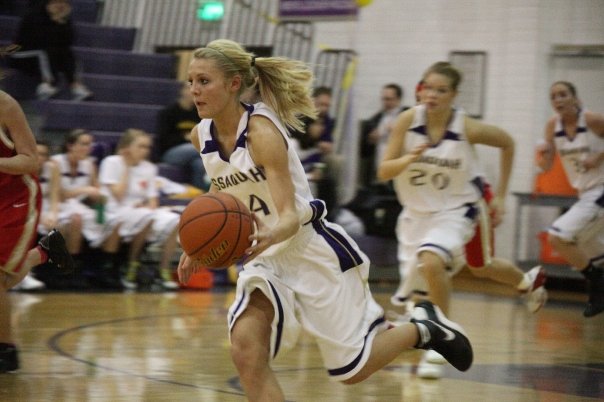 Dayna on the fast break

Brooke on defense
Thursday, February 12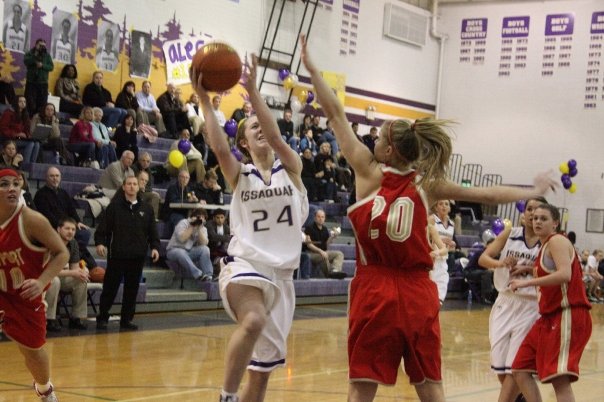 Blaire for 2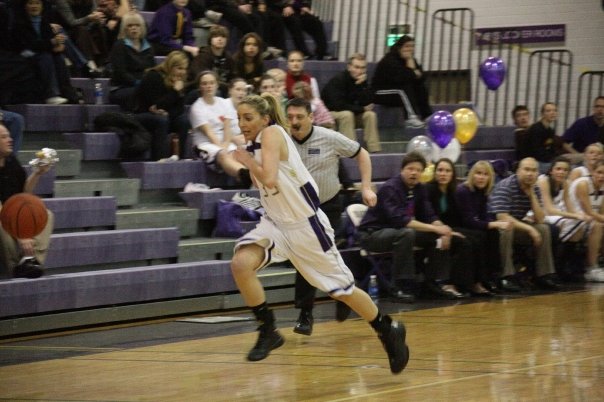 Lex scrambles for a loose ball

Erin's free throw focus
Thursday, February 12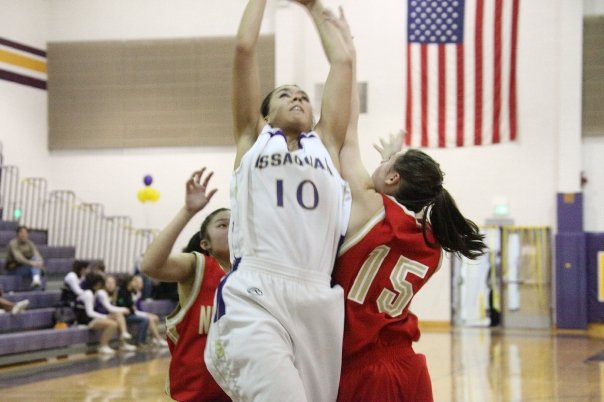 Maddey secures the rebound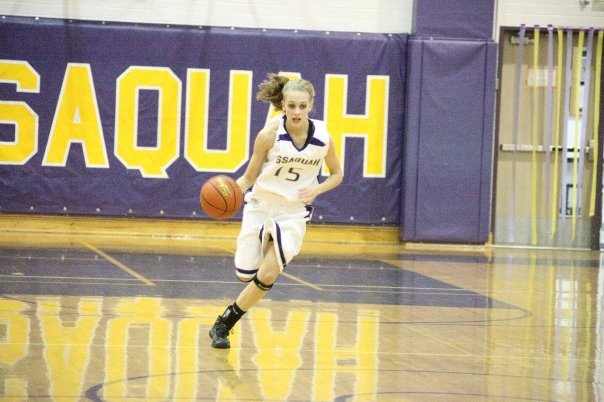 Taryn runs the offense

Mackenzie waiting to make the pass
Thursday, February 12
Wednesday, February 25
Kingco and GSHL Tournament Brackets and Records and Standings (REVISED 2/27/09)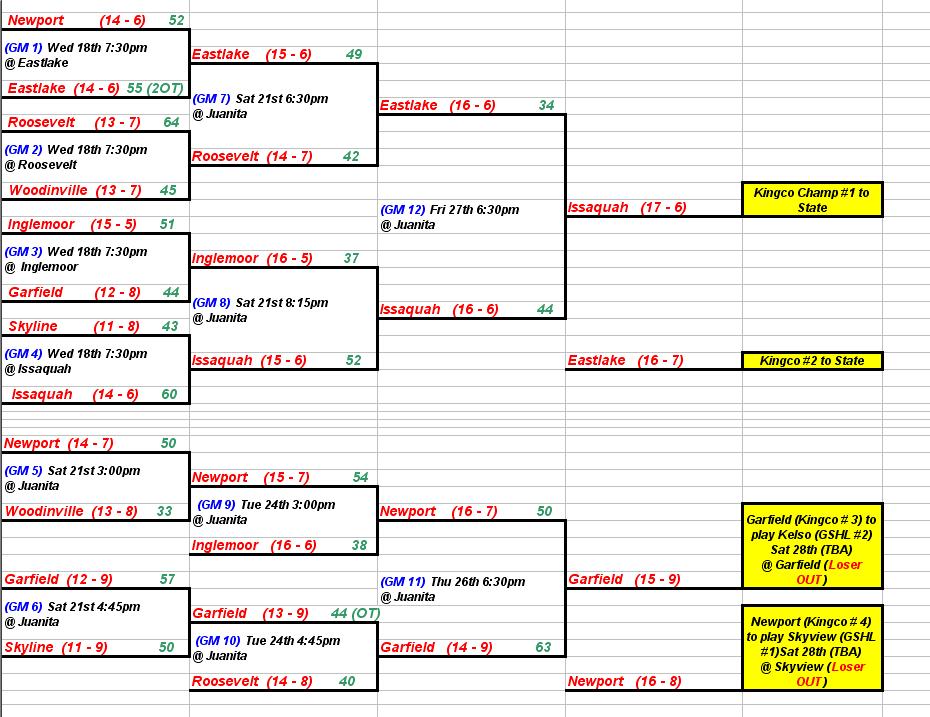 Kingco Tournament Bracket (Revised 2/27/09)

GSHL Tournament Bracket (Revised 2/26/09)
Sunday, February 22
Issaquah headed to state
Issaquah 52, Inglemoor 37
(winner to state)
The Eagles (16-6) got off to a 20-10 first-quarter lead against the Vikings (16-6). Inglemoor faces Newport in a loser-out game at 3 p.m. Tuesday at Juanita. Blaire Brady and Erin Nicol scored 12 apiece for Issaquah. The Eagles limited Inglemoor's leading scorer, Alex Nelson, to five points. Lynsey Sandum led Inglemoor with nine points.
Sunday, February 22
Girls basketball | Issaquah earns redemption over Skyline
Five days after losing to Skyline, Issaquah earned redemption over the Spartans with a 60-43 victory in the first round of the KingCo 4A playoffs.
The Eagles, ranked No. 1, led from start to finish over eighth-ranked Skyline. Three players scored in double-figures for Issaquah, led by Maddey Pflaumer's 16 points. Erin Nicol had 12 and Brooke Miller added 10.
The Spartans were led by Lindsey Perry's game-high 20 points.
Issaquah advanced to a winner-to-state game against Inglemoor at 8:15 p.m., Saturday at Juanita High School. Skyline moved into the losers' bracket and will face Garfield at 4:45 p.m., Saturday at Juanita.
Thursday, February 26
Issaquah, Eastlake girls clinch state berths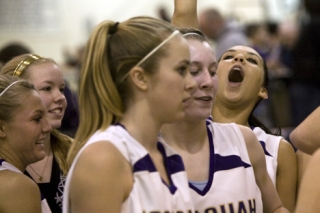 Maddey lets out a yell with Maddie, Blaire and Dayna
By KEVIN ENDEJAN
Issaquah Reporter Staff
Alexa Smith, Erin Nicol and Heather Morris walked hand-in-hand back to the Issaquah bench Saturday night with smiles plastered on their faces.
The Eagle's only three seniors rejoiced after locking up a trip to the state tournament – a place they last ventured as sophomores.
"We're all best friends, so it feels good to all do it together and know that our season isn't going to get cut short like it was last year," said Nicol, referring to Issaquah's early exit in the 2008 3A Sea-King District tournament.
The Eagles clinched their state berth with a 52-37 victory over Inglemoor in the second round of the KingCo 4A tournament.
"Obviously there's things we can clean up, that we're going to have to, but I'm happy for the girls," head coach Kathy Gibson said. "I'm happy because the seniors get to go back, and I'm happy because all of our young girls get the experience."
Issaquah used a fast start to build an early cushion over Inglemoor.
The Eagles were 8-for-13 (61 percent) from the floor in the first quarter and outscored the Vikings 9-2 in the final two minutes of the first for a 20-10 lead. Morris started the run with a back-to-back shots, a three-pointer and a layin, and Nicol laid a shot up and in before the buzzer for two of her seven first-quarter points. Issaquah didn't have any turnovers in the first quarter, and only two in the first half.
"We came out with a lot of energy and I think that we executed on offense more than we usually do ...," Nicol said.
The Vikings pulled to within nine points, 30-21, in the third quarter, but the Eagles bumped their lead back up to double-digits for the remainder of the contest.
Issaquah struggled in the second half, committing 11 turnovers and knocking down just six field goals.
"We don't play hesitant very well and we were hesitant," Gibson said.
The Eagles saved themselves from the free-throw line, however, where they went 10-for-13 in the second half.
Nicol scored 12 points, 10 of which came in the first half. Sophomore Blaire Brady scored 12 points and shut down the Viking's leading scorer Alex Nelson, holding her to just five points.
Issaquah improved to 16-6 overall and faces Eastlake (16-6) at 6:30 p.m., Friday at Juanita High School for the KingCo 4A championship. This is the third time in the last four years the Eagles have made the state tournament. They finished fourth place in 2007 and second in 2006. The 4A state tournament begins Wednesday, March 4 at the Tacoma Dome. First-round draws will be decided on Sunday, March 1.

Kingco 4A District Tournament Champions
Friday, February 27
Issaquah beats Eastlake 44-34 to win the Kingco 4A District Tournament Championship !
Friday, February 27
Sea-King 4A Girls: Issaquah's momentum building
Special to The Seattle Times
KIRKLAND — It's all about momentum.
Sure, the trophy and the No. 1 seed are nice, but after winning the Sea-King 4A District girls basketball championship, Issaquah coach Kathy Gibson was more excited about entering the state tournament with a win.
The Eagles went 16 for 23 at the free-throw line and played stifling defense to beat Eastlake of Sammamish 44-34 at Juanita High School Friday night.
"We talked about when going to the state tournament, you want to be playing your best and beating good teams gives you that momentum," said Gibson. "Hopefully we can build on that."
Eastlake advances to state as the district's No. 2 seed.
The Eagles (17-6) held the Wolves (16-7) scoreless for more than 6 ½ minutes in the first half. A 12-2 Issaquah run — with six points coming on free throws — gave Issaquah a 20-10 lead.
Sophomore forward Maddey Pflaumer scored 10 points and senior guard Erin Nicol had eight points, six rebounds and three steals for Issaquah. Alexa Smith, who missed the previous meeting between the teams (a 48-45 Eastlake victory) because of an ankle injury, had six points and seven rebounds.
"It's definitely a cherry on top," said Nicol, who said losing in districts the last two years was a "buzzkill."
Eastlake's Laura Bachman scored 10. Ellie Martinez had seven points, nine rebounds and three steals.
Note
• Today, Newport (16-8) plays at Skyview (15-5) of Vancouver at 5 p.m., and Kelso (16-6) will play at Garfield (15-9) at 6 p.m. in winner-to-state, loser-out games.
Sunday, March 1
Washington 4A State Tournament Bracket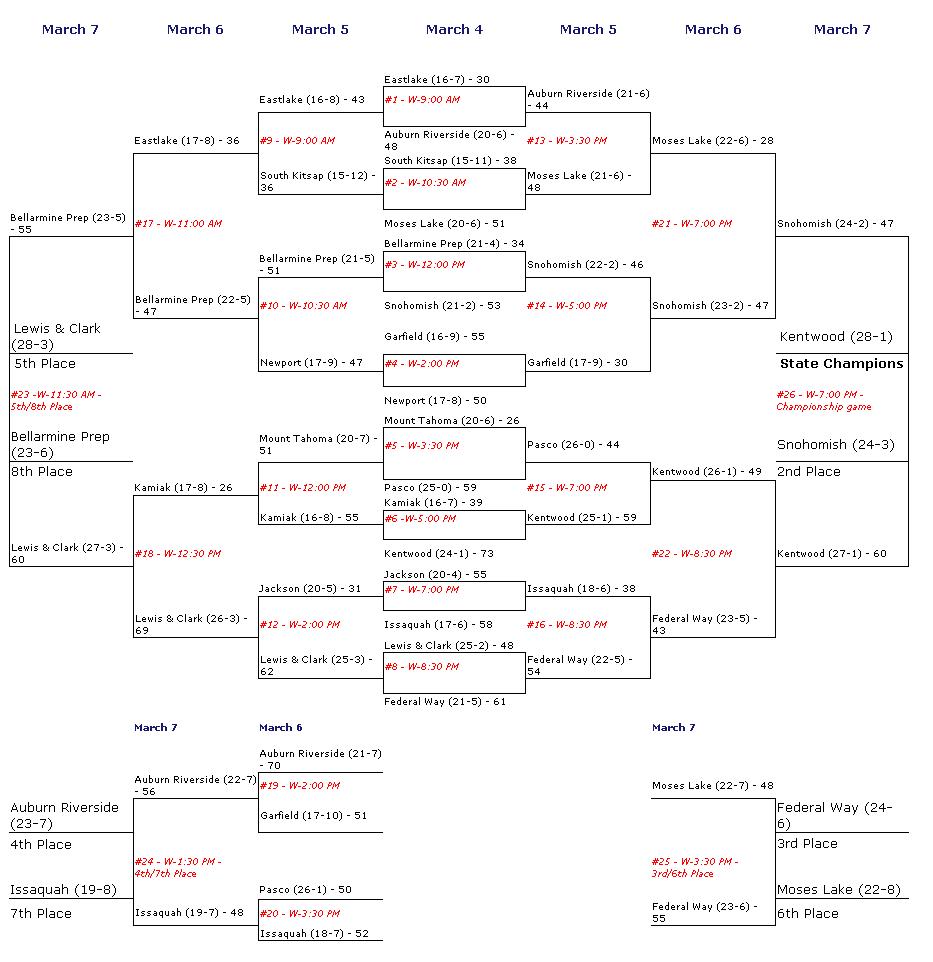 4A State Tournament Bracket (Revised 3/8/09)


Wednesday, March 4


Erin Nicol selected as Kingco 4A MVP




Congratulations to the following players for being selected by the Kingco Coaches to the All-Kingco League Teams.

Erin Nicol - Kingco 4A MVP

Alexa Smith - Kingco 4A 1st Team

Maddey Pflaumer - Kingco 4A Honorable Mention

Blaire Brady - Kingco 4A Honorable Mention

Coach Gibson - Kingco Coach of the Year



Wednesday, March 4


Issaquah comes from behind to beat Jackson 58-55 in the first round of the 4A State Tournament


Issaquah advances to play Federal Way in the QTR Finals of the 4A state Tournament in the Tacoma Dome.

Friday, March 6


Issaquah loses a tough match with Federal Way




Issaquah lost to Federal Way in the Washington State 4A Basketball Tournament qtr finals 54-38.  Next up is a matchup with #1 ranked Pasco at 3:30pm today for a chance to play for a trophy on Saturday.  Come down to the Tacoma Dome today to cheer on our girls.  Go Issy!



Friday, March 6


Issaquah upsets #1 ranked Pasco in the 4A State Tournament.


Issaquah came from behind to defeat #1 ranked Pasco 52-50 friday in the State Tournament.  Alexa Smith had 21 points and 9 rebounds to pace the Eagles.  Issaquah plays Auburn Riverside Saturday at 1:30 for 4th and 7th place in the Tournament.



Issaquah ends a spectacular season finishing 7th in the 4A State Tournament
Saturday, March 7
Issaquah edged out by Auburn Riverside 56-48
Issaquah fought hard but was edged out by Auburn Riverside 56-48 for 4th place in the 4A State Tournament at the Tacoma Dome Saturday. Issaquah moved up from 3A to 4A this year and finished out a spectacular season taking home the 7th place trophy. The girls played inspired basketball this season and earned the Kingco Regular Season Championship as well as the District Tournament Championship.
Congratulations to the team and the coaches on a great year!
Monday, March 9
Photos from Issaquah vs Auburn Riverside
Monday, March 9
Photos from Issaquah vs Federal Way
Tuesday, March 10
Eagles end coaster ride at state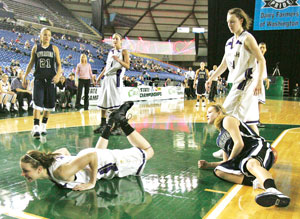 Erin Nicol leaves it all on the court in a narrow loss to Auburn Riverside
By Ryan Piersol
Issaquah leaves undefeated Pasco in its wake en route to 7th place
The Issaquah girls basketball team didn't finish No. 1, but it did beat a top-ranked team and set the tone for future 4A marches with a seventh-place finish in the state tournament last week at the Tacoma Dome.
The KingCo Conference champion Eagles finished the season with a 19-8 record. The state trip was Issaquah's sixth since 2000, but first since moving up a class to 4A.
After beating Jackson 58-55 in the opener, the Eagles' first loss of the tournament was a 54-38 decision to Federal Way in the quarterfinals. Facing traps both in the full-court and half-court, Issaquah turned the ball over 20 times and shot just 22 percent from the field in the defeat."We didn't handle it very well. We just had a lot of mental mistakes and didn't handle that pressure very well," Issaquah head coach Kathy Gibson said. "Why? I don't know. The girls knew what they were supposed to do. They just didn't do it.
"We're a better team than that. Federal Way is a good team, but unfortunately, they didn't beat us doing our best."
Issaquah trailed just 8-6 at the end of the first period, but a small run early in the second opened up a 16-8 Federal Way lead and it was 25-16 at halftime. That lead grew to as much as 37-21 by the 3:26 mark of the third period, after Federal Way hit a 3-pointer and got back-to-back layups off turnovers.
Erin Nicol led Issaquah with 15 points, 11 of which came from the free-throw line. None of the Eagles hit more than three field goals.
"These games are tough to lose, because everyone wants to win. It's kind of who can bounce back the fastest, really, and who wants to bounce back," Gibson said. "It's tough to bounce back and is a tough mental challenge for the girls."
Issaquah handled it just fine, however, as it came back the next day to topple top-ranked Pasco 52-50 behind a huge game from senior Alexa Smith.
Smith scored 21 points and pulled down nine rebounds, while also scoring the eventual game-winning bucket with 1:11 to play. Smith was 6-of-9 from the field and 9-of-12 from the line.
Pasco, which had lost for the first time the previous day, led 16-10 at the end of the first. But Issaquah rallied with an 18-point third period to take control at 41-38 going into the fourth.
Sophomore Maddey Pflaumer added 10 points and six rebounds for the Eagles, who then moved onto a matchup with Auburn Riverside for fourth place in the tournament.
Issaquah jumped out to a 12-4 lead at the end of the first period and controlled the game until late. It appeared the Eagles were going to run away with the win at one point in the third period, as they had a 40-25 lead. They still led 43-33 going into the fourth quarter, when Auburn Riverside turned on the offense and erupted for 24 points to score a come-from-behind 57-48 victory, putting Issaquah into seventh place for the tournament.
Nicol had a big game for the Eagles, knocking down 7-of-17 shots to finish with 15 points. Smith had 11 points and seven rebounds, while Pflaumer added 10 points.
Issaquah opened the tournament with a 58-55 win against Jackson. Nicol led all scorers in that one with 18 points, while Smith chipped in 12 and Pflaumer 10.
The Eagles trailed, 49-43, going into the fourth quarter, before a stingy defensive effort got them back on top. Two free throws by Pflaumer gave them a 50-49 lead with 5:25 remaining. Jackson had a chance to tie the game in the final seconds, but missed on a 3-point attempt.
After shooting 58 percent from the field in the first half, Jackson was held to just 31 percent in the second half.
Smith honored
For individual honors, Smith was selected to the all-tournament second team. She averaged 12.5 points, 6.0 rebounds and 2.8 assists. Nicol, who wasn't selected to the all-tournament team averaged 13.5 points and 3.2 rebounds. However, she was selected as KingCo's Most Valuable Player this season.
Tuesday, December 30
Off early, Issaquah finds way to title in Comcast Christmas Classic
BOTHELL — Already undefeated and top-ranked in Class 3A, the Issaquah girls basketball team closed out 2007 with perhaps its most impressive win of the season.
In the final of the Comcast Christmas Classic at Bothell High School, Issaquah rebounded from a slow start to beat Kentwood 54-44 and improve to 8-0 heading into 2008.
"It's a good feeling right now," Issaquah guard Alyssa Shoji said. "We just want to keep it going."
Six minutes into Saturday's final, the Eagles weren't feeling so great. They trailed 8-2 after missing all but on of their first nine shots, and they were letting Kentwood get to the basket too easily.
"We were settling [for bad shots], which we told the players," Issaquah coach Kathy Gibson said. "You hit one, and it kind of gets you going. And we needed to hit a couple."
With the Eagles offense seeking some stability, junior forward Maddey Pflaumer provided it off the bench. She scored eight of her 10 second-quarter points as part of a 10-2 run that put Issaquah ahead 23-13, and the Eagles didn't trail again. Pflaumer finished with a team-high 16 points.
"She was a huge help," said Shoji, who scored 11 points.
In the second half, Issaquah switched to a zone defense and allowed only one field goal in the third quarter. The Eagles took a 40-31 lead into the fourth quarter.
Kentwood, which played its third game in three nights and lost its second in a row, often settled for — and missed — outside shots. The Conquerors (7-3) made only one of 15 three-point attempts, and shot 25.8 percent for the game.
"Our zone defense really kept up the heat," Pflaumer said.
Tuesday, February 5
Issaquah girls avenge loss to Bellevue, close in on league title
By DEREK BELT
SPECIAL TO THE P-I
BELLEVUE -- When the top two teams in any conference tangle so late in the season, this is exactly the kind of game one hopes to see. Back and forth. Down to the wire. Nothing left to the imagination.
Issaquah avenged its only loss of the year and spoiled Bellevue's senior night, outlasting the Wolverines 60-56 in an overtime thriller on Monday. The win moves the fifth-ranked Eagles (18-1, 13-1) one step closer to the KingCo 3A girls' championship, which they can wrap up Thursday with a win at Skyline.
Bellevue can still force a tie atop the league standings, but the Wolverines (15-4, 13-2) need help. They must beat Liberty on Thursday and get Skyline to upset Issaquah.
"We're on a high right now," said Issaquah senior Alyssa Shoji, a Santa Clara signee who scored a game-high 18 points and buried two clutch free throws with 7.6 seconds left in overtime to ice the game. She scored five points in extra period.
"I didn't want to go home feeling like I did last time," Shoji said.
When Bellevue and Issaquah last hooked up Jan. 4, the Wolverines stunned Issaquah -- unbeaten and ranked No. 1 at the time -- by a 53-36 margin. They used a 22-10 first-quarter blitz to take control, and could have put themselves in position to win their first KingCo championship since 2002 with a similar performance on Monday.
Shoji and the Eagles had other plans.
Both teams came into the contest having won eight in a row, but Issaquah shot 8-for-15 from the floor in the first period and raced to a 17-8 lead as the Wolverines struggled to find their rhythm. Bellevue made only 3 of its first 15 shots.
"The emotions of senior night got us," Bellevue coach Ron Tinnin said. "We spotted them the whole first quarter."
Bellevue fought back and closed to within 31-28 at the break, then grabbed its first lead with 7:05 remaining in the third quarter on a baseline 3-pointer by Alexa Smith, who scored 14 points.
The rest of the half was tight and both teams traded baskets until the end. Shoji popped a 3-pointer from the left side late in the fourth quarter to give Issaquah a 50-45 advantage, but Bellevue rallied from four points down with less than a minute left.
A 3-pointer by Emilie Gilbert made it a 50-49 game with 22 seconds left, and Issaquah's Erin Nicol made one of two free throws with 14.7 seconds left to give the Wolverines a chance to tie or win with a three. Alexis Kinney, the shortest player on Bellevue's roster at 5-foot-4, went strong to the hoop and drew a foul with 3.6 ticks left on the clock. She calmly sank both free throws to tie the score at 51 and force OT.
"They can shoot their way into any game in a heartbeat, and that's what they did," Issaquah coach Kathy Gibson said of the Wolverines.
Overtime wasn't as kind to the home team, though. Bellevue shot 0-for-4 in the extra session and never led. The Wolverines, who got 16 points from Joey Brazen, pulled within 55-54 on three free throws by Kinney, but Shoji's two foul shots with 7.6 seconds to play sealed the deal.
"Both teams wanted it so bad. We just kept going at it," Brazen said afterward. "I would rather lose a game by four in overtime than win a game by 30."
Gibson said it was a great tuneup for the playoffs.
"This is the kind of game you want going into the postseason," she said. "The last time around we flat out didn't show up. When we opened up I knew that was the Issaquah team we're used to seeing."
Tuesday, February 5
KingCo 3A Girls | Issaquah gets grip in OT
By Tom Wyrwich Seattle Times staff reporter
BELLEVUE — With a handful of missed opportunities in the final 90 seconds of regulation, Issaquah temporarily lost the handle of a win the Eagles have been talking about for a month.
So as overtime began, all guard Alyssa Shoji could think about was this: "I wanted to get it over with."
With some fearless drives through the Bellevue defense and some free throws the Eagles surely could have used earlier, Shoji did just that in leading fourth-ranked Issaquah to a 60-56 overtime victory at Bellevue Monday night.
"That's the kid you want to have the ball," Issaquah coach Kathy Gibson said.
Issaquah took a one-game lead on the Wolverines in the KingCo 3A Conference, and the Eagles (18-1, 14-1 KingCo 3A) can clinch their fifth consecutive regular-season conference title with a win Thursday night at Skyline. Their only loss this season came Jan. 4 against Bellevue (15-4, 13-2).
"Ever since the end of the last game, we've been biting our nails to get back at them," Shoji said.
Issaquah was biting its nails again in the final 90 seconds. In that time, the Eagles made only one of five free throws — including three misses on the front ends of one-and-ones.
That allowed Bellevue, which had scored only four points in the first 7 minutes of the fourth quarter, to tie it with a late Emilie Gilbert three-pointer and Alexis Kinney's two free throws with 3.6 seconds left.
"It was so stressful," Shoji said.
But the Eagles clamped down again and didn't allow a field goal in overtime. Shoji, who also had a crucial overtime steal, began driving to the basket and scored seven of her game-high 18 points in the extra period.
After anxiously waiting an extra 15 minutes during Bellevue's senior night ceremony, Issaquah started quickly. The Eagles took a 17-8 first-quarter lead against the Wolverines, who have outscored teams 274-187 in the first quarter this season.
"The emotions of senior night just got us," Bellevue coach Ron Tinnin said. "It's almost like we spotted them the whole first quarter. We were just fighting uphill the rest of the way."
Thursday, January 24
Defense does it for Issaquah
ISSAQUAH — That, said Issaquah girls basketball coach Kathy Gibson, is more like it.
Her fourth-ranked Eagles held Newport to a season-low point total Wednesday night, beating the No. 8 Knights 56-44 in a KingCo 3A game.
"We've been working extra hard to improve on defense because we just weren't meeting our expectations," Gibson said. "Tonight, we frustrated them."
Issaquah (15-1 overall, 11-1 league) held Newport scoreless for five minutes as the Knights (11-4, 9-2) missed their first 12 shots. The Eagles led 9-0 before going through their own 0-for-12 stretch.
Newport rallied from its cold start to lead 27-25 midway in the third quarter, but Issaquah closed the quarter on a 14-6 spurt, when senior point guard Alyssa Shoji scored nine of her 17 points. The Knights never pulled closer than five points thereafter.
"In the first half, we got great looks [on offense], but we were just missing from short range," Gibson said. "But I'm not worried about the offense right now. We're really working on the defense."
The Issaquah coach has been stressing the importance of sustaining intensity throughout a game.
"Our focus was to play a strong four quarters," said Shoji. "We didn't start out great tonight, but we definitely ended it well. We finally got the groove. Our coach tells us if we play four strong quarters we'll beat any team."
Junior forward Alexa Smith matched Shoji's total of 17 points and added a team-high 14 rebounds. Gillian Pennington posted nine points and nine rebounds for the Eagles.
Lauren Vannini scored nine and Patrice McKinnon had 11 rebounds for Newport, which had a seven-game winning streak snapped.
Gibson was asked to evaluate her team's potential.
"I love this team," she said, "if we could figure out how to play hard for four quarters. I've told them the sky is the limit, but that's a big if.
"If we can get them to compete for four quarters and focus in on the basketball part of the game, on defense, we'll do well. Tonight we were much improved."