Middletown Islanders: Welcome
Welcome to Middletown/Newport Youth Football and Cheerleading!
Click events above for further details. Click location name for directions.
TAG DAY
Tag Day fundraiser is Saturday, August 12th. Schedule:
8 am to 9:30 am: Jr Varsity football and Tiny Mite Cheer
10 am to 11:30 am: Jr PeeWee football and Mitey Mite cheer
12:00 pm to 1:30 pm: Mitey Mite football, Jr PeeWee Cheer and PeeWee Cheer
2:00 pm to 3:30 pm: Tiny Mite football, PeeWee football and Jr Varsity Cheer
TEAM PHOTOS
Team photos will be done for all teams at our home game on September 16 or 17 - details sent out later.

Click the picture to register
REGISTRATION
Registrations will be open for only a few more days. Most football teams are full. There is room on cheer teams.
Cheer coaches still needed.
CAR WASH
Thanks to everyone who attended our car wash fundraiser! Even with a cloudy, rainy day we did well and had excellent attendance.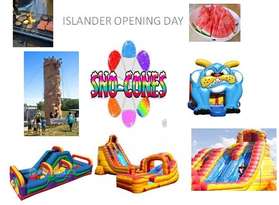 Click on the picture to sign up to volunteer
OPENING DAY
Thanks to everyone who volunteered and attended! Great turnout even though the weather wasn't that great, especially for the waterslide. Apologize for the absence of the rock wall - the company was a no show.
FACEBOOK
Check us out on Facebook! Join our group or become a fan! Leave comments, post photos and keep informed on news! Click on the logo below. Middletown Pop Warner
The Contest
The contest lasts of moments
Though the training's taken years
It wasn't the winning alone
That was worth the work and tears
The applause will be forgotten
The prize will be misplaced
But the long hard hours of practice
Will never be a waste
For in trying to win you build a skill
You learn that winning depends on will
You never grow by how much you win
You only grow by how much you put in
So any new challenge you've just begun
Put forth your best effort
And you've already won
-Anonymous
Fill in below to comment on our site or send an email.
ABOUT POP WARNER
WHY JOIN POP WARNER
The mission of Pop Warner Little Scholars, Inc. is to enable children to benefit from participation in team sports and activities in a safe and structured environment. Through this active participation, Pop Warner programs teach fundamental values, skills and knowledge that children will use throughout their lives.
Here are some of the many reasons Pop Warner is and has been the largest national youth football and cheerleading & dance program for 76 years and counting!
Click here for More-
Aquidneck Island Web Site
Click on the pineapple to get news of events on Aquidneck Island, organizations and lots of great information!
DIVISIONS/CONFERENCES
Middletown Islanders is an Association belonging to the Rhode Island Southeast Massachusetts (RISMA) conference. This conference is made up of 10 Associations. A 9 week, 8 game schedule is played. All football teams except Tiny-Mite and Mitey-Mite can progress to playoffs. All cheer teams except Tiny-Mite and Mitey-Mite participate in a state competition. Tiny-Mite and Mitey-Mite cheer perform an exhibition at competition and Tiny-Mite and Mitey-Mite football may participate in an end of the year bowl game.
| | |
| --- | --- |
| Barrington Eagles | Middletown/Newport Islanders |
| Dartmouth Indians | New Bedford Bears |
| Dighton Rehoboth Falcons | Old Rochester BullDogs |
| East Bay Warriors | Portsmouth Patriots |
| Fairhaven Blue Devils | Sakonnet Schooners |
ISLANDER MERCHANDISE
Have you bought Islander merchandise to show your blue pride? Check out our merchandise tent on the field during our regular season. Sweatshirts, headbands, beanie hats, seat cushions, blankets, ponchos and more!