I.S. 318 : Welcome
Thursday, June 1
Welcome To The I.S. 318 Conquistadors
Baseball Team Website
2010, 2011, 2012, 2013, 2014, 2015, 2016, 2017 Brooklyn Champions
2014, 2015 MSBL NYC Runner-Up
2011, 2013, 2016 and
2017
MSBL New York City Champions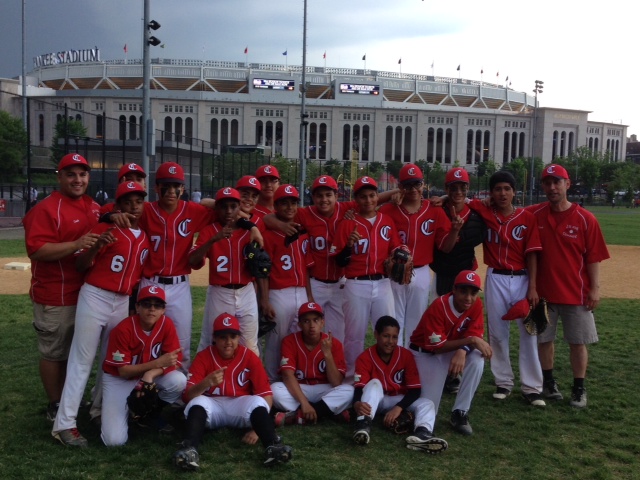 2017 NYC Middle School Baseball League Record
15-0
| | | |
| --- | --- | --- |
| 6/10 vs. ESMS | Win 10-2 | Back to back NYC CHAMPS! What a season! Congrats to all our seniors! |
| 6/8 vs. M.S. 279 | Win 15-1 | Back to Columbia! Myles strikes out 8 and Antonio ropes a triple and a double. |
| 5/31 vs. M.S. 126 | Win 14-0 | Myles pitches a complete game shutout. We are Brooklyn Champs! |
| 5/26 vs. I.S. 71 | Win 21-0 | Myles strikes out 8 and hits a grand slam with 7 RBI. Yates goes 3 for 3 with 3 RBI |
| 5/23 vs. M.S. 661 | Win 20-0 | This was the I.S. 318 baseball team program's 100th all-time win!! |
| 5/17 vs. M.S. 126 | Win 14-1 | Antonio hits a 2-run home run with 5 RBI |
| 5/11 vs. M.S. 136 | Win 14-0 | Myles strikes out 10. Marquis hits 2 doubles and a triple with 5 RBI |
| 5/8 vs. M.S. 126 | Win 10-0 | Antonio strikes out 12 batters in 5 innings |
| 5/4 vs. M.S. 577 | Win 16-0 | Myles strikes out 7 and adds 3 RBI. Franklyn goes 2 for 2 with 2 RBI |
| 4/27 vs. UNITY | Win 15-0 | Franklyn strikes out 6 and Antonio hits 2 HR's with 6 RBI. Javier adds 3 RBI |
| 4/26 vs. M.S. 662 | Win 19-0 | Antonio strike out 9. Myles triples with 2 RBI and Edward doubles with 2 RBI |
| 4/24 vs. M.S. 661 | Win 11-1 | Niko strikes out 6 and Franklyn goes 2 for 3 with 2 RBI |
| 4/21 vs. I.S. 71 | Win 20-0 | Antonio and Traqwan hit home runs and Ryan goes has 3 RBI |
| 4/19 vs. M.S. 136 | Win 12-1 | Antonio strikes out 8 and Traqwan goes 2 for 2 with 3 RBI |
| 3/30 vs. WCCS | Win 14-0 | Antonio goes 3 for 3 with two doubles and Traqwan hits a triple. |

Team Leaders
| | | | |
| --- | --- | --- | --- |
| Batting Avg. | On Base Pct. | Hits | Runs |
| .548 Myles Vazquez | .812 John Anderson | 17 Myles Vazquez | 33 Antonio Pena |
| .500 Traqwan Cates | .741 Myles Vazquez | 17 Antonio Pena | 31 Myles Vazquez |
| .500 Ryan Leon | .700 Traqwan Cates | 14 Traqwan Cates | 30 Traqwan Cates |
| .472 Antonio Pena | .697 Antonio Pena | 12 Marquis Reyes | 27 Franklyn Gonzalez |
| .444 Marquis Reyes | .650 Hugo Player | 11 Ryan Leon | 15 Ryan Leon |
| .375 Zachary Colon | .643 Zachary Colon | 11 Franklyn Gonzalez | 14 Zachary Colon |
| .314 Franklyn Gonzalez | .571 Marquis Reyes | 10 Nicholas and Edward | 13 3 Other Tied |
| RBI | Doubles | Triples | Home Runs |
| 34 Antonio Pena | 6 Antonio Pena | 3 Myles Vazquez | 7 Antonio Pena |
| 19 Myles Vazquez | 3 Myles Vazquez | 2 Marquis Reyes | 1 Traqwan Cates |
| 18 Marquis Reyes | 3 Marquis Reyes | 2 Zachary Colon | 1 Myles Vazquez |
| 15 Traqwan Cates | 2 Traqwan Cates | 2 Traqwan Cates | 1 Zachary Colon |
| 12 Yates Wong | 1 Edward Vasquez | 2 Antonio Pena | |
| 11 Zachary Colon | | | |
| Wins | ERA | WHIP | Strikeouts |
| 8 Myles Vazquez | 0.00 Nicholas Marcovici | 0.52 Antonio Pena | 64 Myles Vazquez |
| 5 Antonio Pena | 0.18 Myles Vazquez | 0.85 Myles Vazquez | 52 Antonio Pena |
| 1 Nicholas Marcovici | 0.52 Antonio Pena | 1.00 Nicholas Marcovici | 12 Traqwan Cates |
| 1 Franklyn Gonzalez | 0 .86 Traqwan Cates | 1.43 Traqwan Cates | 9 Nicholas Marcovici |
League Schedule and Standings are also up at www.leaguelineup.com/msblnyc
Follow the team on Twitter! @318baseball
I.S. 318 Baseball Team History:
In 2010, coaches Thanasi Iliopoulos and John Nagler put together the first ever I.S. 318 baseball team. With the help of the Roberto Clemente Little League, a local middle school baseball league was formed in Williamsburg, Brooklyn. I.S. 318 finished their inaugural season 11-1 winning the first ever league championship against rival M.S. 50.
In 2011, I.S. 318 decided to join the New York City Middle School Baseball League as one of over 50 teams in Manhattan, Bronx, Queens and Brooklyn fighting to win the City Championship. The Conquistadors made their presence felt in the league going an undefeated 7-0 in the regular season. After a 20-0 win against I.S. 166 in the first round of the Brooklyn playoffs, they then faced I.S. 62 Ditmas for the Brooklyn championship. The Conquistadors battled their way coming from behind twice in the game to win the Brooklyn Championship 5-3.
The celebration didn't last long because I.S. 318 knew their biggest challenge yet was still to come in facing the Queens Champion - I.S. 61. Da Vinci team. Da Vinci was the 2-time defending champion, not having lost a game in over 2 years. Behind great pitching and perfect defense, the Conquistadors toppled the defending champs 2-0 to punch their ticket to the championship game.
Behind the beautiful backdrop at Roosevelt Island, I.S. 318 faced the Bronx champion M.S. 145 for the City Championship Game. The Conquistadors faced amazing adversity in the game starting from behind early, then losing their MVP to an injury early in the game and later on losing their center fielder and hits leader to a concussion. The team, not hiding their tears for their fallen teammate decided to battle on and staged a come from behind victory to take the 2011 City Championship! It was an amazing season and all the parents and players that were a part of it, will never forget it.
Win-Loss Record since 2010: 104-6
"When a great man dies, for years the light he leaves behind him, lies on the paths of men. "
- Henry Wadsworth Longfellow
The I.S. 318 baseball team pays its respects to a great man and a great leader. Our former principal, Mr. Rubino gave so much to our school and this team. We wouldn't have a baseball team if it wasn't for his belief in offering as much as we can to our students inside and outside of school. We will miss him greatly.