'Iolani Boys Volleyball: HBVI Tournament
The Hawaii Boys Volleyball Invitational (HBVI) has established itself as one of the premier boys volleyball tournaments in the state of Hawai'i.
Fostering a high level of competition, it allows both local and mainland teams to get an early tune up for their high school seasons.
The HBVI is hosted in the Father Bray Athletic Complex on the 'Iolani School campus, and promotes fairness, modesty, humility and sportsmanship.

---
---
The 8th Annual Hawai'i Boys Volleyball Invitational
will be held on March 26-28, 2015
Interested teams please contact:
Mike Among: HBVI Tournament Director mamong@iolani.org
Carl Rallita: 'Iolani Head Coach boysvolleyball@iolani.org
SPECIAL HBVI HOTEL RATES
AQUA HOTELS
Type in the code "SPECIAL" in the promo box when viewing the Aqua website.
A special HBVI discount will automatically be calculated when making reservations online.
A credit card is required at time of booking to hold rooms.
Cancellations may be made up to 72 hours prior to arrival without penalty.
---
---
HBVI Archives
7th Annual
Hawai'i Boys Volleyball Invitational
March 27th-29th, 2014
Location: 'Iolani School Campus Lower & Upper Gym's
Time: March 27 & 28 (11am-8pm) March 29 (9am-5pm)
563 Kamoku Street Honolulu, Hawaii
2014 Tournament Field:
Baldwin Bears (Maui)

Brother Rice Crusaders (Chicago, IL)
'Iolani Raiders (D1)
'Iolani Raiders (D2)
Hawai'i Baptist Eagles
Kamehameha Hawai'i Warriors (Keaau)
Kamehameha Kapalama Warriors

Leilehua Mules
Maryknoll Spartans
Mid Pacific Owls
Moanalua Na Menehune
Pearl City Chargers
Poway Titans (San Diego, CA)
Punahou Buff n Blue (D2)
Saint Louis Crusaders
University Lab School Jr Bows
Tournament Format/Schedule: Click Here
Thursday Results: Click Here
Friday Results: Click Here
---
Come out & experience OUTSTANDING volleyball
GREAT competition, & ONO Food !!

Daily Concession: Baked Goods, Malasadas, Spam Musubi, Drinks, Teri Burgers, Hot Dogs, Fruit Salad
Thursday Entree's: Kalbi Ribs, Beef Stew, Combo Plates, Fish Tacos, Pizza
Friday Entree's: Pulehu Short Rib Plate, Chicken Curry, Combo Plates, Fish Tacos, Pizza
Saturday Entree's: Baby Back Ribs, Chili, Combo Mix Plate, Fish Tacos, Pizza

Grab & Go Meals: Coaches, pre-order your team meals and have them waiting for you after your matches are complete, hassle free meals packed and ready to go.
(Information included in your Day #1 coaches packets)
Tournament T-Shirts: Commemorative 7th Annual HBVI T-Shirts will be sold on site. Limited supplies available...shop early!!
See image at bottom of this page for t-shirt image
Volleyball Vendors: Get your volleyball gear and equipment at one of our vendor kiosks. Save on shipping...buy local !!
$5 (Adults) / $3 (Seniors & Students)
3 Day Passes: $12 (Adults) / $6 (Seniors & Students)

Free Parking on Campus

---
Don't forget our annual tournament tradition...
the Hawaiian Lu'au Ho'olaule'a!!
Saturday March 29, 2014 5:00-8:00pm
'Iolani School Student Center
Prices: $14-Adults $11-Seniors/Students

Hawaiian Buffet, Hula, Entertainment PLUS endless amounts of Aloha Spirit...
Ho'olu komo la kaua (please join us) . . . Aloha!!
---
Past Tournament Champions
2014 Brother Rice Chicago, IL.
2013 Punahou D1 Honolulu, HI.
2012 Westview San Diego, CA.
2011 Punahou D1 Honolulu, HI.
2010 'Iolani D1 Honolulu, HI.
2009 Punahou D1 Honolulu, HI.
2008 'Iolani D1 Honolulu, HI.
---
2014
Gold Division
Champion: Brother Rice Runner Up: Kamehameha Kapalama 3rd Place: Kamehameha Hawaii
Silver Division
Champion: St. Louis
Bronze Division
Champion: Baldwin
One Team Award
Kamehameha Hawaii
Most Outstanding Players
First Team
Mitch Weiler (Brother Rice), Kevin Myren (Brother Rice), Evan Enriques (Kamehameha Hawaii), Kaehu Kaaa (Kamehameha Kapalama), Matt Kishaba (Hawaii Baptist) , Skylan Engleman (Moanalua), Pono Kaaa (Punahou D2)
Second Team
Michael Horita (Kamehameha Kapalama), Preston Kamada ('Iolani), Adrian Faitalia (St. Louis), Austin Matautia (Moanalua), , Chuck Newby (Poway), Emmit Enriques (Kamehameha Hawaii), Caleb Fisher (Hawaii Baptist)
Final Standings > > > CLICK HERE
---
2013
Gold Division
Champion: Punahou Runner Up: Hawaii Baptist 3rd Place: 'Iolani
Silver Division
Champion: Kalaheo
Bronze Division
Champion: Mid Pacific
One Team Award
Van Nuys and Maryknoll
Most Outstanding Players
Larry Tuileta (Punahou), Micah Ma'a (Punahou), Michael Fisher (Hawaii Baptist), Alden Wong ('Iolani), Tufanua Iuvale (Maryknoll), Evan Enriques (KS Hawaii), Dane Keckin (Santa Monica)
Final Standings > > > CLICK HERE
---
2012
Gold Division
Champion: Westview Runner Up: KS Hawaii 3rd Place: Moanalua
Silver Division
Champion: Kamehameha Kapalama
Bronze Division
Champion: Pearl City
One Team Award
N/A
Most Outstanding Players
N/A
Final Standings > > > CLICK HERE
---
2011
Gold Division
Champion: Punahou Runner Up: Kamehameha Kapalama 3rd Place: 'Iolani
Silver Division
Champion: Brother Rice
Bronze Division
Champion: Waipahu
One Team Award
Brother Rice
Most Outstanding Players
Micah Christensen (Kamehameha), Logan Nowack ('Iolani), Evan Enriques (KS Hawaii), Brian Fung (Maryknoll), Michael Fisher (Hawaii Baptist), Ben Lam (Punahou), Teawe Olds (Castle)
---
2010
Gold Division
Champion: 'Iolani Runner Up: Poway 3rd Place: Kamehameha Kapalama
Silver Division
Champion: Salesian
Bronze Division
Champion: Hana
One Team Award
Hana
Most Outstanding Players
Kapena Kaiwi (Hana), Anthony Lopez (Salesian), Ryan Leung (Hawaii Baptist), Liam Gallagher (Crespi), Micah Christensen (Kamehameha Kapalama), Danny Woodley (Poway), Scooter Sakaida ('Iolani)
---
2009
Gold Division
Champion: Punahou
---
2008
Gold Division
Champion: 'Iolani
---
---
HVBI Staff & Support
Mike Among - HBVI Founder & Tournament Director
Carl Schroers - 'Iolani School Athletic Director & HBVI Tournament Director
Carl Rallita - 'Iolani School Volleyball Head Coach
Charlie Gima - Athletic Trainer
Louise Inafuku - Athletic Trainer
Jody Pila - Equipment
Teddi Pila - Equipment
Ricky Young - Equipment
Stu Matsunami - Athletic Office
Jo Okumoto - Athletic Office
Dee Arita - Athletic Office
Bill Kato - Security
---
For more information, please contact:
---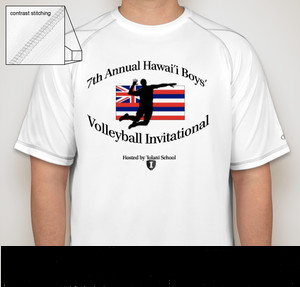 HBVI Commemorative T Shirts: $15 Limited Supplies Available