Indiana District 6: Welcome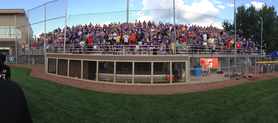 Hagerstown Fans 8-3-13 Game
2013
INDIANA DISTRICT 6
11 Little Leagues Comprise Indiana District 6
*Aurora *Brooklyn(Anderson) *Falcon(Winchester) *Hagerstown *Lawrenceburg *New Castle *North Anderson *Riverfield(Anderson) *Rush County *Union County(Liberty) *Yorktown
Information on 2013 Tournament Trail is HERE
Click HERE for Information on
Central Region Tournaments!
Here Is Information From Don Mason August 7th
Unfortunately, all good things must come to an end. The Hagerstown Major Boys All Star team were unable to shake off the butterflies, and run away from the bad luck. They loss tonight to Illinois, and were eliminated from the Central Region Tournament. I am proud of the efforts of this team, and all of the teams that competed in District 6 this year. Thanks to all of the Little Leaguers that make it a blessing to be involved in such a great program. You are all WINNERS, and I am proud of everyone of you.
"HOME OF 2012 WORLD SERIES TEAMS"
MAJOR BOYS - NEW CASTLE LITTLE LEAGUE - NEW CASTLE, IN
MAJOR GIRLS - RIVERFIELD LITTLE LEAGUE - RIVERFIELD, IN
INDIANA DISTRICT 6 ADMINISTRATOR - DON MASON
"Making a positive difference is the result of the conscious decision to do so."
New Castle Little League receives National Recognition - Details Here
VOLUNTEER UMPIRES
YOUR HELP IS NEEDED . . . PLEASE EMAIL Don at IND6LLBB@Comcast.net for more info.
See District 6 News link to left to read more
Friday, April 19
2013 Little League Tournament Dates
Handout:
2013 Tournament Dates
Thursday, June 6
CONGRATULATIONS TREY BALL
Indiana District 6 congratulates Trey Ball of New Castle, IN on being drafted #7 by the Boston Red Sox in today's Major League Baseball draft. Trey played in the New Castle Little League program and was a member of the 2006 Indiana State Champions and Great Lakes Runners-up as an eleven year old.
"The thing I remember about Trey was his style of play. He never took a play off, always itching to play the game," says Don Mason, District Administrator of Indiana District 6.
Trey will be a name we all hear in the years to come.
CONGRATULATIONS TREY BALL!!!!
Thursday, April 11
Little League 2012 Year In Review
The 2012 Little League Baseball and Softball Year in Review is available on-line.

Here is a link to the report: http://www.littleleague.org/Assets/forms_pubs/YearinReview2012.pdf

This report is an accounting of Little League Baseball, Incorporated's fiscal activities from October 1, 2011-to-September 30, 2012.
According to Don Mason, New Castle team is pictured on page 50.