Indiana District 6: Welcome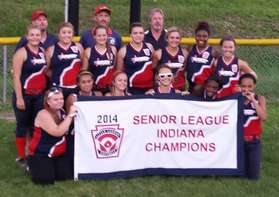 State Champions Senior Softball District 6
2013
INDIANA DISTRICT 6
10 Little Leagues Comprise Indiana District 6
*Aurora *Brooklyn(Anderson) *Hagerstown *New Castle *White River (Anderson) *Rush County *Union County(Liberty) *Yorktown *Whitewater Valley(Richmond) *Cambridge City
Information on 2014 Tournament Trail is HERE
2014 District 6 Champions are . . . . . .
Girls Softball: Seniors - Anderson LL, Juniors - Anderson LL, Majors - Yorktown LL, 9/10 - Yorktown
Boys Baseball: Junior - Rush Co, Majors- Hagerstown LL, 10/11 - Yorktown, 9/10 - New Castle Green
Best of luck to all teams in sections and state tournament play
See Downloadable Forms for New 2015 Baseball Age Chart!
Click HERE for Information on
Central Region Tournaments!
Congratulations to Yorktown Majors Softball and 9/10 Softball for finishing as Runners Up in the State Tournament!
2014 Girls Major State Tournament Info is Here
List of Tournament Teams . . . and Tournament Action can be Followed @
http://www.yorktownjaa.org/StateChampionship/
Congrats to District 6 Senior Girls, Anderson LL, for winning State!!!
"HOME OF 2012 WORLD SERIES TEAMS"
MAJOR BOYS - NEW CASTLE LITTLE LEAGUE - NEW CASTLE, IN
MAJOR GIRLS - RIVERFIELD LITTLE LEAGUE - RIVERFIELD, IN
INDIANA DISTRICT 6 ADMINISTRATOR - Jeff Combs
"Making a positive difference is the result of the conscious decision to do so."
Indiana District 6 Staff
District Administrator - Jeff Combs
ADA Baseball - Phil Jolley
ADA Baseball - Kevin Mathews
ADA Baseball - Scott Smalstig
ADA Softball - Marie Richardson
Safety Officer - Gwynn Combs
UIC - Don Mason
Treasurer - Kathy Lucas
Information - Electra Young
New Castle Little League receives National Recognition - Details Here
VOLUNTEER UMPIRES
See District 6 News link to left to read more