Illinois District 13: Welcome
2013 Little League Baseball and Softball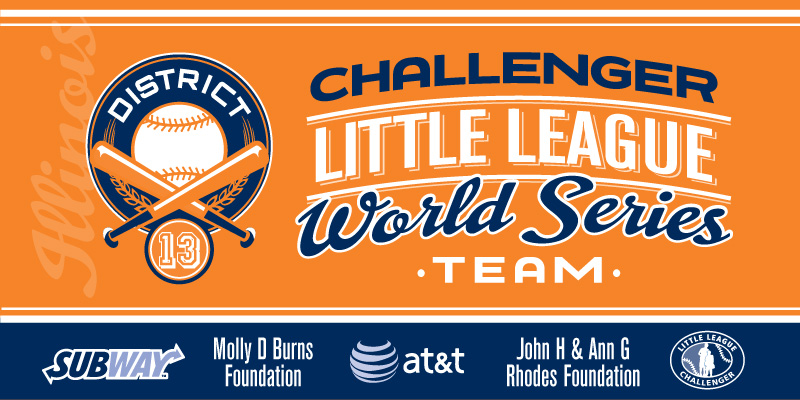 Illinois District 13 Challenger Selected for Little League World Series
Illinois District 13 will send a team to participate in the 2013 Challenger Exhibition Game at the Little League World Series! The game will be played on August 24, 2013 at Volunteer Stadium in South Williamsport, Pennsylvania. There will be three games played that day - the International Championship game, the US Championship game and OUR Challenger Exhibition game. We will be playing a team from District 57 Little League in Livermore, California and the first hour of the exhibition game will be broadcast live on ESPN3.
We invite you to consider sponsoring our Challenger team and help create memories our kids will never forget. 100% of the monies raised will go toward our ballplayers and buddies. Funds will be used for travel, hotel, uniforms, bat bags and team pins as well to support Illinois District 13's Challenger Program. Challenger is completely staffed by volunteers and funded by private donations from people like you.
All sponsors will be acknowledged on this Web site and we ask that you show your appreciation for their support by patronizing their businesses and supporting their organizations.
To learn more about sponsoring visit our Challenger/World Series page on this site. We would be happy to accept donations of any amount to help get our team to the Little League World Series. No dollar amount is too small and all support is greatly appreciated.
To donate using PalPay checkout please click the "Donate" button below.
You can make donations via major credit card, bank account or PayPal but you do not need a PayPal account to use this checkout system.

Please donate what you can – every dollar brings our kids closer to the World Series!
Illinois District 13 Leagues
Sunday, January 6
District 13 League Boundaries
Click on the heading to find your location along with that leagues boundaries. Click on the league website to contact them for registration information.
Sunday, July 8
Pool Play Guidelines
To find all the information on how the pool play format works including the tiebraking systems, please click the tournament link on the left. This will bring you to a handout that will supply all the data available.