Illinois Crusaders: Welcome
Illinois Select 9th Grade Boys (15U) - Class of 2014
2011 Spring Tournament Schedule (tentative)
SPRING/SUMMER 2011
Feb 27 & Mar 6 Illinois Select Tryouts - SAVE THE DATES!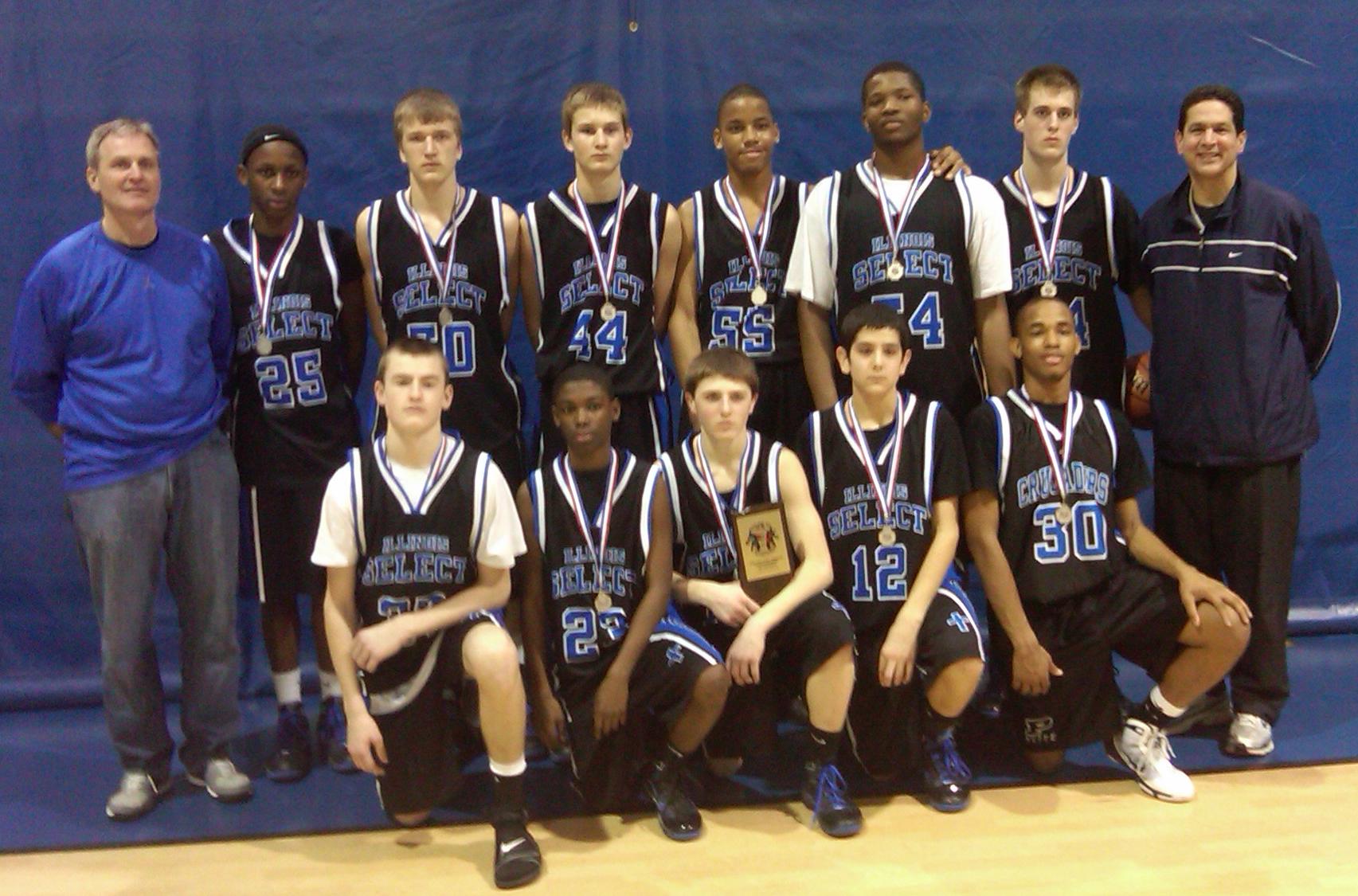 Mar Nike ChicagoHoops Tip-Off (Merrillville)
Apr NY2LA Swish & Dish (Milwaukee)
Apr Pittsburgh Jam Fest (Pittsburgh) or local
Apr AAU Illinois State 15U (Chicago)
Apr Spiece Run 'n Slam (Ft. Wayne, IN)
May AAU Super Regional 15U (Deerfield)
May Chicago Jam Fest (Chicago)
May NY2LA Invitational (Milwaukee)
May Jayhawk Invitational (Lawrence, KS) or local
June Nike Hoop Jamboree (St. Louis)
July Next Level Invitational (Milwaukee)*
July King James Summer Showcase (Chicago)*
July Hoop Group Jam Fest (Morgantown, WV)*
July ESPN RISE Super Showcase (Orlando)*
July KC Prep Invitational (Shawnee, KS)* or local
* - NCAA Live Recruiting Events
About the Program
Based in the Northwest suburbs of Chicago, the Illinois Crusaders has quickly developed into one of the premier traveling basketball programs in Illinois. The Class of 2014 team has made it to the championship game in over 50 tournaments!

In 2005, our inaugural season, the team capped off the season by winning the 2005 Illinois State Championship (3rd grade). In 2006, the team finished undefeated in the North Suburban League (17-0). In 2007, the team made it to the championship game in ten tournaments -- winning 5 championships! In 2008, the Crusaders made it to the championship game in 6 tournaments and finished in the Final Four in 10 of 13 tournaments -- often "playing up" a grade level. In 2009-2010, the team has made it to the championship game in 12 of the most competitive tournaments in the Midwest! Read more about the team's accomplishments.
Illinois Crusaders
Illinois Crusaders is a very competitive, Christian travel basketball program for boys in middle school during the 2009-2010 school year. Players will receive outstanding basketball instruction from a HALL-OF-FAME coach who has won several youth National Championships.
Our training is designed to prepare each player for 'the next level' by offering weekly training sessions and competitive league and tournament play. This is a serious program that requires a serious commitment from both players and parents. The program is designed for players who want to make basketball a primary sport.
Players learn to play hard, smart and, most importantly, unselfishly. Our teams develop very sound fundamentals, play man-to-man defense, press when appropriate, emphasize fast-break transition and run a motion offense. This combination tends to mature their skills to the greatest extent possible. The team is comprised of players from Palatine and adjacent communities. The Crusaders will play against the most competitive travel teams from around the Midwest. The 2009-2010 season will run from early November 2009 until July 2010. Our practice sessions are always OPEN for players to visit. The Illinois Crusaders program is solely dedicated to teaching kids about God and excellence in basketball instruction. THIS IS NOT A BUSINESS.
Training Coach: John Ulrich
John Ulrich was recently inducted into the Illinois Basketball Coaches HALL-OF-FAME. Coach Ulrich has 33 years of experience coaching Jr. High and High School girls and boys. Many of his former players have gone on to play in high school, college and professional basketball. He was named by the IBCA as the Northern Illinois District Jr. High Coach of the Year in 1993, 1994, 1995, 1998 and 2002. Coach Ulrich is the only coach in Illinois history to coach both boys and girls teams to STATE and NATIONAL CHAMPIONSHIPS. His Immanuel Lutheran School teams were the Illinois State Champions in 1976, 1991, 1994, 1997, 2002, 2005 and 2009 (runner-up in 1992, 1993, 1995, 1996, 1998, 2004 and 2007). Immanuel Lutheran teams won National Championships in 1994, 1998, 2002, 2005 and 2009.
Training Coach: Ray Glassmann
Coach Glassmann has coached and managed both youth and adult athletic teams for over 20 years. He has been coaching both boys and girls competitive youth travel basketball teams since 1999. He was the Program Director and Head Coach for the Fremd Feeder Basketball Program. During that tine, the Lady Vikes team compiled a 91-26 record playing against some of the most competitive teams in the country. His Illinois Crusaders boys teams have it to the "Final Four" in the AAU Illinois State Tournament in each of the last 4 years.

For more information please contact:

Illinois Crusaders

847-963-9600
847-963-9625 fax