Illinois Bash: Welcome

"Tough Love is in effect here. We will not accept you as you are. Instead we will show you a vision of what you could be, and help you achieve it."
Please Go to our new web
current Bash info...
---
2012 Midnight Bash
Indoor Softball Games
Our 4th Year and every year a sellout!!!!!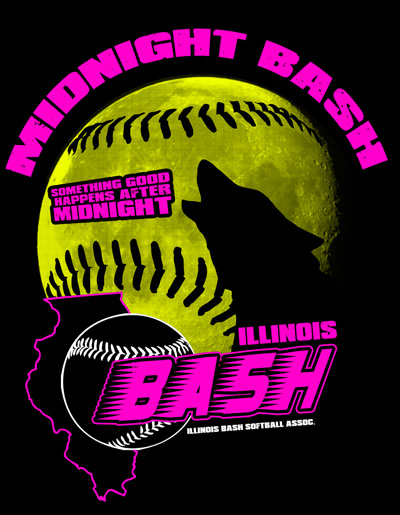 Please Click on the Link on the Left for more info and Registration Forms
2 Locations McCook and Schaumburg
The Midnight Bash had over 140 teams from 3 states partcipate in 2011
---
Bash Tryouts
The Illinois Bash is still looking for players at all levels.
Please contact us for more info and to set up a private tryout.
Jim Goranson
847-489-9131
---
The Illinois Bash is beginning it's 4th year and has already had a tremendous impact on athletes getting opportunities to continue playing softball in college.
Congratulations!!!!!!!
2012 Illinois Bash Verbal commitments:
Danielle Goranson: Verbal to Michigan State
Danielle Chitkowski: Verbal to Syracuse
Steph Tomazin: Verbal to Lewis University
more to come stay tuned....

These players join Bash Alumni at the next level

Angie Bates - St. Mary's MN
Nikki Goranson - Kankakee, IL-Robert Morris College
Jenna Lane - Muscatine College, Muscatine IA
Katie Luetkens - University of Michigan, Ann Arbor MI
Courtney Makowski - Lewis University, Romeoville, IL
Kelly Mieszala - Benedictine, Lisle, IL
Shannon Nevins - Kankakee College, IL
Jess Norman - Sauk Valley, Dixon, IL
Mikayla Panko - University of Massachusetts, Amherst MA
Bailey Patt - Mercyhurst Northeast PA.- Alabama St.
Alyssa Robison - Carthage College, Carthage WI
---
2011 Illinois Bash Gold
Fall Tournament Schedule
Sept 2-4

Ball State Exposure Tourney

Muncie, IN.

Sept 9-11

Illinois Bash Tourney

Schaumburg, IL

Sept 17-18

Best of the Midwest Exposure

Joliet, IL

Sept 23-25

Premier National Qualifier

Indianapolis, IN

Oct 1-2

Sparks Round Robin

Elgin, IL

Oct 7-9

Team NJ Fall Showcase

Newtown , PA

Oct 14-16

Sparks Pumpkin Fest Invite*

Elgin, IL

Oct 21-23

Midland Magic Showcase

Decatur, IL

Oct 28-30

Ronald McDonald Tourney*

Spring, TX

Nov 18-20

Georgia Team Showcase

Savannah, GA.

Wednesday, January 4
Illinois Bash Softball