Ilderton Red Army: Welcome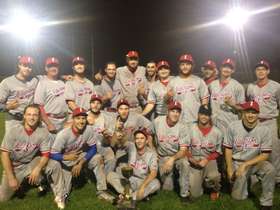 2013 SWSBL Champs
ARMY CAPTURES 2013 SWSBL TITLE!
Series Recap:
Game 1: Army 9 Royals 3
Ambrose gets the win in a complete game effort. Two runs in the 5th and 6th, along with a 4 spot in the 8th was more than enough to propel the Army to victory. Dustin Brown had 3 hits in the win.
Game 2: Royals 7 Army 5
An Ilderton 4 spot in the 8th made this game close, but the early 5 run deficit was too much to overcome. Jamie Mann took the loss on the hill.
Game 3: Royals 5 Army 2
The bats did not show up for game 3 as the Army collectd only 4 hits on the day. A solid effort on the mound from Bryn McDonnell was not enough as the Army would fall in a 2-1 series hole.
Game 4: Army 10 Royals 2
A 4-2 game was broken open in the bottom of 7, capped by a 3 run walk off double from Sonny Daniels. John Ambrose picked up his second win of the series to force a deciding game 5.
Game 5: Army 11 Royals 4
Sasha Gerster got the start and tossed a gem of a ball game, going 6 innings allowing only a run and 4 hits while striking out 6 for his fifth victory of the year. Bryn McDonnell bridged the gap to the 9th with 2 innings of relief. The Army exploded for 7 runs in the top of 9 to break open a 4-3 ball game and in fitting fashion John Ambrose came on to get the final 3 outs.
In our 5 year history, the Army has been to 4 league finals and now won 2 of them. The ups and downs of this year were unlike any other and we'd all sincerely like to thank our coaches Rudy and Walt for everything they've done. At times, they might've been the only two to believe that we'd ever win another ball game and their leadership is what got us back on track. Summer 2014 can't come soon enough.
A great site containing news, scores and stats from around Ontario's senior baseball circuit:
http://www.leaguelineup.com/welcome.asp?cmenuid=1&url=seniorbaseball&sid=769048328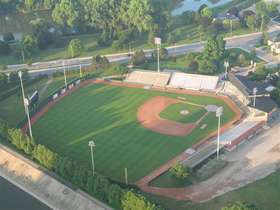 Labatt Park