Ilderton Red Army: Welcome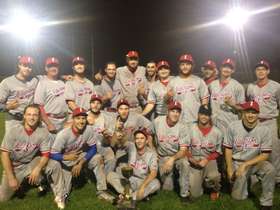 2013 SWSBL Champs
June 26: Ilderton 12 - Oakridge 0
Friday night in Byron, the Red Army mercied Oakridge 12-0. Ilderton's offense put together 14 hits and 6 walks, with Brandon Banaschewski, Rob Wakefield, Craig Vannus, Joel Smith, and Steven Rivas all having a multi-hit game. John Ambrose threw 7 innings, allowing no runs, 6 hits, and striking out 5. The Army takes on Strathroy at Labatt Park on Monday night at 7:30.
Tournaments:
Tilsonburg June 5, 6, 7

Cancelled
Lakeside July 3, 4, 5
Hap Walters (Toronto area) July 17, 18, 19
Elims (Windsor) July 31, Aug. 1,2,3
For a great site containing news, scores, and stats from around Ontario's senior baseball circuit, please visit the Ontario Senior Baseball Blog.