Ilderton Red Army: Welcome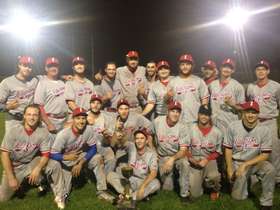 2013 SWSBL Champs
May 9: Red Army 7 - Sarnia 5
On Saturday, the Red Army won their second straight game of the season against Sarnia at Pulham Field. After falling behind 3-0 early, Ilderton bounced back with a 5-run 6th inning. Craig Orton went 3 for 3 on the day with two walks, two steals, and 3 RBI. John Ambrose picked up the win with 5 innings of relief. The Red Army returns to action next Saturday facing the St. Thomas Tomcats at 1 pm at Pulham Field.
Tournaments:
Tilsonburg June 5, 6, 7
Lakeside July 3, 4, 5
Hap Walters (Toronto area) July 17, 18, 19
Elims (Windsor) July 31, Aug. 1,2,3
For a great site containing news, scores, and stats from around Ontario's senior baseball circuit, please visit the Ontario Senior Baseball Blog.