Ilderton Red Army: Welcome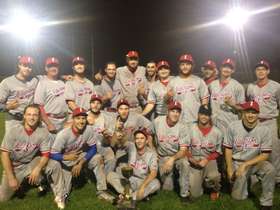 2013 SWSBL Champs
July 27: 3 Game Update
Ilderton 10 - Exeter 6: The Red Army faced off against the Express in Exeter Friday night with Steven Rivas on the mound. Rivas went 5 innings, collecting the win and allowing 1 earned run on 6 hits while striking out 5. This game featured the first relief appearance of lefty Jordan Townshend, who pitched a scoreless 9th inning and striking out 2 batters. Offensively, Hayden Woodley was 3 for 5 with 2 RBIs and 2 steals.
Strathroy 11 - Ilderton 8: Ilderton faced the Royals on Sunday afternoon in Strathroy. Brook Coatsworth pitched 5+ innings, allowing two Alexandria Park "homeruns" to shallow right field, which accounted for 5 of the Royals' runs and traveled a combined distance of approximately 590 feet. Offensively, the Red Army was all over Royals' pitching, scoring 8 runs on 18 hits despite missing Joel Smith, Craig Orton and Rob Wakefield from the lineup.
Ilderton 20 - Oakridge 9: The Red Army took on Oakridge on Monday night at Labatt Park in a game that had more of a slopitch final score. Ilderton scored 20 runs on 23 hits, including a 3 for 3, 2 walk game from Jordan Townshend and extra base hits from Hayden Woodley, Craig Vannus, Brandon Banaschewski, and Dallas Cornelius. John Ambrose picked up the win on the mound.
Ilderton faces Niagara in their first game of Eliminations on Friday at 4:15 in Windsor with Jamie Mann on the hill.
Tournaments:
Tilsonburg June 5, 6, 7

Cancelled
Lakeside July 3, 4, 5
Hap Walters (Toronto area) July 17, 18, 19
Elims (Windsor) July 31, Aug. 1,2,3
For a great site containing news, scores, and stats from around Ontario's senior baseball circuit, please visit the Ontario Senior Baseball Blog.