Idaho Weightlifting: Welcome
Established January 1st, 1985, Idaho Weightlifting is the Local Weightlifting Committee (LWC #59) for USA Weightlifting.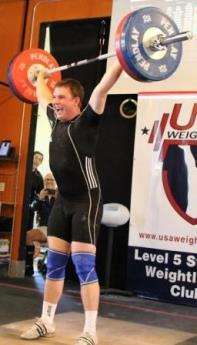 Josh celebrates his PR Snatch of 115kg
Monday, July 27
Josh Brandt's Day of Days
Sisters OR: Josh Brandt, 21, 94kg went 5 for 6 at the Level 5 S&C Open held Saturday July 18th.
Opening with 105kg in the Snatch, Josh moved to 110kg for a successful second attempt and then to a personal record 115kg on his third. Coming back in the Clean & Jerk Josh opened with 130kg and then jumped to 138kg for his second. After a solid clean Josh could not get the jerk to lock into his shoudlers and he slowly lost the lift forward. Coming back for his third he got the barbell into position for a PR Jerk and a personal best total of 253kg securing the victory over 6 other 94kg class competitors.
The 253kg improves Josh's rating for the 2015 University National Championships which will be held September 25-27 at Weber State University in Ogden Utah.
Fields of Gold by Sting