Idaho Weightlifting: Welcome
Established January 1st, 1985, Idaho Weightlifting is the Local Weightlifting Committee (LWC #59) for USA Weightlifting.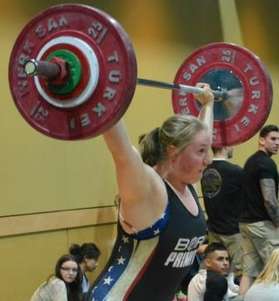 Shay Carlock
Saturday, October 22
2016 Idaho State Championships
Meridian: A total of 27 new State Records highlighted the 2016 Edition of the State Championships.
Things got off to a fast start when in the Women's session Gillian Druzisky of School House Barbell established across the board records in both the Youth and Junior Women's 48kg Class snatching 44kg, Clean & Jerking 57kg for a 101kg Total.
Next was Catherine Bristow of Fireside Barbell Club who increased her own records in the Women's 53kg class with a Snatch of 61kg, a Clean & Jerk of 73kg and a 134kg Total.
Shay Carlock capped the record setting session as she went , Youth, Junior and Open Records in the +75kg Class. Lifting for Heart and Barbell Club Shay went 6 for 6 finishing with 87kgs in the Snatch, 108kg in the Clean & Jerk for a 195kg total and a berth at the American Open in December at Orlando Florida.
Boise Barbell edged Fireside Barbell by 1 point for the Women's Team Championship.
Ellen Merrill of North Idaho Weightlifting Club won the Best Lifter Award going 78/98/176 in the 69kg class also qualifying for the American Open.
The men had an equally impressive outing. Lucas Carlisle of Snake River Weightlifting started the Record assault with a 76kg Clean & Jerk that set a new standard in both the Youth and Junior Mens' 56kg Class. This was followed with a 102kg Clean & Jerk Record by Hayden Hamblin of Fireside Barbell that set a new Youth Men's record in the 77kg class.
Verdant Barbell of Boise made their State Championship debut in style capturing 4 individual championships on their way to the Team Championship. Showcasing their effort where the Weight Class Record Sweeps of Basile Beaty in the 77kg class going 115/132/247 and Issac Campbell in the 85kg class with marks of 121/153/274. Not only was Issac named Best Lifter by he also garned an American Open berth.
Complete Results are posted at the bottom of this page.
Updated State Records can be found in the State Records folder on the left hand menu bar.
Thanks to all the volunteers, Coaches, Family members and patons that made this a great championships. Your efforts are appreciated
Handout:
2016 State Championships Results