10U-18U...I-CLUB Softball... "Iowa's Premier Softball Club": Welcome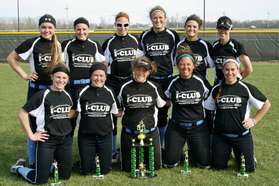 I-CLUB Blue 18U.... USSSA Rumble on the River CHAMPIONS / Omaha NE 4/27-28
I-CLUB SOFTBALL.... THE TOP COMPETITIVE FASTPITCH CLUB IN IOWA...... OVER 100 PLAYERS! PLACED INTO COLLEGE SOFTBALL PROGRAMS....and counting.......
I-CLUB Black's Kendyl Lindaman
**** ATTENTION COLLEGE COACHES.....PLEASE CLICK ON THE "I-CLUB Teams" Menu Tab, locate the team that player is a member of, and then proceed to the Roster Section, GAINING ACCESS TO A PARTICULAR PLAYERS INFORMATION AND BIO. IF YOU HAVE ANY SPECIFIC QUESTIONS OR REQUESTS ON ONE OF OUR PLAYERS, PLEASE CONTACT OUR CLUB DIRECTORs, GREG DICKEL OR DAVE STREYFFELER AT 515-202-4179/515-554-4623, or email us at iowaclubsoftball@gmail.com . Thank You ****
"I cant thank I-CLUB SOFTBALL enough for everything they have done for me in the 6 years I was with the Club. They have truly made me into the player I am today and I will miss everyone!!..
Play Together....Win Together..... I-CLUB !!!"
- Aly Cappaert, 2011 I-CLUB Blue
2012 Iowa Gatorade Player of the Year
Ankeny High School
Farewell Statement at 2011 I-CLUB Banquet
I-Club Softball is the Top Competitive Club program in the State of Iowa, maintaining a good balance of high level competition, ample opportunity to attend High Caliber Events, College Showcasing of Players, and top level coaching....all at an affordable and comparative cost. We make every attempt to work with the High School Ball Programs in Iowa, and not conflict with the School Season as much as possible. There are a few conflicts with the Schools from time to time, but its minimal. We are in our 8th year. We play in the best College Showcase Events and Championship Bracket Tournaments throughout the regional area of the Midwest, and hotbeds of softball in the United States. Some of the events we routinely attend, and have standing with, are.....The Homer Hawks Showcase in Chicago, The Midwest Showcase in Kansas City, The St. Louis Showcase, FAST Nationals in Orlando, Florida, ASA Northern Nationals and ASA Gold Nationals, the USSSA World Series, and other top flight events throughout the Nation . We try to promote our players to college coaches during the tournaments and on our website. We encourage our players to contact coaches at programs they are interested in attending, so they can take a proactive role in obtaining their college opportunities. We like players who are loyal and want to work hard to develop their skills.

Another goal for I-Club is to help develop the softball community in Iowa. Iowa players are way behind on opportunities in comparison to rest of the country, due to our High School Playing season, but we are not way behind on talent. We have some great players that just need to be seen. Our goal is to get the highly skilled and talented Iowa based Fastpitch Softball player to that next level of their College Softball dreams......
We are looking for competitive level players throughout the entire State of Iowa, between the ages of 13 and 18, who seek the opportunity to compete at the highest levels in the game of Girls Fastpitch Softball. Our coaching staff is comprised of some of the top Coaches in the State of Iowa. Our goal is to make the best players....BETTER, and to display their skills on a Regional and National level to College Coaches.
If you desire to elevate your game and become a member of one of our Competitive Teams, please contact one of our Club Directors:
Dave Streyffeler, iowaclubsoftball@gmail.com, or 515-554-4623
Greg Dickel, iowaclubsoftball@gmail.com or 515-202-4179
We hope to hear from you soon........
"Coming together is a beginning...
Keeping together is progress...
Working together is success..." -Ford
Play Together!.........Win Together!...........I-CLUB!!
Hall of Famers Start Here !!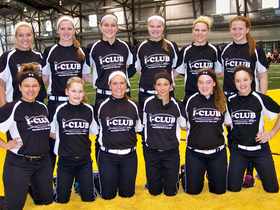 I-CLUB Premier at the PGF / Demarini Indoor Invite Feb. 2013
Saturday, February 9
I-CLUB takes 3rd at the Premier Girls Fastpitch 18U Indoor Elite Invitational !!!! .....
I-CLUB Softball combined players from the rosters of I-CLUB Blue and I-CLUB Black to travel to St. Joseph Missouri to compete in the 3rd Annual Premier Girls Fastpitch / Demarini Indoor 18U Elite Invitational at the Griffon Indoor Sports Complex. The Tournament drew 16 of the Best 18U Gold Level Tournament Teams in the Midwest to compete in the 4-Game Guarantee Battle. I-CLUB Softball is the only Iowa based team to ever receive an invite to this prestigious event.
I-CLUB began the Event with a victory over Echoes Elite Gold 3-2. They than ran up against a buzzsaw in the form of Tulsa Eagles Gold. One of the best Club Teams in all of Oklahoma. I-CLUB Fought hard but could not overcome mistakes in the game, and fell 8-2. The final draw on Saturday was a game that began at MIDNIGHT. Yes, that late. Originals - Koop, a top team in Kansas City, was the opponent. The late hour proved to be fruitful for I-CLUB, as they struck early and often in the game, and downed the Originals 7-0.
Sunday brought Bracket Play. I-CLUB faced Camby Chaos 18U out of Indianapolis, IN. in the preliminary round. They came out swinging and gained a 5-0 early in the 1st. They finished the game strong, finishing off the Chaos 9-1. That brought I-CLUB a matchup with one of the Top Ranked Club Teams in the Midwest and the Nation, in KC Peppers Gold. Peppers Gold contains a roster with 10 College Commits, of which 8 are Div. 1. They are a storied program out of Kansas City. I-CLUB sent Libby Bemis to the mound. The game was tight throughout, with I-CLUB going down 1-0 in the 3rd. Bemis pitched very strong, allowing only 5 hits throughout. In the 5th, I-CLUB's Kendyl Lindaman doubled to lead off the inning and eventually came into score tying the game. In I-CLUB's last at bat, with the score tied 1-1, Alexis Kelsey singled to left to bring in the winning run, and provide I-CLUB a HUGE victory over an outstanding opponent.
In the Semi Final, I-CLUB faced a familiar foe in Team Kansas Gold. I-CLUB and Kansas Gold have faced each other
twice before in 2012. Gold getting the best of both meetings. In this game, I-CLUB went up early, with a bases loaded clearing triple by Kendyl Lindaman in the 3rd, putting I-CLUB up 5-1. Kansas Gold was posed to make a comeback, and slowly pecked away at I-CLUB's lead. In their last at bat, Kansas Gold loaded the bases with one out down 5-4. I-CLUB got the ideal play, a grounder in the infield. The throw to the plate was wide, which allowed the tying run to cross. Kansas Gold pushed the winning run home on the play and was able to score after beating the tag, and were victorious 6-5. A great and high energy game from two great teams!
I-CLUB finished 3rd overall in the Event and made a great statement for its Club and the State of Iowa!! A Tournament filled with Top Flight Teams which definitely embraced the play of I-CLUB Softball. I-CLUB secured an invite to the event next year with their finish. GREAT Job by the I-CLUB Ladies!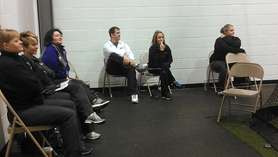 College Softball Coaches behind I-CLUB's Dugout taking in the Action!.....
Thursday, June 28
I-CLUB Softball hires its NEW On-Staff Pitching Coach....UNI's Jaye Hutcheson!
I-CLUB Softball is proud to announce that it has hired one of its own...... Jaye Hutcheson...... as its new Full Time, ON-Staff Pitching Coach. I-CLUB has long been in search of a Full Time Staff Coach for Pitching, after Founder Mary Thompson retired from the program in 2010.
Coach Hutcheson is an I-CLUB Alumnus, having pitched and played for I-CLUB Softball for three seasons while in High School at Linn-Mar in Marion, IA. Coach Hutcheson brings a wealth of knowledge and success to the I-CLUB program, having been a stallworth member of the University of Northern Iowa Panthers Softball Team the past 4 Years. Jaye had a large amount of success in her playing days, both as a prep for Linn-Mar as a 2-Time Iowa Elite All-State selection, and as a Collegian, having made All-Missouri Valley Conference as a Pitcher. She still holds the record for most strikeouts recorded in the Iowa High School State Championships.
"Hutch", as she was known in her playing days with I-CLUB, had a reputation as a fierce competitior, and was known as a Power Type Picher and an intimidating presence on the mound. During her time as a player with I-CLUB, she was well remembered as one of the BEST hurlers to ever take the mound for this Softball Club.
Coach Hutcheson's Bio and Accomplishments are as follows:
2010: Appeared in 29 games for the Panthers last season as a pitcher and DH... registered the best win percentage on the team with a 5-1 record and three saves to go along with a 3.36 ERA in 77 innings pitched...her top pitching performance came on March 27 at Indiana State where she went 6.2 innings struck out four and refused to surrender a single run in a 1-0 Panther victory...at the plate, her season best came against Evansville where she hit a solo home run. 2009: Made 17 appearances in the circle for the Panthers, including two starts ... finished the year with a 6-1 record and 3.40 ERA ... tallied 26 strikeouts in 50.1 innings of work ... struck out six and allowed just one run in 7.0 innings of work against Drake (May 3) ... allowed just one hit through 3.2 scoreless innings of relief against Bradley (May 7) ... threw 6.2 scoreless innings of relief against Missouri State (March 14).
High School: Earned five varsity letters in softball while also earning four letters in basketball ... posted an 89-16 overall pitching record in high school ... owns the Class 4A state tournament strikeout pitching record ... member of four state qualifying teams including starting pitcher on state runner-up squad her sophomore year ... named to the Class 4A state All-Tournament Team her junior and senior year ...named first-team all-state four times...Named elite all-state her junior and senior year ... earned first-team all-conference honors four times and second team all-conference honors once ... team qualified for state basketball tournament twice ... earned second-team all-state honors in basketball her senior year and was named all-conference three times ... Gazette Area Athlete of the Year and Linn County Area Athlete of the Year Nominee in 2008 ... member of the National Honor Society her junior and senior year ... was a homecoming queen nominee ... high school coach: John Harms.
Personal: Born June 18, 1989, in Cedar Rapids, Iowa ... daughter of Mark and Amy Hutcheson ... has a brother, Nate ... majoring in public relations ... biggest influence in her life has been her parents ... her Mom played volleyball and softball at Iowa State ... her Dad played basketball at Westmar ... chose UNI because of the softball program ... Dean's List in 2008.
Coach Hutcheson will work directly with all pitchers in the I-CLUB program, as well as assist with Clinics and provide Private Pitching Lessons and Instruction. We are VERY EXCITED to have Jaye back in the I-CLUB program, and look forward to the success she is sure to bring our Club in the near and distant future !!

Kenzie Ihle
Wednesday, August 15
I-CLUB Softball's Kenzie Ihle is named the 2012 Mid-Iowa Softball PLAYER of the YEAR !!!
I-CLUB Black's Kenzie Ihle was named the 2012 Mid-Iowa Softball Player of the Year, as named annualy by the Ames Tribune. See the follwing link for the Full Story: http://www.amestrib.com/sections/sports/preps/softball-ailing-grandfather-fueled-ihle-state-tournament.html#.UCmPaFeeL7E.facebook
Ihle had an outstanding Sophomore campaign, leading the Ballard Bombers to the Iowa 3A State Championship. The Tribune article highlights Ihle's accomplishments for the season, and also touches on the special significance the season had for Kenzie, as she dealt with the battle with Cancer her Grandfather was having during the summer, and how it motivated her through the season.
I-CLUB's Annie Stolte, also of Ballard High School, was named to the All Mid Iowa Team as well. Annie had a great season holding down the shortstop position for the Bombers, and was very instrumental in their success in season as well as the State Tournament.
Congrats to both Kenzie and Annie!! Great Job! I-CLUB Nation is VERY VERY proud of you!!!!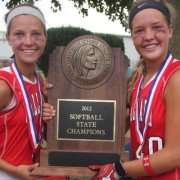 Stolte & Ihle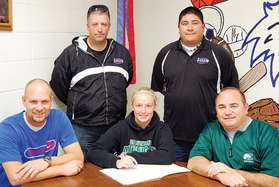 Taylor with her Dad, MTown's Jeff Lamb and Coaches Dickel & Streyffeler
Thursday, November 29
I-CLUB Softball's Taylor Wagner Signs with Division I Eastern Michigan !!!......
Local Newspaper Article on Wagner's Signing: http://www.timesrepublican.com/page/content.detail/id/554589/Wagner-to-make-new-home-at-EMU.html
I-CLUB Softball's Taylor Wagner signed a National Letter of Intent to play Division I Softball at Eastern Michigan University this past month. She visited the campus last November. Taylor was accompanied by her Dad, Mike Wagner, on the trip. Both Taylor and her Dad came away very impressed with the program, and really liked the coaching staff and how the players interacted with each other. " I really liked how all the players seemed close and together" says Taylor. "The facilities and campus were very nice, much improved since I was here"... said Mike. That is correct. Taylor's Dad is a graduate of Eastern Michigan, a decorated athlete for the school when he attended, as an All-Conference swimmer. I really valued my time when I was here, and met some of the most impacting and influential people of my life" says Mike. Given the fact her Dad was an alumnus, Taylor wanted to make her own claim to her College path. Eastern Michigan came calling first. Taylor was first discovered by the Eastern Michigan Staff at I-CLUB's attendance at the Akadema Top 50 Showcase in Indianapolis, IN this past Fall. Taylor had a very good weekend for her I-CLUB Blue Team at the Showcase, and EMU took notice. That started the dialogue with the I-CLUB Coaches, and furthered with recruitment of Taylor from that point. It didnt hurt she had some inside info on EMU through her dad. The visit went very very well. Taylor states " I saw myself playing there, and I like the record of them always competing for the Conference Title. Theyve been to alot of Regionals here in the recent past". Two weeks after the visit, Taylor called Head Coach Karen Baird and gave the Eagles her verbal commitment.
One Year later, Taylor made good on her commitment, and signed her LOI, making it Official with EMU. "Over the year I had other schools still contact me and gauge my interest, but EMU was always my No. 1" Drake University in Des Moines, and Iowa State also had pursued Taylor with Scholarship offers, however, they could not overcome the impression Eastern Michigan made on Taylor. "Eastern has great academics, its not just about softball for me, I want a great education as well". EMU ranks in the top 20 average GPA's among Div. I schools. "I will also be close to family, most of whom I will now start to see alot more of since Im closer". Eastern Michigan sits very close to the Ohio border, and close to her father Mike's family, of whom mostly live in Northwest Ohio.
Taylor becomes the 30th I-CLUB player to College Softball at the Division I Level. As one of the most decoreated and accomplished Catchers in the Club's history, Taylor will continue her career with her I-CLUB Team, and Marshalltown High School, until she graduates in 2013. We will continue Taylor's development and opportunities her at I-CLUB, and then proudly admire the start of her College career as an Eagle beginning the Fall of 2013.
Congrats Taylor, WE ARE VERY VERY PROUD OF YOU !!!!!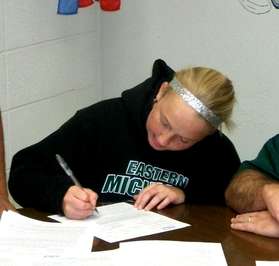 Signing Day!!