I Am Jayden: Sports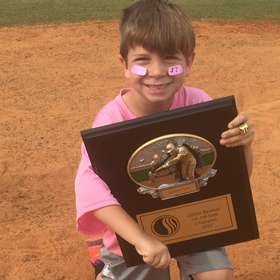 JJ ACCEPTING THE TEAM TROPHY AND GETTING HIS RING IN SEPTEMBER 2015
Friday, October 2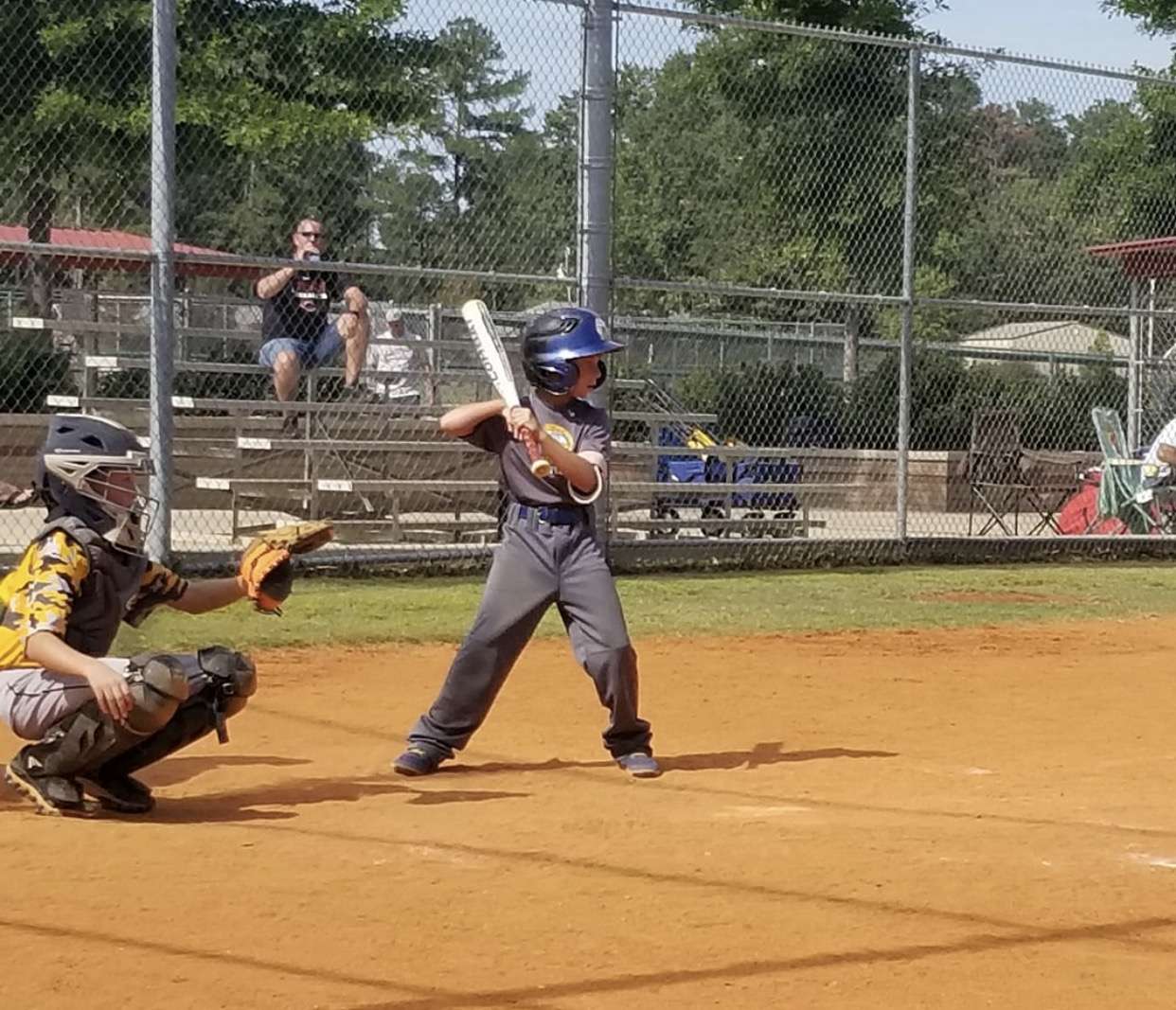 JJ hitting in an 11u game for the Rawlings Stars as a 7 year old!
Sports
Jayden has grown up on sports. His father, Sean, was a division 1 athlete & works in the sports world. At a very early age he fell in love with baseball & basketball. He and his brother Tyler play ball nonstop. Whether it's baseball, whiffle ball , basketball, soccer, etc. It is his passion. Sports have become his biggest outlet of therapy.
In the winter of 2014, Jayden played in his first basketball league. He did great and everyone couldn't believe how smart & athletic he was on the court. In the spring of 2014, he played his first season of junior coach pitch as the youngest player in the league at 4 years old. JJ did awesome in the league. He has continued to improve as ballplayer each year playing in the YMCA Basketball League again in winter 2015 and also in the Carolina Forest Coach Pitch League in 2015 and 2016. JJ consistently is on a ball field or a court either practicing, playing or watching. Whenever he's not playing he goes wherever his dad is coaching or wherever his brother is playing. Playing sports has enabled Jayden to not only continue to strengthen his left arm but also his core as well as his weak right side. In baseball he literally switch hits from both sides & does the Jim Abbott with his glove.
In the winter of 2014 Jayden played in a U6 basketball league in which he did unbelievable. Using a Womens size college basketball we were skeptical of strength to put it up but he surprised again. Jayden made 3-4 baskets per game & being the highlight of the league.
The spring of 2015 he played again in the junior coach pitch league as a 5 year old for the Maryland Terps. He's played great playing a lot of pitcher & 1st base and swinging the bat great. JJ is catching the ball with ease and is now even switch hitting. He also continues to support his big brother Tyler on his Rawlings National team. In winter of 2015, JJ went on to score about 7-8 baskets a game in the YMCA U6 league again. He played the spring 2016 year in the junior coach pitch league playing for the USC Gamecocks. He consistently hit the ball very well & is catching everything thrown his way. In the fall/winter of 2016/2017 JJ played as a 1st grader in the 2nd/3rd grade YMCA basketball league. He held his own playing up and did excellent. In the spring, JJ moved up to Coach Pitch Major playing for the Trenton Thunder. After a succcessful recreation season, Jayden moved onto 8u kid pitch travel baseball playing for the Rawlings Stars. He played a couple tournaments in the summer and fall and did great pitching and playing first base while also hitting very good. In December 2017 he'll start up his hoops season again! Jayden's favorite baseball team is the New York Yankees & his favorite player is Aaron Judge. His favorite basketball team is the New York Knicks and his favorite players are Lebron James, Steph Curry and Kristaps Porzingis.
JJ is an athlete. He wears a brace on righty that helps his balance & support. We call it his superhero brace. Just like Judge's foot brace for foul balls or Lebron's ankle brace for support, JJ has his "righty" brace for multiple purposes. His determination is unbelievable & he has a drive not like many!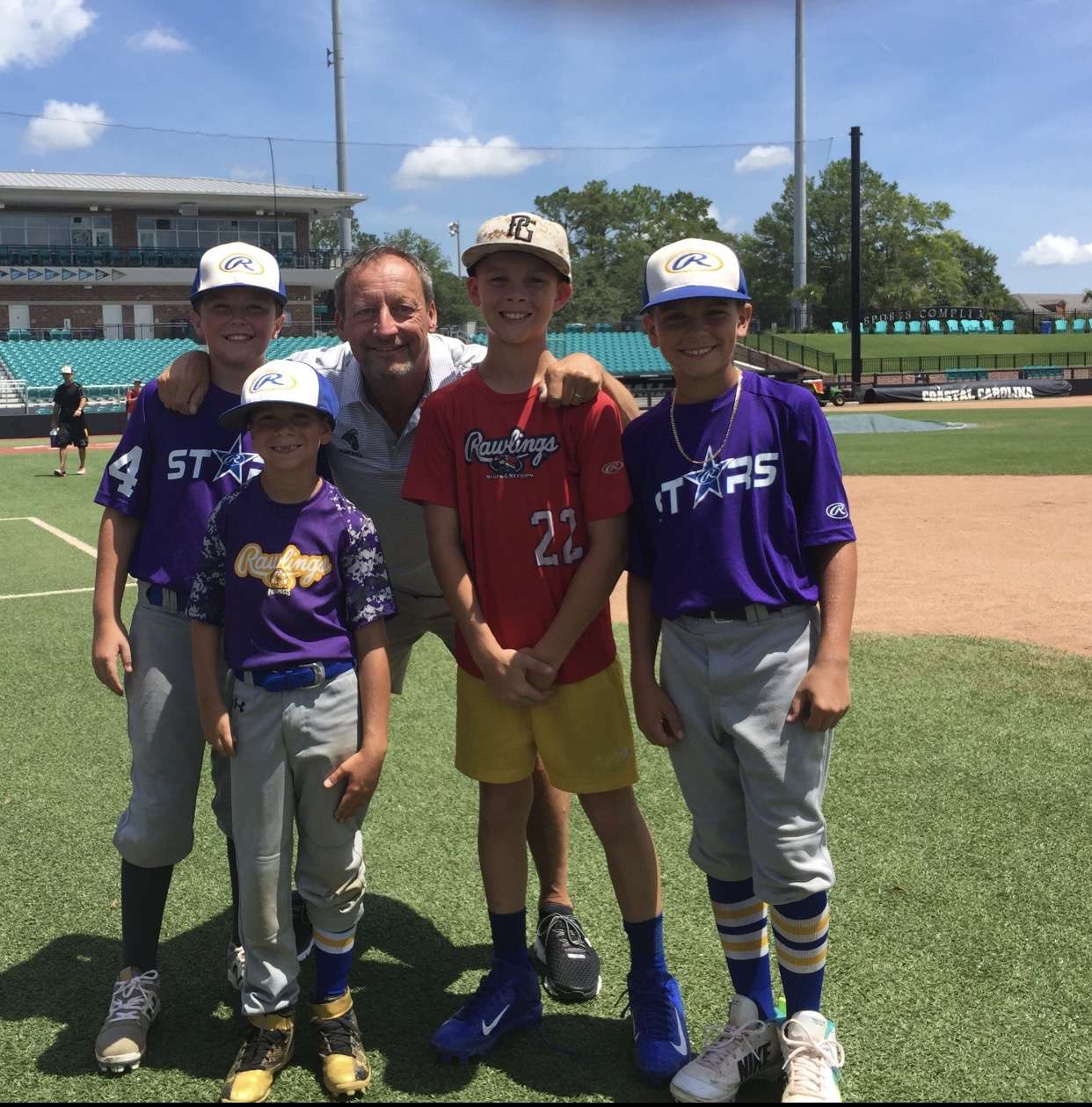 Jayden with his brother Tyler, friend Micah & Jack & Natl Champion Coach Gilmore