Huber Heights Little League: Welcome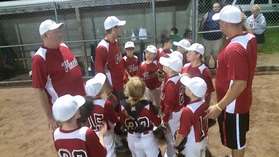 2015 Coach Pitch District Team Huber Heat
Huber Heights Little League a Chartered 501(c)(3) non profit Organization
Huber Heights Little League
Follow us on FaceBook
We have many links and information for parents about our Little League program
Registration for the 2016 Season
can be completed online or in person at Frickers banquet room
Frickers dates and times:
February 8 from 6 to 8,
February 13th from 11 to 1,
February 16th from 6 to 8,
February 20th from 11 to 1,
February 27th from 11 to 1
and our Final registration will be
March 5 from 11 to 1.
For Information you can contact:
The President Jan at 937-689-0197
or email hhllprez@sbcglobal.net with any questions
Our mailing address: HHLL P.O. Box 24248 Huber Heights, Ohio 45424
We will start practice in April.
Our game season starts Saturday May 7.
Regular season games will end on Saturday June 25.
Huber Heights Little League is a Chartered Little League that is sanctioned by Little League International in Williamsport Pa.
We follow the Rules Regulations and by-laws of Little League International.
The Structure of Little League Baseball is for all children (male & female) ages 4 to 18.
A chartered Little League does require that a player live within the boundaries of the Chartered league. The boundaries for Huber Heights Little League includes all of Huber Heights including, the homes in Park Town off of 202, Forest Ridge, Pheasant Ridge, Quail Hallow areas, are all within our boundaries also north of 70 to Rt 40 east to Rt 4 south to Dayton and west to Vandalia boarder. New for 2014 any child that attends any of the Huber Heights City Schools will also be allowed to play.
Everthing starts with the selection process of all managers, coaches, team parents, umpires, and the board members they are all required to be nationwide background checked before they can be on the field with the children or even participate in any Little League function. All managers and coaches must take a concussion course and be aware of the dangers of head injuries, We ask that all coaches be NYSCA certified. All board members are volunteers!
Every child is covered for any injury they may encounter while playing Little League including 4 year old's under our Little League insurance as a secondary policy. The insurance coverage is included in the registration fee along with a uniform; every child receives a full uniform including hat, shirt, pants, and socks. Uniforms are MLB team names along with the Sponsor.
Little League has Opening Day celebration, regular season play, family night at the Dayton Dragons, Memorial weekend tournaments, All star games at the end of the season, tournament teams, Awards and fun day. We also have coaches game for all managers and coaches.
WE DO NOT HAVE SELECT TEAMS AND WE DO NOT PLAY GAMES AGAINST SELECT TEAMS!
What is expected of the Little League managers and coaches: teach the fundamentals of baseball beginning with teaching every child every position of the game & how to play each position.
There are limits on the number of pitches a child can throw depending on their age. There are mandatory days of rest between 1 and 4 depending on how many pitches a player throws. Protecting the pitcher's arms is of the utmost importance. This is done in all levels of play where the child pitches the ball even those players that are 18 years old have limits on the number of pitches they can throw in a day.
We have batting requirements for safety reasons. A list of the size of bats that can be used for each division and a list of legal bats can be found on the Little League International web-site. Players when batting and running the bases are required to wear batting helmets that meet NOCSAE specifications and standards, helmets must have an exterior warning label.
What we expect in each division of play
Starting with t-ball(non-competitive NO SCORE is kept). Every child will play every position the same number of times. Every child will get equal playing time, no child will sit on the bench 2 consecutive innings in any game.
At the coach pitch level it is still non-competitive NO SCORE, it is all about teaching the fundamentals of every position along with rotating players to all positions so all players get equal playing time at each position. The goal is for every child to learn every position. This is where their coach pitches the ball to the player. The last two weeks of the season they will get there first experience of being competitive we have a tournament where they get to keep score and they have a winner.
At the minor level this is a competitive division where score is kept. Players are still rotated with all players getting equal playing time this is when the kids are taught pitching. The minor division starts a district level of play they have a try out for a team to play in the Little League District Tournament in June this is when they play other teams in the district to compete, try to win so they can advance to a state tournament. We have had 3 minor teams since 2003 at this level in our league win distict and move on to state over the years. And many other teams in other divisons have advanced to the state level.
The major level this is a competitive divison where score is kept. This division is the most famous for the Little League World Series that is shown on ESPN every year in August. During regular season play we still focus on fundamentals and equal playing time. It is not all about winning it is about learning the game, displaying good sportsmanship at all time win or loose. There is a try out for a district team in this division in June, they start with a win at the district level, state, regional, the goal is the Little League World Series.
The 50/70 Junior and Senior level is very competitive they compete against other Little League teams in all of district 8 many players coming from school teams to play summer ball. Leagues we compete with include Fairborn, Englewood, Eaton, Kettering, Moraine West Carrollton, Enon and several others these divisions also have district teams that will compete and try to advance to the World Series level.
With Little League if we ever have a small amount of teams in a division in our local league we have the option of playing games with another Little League in our district all leagues play the same rules. We can only play against other chartered Little League teams, we can not play DABC, Babe Ruth or select teams.
A Little League rulebook can be purchased by any parent you can find out more information about Little League and the structure of Little league what Little Leagues stands for by going to www.littleleague.org
If you have any additional questions you can contact the President of the League at hhllprez@sbcglobal.net
In order to tryout for a District tournament team you must have played 60% of the leagues scheduled games, you must be on a regular season team, you must bring 3 proofs of residency and Birth Certificate. See residency requirements in the news section of the website for items that can be used to prove residency. Any player that does not have this by June 15th will be eliminated.
Boundries for Huber Heights Little League
For any child that is a student of a school in the city of Huber Heights City School.
North end of Huber/Tipp City- ParkTown north of 70 , Forest Ridge & Quail Hallow off Kitdridge.
If you live in these areas you are within our bounderies.
A quick easy quide to go by if you're not sure
If you are standing in the center of Huber Heights
North to Route 40, South to Stanley Ave, South-East to Valley, East to Route 4 & West to Webster St.
If you are within these areas you are in our bounderies.
All Coaches must have forms filled out returned to the President & approved annually No Exceptions
Forms can be mailed to HHLL PO Box 24248 Huber Heights, Ohio 45424
Mandatory for everyone that signs up to manage or coach a team you must have
Concussion Course
attend one of these online courses thru NYSCA or CDC and submit the certificate to the league president at hhllprez@sbcglobal.net before you will be permitted on the field.
Little League has been a part of the community since the early 1960's We provide baseball to the children of our community between the ages of 4 to 18. To begin play the child must be at least 4 years old by May 1st of the current year.
Huber Heights Little League goals to provide the best baseball program for the youth of Huber Heights the entire board is committed to do everything possible to make that a reality.
We stride to teach the fundamentals, sportsmanship, and fair play of the game of baseball to all players. All of our coaches are volunteers. Many of our past players that are now playing college baseball are working with the children in our league on pitching & hitting. All of HHLL umpires are at least 18 years of age and most are past Huber Heights Little League players which have played college baseball.
Our goal is that every child learn and have fun in a safe environment. The safety of our children is our priority.
The league provides a full uniform for every child. The uniform includes hat, shirt, pants, socks and belt. Every child receives a participation trophy at the end of the season. Our season runs from May thru July. When there is inclemete weather we may extend the season in order to get the games played for the children. Teams will play 1 or 2 games a week on weekdays depending on the age division. All teams play games on Saturday's.
The divisions of play are T-ball, Coach Pitch, Minor, Major, Major 50/70, Junior & Senior Click on Divisions on the left for more information on each division.
Little League Motto: From the ranks of youngsters who stand now on the morning side of the hill will come the leaders, the future strength and character of the nation.
Thank You to all the coaches and parents for making this league enjoyable
for the KIDS.

HAVE A GREAT SEASON HAVE FUN

PLEASE REMEMBER THIS IS FOR THE KIDS.
We are a part of Ohio District 8 Our District Administrator is Shannon Walker www.leaguelineup.com/ohiodistrict8
Monday, February 24
Huber Heights Little League Charter for 2014
Wednesday, July 17
2013 Opening Day Video
Check out our 2013 Opening day video previously known as Brick City Little League, Brick City Blast, Huber Heights girls Softball, and the Wayne High School Baseball team. Thanks to all that shared in our Opening Day Cermonies.
Registration Residency Requirement
Registration Residency Requirement
1. A copy of the birth certificate
2. (3) proofs of residency dated before Feb. 1, of the current year. (see page 15-16 of the rule book)
If the player does not provide these items by the date requested they will not be considered for a team.
Residence shall be established and supported by documents, dated on or before February 1 of the current year, from THREE or MORE of the following Categories to determine residency of such parent(s) or guardian:
1. Driver's License
2. Voter's Registration
3. School Records
4. Welfare/child care records
5. Federal records
6. State records
7. Local (municipal) records
8. Support payment records
9. homeowner or tenant records
10. Financial (loan, credit, investments, etc,) records
11. Insurance documents
12. Medical records
13. Military records
15. Vehicle records
16. Employment records
17. Internet, cable or satelite records
18. Utility bills (gas, electric, water/sewer, phone, mobile phone, waste disposal)
NOTE: Three utility bills # 18 above constitute only ONE document.
(DO NOT BRING 3 UTILITY BILLS) Only one can be used
Sunday, July 17
Big News for Tim Combs past Huber Heights Little League Player
It is very exciting to add another one of Huber Heights Little League players to our site that makes it big. Tim Combs a 2007 graduate from Wayne High School a recent Eastern Michigan University graduate signed a professional contract with the Gateway Grizzlies of the Frontier League. Tim played with HHLL for 7 years his last year in the major division he was the leagues best pitcher. Tim has continued to pitch every since he also played for Wayne High School, then on to Eastern Michigan and now he will be playing pro baseball with the Grizzlies. Congratulations Tim HHLL is very proud of your accomplishment.

Saturday, June 16
Volunteers Needed
Huber Heights Little League is run by a board of all (VOLUNTEERS) We are in need of volunteers that are willing to commit to at least 10 hours per week (not including time spent as a coach) helping out with things that need to be done at the fields. If you are interested please call Jan at 937-689-0197.
Umpires For HHLL
Umpires for the up coming season if you are interested in umpiring for our league this year, please send a email to shendrickson89@yahoomail.com or call 307-1607.
All umpires must attend umpire clinic. Please contact the league to advise if you will be umpiring this season.
Friday, May 20
Past Huber Heights Little League Player Steven Hendrickson Jr
Steven Hendrickson Named USCAA 1st Team Baseball All-American
Steve Hendrickson a UC Clermont college junior outfielder from Wayne High School was named to the United States Collegiatle Athletic Association (USCAA) 1st team All-american for the 2011 Baseball Season. Steven was also named the OCAC Player of the Year. Click on link to read entire article.
Thursday, February 4
Huber Heights Brick City Little League