HTRBA Little League: HTRBA News
2017 HTRBA Family Picnic - Click Here for Details
Annual Business Meeting - Financial Report and Board Elections
The HTRBA Annual Business Meeting is scheduled for Wednesday, September 27 at 7:30 pm in the HTRBA Meeting Room. All parents are strongly encouraged to attend.
This meeting is to discuss the league financial report and elect the Board of Directors for the 2018 season.
A detailed financial report will be presented to the membership and you will have the opportunity to ask questions regarding where YOUR registration goes. We often receive questions and hear comments throughout the season regarding league finances. This is your chance to get the answers. Also, there will be several open positions on the Board of Directors for the 2018 season.
The Board elections will take place at this meeting. Significantly, for the first time in 10 years, a new League President will be elected. This election will have a big impact on the future direction of the league. This is your opportunity to have direct input into that future.
The meeting will be an hour and a half at the most. There are no Back to School Nights, or other school events scheduled for that night.
We hope to see you all on Wednesday, September 27!
2017 DISTRICT 12 CHAMPIONS!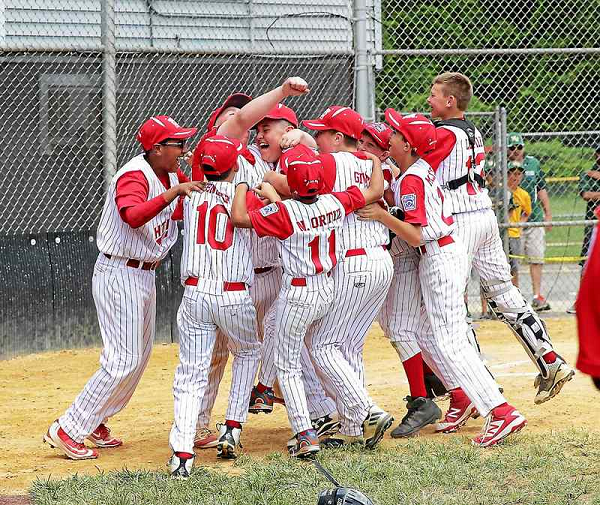 Photo courtesy of John Blaine for the Trentonian
Congratulations to the HTRBA 12s on winning the District 12 Championship with a 7-1 victory over West Windsor!
Congratulations to Our Champions!
Majors Division
Regular Season - Hamilton Fire Co.
Playoffs Champions - Golden Dawn
International Division
Regular and Playoffs Champions - Doctors Express
Minors Division
Playoff Champions - Smoothie King
HTRBA Announces Tyler Dunmeyer as 2017 Jim Davis Sportsmanship Award Recipient
Each season, every league in NJ District 12 selects one 12 year old player to receive the Jim Davis Sportsmanship Award. The HTRBA Executive Board is proud to announce that Tyler Dunmeyer has been selected as the 2017 recipient. The Jim Davis Sportsmanship Award recipient is selected based on the following criteria:
| | |
| --- | --- |
| Helps other players | Is a graceful loser |
| Always tries hard | Doesn't argue with the umpires |
| Displays enthusiasm and team spirit | Is polite and courteous |
| Sets a good example | Always does what the managers asks |
| Plays fair at all times | Is a team player |
Tyler will be honored prior to the District 12 Tournament championship game at Nottingham Little League, along with the recipients from the other District 12 leagues.
Congratulations to Tyler for this well-deserved award!
2017 Playoffs Schedule
Monday, June 12 - Minors Semi Finals
6:00 pm - A Contract Climber 5 (4) v.
Smoothie King 12
(1), A Field
6:00 pm -
Unity Title 10
(3) v. Hamilton Dental 5 (2), B Field
Tuesday, June 13 - International Semi Finals
6:00 pm - B&E Service 4 (4) v.
Doctors Express 14
(1), A Field
6:00 pm -
GoBallistic Sports 18
(3) v. Villa Maria 17 (2), B Field
Wednesday, June 14 - Majors Semi Finals
5:45 pm - Garden State Legal Services 5 (4) v.
Hamilton Fire Co. 6
(1), A Field
8:00 pm - Frascella Abstract 7 (3) v.
Golden Dawn
10
(2), A Field
Super Saturday, June 17
10:00 am - Minors Championship Game
Unity Title (3) v. Smoothie King (1)
1:00 pm - International Championship Game
GoBallistic Sports
(3) v.
Doctors Express
(1)
Monday, June 19
7:30 pm - Majors Championship Game
Golden Dawn
(2) v.
Hamilton Fire Co
(1)
The annual HTRBA Family Picnic is scheduled for Sunday, September 17, at the German American Club on Uncle Pete's Road in Hamilton, beginning at 12:00 pm. There will be food (hamburgers, hot dogs, sausage, fries, potato salad), family friendly beverages, and lots of fun throughout the day.
Tickets for the picnic are $15 for adults (13 and older) and $10 for children (ages 5 to 12). All players and children under 5 are free.
Tickets may be purchased online on our website (www.HTRBA.com), or by contacting Lisa Septak at 609-915-7351. We need to provide a head count by Friday August 25, so we will need to know if you're attending by that date. If you're not sure at that point, please send an email to let us know that. Tickets will NOT be available for purchase at the door.
We look forward to seeing you all at the picnic!